A zen garden provides the perfect spot for some relaxation and meditation. It gives the sense of tranquillity and peace, recreating the essence of nature.
It's a space with a minimalist landscape with natural elements of rock, gravel, sand, and wood. Usually with plants, some water features and outdoor pieces around.
A pond, sand garden and big stones, moss and lots of green will help you to create a Japanese-inspired garden atmosphere. But where to start?
We've collected a range of ideas to inspire you, from simple gravel and rock placement to water features and Japanese-style entryways. Here's our calm and peaceful Zen garden ideas and designs to embrace.
1. Dry waterfall
With a Zen garden, the sand or gravel represents water, so use a rake to create some waves in your 'waterfall'.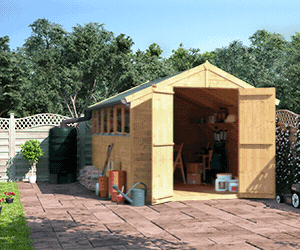 2. Rock sculptures
Carefully placed rocks are used to imitate mountains in your zen garden. This rock garden idea makes a great decoration!

3. Grass islands
Include some grassy shapes within your gravel or sand to portray beautiful islands.

4. Wooden deck and pebbles
A wooden path and pebbles from the beach create a relaxing coastal vibe.
5. Bamboo and stone
You can turn a small, lifeless corner of your garden into a miniature zen garden with some bamboo fencing, a stone water feature and leafy greenery.

6. Spiral rock garden
Get creative with different coloured stones to produce an artistic but low maintenance bed. 

7. Stepping stones and fountain
A simple stone water feature and some matching stepping stones transform this space into a serene spot.

8. Ring entrance
An opulent entrance makes the perfect starting point for exploring a beautiful zen garden. This ring entrance will also look great in a Chinese garden!

9. Grey path
Light-coloured stone pathways complement the white gravel or sand needed to create your zen garden.

10. Zen small garden
You don't need a huge garden to create a tranquil meditation space. 

11. Grass islands with rocks
Add some rocks to your grass islands to represent hills and mountains in your meditative space.
12. Minimalist garden with bench
If you're short on space, create a miniature zen garden in a plant bed. 

13. Modern zen garden
Wooden benches and buried concrete stepping stones are all it takes to create a modern garden.

14. Pebble river
Get the beauty of a river without the hassle – use pebbles to fill your riverbed and add cute bridges and stepping stones.

15. Bright small garden
Don't let the size of your garden hold you back – divide it into segments to give the illusion of space. 
16. Zen corner
Zen gardens are usually meant to be seen while seated from a single viewpoint outside of the garden, so a corner is the ideal place for it to be admired.
17. Pagoda lantern
A Japanese pagoda lantern is a great addition to any garden, whether you have a Japanese water feature, rock garden, or just want a few decorative pieces to remind you of the Far East.

18. Indoor zen garden
Keep your Zen garden in tiptop condition by building it indoors where it's safe from bad weather.
19. Japanese step garden
Make the best of a steep garden by adding different tiers to your zen garden. Add some of your favourite plants and flowers and enjoy the results.

20. Yin-yang small pit
It's all about the balance with Yin and Yang – perfect to add some Asian influence into your garden design. 
21. Modern fire pit
A fire pit with a pebble path provides an amazing oriental look for you to sit back and enjoy.

22. Zen front yard
Don't hide your amazing garden, share the love with your neighbours.

23. Indoor Japanese fountain
Small, simple and easy to install; it not only looks great but the calming sound of the water trickling will also help you relax.
24. Peaceful bridge
If you're looking for a more realistic river scene than a zen garden representation, add decorations to your pebble river, like a small bridge and edging stones. 

25. Modern slim garden
The oblong water feature and tall trees elongate this garden to make the space feel bigger.
26. Japanese entrance
A traditional Japanese gate makes the perfect entrance to a relaxing zen garden.

27. Zen entrance with pond
Enjoy an indoor zen garden all year round – you could even add a pond and stepping stone bridge!

28. Small oriental corner
Dedicate a corner of your garden to meditation. You can sit nearby and enjoy the calming influence. 
29. Rock fountain
If you prefer less fuss, go for a natural, rustic looking fountain to help you relax.
30. Sandy backyard
Sand makes a great base for a zen garden as you can use a rake to create patterns that imitate the essence of the sea. 

31. Meditation space
No space is too small to create your own meditation zone. 
32. Serenity garden
A beautiful oriental door provides the perfect entryway for your peaceful plot.
33. Small bamboo fountain
The sound of running water helps create a calming atmosphere for meditation.
34. Wood path
A wooden walkway over a pebble river provides a great base for a relaxing garden. 

35. Sustainable slim Japanese garden
Make the most of every inch of your garden, even small spaces at the side of the house! 
36. Sand shapes
Use a rake to create your own design in the sand. It's meant to represent the essence of the sea, whilst the rocks depict the mountains. 

37. Minimalist wooden garden
You can go heavy on the wood, that looks amazing in almost any garden and helps you create that zen atmosphere.
38. Stone garden
Arranging rocks and pebbles in the pattern of a river is a great addition to a zen garden.

39. Japanese fence
It's more for decoration than privacy but it makes an attractive centrepiece.

40. Garden spiral
Create a spiral design around your trees for a flower bed with a difference!
41. Grass spiral mosaic
Give your lawn some extra charm by adding stones in a spiral pattern. 
42. Small zen backyard
You don't need a huge garden to feel zen – just leave yourself enough space for a seat from which to admire your handiwork.
43. Dry creek
You can create a creek of pebbles that borders your backyard. Add some logs to avoid stepping in the "water".
44. Oriental vertical waterfall
This stunning man-made waterfall looks amazing and is much easier to maintain than a natural one. 
45. Ying-yang bowl
An easy-to-make, relaxing decoration for your garden or even in the house.
46. Small ponds
Individual bowls are easy to maintain and make a great addition to any patio.
47. Open simple zen garden
Enjoy your serene meditation space from the comfort of your porch. Keep it simple with a large sandy area and tidy hedges.

48. Cosy Japanese indoor garden
You can leave your worries at the door when you have such a stunning place to relax. 
49. Indoor slim garden
Don't let a small garden hamper your creativity!
50. Small Japanese bench
A simple spot in your garden to rest and watch the sun go down.
51. Mountain landscape in miniature
This Japanese-inspired oasis is such a scene-stealer! Its simple yet elegant design mimics the look and feel of a mountain landscape in miniature.
52. Minimalist modern pavilion and rattan furniture
A sheltered spot is a must-have for every Zen garden. It's where you can enjoy the garden being close to it.
Take a look at this open pavilion with unique structures. The peaceful environment makes the rattan chairs more inviting to sit on!

53. Water features, cherry blossom tree, and bridge
This concept gives off that authentic Japanese garden. The wooden bridge makes a beautiful feature, especially when placed beneath the cherry tree.
The water features, such as fountain and pond, and the plants make the place so serene.

54. Cloud-pruned conifers
Conifers are common in most Asian-inspired gardens because of their elegant looks. But the cloud-pruned ones create that wow factor.
Surround the plant with several rocks and on a mossy green base to mimic a mountain's landscape.
55. Use sandpit over regular sand
If your kids love to hang out in your garden, this Zen garden style with a sandpit will make a great choice. Rake the sand over after their play session and it would look like a small zen-garden.
Round-Up
A Zen garden can give you the peace and quiet you need to take a step back from the world and relieve the stresses of the day. 
We hope we've provided some inspiration so you can start planning your own Zen garden. 
Shop Rattan Garden Furniture