If you love to entertain friends and family in your garden, a great BBQ area is essential!
We've compiled a list of what we think are the top 50 ideas for incorporating a BBQ Grill space into your backyard for those summer parties. 
Let's jump in!


1. Cedar BBQ area
Wood is the first choice when preparing your garden for the BBQ season. Add a roof cover so you can still BBQ if the great British weather decides to take a turn for the worse. 
And spotlights mean you can carry on cooking after dark!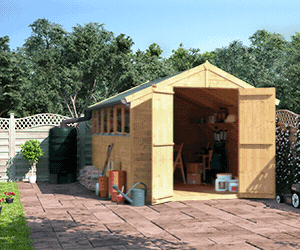 2. Long modern BBQ area
If you have the space, you could build a whole outdoor kitchen with work surfaces and a sink. You could even have matching planters to tie it in with the garden. 

3. Enclosed wooden BBQ area
Or if you're short on space, create a cosy area on your patio for your gas BBQ so you can have your friends over for a grill.
4. Aerial marble BBQ
This modern, freestanding design adds an appealing corner to your house that's dedicated to cooking and relaxing with friends.
5. Outdoor bar with BBQ
An outdoor bar area is perfect for serving lovely family meals, and some drinks along with them.
6. Outdoor cedar mini kitchen
You don't need much space to build yourself a kitchen outdoors. This cute, compact version has everything you need for BBQs and parties to save you going back and forth to the house. 
7. Concrete cooking station
When talking about practicality, nothing beats concrete. You can shape it any way you like and it's easy to maintain, plus it provides a modern finish to your outdoor cooking station. 
8. Secret BBQ area
When the door is closed, it just looks like a storage room in your garden. But open it up, and the magic begins! 
Plus the door will protect your cooking area from the elements when you're not using it. 
9. Wood and plants
Add some soft lighting to set the mood, so your cooking area can become an amazing place to enjoy at night. This is a perfect setting for hosting the perfect BBQ party!

10. Simple BBQ and bar
You don't need a huge setup for your charcoal BBQ and a small bar to sit and have some drinks with your meal. 
11. Small white BBQ area
Incorporate your BBQ area into your raised garden beds to make it fit in with your garden theme. Have a seat and relax while the meat is on the grill.
12. Bar and BBQ Shed
Build your own garden bar and BBQ shed so you can enjoy garden parties in all weathers with your friends and family. 

13. Simple BBQ shack
Build your own shack for your BBQ so you can still cook even when it's raining. 
14. DIY brick BBQ
Brick BBQs are a classic and they last forever. Plus they're easy to build yourself!

15. Stone outdoor kitchen
Stones are also a great material for a durable BBQ area. Maybe even throw in a sink and for washing up or fill it with ice to keep your drinks cool!

16. Modern outdoor bar and BBQ
Simple, yet modern-looking. Perfect to have some friends over for an evening meal outdoors.
17. Backyard BBQ area
Add a pergola above the grill to avoid extreme sunlight or a little rain.

18. Small BBQ shelter
Maybe you don't need a whole pergola or shed for your BBQ area, just something to cover the BBQ itself to protect it from the rain.
19. BBQ area on deck
If you have room on your deck, you can place the BBQ there and save some garden space. 

20. DIY gazebo for BBQ
You can easily craft the shelter for your BBQ yourself from wood and tin panels. Maybe make it a little bigger than your BBQ to give you space for a little bar or drinks area.

21. Small BBQ area with bench
Cooking on a BBQ can take some time, so place a small bench next to it, so you can rest while the food's cooking.
22. Huge backyard BBQ area with canopy
If you have plenty of space on your patio area, add some comfy seating and spend whole afternoons back there.
23. DIY wood BBQ area
It's great to have some space for chopping and serving your BBQ food. If you're handy with wood you could even build your own to fit your space.
24. Small outdoor kitchen
The term "outdoor kitchen" sounds like a big space outdoors. But that's not necessarily true; a small setup can go a long way, too.
This is an excellent way to add value to your property as well!
25. BBQ and fireplace area
Add a fire pit into your BBQ area to keep you warm during your evening gatherings in your garden. 

26. White and dark wood area
This classy BBQ area has stylish slate worktops and dark wood to fit with the modern garden theme. Add some useful cupboard space around the BBQ to keep some logs or coal and your BBQ tools. 
27. BBQ shack and bench
No need to have the whole kitchen outside if you don't want it. But a little roof for your BBQ area is always great. 
28. Bespoke outdoor kitchen shed
This contemporary outdoor kitchen takes up minimal space and can be closed off when not in use. The door can also provide a great shelter if the weather is bad. 

29. Simple grey BBQ area on wall
You could go for a small, simple outdoor cooking area with cupboard space for your tools and storage for logs for your BBQ. 
30. Outdoor modern BBQ on deck
Black wood gives this simple BBQ area a modern, stylish feel that matches the garden fencing. A black built-in fridge is a great addition and goes well with the theme.

31. Small fridge in outdoor BBQ area
Add a fridge to your outdoor kitchen to keep your beverages cold so you can make less trips to the kitchen.
32. Modern BBQ area with lights
Create a modern-looking garden by using white tones in your raised beds and outdoor kitchen area. Add some lighting to transform it into a party area at night.

33. Modern BBQ and table deck
This beautiful stone bar and BBQ give this garden a great party space. The downlights mean this area can be enjoyed into the evening too. 
34. DIY BBQ concrete area
You can create your own unique BBQ using a steel barrel or drum and giving it a paint job. 
35. Modern wooden BBQ area
Build a modern BBQ area right outside on your deck, to have some shelter but still be able to enjoy the view of your garden and keep an eye on the kids.
36. Outdoor relaxing spot with BBQ
Add a BBQ into your cosy seating area so you can spend the whole day enjoying your outdoor space. 

37. Discreet BBQ area for small garden
If you don't have much space for a huge setup, a smaller one gets the job done as well. Plus, it looks really appealing. 
This modern example can be hidden away when not in use. 
38. Rustic BBQ area
If rustic is more your style, build your own BBQ area using weathered wood panels and stone walls. 

39. Marble and bricks outdoor BBQ area
Grey tones and marble worktops create a cool, relaxing space for your outdoor kitchen and BBQ. Add some comfortable chairs and enjoy your meals at the bar. 
40. Appealing BBQ corner area
Get your cook on in this cool, casual outdoor cooking space. If you have enough space for this kind of setup you could include a pizza oven to enjoy pizza nights with friends.
41. Simple wooden table for BBQ
You don't need a huge setup for your BBQ area. Keep it simple with a standalone BBQ and a bar area for serving your delicious food!
42. Black and white poolside BBQ area
Black and white always go great together, and a BBQ area is no exception. With sleek white walls and stylish black granite worktops, this simple outdoor kitchen would be a great addition to any garden.
43. Small corner BBQ area
Again, no need for a huge setup in your backyard if you can fit all you need into a smaller space. This corner kitchen under a shelter has everything you need to enjoy a BBQ.
44. Modern spectacular BBQ area
Grey worktops and deep dark tones look amazing next to this modern BBQ. You can even place a decorative clock to keep track of cooking times.
45. Concrete and wood simple BBQ area
Concrete is a great, lasting material, perfect for outdoor construction, such as this modern, industrial-style BBQ area. 
46. U-shaped bar and BBQ
Add a stylish bar to your garden space to keep the conversation and drinks flowing when there's someone cooking.
47. Stone BBQ area with pergola
Add a shelter or pergola to your BBQ area to give you some protection from the sun while you're cooking. 
48. Beautiful wooden BBQ area
Black worktops give a whole new look to your BBQ area and make it easy to keep clean.
49. DIY brick BBQ with tables
If you're building your own, why not add some worktop space next to your BBQ for you to plate up your BBQ food. It's a simple but practical design that's easy to create. 
50. Floating BBQ
This built-in BBQ has a sleek, stylish design that will fit into any garden design and won't take up much space.
Round-up
There are so many BBQ designs out there to fit any size garden space and match all kinds of garden styles. From charcoal vs gas BBQs to hybrid, you have so many options out there!
Whether it's standalone BBQs you're looking for or whole outdoor kitchen design inspiration, we hope you've found some ideas to help you convert your garden into a social space you can enjoy. Oh, and if you're looking for BBQs for sale, click the button below!
Shop BBQs
[spacer height="20px"