Summertime means plenty of BBQs and parties with family and friends in your back garden. And no BBQ is complete without outdoor games!
Party activities are great for getting everyone involved in the fun and provide a bit of healthy competition amongst the group. Dive into our list of fun outdoor game ideas for hours of fun with the family.
1. Giant jenga
An all-time classic, there's now a bigger version of Jenga for the whole family to enjoy at your BBQ.

2. Giant connect four
Another enlarged version of a classic game, connect four is perfect for playing with both kids and adults.

3. 4-legged race bands
It's all about teamwork and balance! See who can get to the finish line the quickest.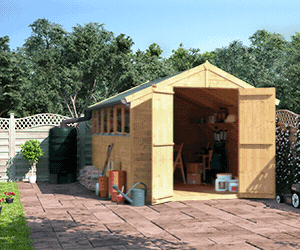 4. Tug of war
Tug-of-war is a traditional team game where you pull the rope to your side to get the flag over. You could add some difficulty to it by having the kids stand on top of a box or crate.

5. Human pinata
What if the pinata is running around in the garden and you have to catch it to get some sweets? 

6. Human ring toss
A twist on the standard ring toss game! Use inflated rubber rings with humans as the poles, and whoever catches the most is the winner!
7. Balloon keep it up
Simple setup, simple gameplay. All you need is balloons and pool noodles!
You don't need a large garden to play this game.
8. Bean bag toss
Bean bag toss is another easy one to set up but you don't need the official equipment, you can use simple buckets for the catchers.

9. Ladder golf toss game
You can easily craft a ladder golf toss game yourself with some plastic pipes, string and plastic balls. It's a great game to play as a family.

10. Human football
A giant version of table football, the laughs are guaranteed with human foosball. 

11. Giant noughts and crosses
Another enlarged version of an all-time classic, noughts and crosses is perfect to keep the smallest ones in the group occupied for a while.
12. Potato sack race
Sack races are another great choice for kids (or grown ups, if you're feeling up for it).

13. Horseshoes
Horseshoes can be played either between two individuals or teams of two people. You toss four horseshoes towards a stake in the ground to score points. 
The players take turns to either throw a "ringer" circling around the stake or get it as close as possible to score.

14. Washer toss
Somewhat close to horseshoes and the bean bag toss, this game requires aim and technique. Simply toss the washers into the target.
15. Lawn darts
This easy lawn darts game is simple. Set your target hoop and take turns throwing your darts to see who can get closest to the centre. 

16. Kan jam
Similar to a regular frisbee game, but instead of throwing it to other people, you aim at a target in a can and your friend tries to help you score.

17. Pong golf
You can use empty cups for golf practice, or add some liquor and instantly get a fun drinking game.

18. Bottle bash
Two teams play and try to knock a bottle off the top of a pole using a Frisbee. Try using plastic bottles to avoid accidents.
19. Kubb
This one is actually older than golf or croquet. Take turns throwing a number of sticks to your opponent's blocks. 
Takes concentration and practice but brings lots of fun.

20. Giant bowling
Every giant version of a game is bound to give you hours of fun at a BBQ or party.
21. Yardzee
A giant yard version of Yardzee for the whole family to have some fun.
22. Giant checkers
If it's a sunny day, you could host a BBQ for your friends and play some board (or lawn) games.

23. Kickball
Kickball, also known as football rounders, combines elements of football and baseball. If you've got a big group and space in the garden, go for it!
24. Bocce ball
This game is a ball sport belonging to the boules family. Several countries have their own version and names for it, but it's fun to play anywhere.

25. Trac ball
Trac Ball is essentially a game of catch using racquets or gloves. It's fun to play amongst friends while waiting for the BBQ to be ready.
26. Croquet
A legendary yard game that you can easily set up in your garden and have hours of fun.

27. Spikeball
Basically a combination of volleyball and foursquare. Provides great exercise and it may get really competitive, so keep it in mind if you're throwing a BBQ with some friends.

28. Badminton
All you need is a net (or something similar)to transform your backyard into a badminton court. Adding a badminton net to your garden is also a great children's play garden idea!

29. Battlechip
Assign points to every hole and give each player 6 balls. The loser serves the next round of drinks!
30. Giant kerplunk
Another giant version of a classic that you can craft yourself with low cost materials.

31. Giant dominoes
Dominoes is a great game for all the family. Grab some giant ones to play on a big scale!
32. Backyard mini golf
You don't need a trip to your local golf course, you can build your own mini golf course to play the day away in your backyard.

33. Lawn twister
Twister definitely has no age, and you can set up a "mat" in your garden with some spray paint. Just cut a simple circle out of some card to create a template.
34. Pool noodle racket game
Perfect to play in the pool if you're waiting for the BBQ to be ready.
35. Milk jug water balloon toss
Another game that has no age. Be careful not to drop any if you're not wearing a swimsuit!

36. Water gun ping pong
Set up simple target practice for your water guns using golf tees and ping pong balls. Try and see who hits more balls in a short time or how far you can shoot them.
37. Pool noodle targets
Perfect for summer, try making your own targets out of pool noodles and then throwing another noodle or a ball at them. You can assign every target some points to make it more competitive.
38. Outdoor angry birds
Set up your own Angry Birds course. It's way better than playing it on your phone! 
39. Pool noodle gladiators
Gladiators is a great game for the youngsters (or those young at heart!). Use pool noodles to create your 'bashers' to try and knock the other person off their perch! 
40. Water balloon baseball
Not much science on this one! Basically, if everybody gets wet you're playing it right.
41. Crossnet
Similar to volleyball, but every player gets their own space and they need to protect it.
42. Slip & slide
A slip and slide is great fun for everyone on a hot summer's day, plus it will help you cool down.

43. Tiki toss
The goal is to aim and swing the metal ring and catch it on the hook. Each player gets 10 throws to try and hook it!
44. Limbo
This one needs no introduction. See who's the most flexible!

45. Cards against humanity
You can create your own custom card set. There aren't many games that will make people laugh like this one! 
Someone reads a statement on a black card and everybody chooses the best answer from their white cards. Maybe save it for the adults!

46. Unstable unicorns
Unstable Unicorns is a strategic card game about destruction and unicorns. Don't let the cute artwork fool you, this game is about building your own army… of unicorns!
47. Exploding kittens
Another great family-friendly card game, Exploding Kittens is a game of chance with many possible outcomes and lots of laughs guaranteed.

Round-up
It can be difficult keeping your guests entertained whilst you're cooking on the BBQ and refreshing everyone's drinks, so party games provide the perfect distraction!
We hope you've found some party game ideas in our list to liven up your next family get together and bring some healthy rivalry amongst your guests!
Shop BBQs