There's a new trend sweeping the internet: a bar in a  garden shed. Also known as the garden bar, this outdoor concept sure does add some sophistication to backyards!
With the rise of she-sheds and man caves, bar sheds put a different take on what you can do to transform your garden building. A pub shed can give you that entertainment area that can be your go-to spot for unwinding and having a good time with your mates.
So instead of mowing the lawn this weekend, wouldn't you rather be having drinks in your own DIY bar shed with your pals? Don't know where to get started?
We've got you covered. Have fun and get inspired with our favourite 26 garden bar designs and DIY ideas that we've curated from around the web! 
Or check out our video below for 19 awesome garden bar ideas. Cheers. 🥂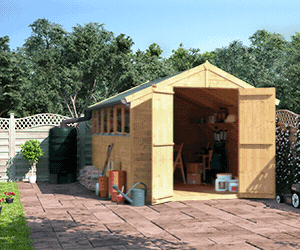 1. Log cabin bar
If you use your log cabin as a man cave, it won't be complete without a bar setup. Make the interior of your cabin pub warm and decorate it with bar signs and lighting for modern touches. Take inspiration from this BillyOh Nightjar Garden Bar setup!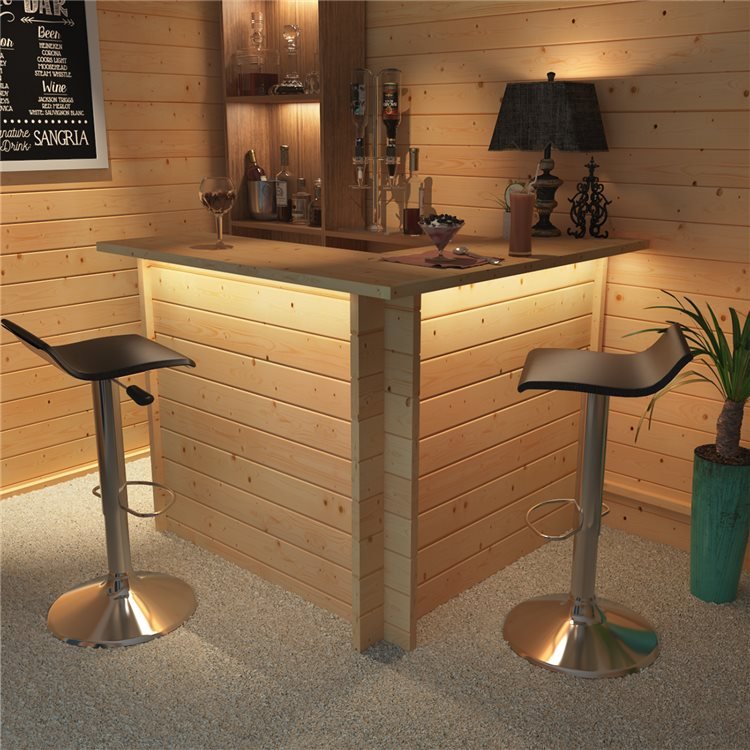 2. Entertainment garden bar
A concept of 'Staying Inn' bar shed that provides maximum enjoyment for minimum size. Add a few bar stools and built a little bar surface to serve refreshing drinks. Top with some fairy lights and bunting and you're good to go!

3. The 1950s-inspired pub
Step inside and be taken back to a 1950's inspired bar. Ideal for purists and retro lovers, this classic style looks perfect in traditional garden settings.
Ready to go back to the future?

4. Rustic bar shed
How about taking a break in a fresh environment? This barn pub shed concept gives you a taste of having a cold one in rustic style.
Since wood is the primary material used in rustic home interiors, your shed alone is already a win-win!

5. The fully-loaded garden bar
This bar shed comes fully loaded with a bar and TV, keeping you and your guests entertained for hours! Meaning you and your family will surely be entertained for hours.

6. Tropical garden bar for summer holidays
Thinking of having a tropical garden bar theme? Then you can't go wrong with this holiday-themed tiki bar!
If you also have a pool, perfect! With your existing garden building, you can create a tropical garden bar shed.

7. The Mediterranean outdoor pub
Another great shed pub transformation idea that just screams summer! You don't have to book a flight to Southern Europe to experience a Mediterranean-style vacation.
Incorporating ceramics, woods, and wrought iron to achieve a Mediterranean-inspired shed pub.

8. Classic farmhouse style
If you wish to add rustic charm and a farmhouse touch to your garden, this theme is perfect for you! You can add natural textures and materials for a more modern farmhouse style like wood or galvanised steel.
Take inspiration from this Christmassy country pub!

9. Parisian chic
Combining French-inspired elements in your pub shed can add a nostalgic appeal to your garden. 
Top tip: Consider light, coastal-inspired colours for garden furniture and seat cushions.

10. Airy and open-space outdoor bar
If you own an expansive garden, this design idea will surely blow everyone's mind! It can accommodate a big crowd and you have more rooms to experiment with.
Add an L-shaped sofa and benches instead of a few sets of bistro sets.

11. Mixed stone patio pub
Looking for ways to spruce up your outdoor kitchen? This patio bar highlights a bar-height counter designed with stones and topped with marble.

12. The pass-through concept
The idea is to redesign your landscape and rebuild into a fabulous pass-through pub. Don't forget to add bar stools to entertain and impress your guests.
13. Into the woods
Imagine enjoying a cup of hot chocolate or a glass of wine with a view of the nearby forest. With this bar design idea, you can make it into reality.
Incorporate wooden materials and some greens. This concept would be perfect if your backyard is surrounded by tall trees!

14. Outdoor kitchen and bar combo
To make your outdoor cookout experience more pleasurable, a fully-equipped outdoor kitchen paired with a bar sure will work wonders! Take a look at this design.
You'll get plenty of space to cook, prep, and for guests to enjoy a drink. You may also consider investing in a dining table with a fire pit to warm up the conversation.

15. Space-saving fold out pub
Wanting to set up a bar on your patio but the space is limited? No worries!
The concept features a long table that can be folded out or down in a space-saving manner. The shelves above act as extra storage for drinks and some bar essentials.
16. Built-in outdoor bar for decks
Make the most out of your deck and create a unique style of outdoor bar. Just add a countertop that will look like it was in-built with the original deck.
This is a creative way to have extra seating without adding a bulky table to your space. Put out the stools and you're ready for some outdoor entertainment.
17. Full-sized pallet bar with lights
Having furniture made out of pallets is a sure conversation starter. And this bar is no exception!
It's a full-sized DIY pallet bar with a roof for shade. You can put up some fairy lights on the roof and paint it in any colour to fit your style.
18. Go for industrial
If you're torn between rustic and modern design, why not give this industrial concept a shot? It provides a casual atmosphere for that glass of beer with your friend and any other weekend plans.
The galvanised steel barrels and bar top are the focal points of this industrial pub.

19. Small table with a bucket of ice base
Not only is this garden bar design perfect for small yards, but it's also super creative! I mean, who needs a bulky ice bin if you can make a mini version as the base of the table?
20. Wooden bar cart with storage
Hot chocolates are a great thing to serve when having a nice conversation with your friends on the patio into the night. But how about some cold drinks this time around?
If you don't have a bar cart, you can make one out of wood scraps. Make sure to fill it with a variety of drinks and garnishes.

21. Red cedar hideaway
Red cedar makes a great kitchen island and bar countertop. You can recreate this stunning bar out of red cedar, too, to add an accent to your outdoor space.
Cedar also fits into many design styles including country, contemporary, and even modern.
22. Seaside gazebo with bar
Recreate this seaside gazebo bar in your own garden. A DIY project may take some time and a bit of effort, but the final outcome will be rewarding! Add a vintage Moroccan-style pendant lamp also for a diverse feel.

23. The pub games shed
Replace the wall clock with a dartboard and you're ready for an afternoon of fun. Consider adding a TV or table games for a fun get-together with your buddies.

24. A bar with a view
In this photo, the rooftop bar takes advantage of the city views. If you live near the shore or a forest, this concept is also worth a try.

25. Sidebar pub shed
The goal of this garden pub shed is to make the most of an outdoor space. Constructed from barn wood and stone, the sidebar features a beadboard ceiling.
There's also liquor shelves and a countertop made from a single piece of live-edge wood. It's a perfect place to entertain friends while enjoying good foods and drinks.
26. Bottle cap countertop
Instead of throwing the caps from your beer bottles, make use of them and build a countertop for your garden bar. The materials you'll need are corrugated metal, wood, and caps embedded in epoxy.
Round-up
You don't always have to spend tons of money to achieve your dream garden bar. Your creativity paired with good DIY ideas are a great starting point.
The bottle cap countertop sure will leave a good impression on your guests. But if you have space and budget, don't stop yourself from trying out a few of our more luxury garden bar ideas.
One of our favourites is the open-space outdoor bar and the garden kitchen and bar combo.
At the end of the day, it's up to you how you want to customise your garden bar. But we hope these ideas will help spark your imagination and creativity. And click the button below to shop from our garden buildings –  perfect for converting into a home bar!
Shop Summer Houses