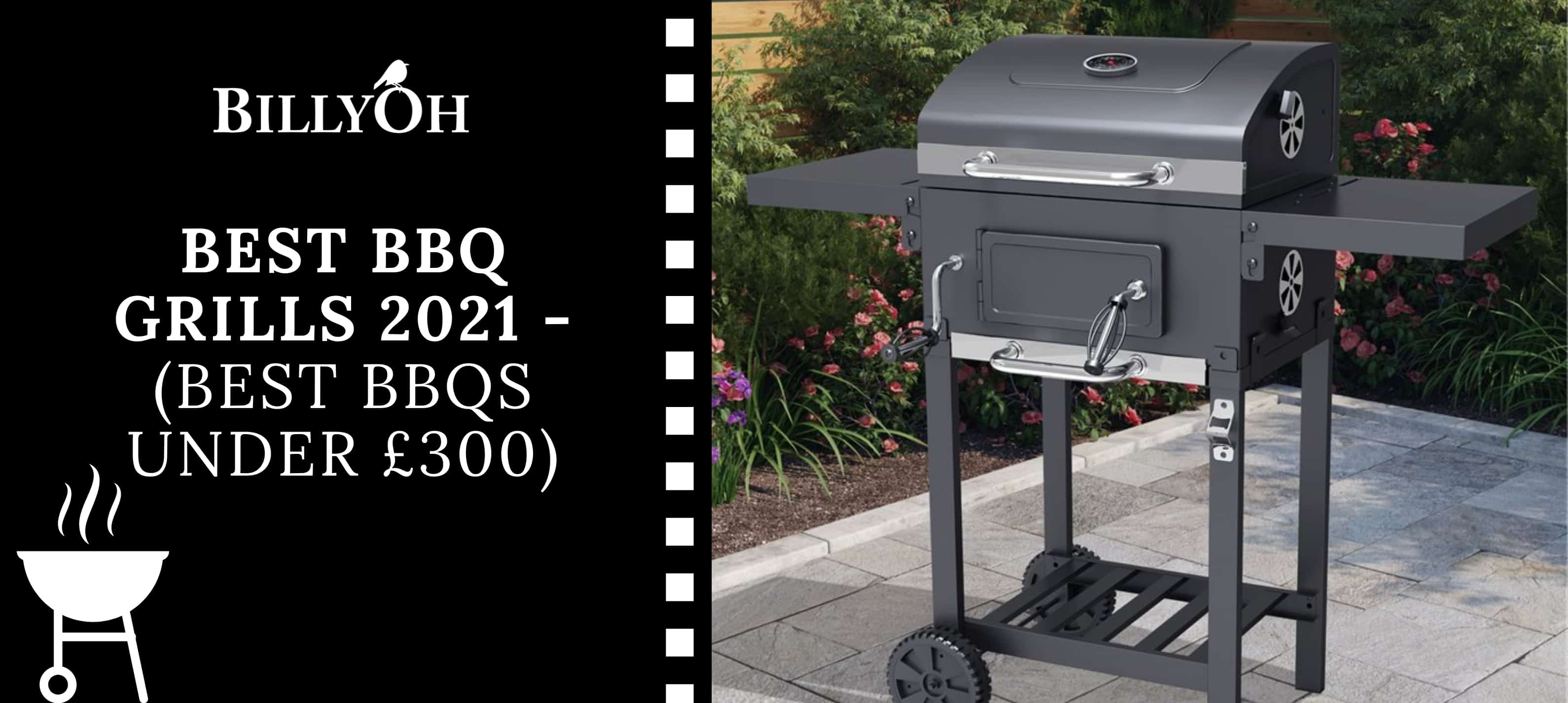 £300 is a fair bit of money. So ask yourself this when buying a BBQ – do you want to make a good investment or just save a few pounds?
Consider that your BBQ is going to be your summer centrepiece. It'll be with you through thick and thin, scorchers and downpours. Your BBQ is something you're going to use for years to come, whether you go for charcoal vs gas.
It's a great investment, so treat it like one!
But we've come up with a list so you don't have to skimp on style or cooking capability. At first, we were also unsure about that budget. But along the way, we found some best BBQ grills under £300.
And it turns out that you don't have to break the bank to get a dependable BBQ grill. All you have to do is to know what to look for.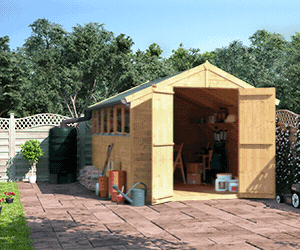 So our team banded together to search for the best BBQs under £300 from gas and charcoal to dual fuel!
Without further ado, let's take a look at our list of best BBQ under £300!
---

---
Key takeaways:
All products mentioned in this article are under £300

The models vary from charcoal to gas BBQs, with between least 1 – 6 burners

You're bound to find models for small backyard and larger spaces

As for the fuel, you can opt for charcoal or gas. Some models offer butane or propane

All models (to the best of our ability) are easy to manoeuvre; some with wheels and even handles included

Most of the BBQ grills highlight a sleek and modern design

You're going to love the extras and special features from each of the products and categories. Keep an eye out for them!
Best BBQ Grill Under £300: All-Rounder
Our winner: BillyOh Pizza Oven, Chimney Smoker & Charcoal BBQ
Price: £239.00
Burners: Charcoal grill
Size: 50cm x 156cm x 37cm
Fuel: Wood and charcoal
Portability: A pair of wheels and a handle for great portability
Design: 3-in-1 design (a smoker, BBQ grill, and pizza oven)
Extras/specialities: Vented chimney and removable ashtray
What more can we say? This product offers a 3-in-1 approach, allowing you to use it as a smoker, a BBQ grill, or a pizza oven.
You can cook a variety of meals from fish to pizza and meat without burning anything. The pizza oven comes with a handy pizza stone, meaning you can cook pizzas of up to 12 inches.
With the vented chimney and thermometer, you can control the smoke levels and ensure perfect cooking. A bottom shelf gives you extra storage with easy access.
The removable ashtray helps you clean the BBQ more conveniently. The wheels also allow you to manoeuvre the grill around the garden/patio with comfort.
Now talk about being an all-rounder! Get it on BillyOh.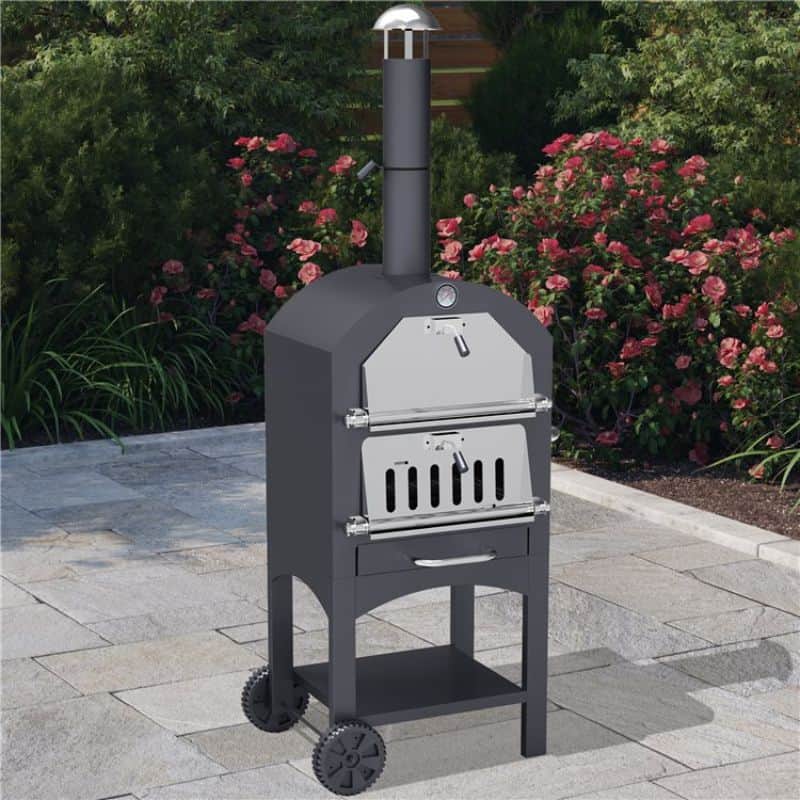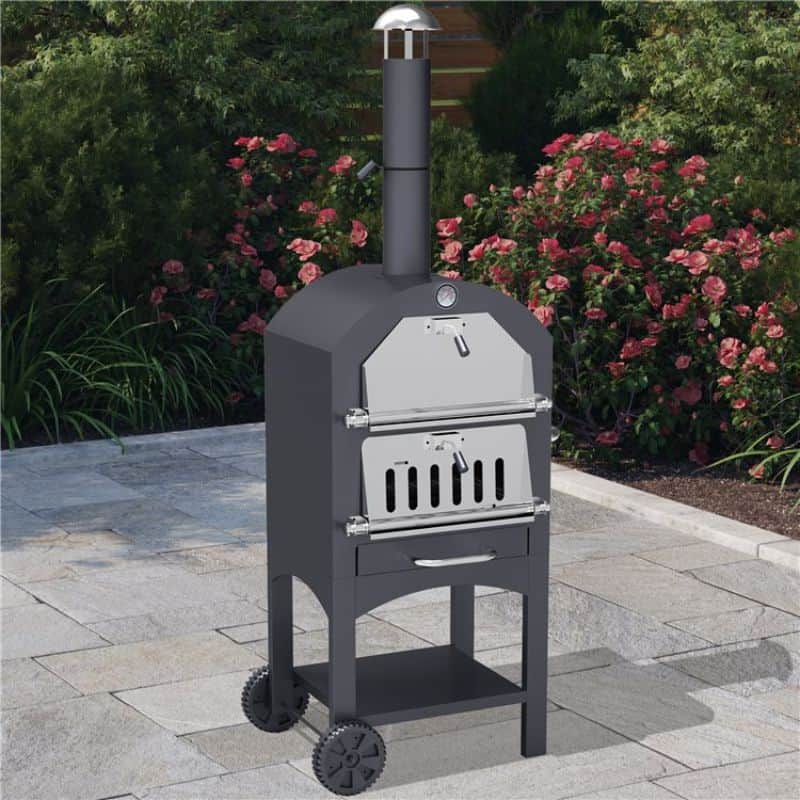 Best BBQ Grill Under £300: High-End
Our winner: BillyOh Matrix Gas BBQ
Price: £299.00
Burners: 6 burner + 1 burner
Size: 122cm x 98cm x 55cm
Fuel: Gas
Portability: Easy to manoeuvre
Design: Hooded barbecue. Black with stainless steel burners
Extras/specialities: Removable grease cup
Imagine owning a high-end BBQ for £300? What a bargain.
Get ready for those warm, sunny summer days with the Matrix 6 burner gas BBQ. There's electronic ignition, and each steel burner has individual heat control. This allows you to cater for a range of preferences.
Plus, there's a side burner for increased efficiency when cooking. What we like about this gas BBQ is it offers a large workspace and a storage space.
Despite the size, it's also easy to manoeuvre. The wheels mean you can store this mode away over the cold months with ease.
With the removable grease cup, you can also clean your BBQ easier. This ensures that it's prepped ready for your next cookout.
And you won't have to worry about keeping an eye on the temperature all the time. The included external thermometer has got your back!
You sure don't want to miss this! Get it on BillyOh.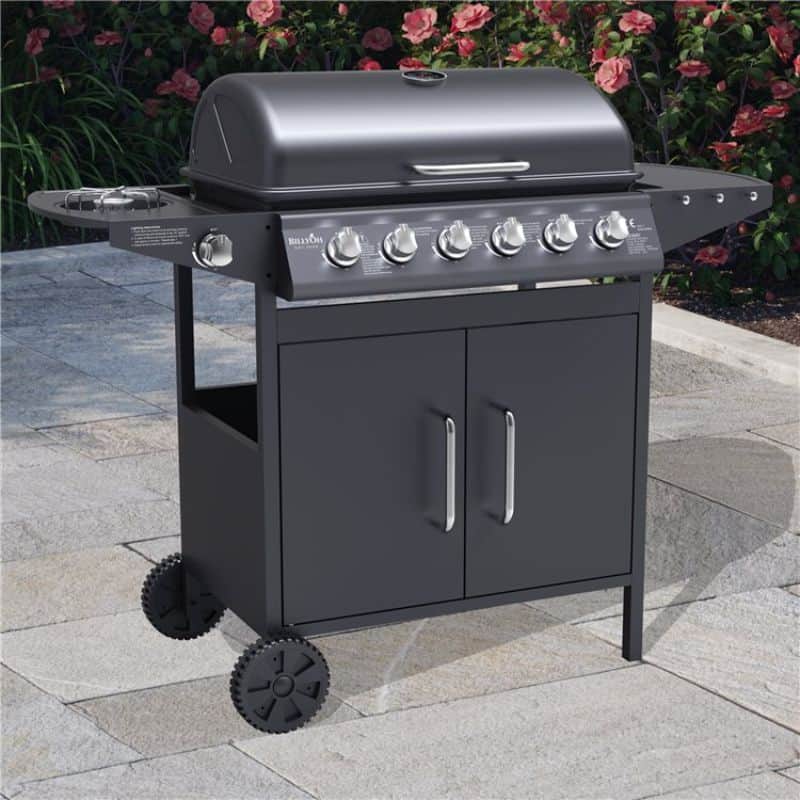 Our other top pick: BillyOh Matrix 3 Burner
Price: £249.00
Burners: 3
Size: 98cm x 104cm x 55cm
Fuel: Gas
Portability: Two wheels included
Design: Modern black steel cart
Extras/specialities: In-built thermometer
If you want all the best bits of the BillyOh Matrix 6-burner at an even cheaper price, you could always go for the 3-burner model.
Featuring a modern black steel cart design, this gas BBQ is made to last, with steel burners for even cooking and added durability.
The 3-burner with side tables and hob is perfect for slightly smaller families or those who aren't catering for big parties.
With a bottom cabinet with built-in utensil storage, you can also keep everything you need on-hand for the perfect BBQ.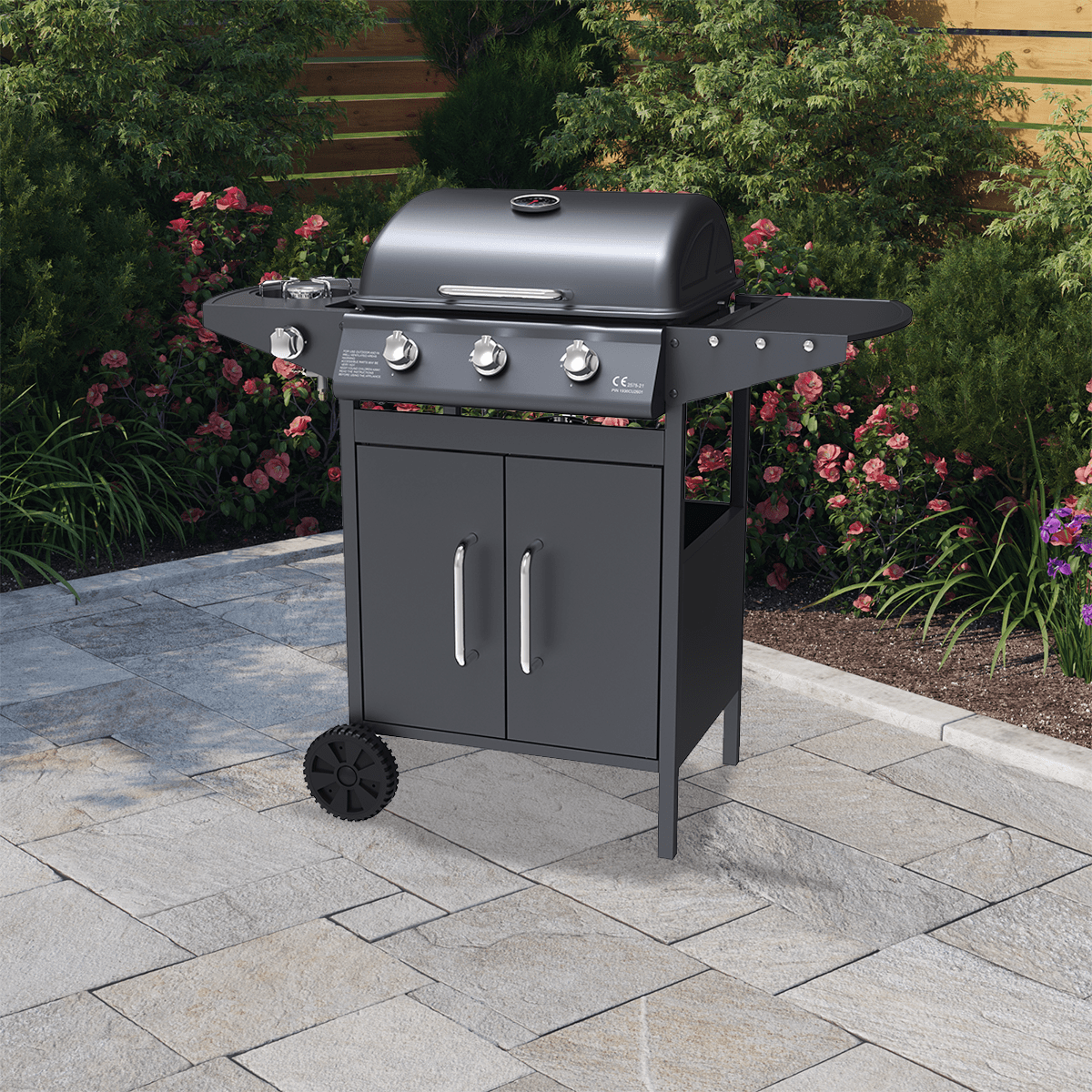 Best BBQ Grill Under £300: Kettle BBQ
Our winner: BillyOh Kettle Black Charcoal BBQ
Price: £99.00
Burners: Charcoal grill
Fuel: Charcoal
Portability: Easy to manoeuvre
Design: Classic yet stylish BBQ design with dome kettle shape
Extras/specialities: Ash catching trap to help keep your patio clean
What's not to love about this Kettle BBQ?
---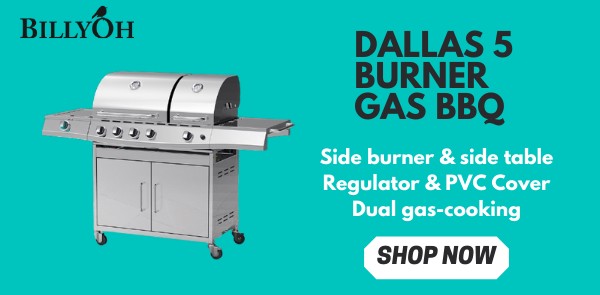 ---
Its compact size makes it perfect for BBQ parties or outdoor family meals on a warm sunny day. But despite the portable size, you can cook a range of foods on its large cooking area.
The steel construction body has a black finish for a premium and stylish look. Plus, the deep bowl allows you to fill it with enough charcoal to keep the grill scorching. That means seared steaks for the whole family!
The ashtray also makes cleaning more straightforward than ever. After disposing of the coals, remove the ashtray and wipe down the BBQ. It's ready for the next round.
Design insight includes:
Thermometer

Wide opening lid vent

Handles and wheels
Get yours on BillyOh.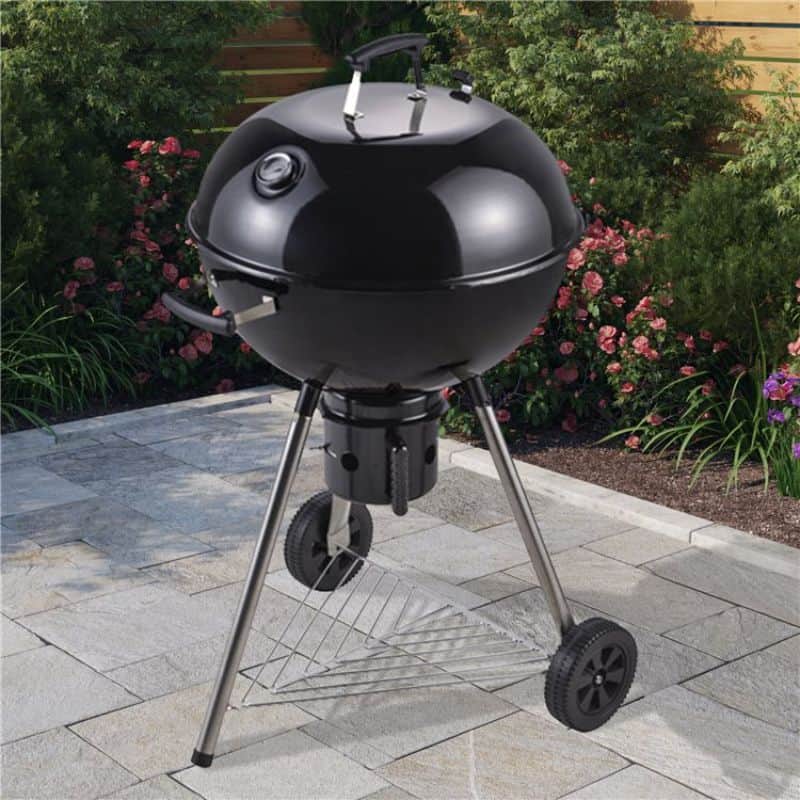 Best BBQ Grill Under £300: Grill Smoker
Our winner: BillyOh Texas Smoker BBQ Charcoal Grill
Price: £199.00
Burners: Charcoal grill
Size: 115cm x 107cm x 65cm
Fuel: Charcoal / briquettes
Portability: A pair of wheels, making it a great portable smoker
Design: Constructed from steel
Extras/specialities: Adjustable height and cooking shelf
Perfect for cooking up a feast for the family, the Texas smoker is a charcoal BBQ grill designed for ease of use.
It features a crank to adjust the height of the grill and an easy access front door for refilling charcoal. You can raise the charcoal tray or lower it using a crank to increase or decrease the heat.
With extra features such as a bottom shelf, thermometer (and bottle opener!) – this smoker grill is an excellent addition to any garden.
Get it on BillyOh.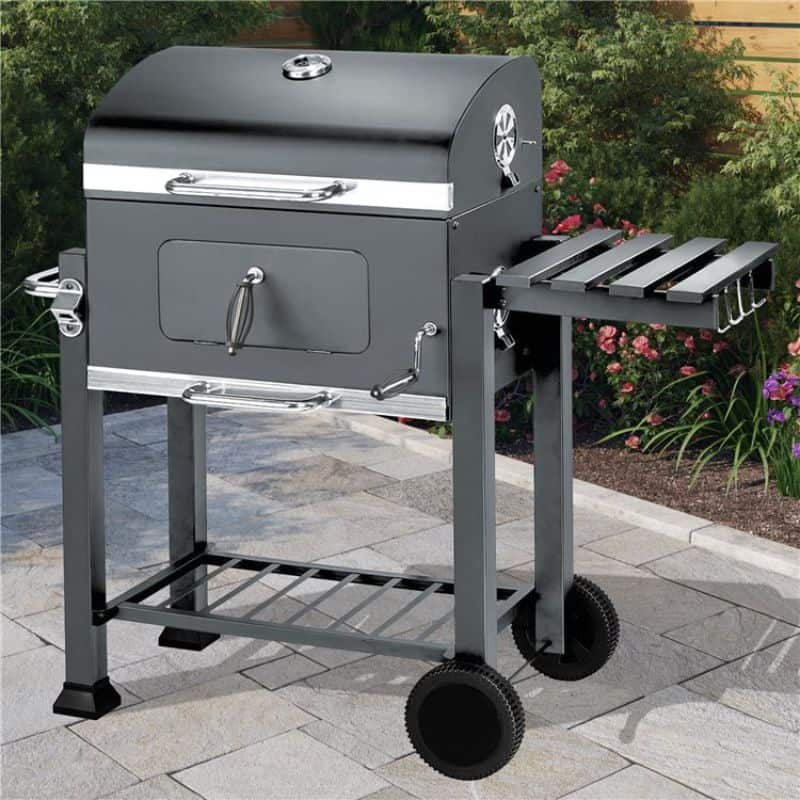 Best BBQ Grill Under £300: Portable
Our winner: BillyOh Tennessee Black Portable Gas BBQ
Price: £149.00
Burners: 1
Size: 95cmx104cmx46cm
Fuel: Butane or propane
Portability: Trolley included and foldable legs for an adjustable cooking height/tabletop use
Design: Stainless steel (Black)
Extras/specialities: Gas options
If you're looking for portable gas BBQ, then look no further than Tennessee! It's foldable, which makes it portable and versatile.
The foldable legs enable you to use it as a tabletop BBQ. Plus, the included trolley gives you the advantage of a large enough BBQ but with great portability.
As for the foldable side tables, their purpose is to extend your work area. They give you enough space to prepare your favourite side dishes while cooking.
Vents and a thermometer are also featured on the steel lid. This helps to release smoke from the grill and allows you to keep an eye on the temperature.
Design insights also include a regulator, fuel hose, and a cover so you can get started in no time. The ultimate outdoor cooking choice, indeed!
Get it on BillyOh.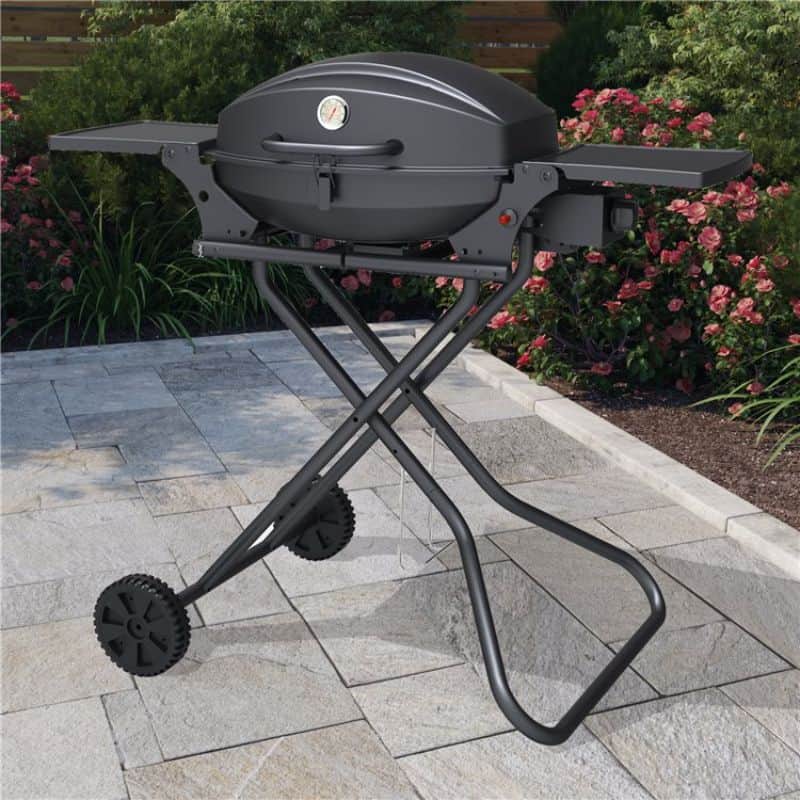 Best BBQ Grill Under £300: Camping
Our winner: BillyOh Lightweight Table Top BBQ
Price: £49.00
Burners: 1
Size:48cm x 27.5cm x 29cm
Fuel: Butane or propane
Portability: Foldable legs for tabletop use
Design: Enamel coated bowl and legs – Black and red
And if you're looking for something even more portable than the BillyOh Tennesse, then look no further.
This BillyOh tabletop portable BBQ is the perfect addition to camping and beach trips. Either pop it in the car or even a rucksack with some fuel and take the BBQ experience with you wherever you go.
Its vented lid will allow you to cover food whilst cooking and still allow smoke to filter out. The enamel-coated design also makes for easy cleaning when you're not near the kitchen sink!
A single valve means you can cook food quickly and evenly. So if you're looking for an absolute steal to get your grill on wherever you go – check out the BillyOh tabletop BBQ.
Get it over on BillyOh.
Round-up
Oh, don't you just love to BBQ for the whole family? And all for under £300!
We guarantee you that every BBQ grill we mentioned can provide a great cooking experience for you and your family. From the best all-rounder to the best portable BBQs under £300, you can never go wrong with our winners.
Even our other top picks and runner-ups are great choices. Other than perhaps getting edged out on price, they aren't on our list for nothing!
Shop BBQs
FAQs