If you're trying to get every type of BBQ explained then at some point you're going to stumble on portable BBQs.
Heading out for a family picnic or going for a weekend camping/beach trip? Grilling outdoors is the perfect way to feed everyone!
But you're hardly likely to bring a gas range BBQ with you. Even though they are moveable (around the garden and patio), they're not portable. But a portable charcoal bbq or even a small gas barbecue, on the other hand? Oh, to make a bbq portable…

This is where a camping or picnic BBQ comes in. With their compact designs, small gas grills
are far easier to take on a trip camping, to festivals, the beach, or just on a picnic.
So in this roundup, we're going to help you find the best small portable BBQs on offer.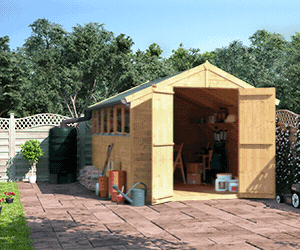 Still wondering whether to buy a charcoal or gas BBQ? Don't worry; we have both options below.  
Whether you're a purist or someone who values convenience – there's something for you here.
---

---
What Is the Best Portable BBQ?
A few considerations come into play when picking a portable BBQ grill. The answer to this question depends on how, when, and where your grilling will take place.
These questions will help you find out the best one for your particular needs.
How

often will you use your barbecue over the course of a year?

How

many people will you be serving?

What

do you need a portable BBQ for: camping, family sporting events, or cooking at home?

How

long do you expect your grill to last?

What

price range are you looking in?
Once you have the answers, it's time to discuss features and factors to consider when choosing a portable bbq grill.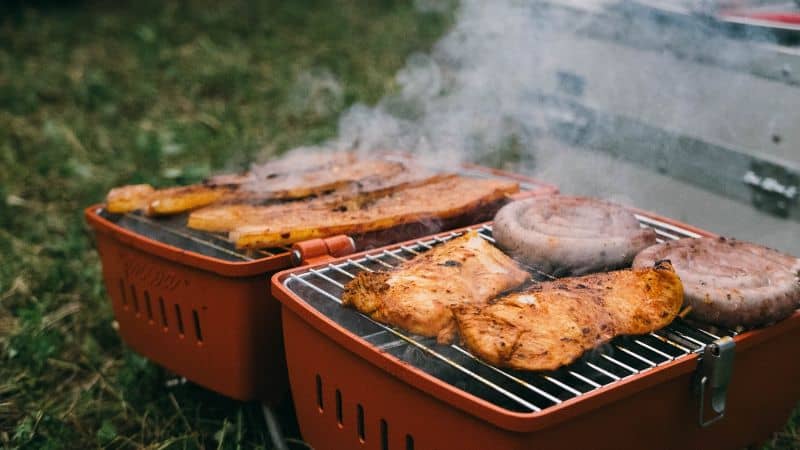 Choosing the Best Portable Charcoal BBQ
Most charcoal BBQ grills come in metal and are shaped like a kettle or are simple open trays. There's a metal grill rack and lid that goes on top.


A portable kettle bbq also usually stands on three legs. Other than appearance though, consider the three factors below when choosing portable grills.
These will have a lot of influence in meeting your requirements.
Fuel
Did you know that there are two types of fuels used for portable charcoal BBQ grills? These are lumpwood charcoal and briquettes.
Also known as natural hardwood charcoal, charcoal lumps are made from scrap lumber. They produce less ash than briquettes and also burn hotter.
But they come in irregular sized pieces, which can result in uneven heat output. And be careful when opening them – their packaging might also include an excess of charred dust!
If so, make sure not to pour dust into your firebox. It won't burn well and charred dirt acts as a barrier to oxygen intake when burning.
In contrast, briquettes are made from sawdust. There are also extra ingredients added for improved burning and binding. These include coal, limestone, borax and cornstarch.
Instant-light briquettes are (as the name suggests) easy to ignite due to being mixed with flammable lighter fluid. So keep in mind that there's a petroleum additive there. Many claim it leaves an oily aftertaste on food but they are one of the quickest ways to get a cheap portable bbq going.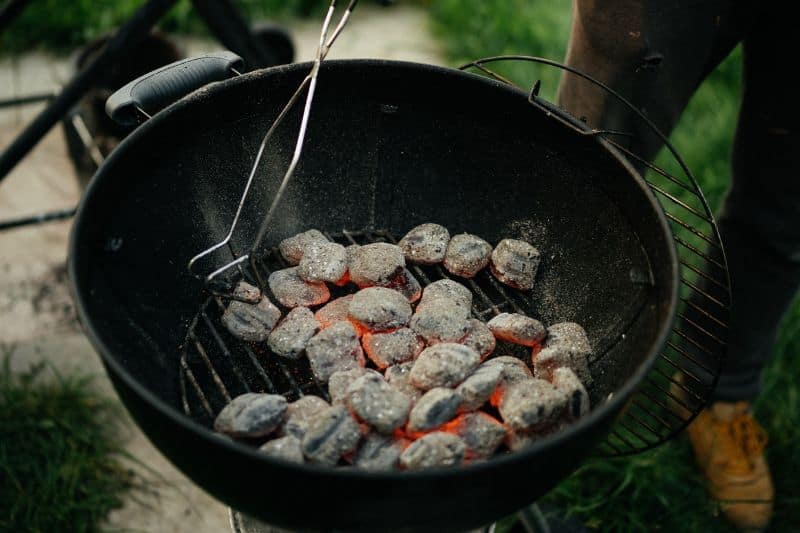 Compatibility
A kettle-style portable charcoal BBQ only takes a minute or so to assemble. This is because of its minimal parts: a drum base, tripod, a grate, and a lid. A tray-style portable BBQ is ready to go as soon as you remove the lid.
Plus, they're lightweight! Even with a bag of coals, they'll be much lighter than a 20-pound canister of propane. Just imagine lugging that with you everywhere you want to grill!
Whether it's for camping or a picnic on a small bbq – charcoal is a great option!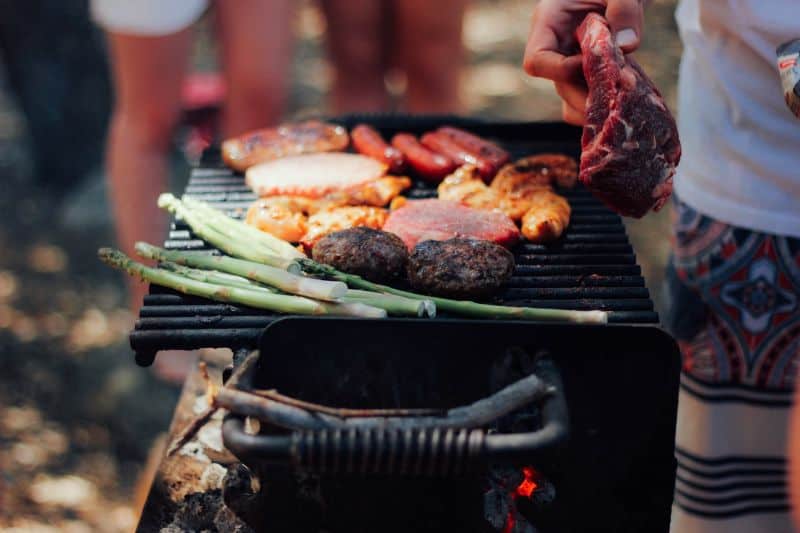 Price
A typical portable charcoal BBQ grill ranges from £50 – £250.
If you're looking for an affordable kettle charcoal, the BillyOh Kettle BBQ is a great choice. Its compact size makes it a perfect companion for family outdoor trips.
Design insights include:
Classic yet stylish BBQ design with dome kettle shape

Easy to BBQ or smoke with a wide opening lid and control vents

Side table to give extra space for preparation

Ash catching trap keeps the floor clean

Thermometer to keep track of cooking temperatures

A pair of wheels for portability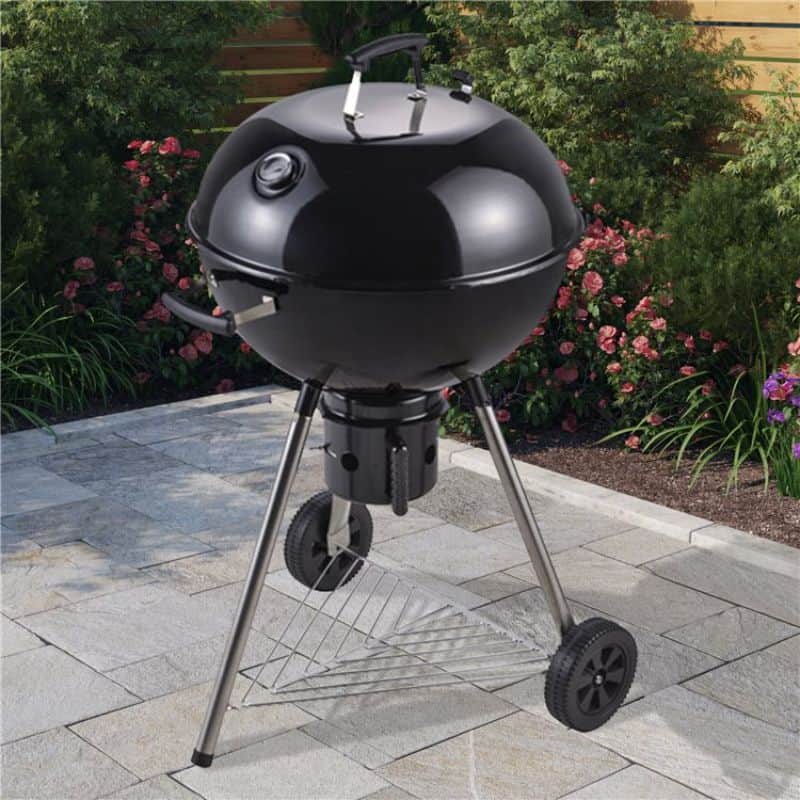 What Is the Best Tabletop Charcoal BBQ for 2021?
When it comes to portability, look no further than the BillyOh lightweight tabletop gas BBQ! Perfect for camping, picnics in the park, or use at home, it covers all your cooking needs.

It's lightweight, portable and easy to clean. Plus, it comes with optional gas: butane or propane. This table top bbq is a real winner.

Design insights:

Perfect for camping or small garden meals

Classic campfire-style BBQ

Folding legs for storage and outdoor use

Enamel finish on lid and bowl

Chrome-plated cooking grill

Simple single burner and single valve

Quick and easy assembly
Factors to Consider For Choosing the Best Portable Gas BBQ
On the other hand, portable gas BBQ grills are also an ideal choice for those who value convenience. And, like charcoal BBQs, there are factors worth noting before you purchase a small barbecue.

For one, gas BBQs use burners for cooking or grilling – and with burners come fuel costs.
Fuel tanks
Gas grill fuels are available in two types: propane/butane and natural gas.
Propane gas burns hot and clean and it usually comes in a portable cylinder. Plus, these cylinders are affordable and some are refillable (depending on size) for portable gas barbecues.

If you plan to grill with propane, have at least one full spare tank on hand. You can buy them at hardware and grocery stores.
You might also come across butane gas. It's compact like propane and is safe, non-toxic, and suitable for use with a mini barbecue.
Next is natural gas, which is an affordable fuel source if you can connect to it. Natural gas for your BBQ can often be connected to your home via an existing gas line.
Some manufacturers offer conversion kits for propane grills to run off natural gas. Take that into consideration when you're purchasing your grill.
Top tip: Most portable BBQ models come with small cylinders of propane. A camping size one is great for a couple of meals.
But in the long run, if you're grilling a log, it might be more cost-effective to buy a conversion kit for your mini bbq grill. In most cases, this isn't included in the sale price.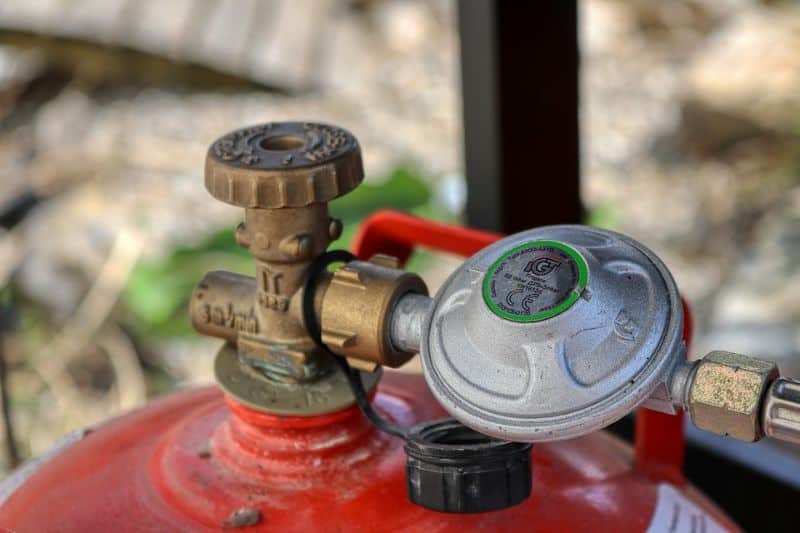 Portability/transportation features
Always on the go? Then you need a small portable bbq that you can easily get in/out of your car, truck, or RV.
Other factors include:
Does the lid have a latch to keep it secure when travelling?

Does it come with a travel case?

Do you need a model with wheels for easier movement?

Will it fit in your car for trips away?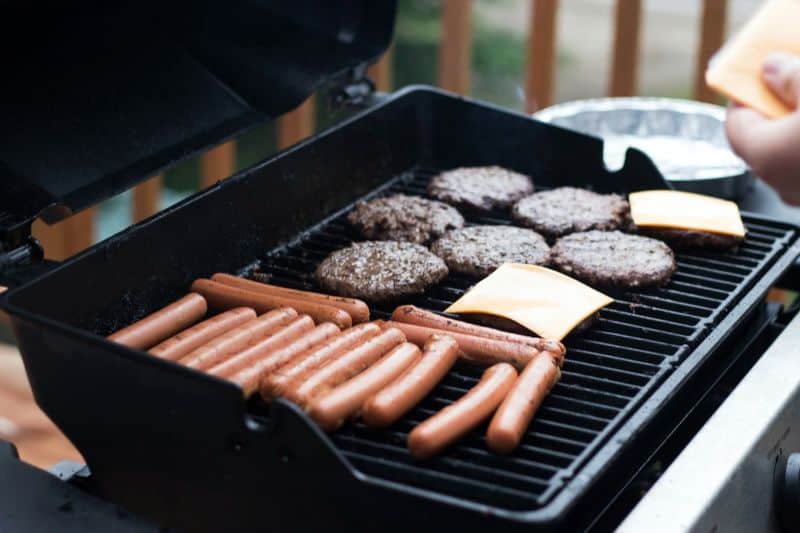 Price
Portable gas BBQ grills tend to be more expensive than charcoal ones. The average price can range from £150 – £400 on the higher end.
But considering the features that come in a portable gas BBQ, it's already a great investment!
---

---
Best Portable BBQ Smoker
That's right! You can now take your smoker on the move. You'll never have to try and dismantle and put your barrel smoker back together again. Instead, you can just wheel on through the BillyOh Texas smoker.
Design Insights:
Adjustable cooking shelf with
front crank and door.
Bottom shelf gives you extra storage with easy access.
Side table to give you extra space for preparation at your bbqs.
Vented lid keeps your food at the right temperature.
Thermometer to keep track of cooking temperatures.
A pair of wheels are included, making a great portable smoker.
Best Portable All-In-One BBQ
And if you're such a BBQ nut that even portable smoking isn't good enough – boy do we have a treat for you.
The BillyOh 3-in-1 Pizza Oven, Chimney Smoker & Charcoal Barbecue comes with two wheels for better portability.
That means not only can you cook in three different ways – you can potentially do it all on the move too! Ok not on the move – we don't want you dropping your pizza. But the 3-in-1's compact design and wheels make it a doddle to take to a friend's or even away on a short trip.
Design Insights
Dual cooking areas – Cook for everyone at the same time.
A bottom shelf gives you extra storage with easy access.
Slide-out charcoal ash box is included for easy cleaning.
Chimney and vents offer a combo of great smoke control.
Thermometer to keep track of cooking temperatures.
A pair of wheels and a handle for great portability.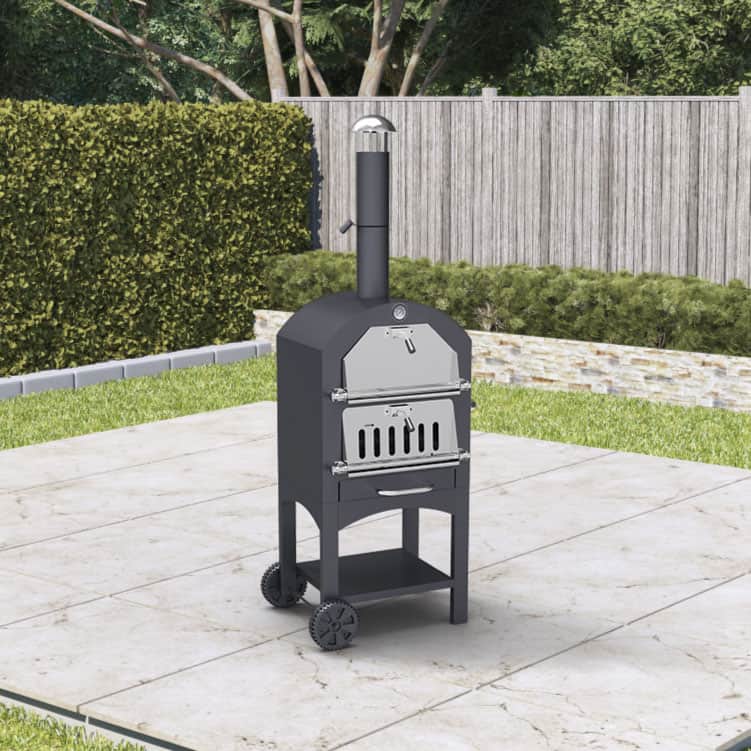 What Is the Best Portable Gas BBQ 2021?
BillyOh Tennessee BBQ
For the ultimate outdoor cooking choice, you don't want to miss out on the BillyOh Tennessee BBQ! It's both portable and versatile, allowing you to cook anywhere.
The foldable legs make it a perfect tabletop companion. The trolley/stand gives you all the advantages of a large static BBQ but with great portability.
Design insights:
Optional gas fuel – You can use butane or propane

Foldable legs offer an adjustable cooking height for tabletop use

Folding side shelves for use as a preparation station

Quick and easy assembly guaranteed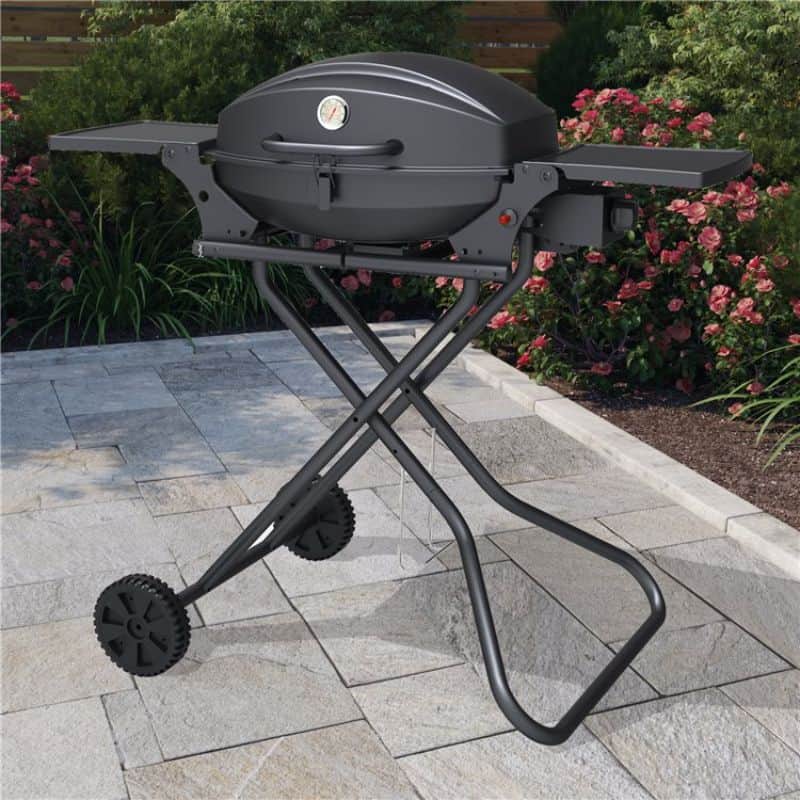 The Round-up
All that now the best mini gas bbq or charcoal barbecue is only a couple of clicks away – we hope!
All in all, a portable BBQ – be it charcoal or gas – can make your picnic, camping, and beach trips more convenient. And if you maintain it and use it wisely you can get similar if not the same results as a regular grill.
Lesson learned: never underestimate a BBQ's size. We hope this guide will help you make the right buying choice to find your type of portable barbeque!
And once you've settled on the best portable BBQ for your camping trips – why not learn how to clean your BBQ? And for the best portable gas barbecues uk, check out our range of BillyOh grills via the button below!

Shop BBQs
FAQs