Whether you're a vegan yourself or you've got vegan guests attending your BBQ, you might think it's difficult to come up with tasty meals suitable for vegans. 
Well we're here to help! We've come up with an extensive list of delicious vegan meal ideas you could serve at your BBQ area party that everyone can enjoy.
Let's take a look!
1. Vegan kebab with avocado dressing
Kebabs don't have to be meaty! You could use a marinade or seasoning mix to enhance the flavour of your vegetables, and add a simple dip or sauce. 
2. Griddled vegetables with melting aubergines
Use the BBQ grill to cook your favourite vegetables and add that smoky, charred flavour you only get from a BBQ.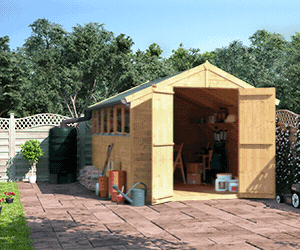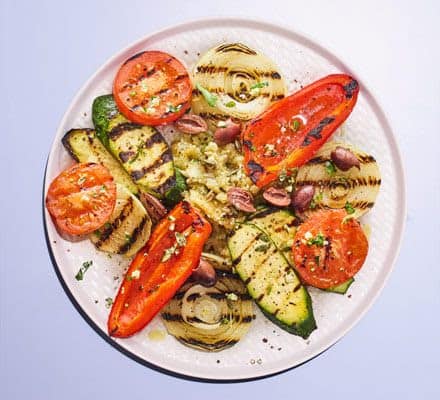 3. Vegan burger
Burgers are synonymous with meat. Or they used to be! Now, there are plenty of tasty burger options out there if you're on a vegan diet. 
From chickpeas and quinoa, like this one, to sweet potato, vegan burgers can be just as delicious as a meat burger.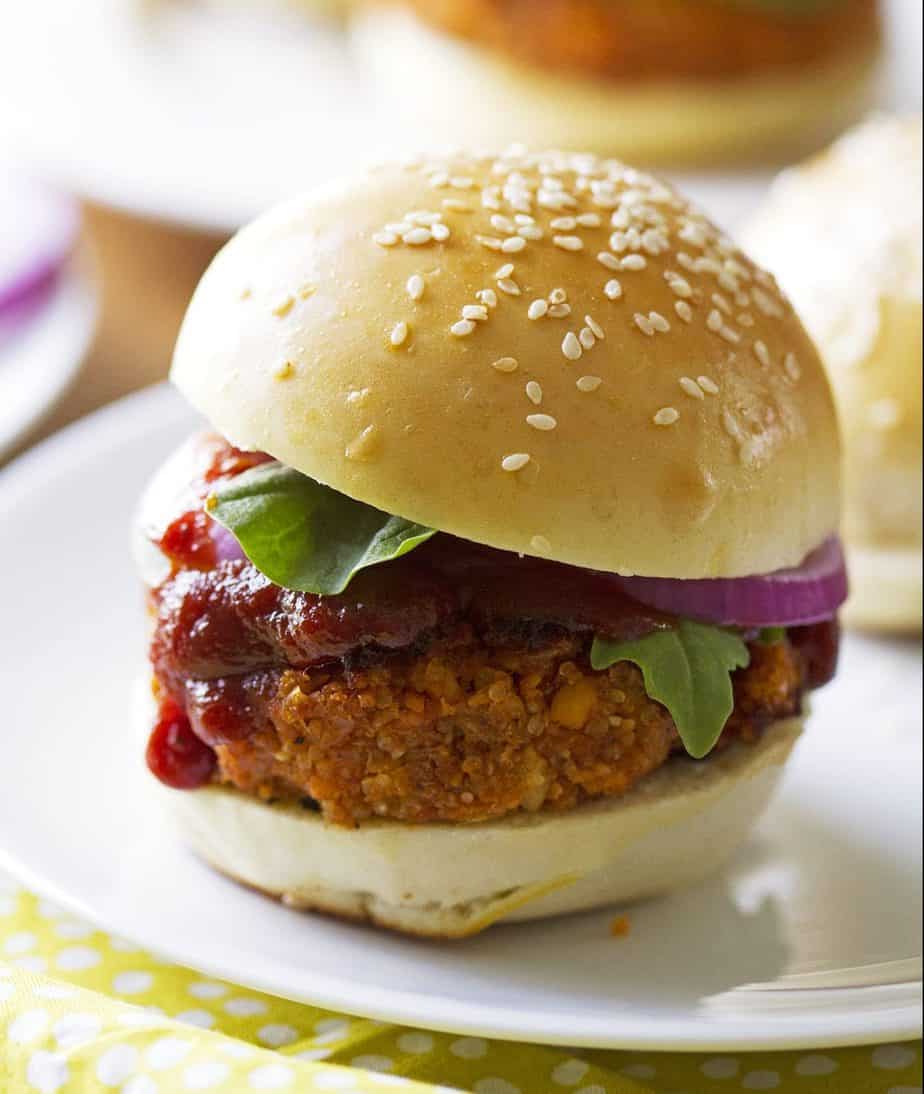 4. Vegan pulled jackfruit
Jackfruit can make another great substitute for pulled pork or brisket on a burger, that is also very tasty and 100% vegan.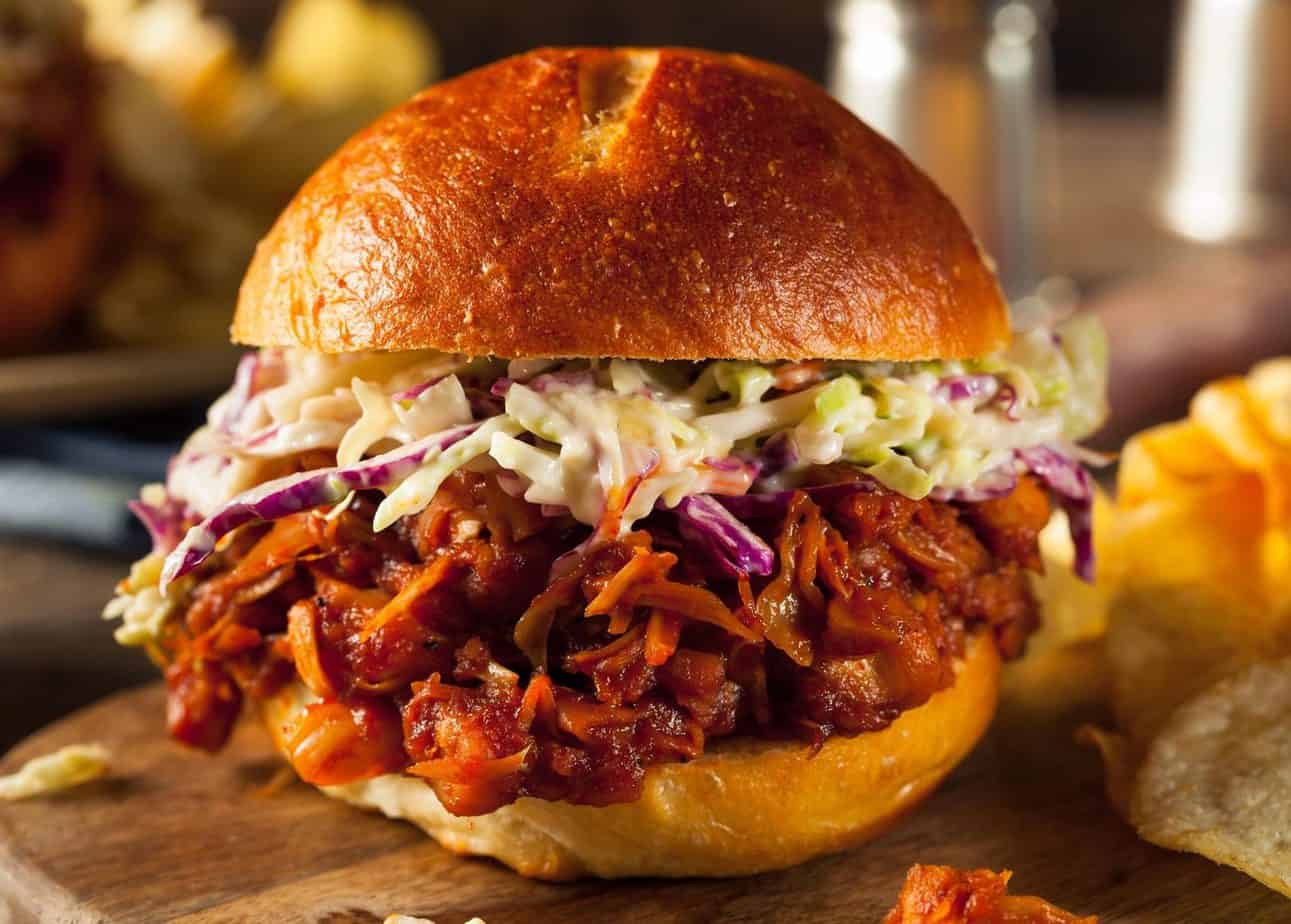 5. Grilled teriyaki tofu steaks
You can cook tofu in a lot of ways. For example, marinade it in a tasty sauce, like teriyaki, then grill it for a crispy, meaty dish to serve at your next BBQ.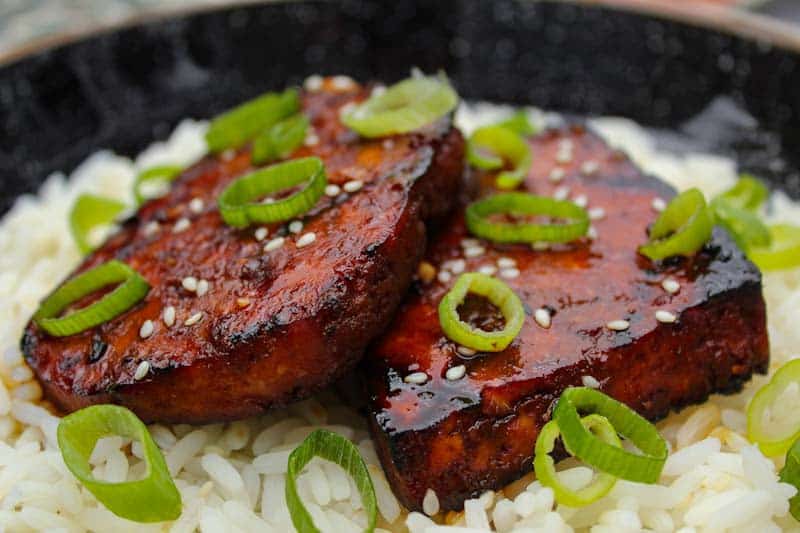 6. Barbecue sesame sweet potatoes
Again, you can cook potatoes in various ways to make delicious vegan-friendly dishes. Sweet potatoes are great for tasty wedges.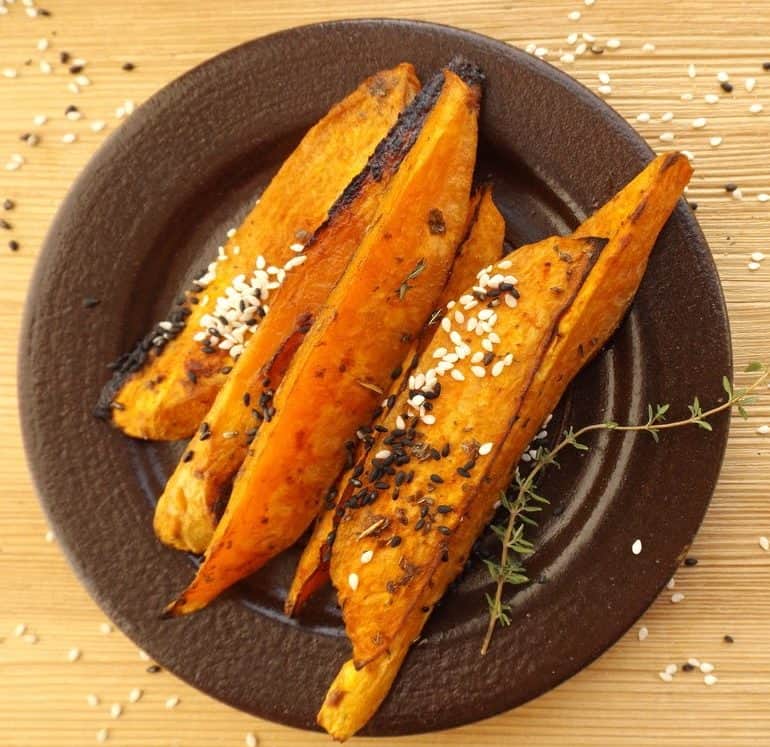 7. Mexican curtido
This lightly pickled cabbage coleslaw is vegan-friendly and can be served as either a side dish or a topping for burgers or tacos at your BBQ.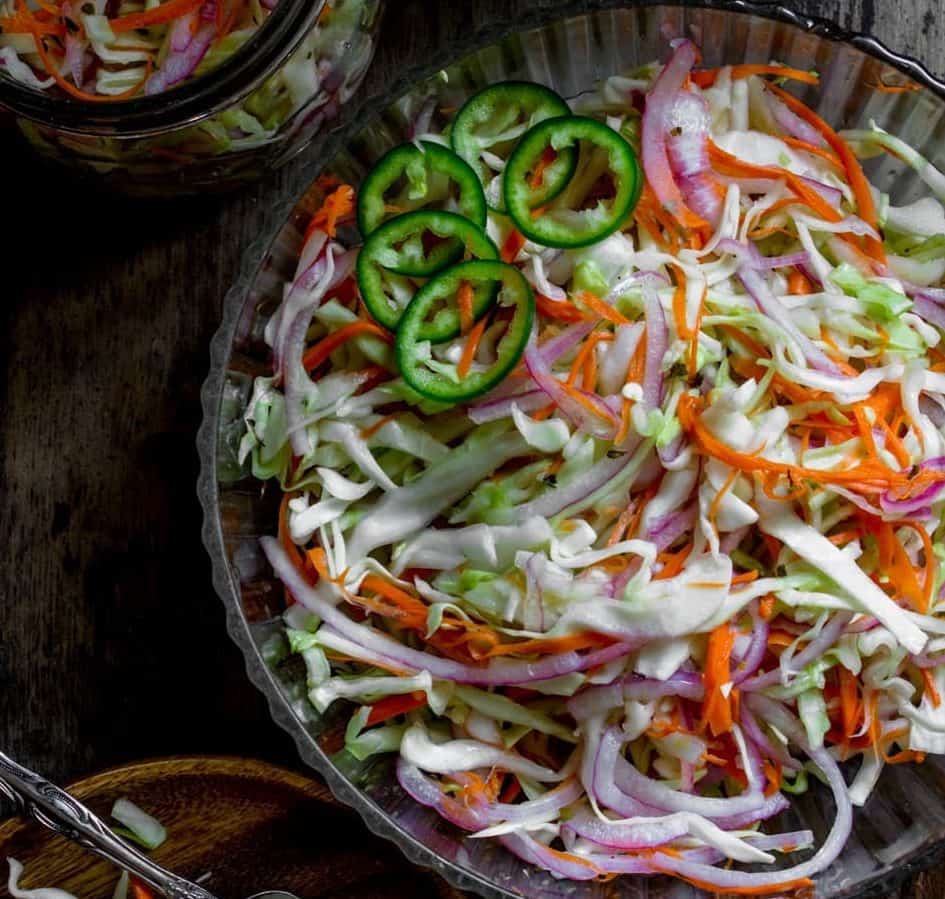 8. Boozy watermelon-strawberry slush
This refreshing adults-only slush drink will be your new fave to hand out at parties.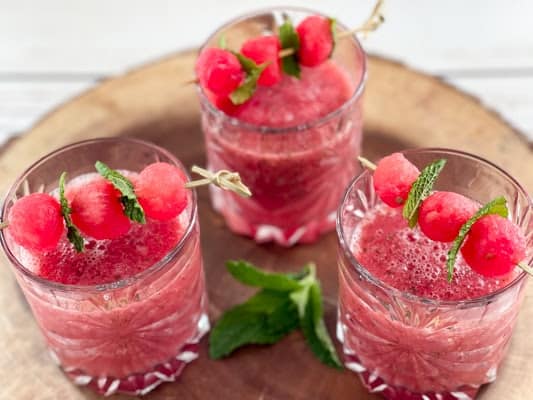 9. Beetroot burger
These beet burgers are full of flavour and plant-based protein. They're cooked in the oven rather than on the BBQ but are great for your vegan guests.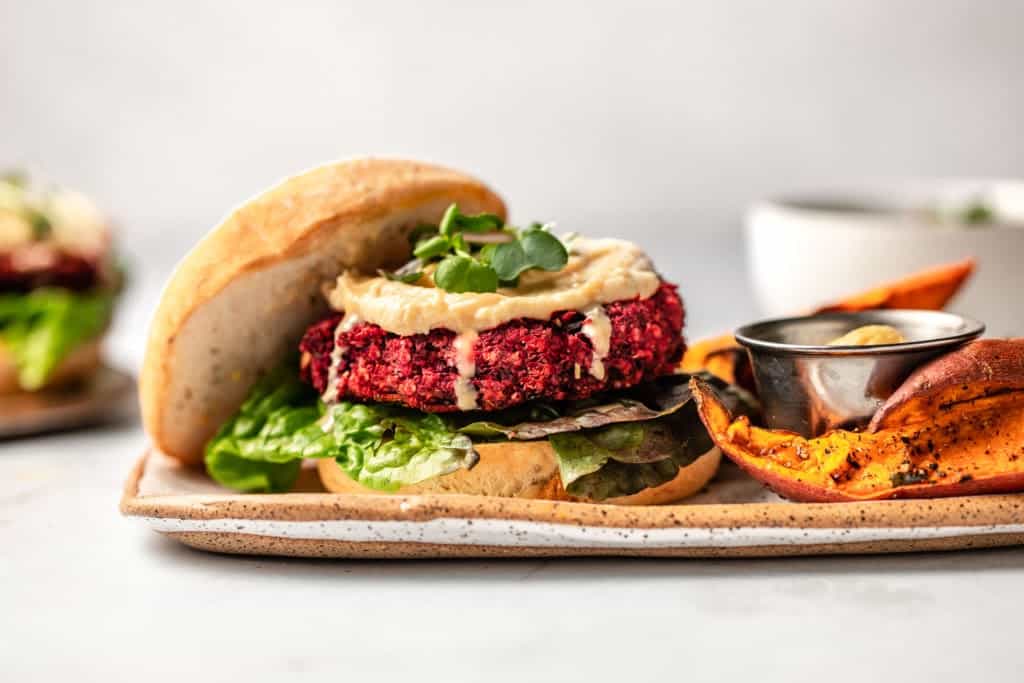 10. Spice crusted tofu with kumquat radish salad
Another great way to serve tofu at your BBQ, add some spice and a crunchy salad for a delicious vegan dish for your guests to enjoy.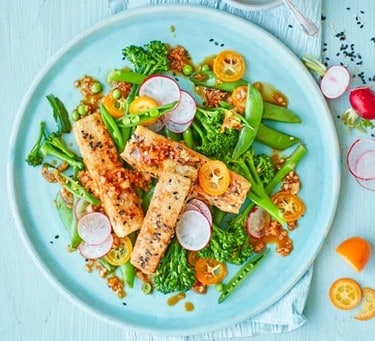 11. Salad stuffed blackened peppers
Stuff some peppers with delicious cooked vegetables and rice and then place them on the grill for a little while. Easy to make and a tasty vegan-friendly result.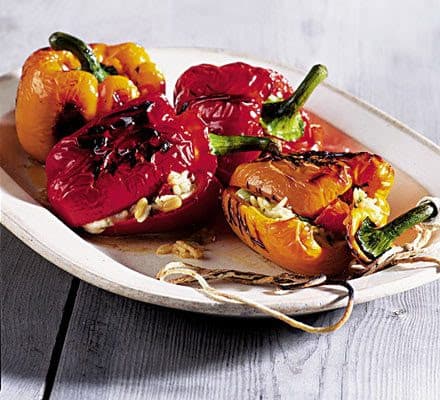 12. Harissa-spiked hummus
Hummus is a delicious addition to any BBQ spread, but you can take it to the next level with a tasty harissa topping.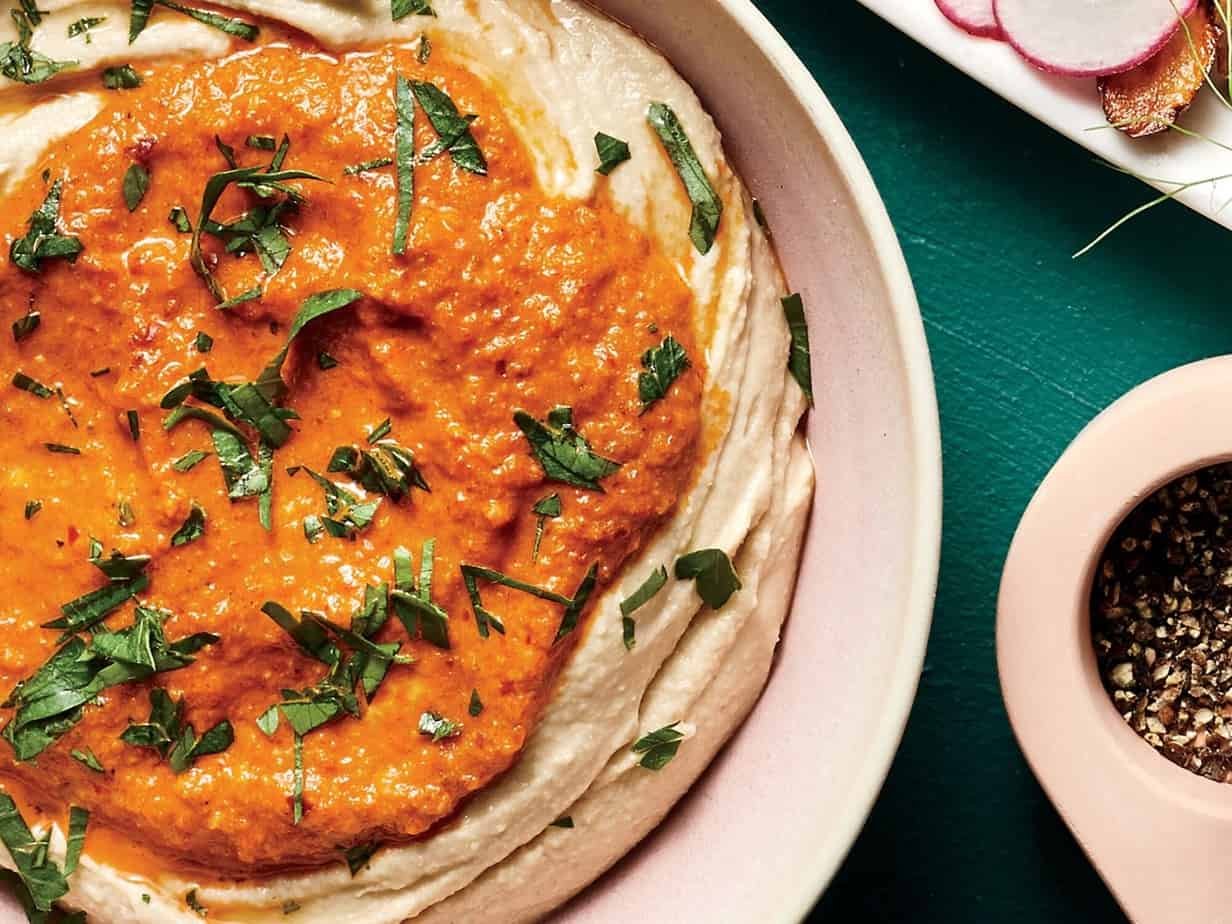 13. Grilled corn and avocado salsa
This simple veggie salsa provides a tasty fresh side dish for your BBQ.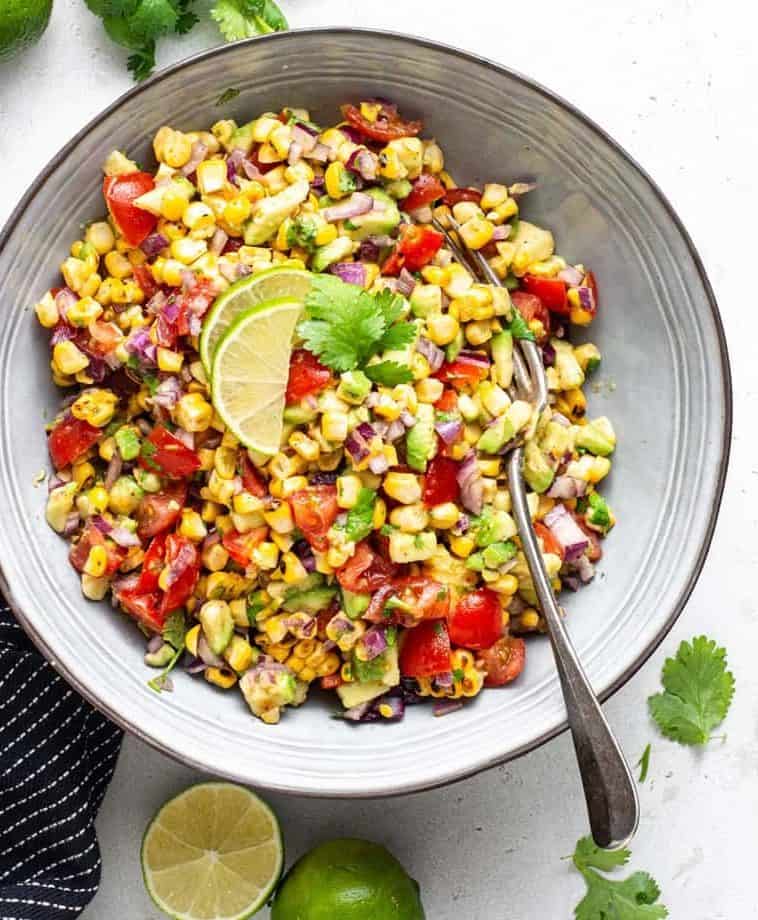 14. Butter bean and radish salad
There are a ton of different salads you can make to serve with your BBQ meals. This easy butter bean salad will provide a tasty, filling side dish.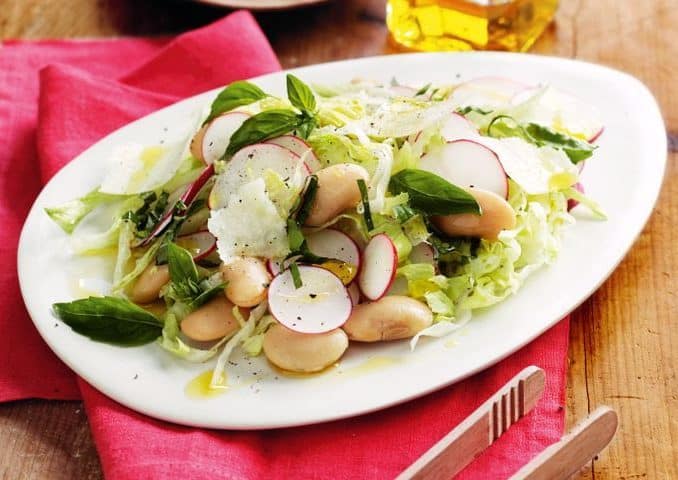 15. Charred aubergine, pepper and bulgur salad
Char your vegetables on the BBQ and mix in with a bulgur wheat or rice mixture for a delicious, hearty vegan meal.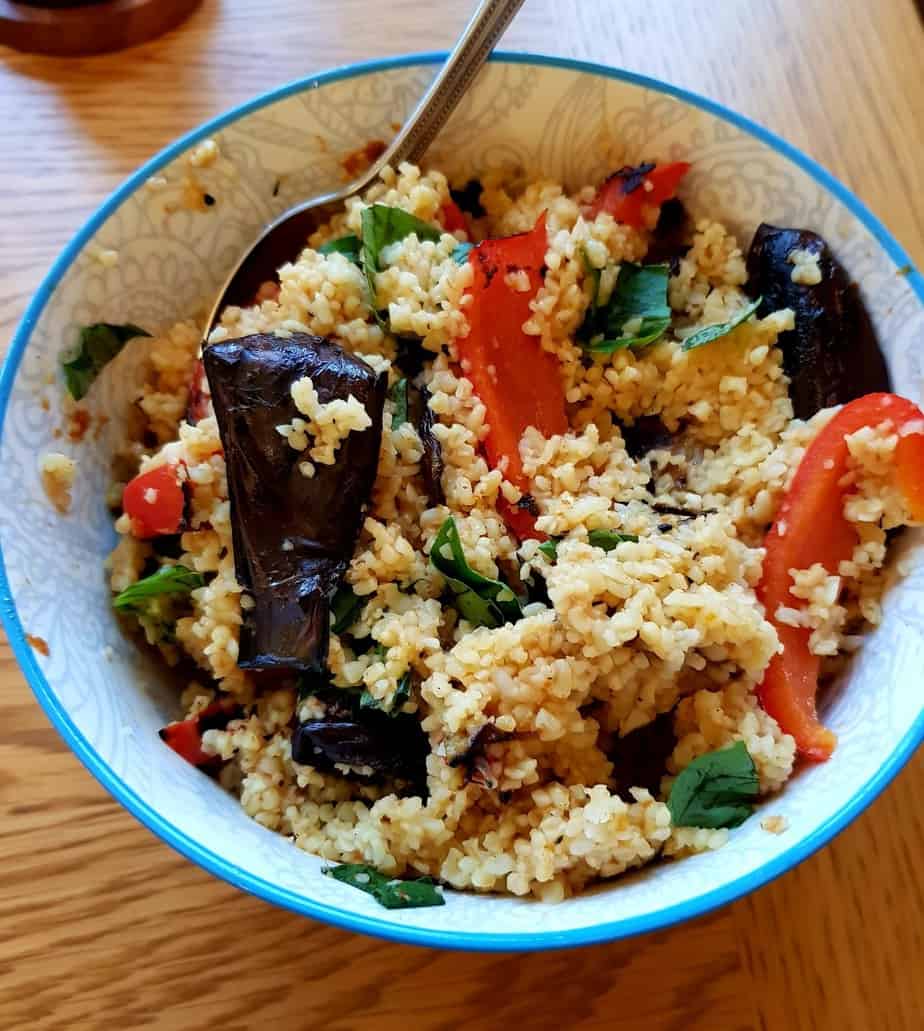 16. Summer punch
It's always good to have some tasty drinks to go with your meal, like a fruity summer punch to refresh your guests on a hot afternoon.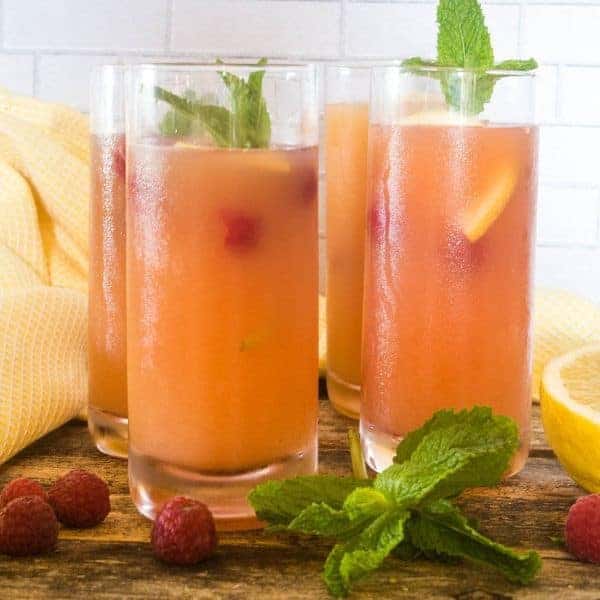 17. Falafel burger
Falafel is a delicious ingredient for vegan burgers. This recipe is full of herbs, garlic and onions to give a tasty meat replacement.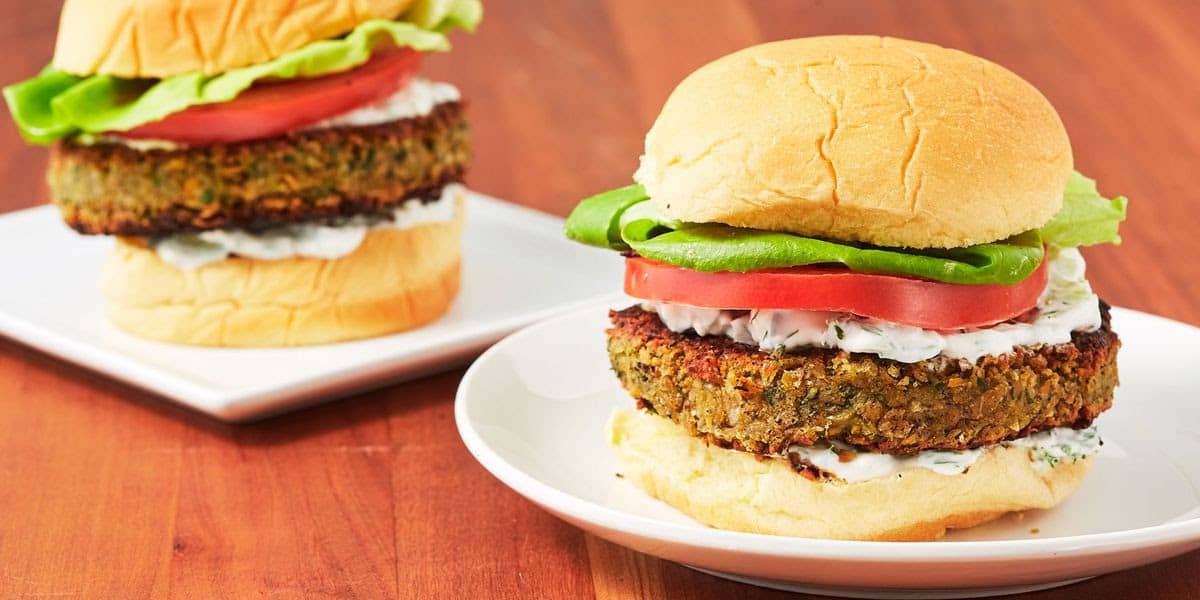 18. Hot and spicy sweet potatoes
These cubes of sweet and spicy roasted potato work well as a mouth-watering side dish at your BBQ and can be enjoyed by all of your guests.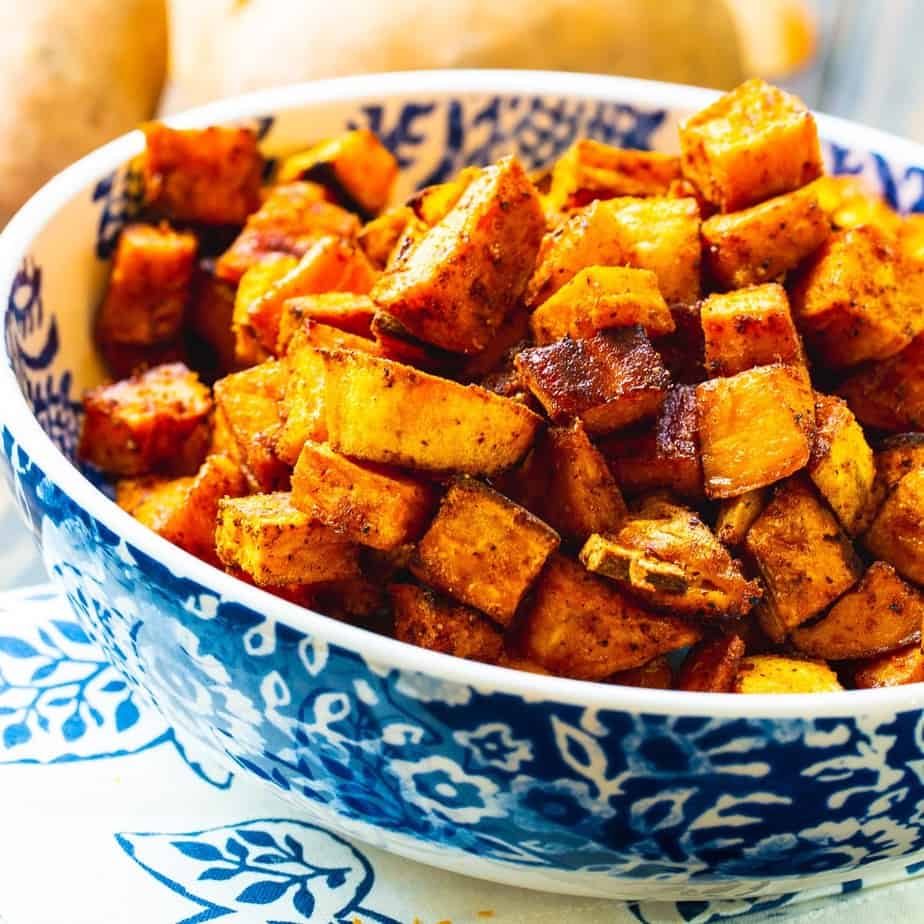 19. Carrot fries
Serve them with a garlic or chipotle aioli for a side dish that is bound to steal the show.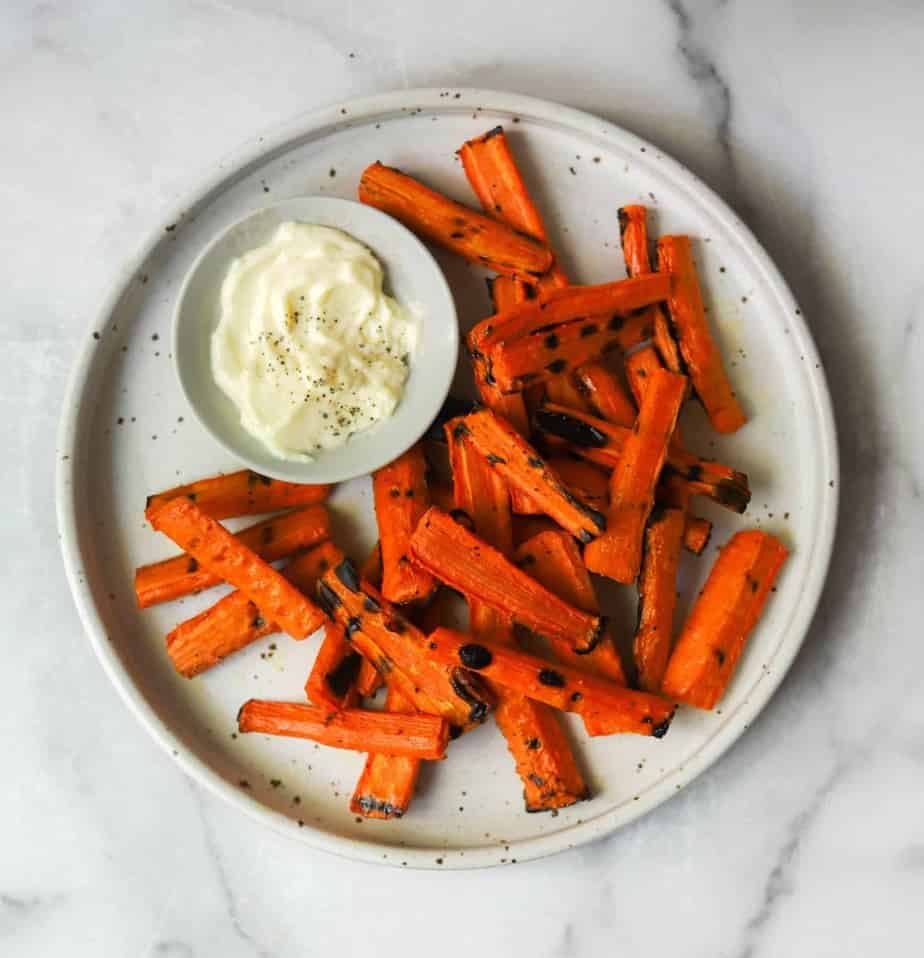 20. Minted green bean salad
Maybe add some almonds or croutons to give your salad some crunch.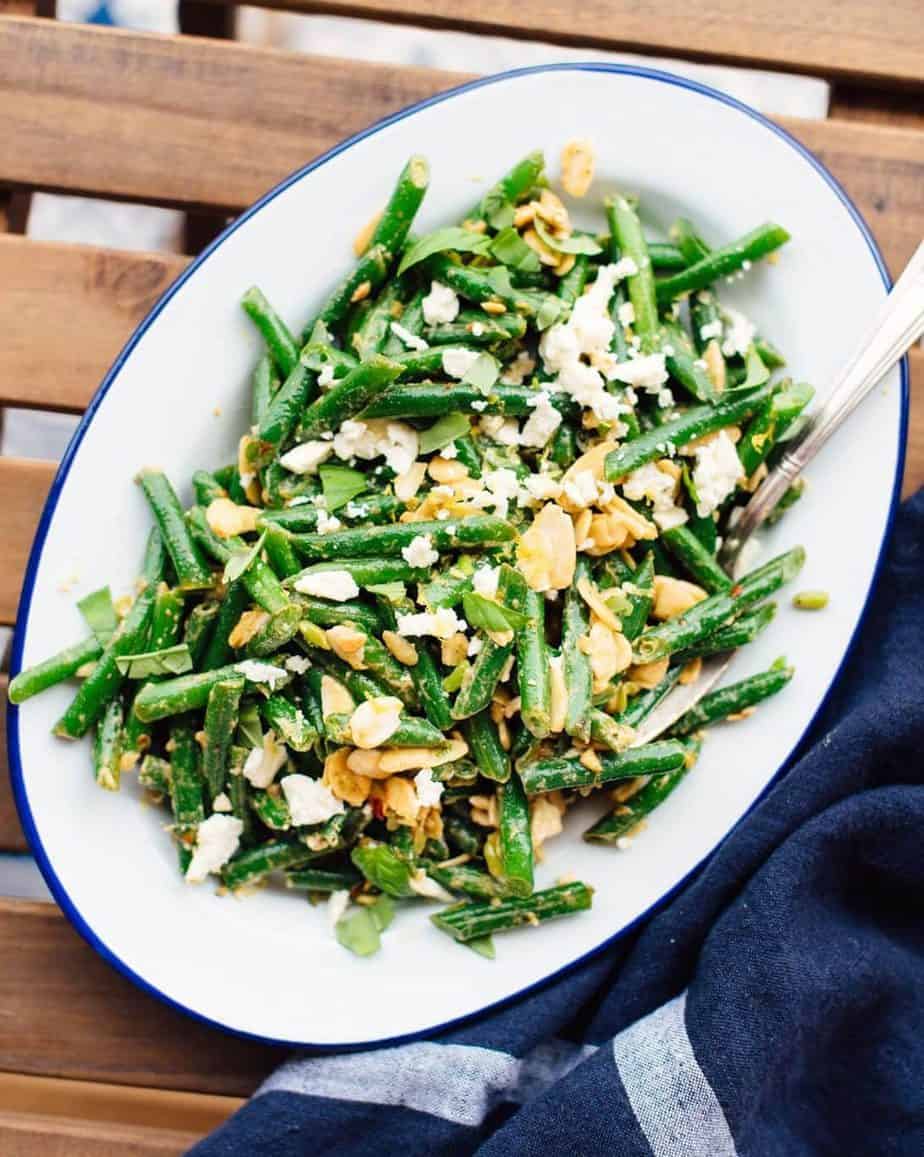 21. Smoky chipotle pepper salsa
No BBQ is complete without sauces, dips and salsas. You can recreate this simple salsa at home with just a few ingredients.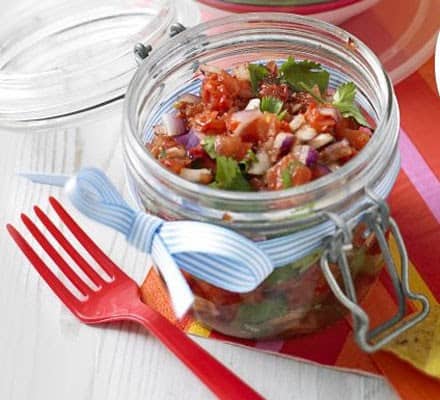 22. Avocado panzanella
Panzanella is a Tuscan-style salad that includes chunks of soaked bread. Easy to make, healthy and totally perfect for your vegan diet.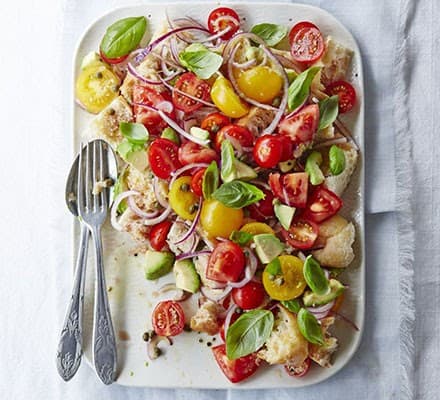 23. Carrot, orange and avocado salad
You've been invited to a BBQ in half an hour and you don't wanna show up empty handed? This is the solution. 
You can get it done in about 10 minutes and it's just delicious.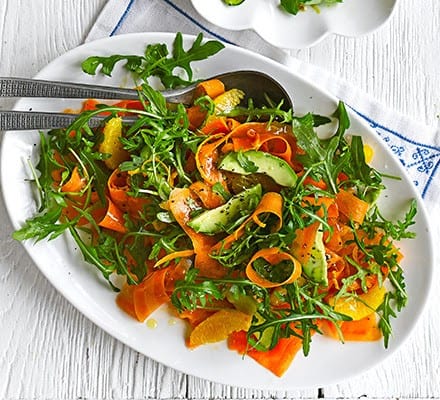 24. Chunky potato slices
Another of the 100's of ways to serve potatoes at your BBQ. Just cut them into chunky slices, add some herbs and butter, and to the grill they go.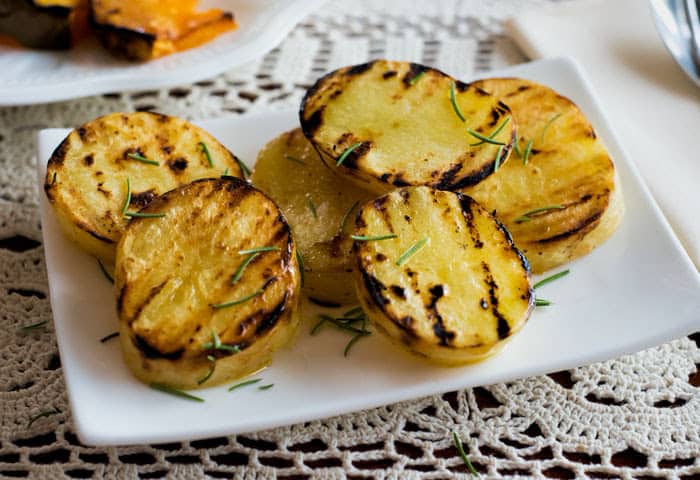 25. Oven 'sun-dried' tomatoes
These 'sun-dried' tomatoes are easy to make in the oven and can be customised to be as herby, garlicky, spicy or plain as you prefer.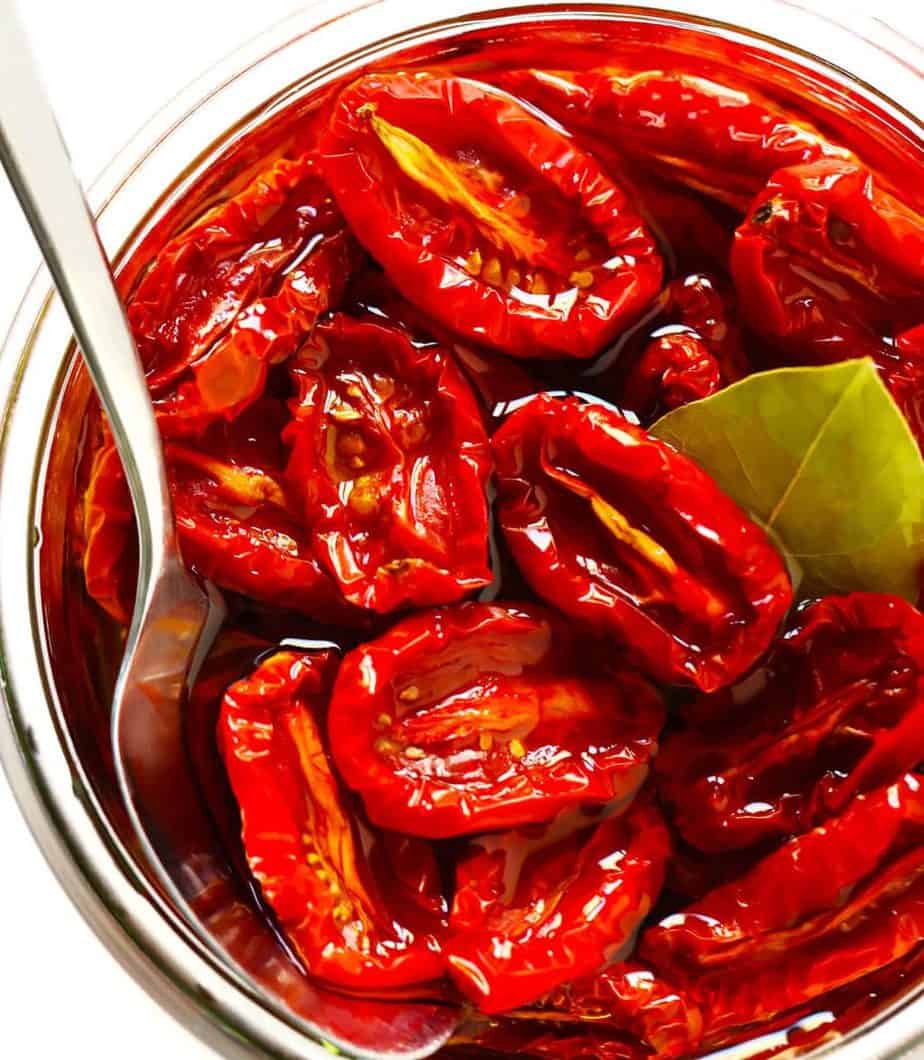 26. Sweet potato salad
You could serve some sweet potatoes and avocado with rocket or other greens for a simple salad with a great taste.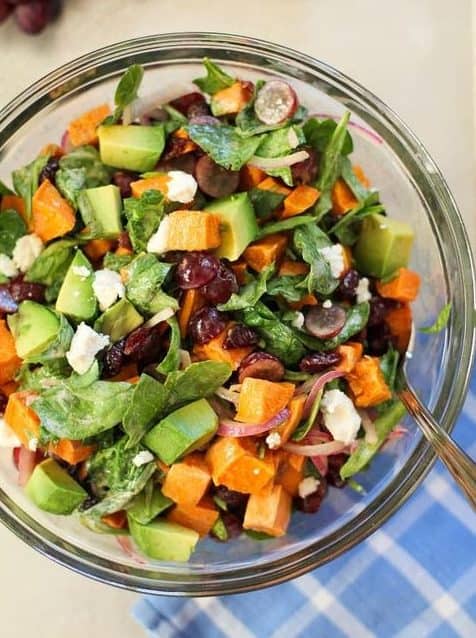 27. Barbecued fennel with black olive dressing
Black olive dressing adds a delicious flavour to any salad. Or, in this case, some char-grilled fennel.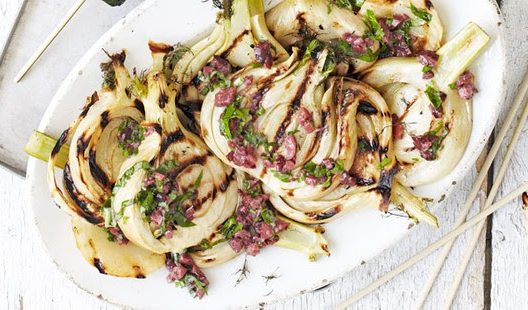 28. Jewelled couscous
This jewelled couscous is an explosion of flavours that makes the perfect vegan BBQ dish.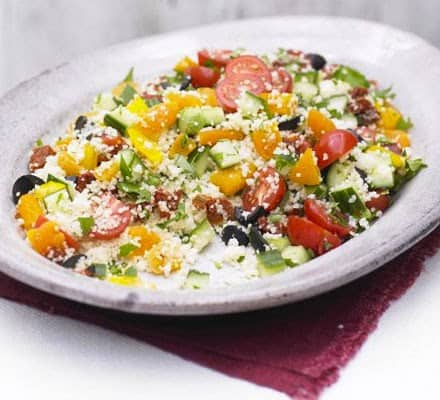 29. Fennel and orange salad with mint
A citric salad with a touch of mint provides a delicious combination for your BBQ table.

30. Mustard potato salad
You'll need very few ingredients for this mustard potato salad recipe. Traditionally it's made with eggs but you can leave those out to keep it vegan.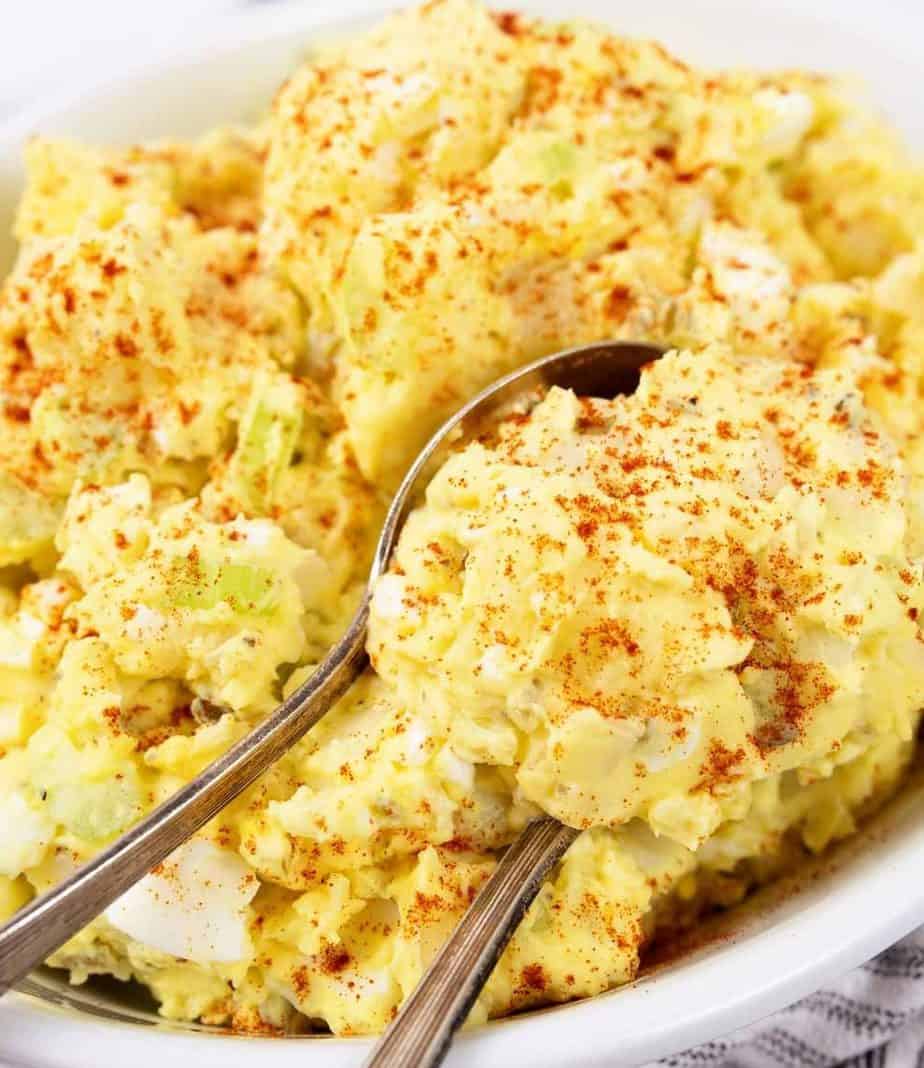 31. Grilled aubergine tabbouleh
This vegan tabbouleh has all the flavours of summer. Delicious summer vegetables and a creamy dressing make this a perfect addition to your spread for parties and BBQs.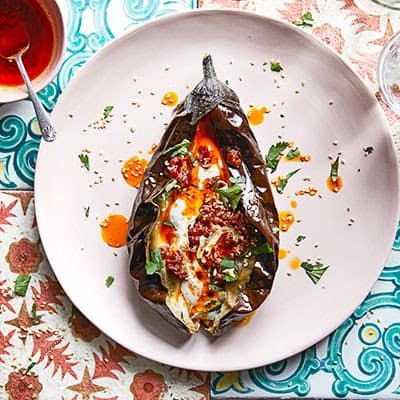 32. Beetroot and chilli salsa
Beetroots appear in lots of vegan dishes as they're filling and nutritious, with plenty of possible health benefits. With just a few ingredients you can recreate this delicious salsa to add to your BBQ dishes.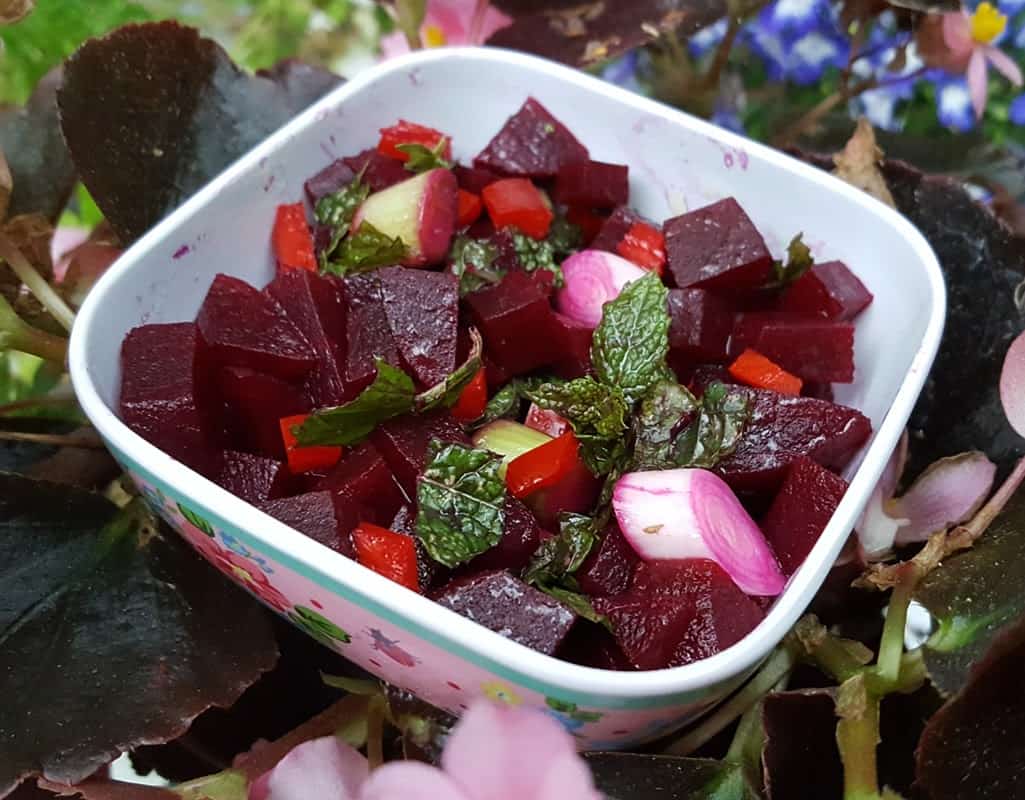 33. Grilled courgette salad
Chargrilled courgettes make a great base for a mouth-watering vegan salad dish.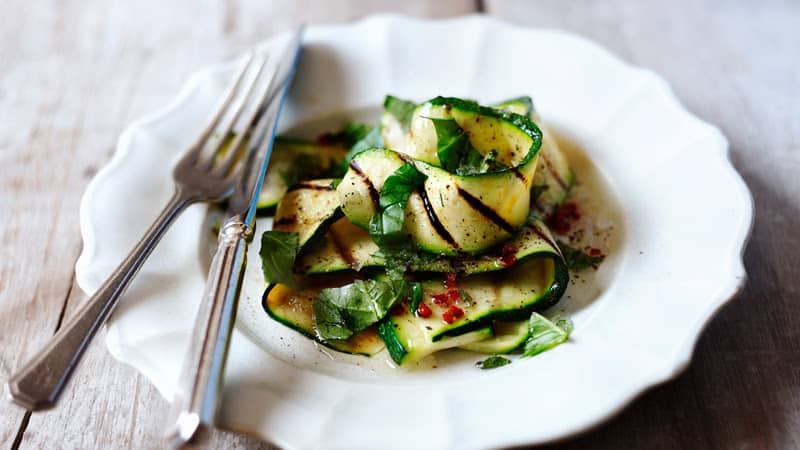 34. Spelt salad
With some haricot beans, cherry tomatoes and maybe some cucumber, this makes for a great BBQ salad packed with fibre and protein.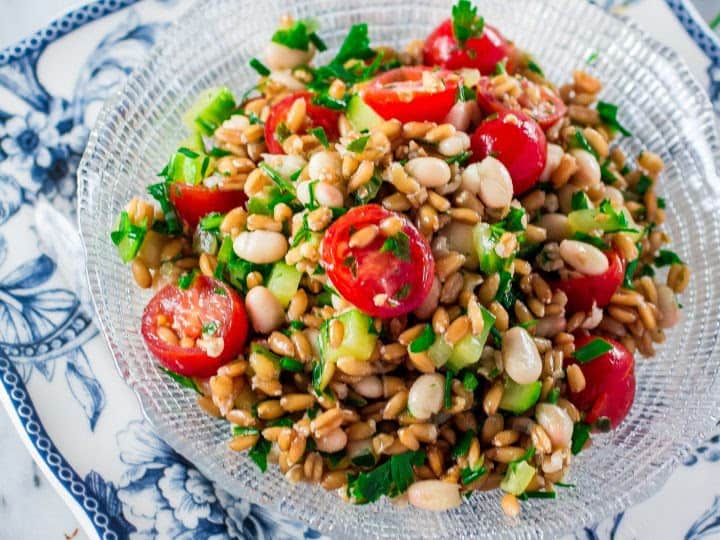 35. Southwestern pasta salad
Pasta salads are also very tasty as BBQ dishes. This version contains plenty of nutritious vegetables and a herb dressing.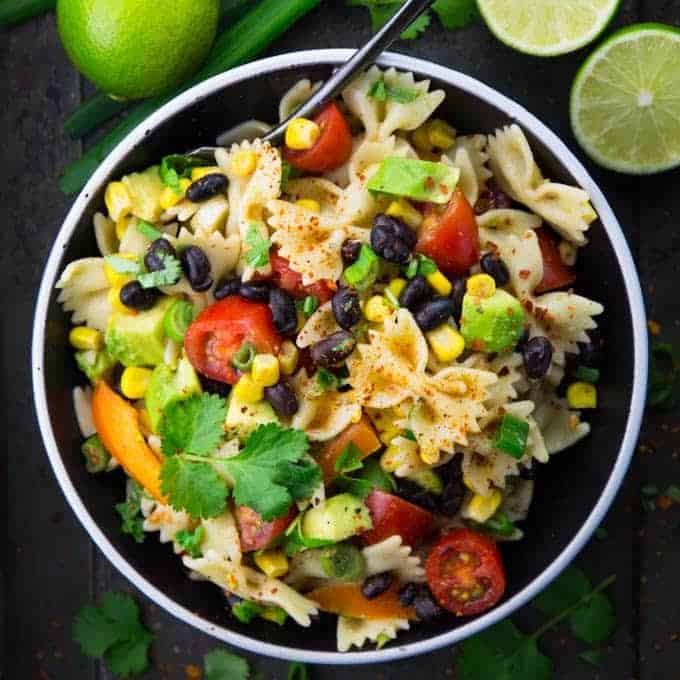 36. Peanut and coriander grilled skewers
These tasty skewers are great for either a side or main dish at your BBQs. The peanut, coriander and miso marinade elevates the flavours of the veggies to the next level.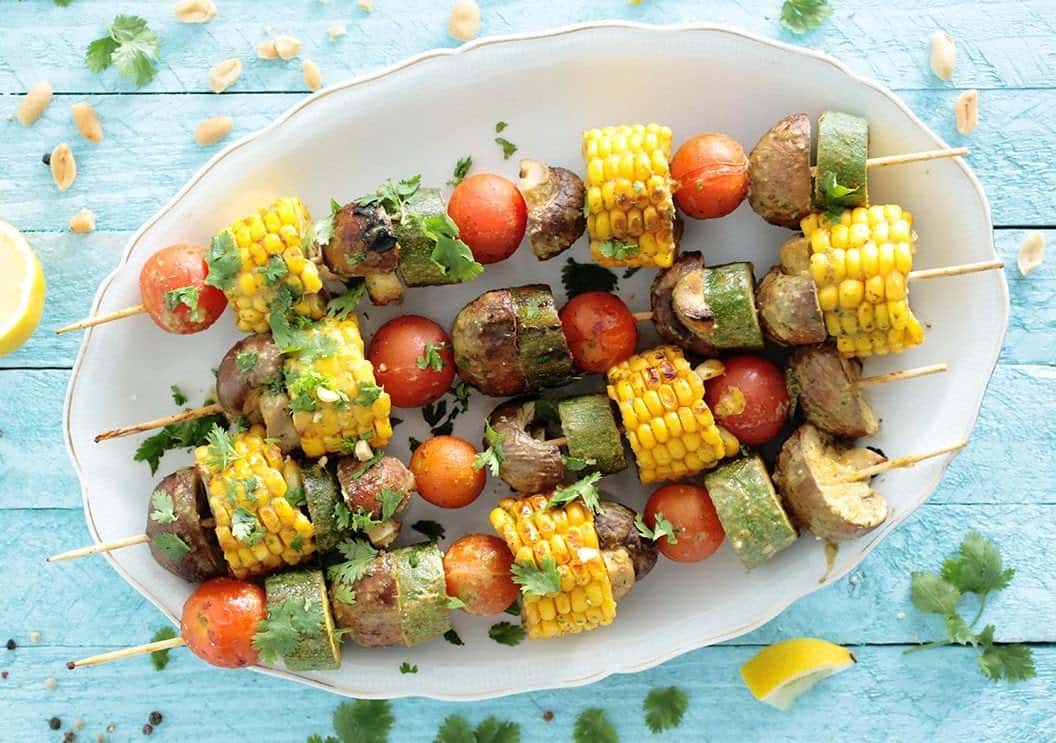 37. Vegan BBQ ribs
You can get all kinds of meat-substitutes these days so you or your vegan guests won't have to miss out on the main BBQ dishes. These BBQ ribs look just like the real thing!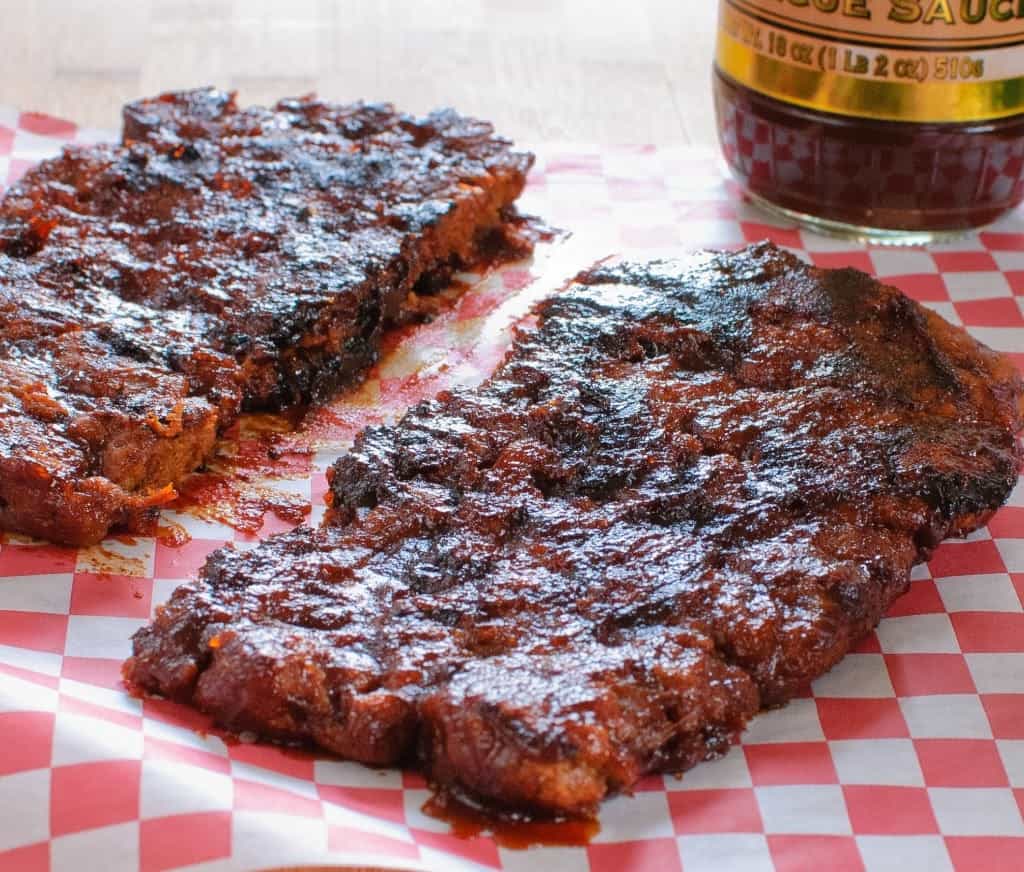 38. Portobello mushroom bruschetta
A large portobello mushroom in place of the bread element provides a healthy take on a bruschetta recipe.

39. Grilled cabbage
The idea of grilling cabbage may sound odd but it's one to try! Marinade the sections in a BBQ sauce before grilling for a delicious smoky, sweet flavour.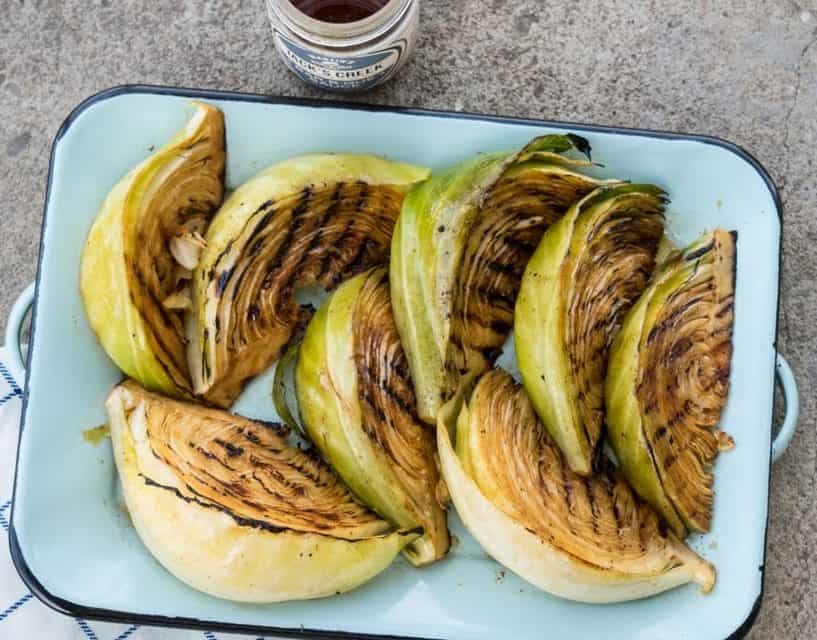 40. BBQ portobello mushroom burger
Another great vegan burger choice for your BBQ, portobello mushrooms are a meaty filling to replace a beef or chicken burger.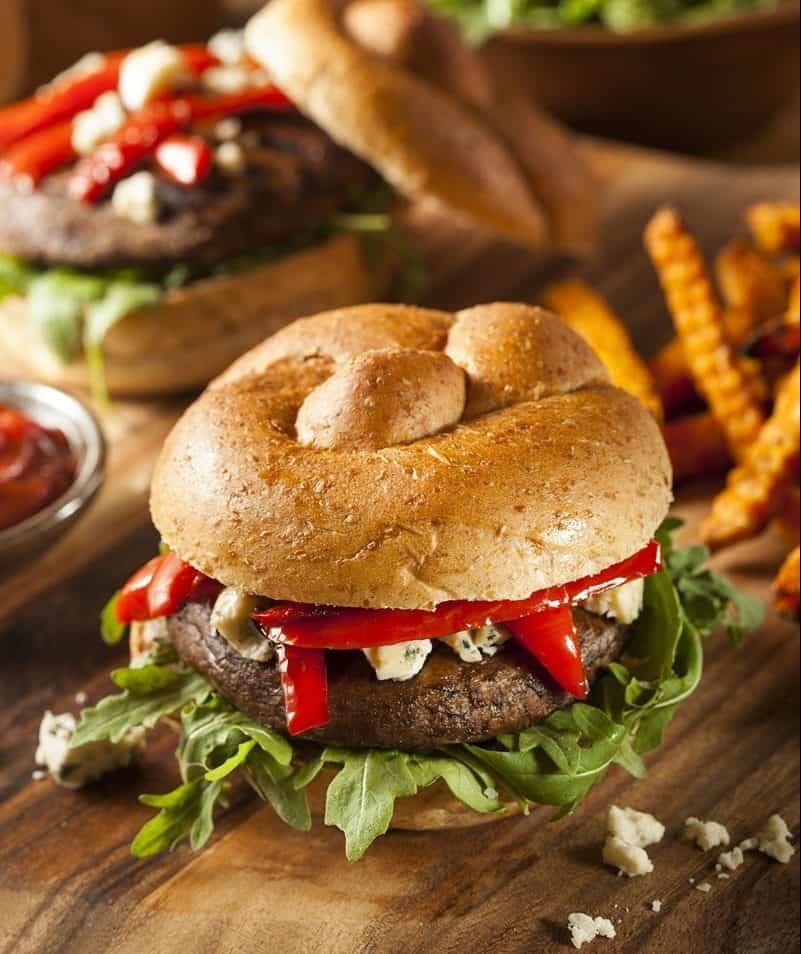 41. Grilled baby potatoes
Sliced potatoes will crisp up perfectly on the grill when coated in olive oil and a tasty herb mixture. This makes a great vegan-friendly side dish for BBQs.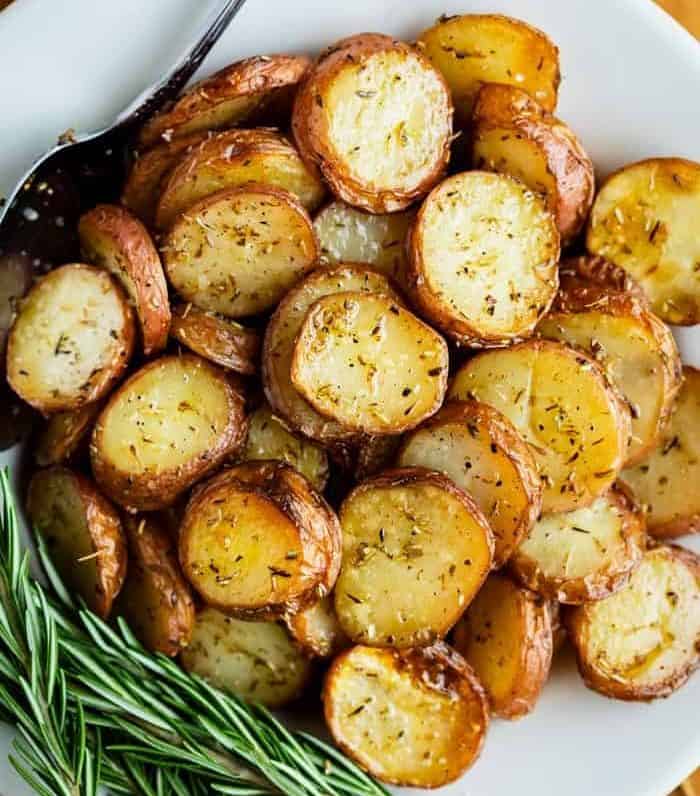 42. Spicy grilled tofu salad
Protein-packed tofu is perfect for the grill. You can serve this spicy tofu alone or in a salad for a great side dish at your BBQ.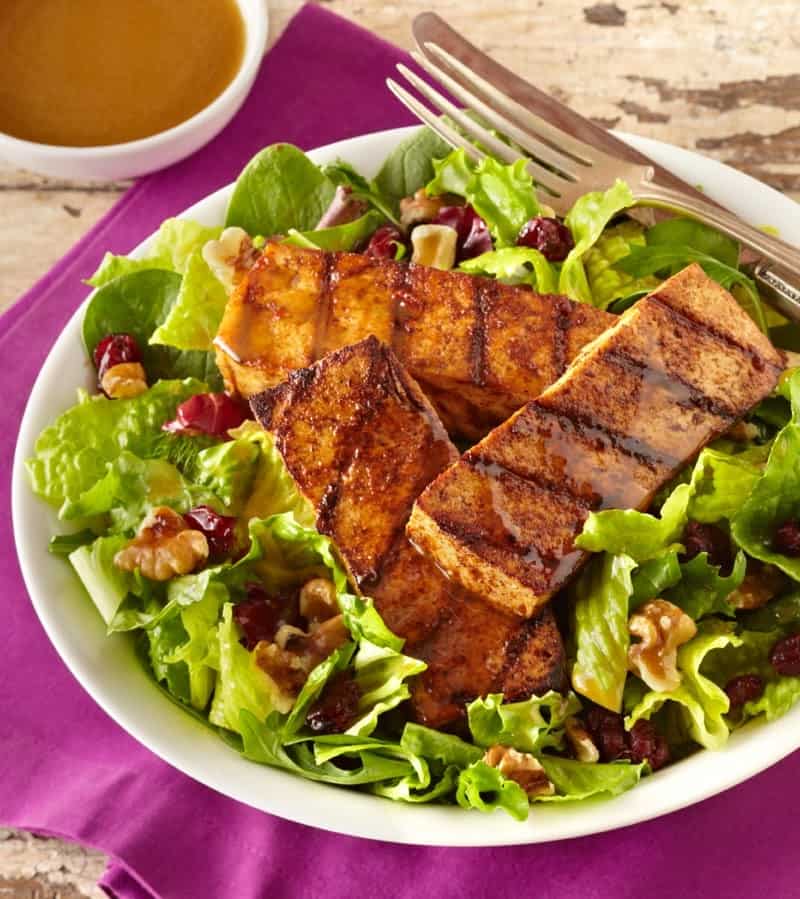 43. Grilled corn salad
Use your BBQ to grill your corn and add it to your fresh salad to give it a smoky, chargrilled flavour.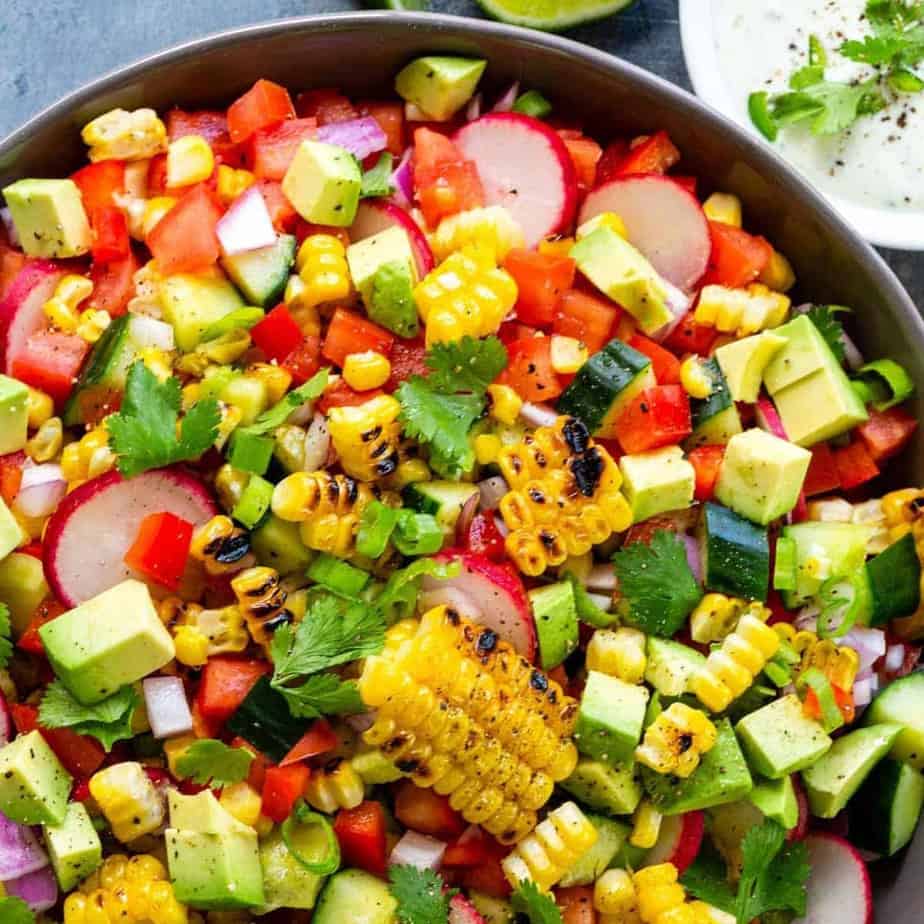 44. Hawaiian seitan skewers
Seitan is a meat-substitute that can be used in any number of recipes. Add it to these veggie kebabs for the perfect vegan BBQ dish.

45. Grilled summer vegetables with apple mustard
Try this apple mustard sauce with your grilled summer vegetables for a taste sensation fit for any BBQ.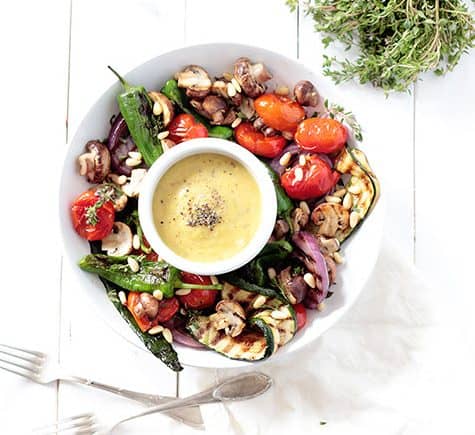 Round-up
Vegan dishes don't have to be boring these days, there's many more options available to stay animal-free in your cooking. From vegetables and meat-substitutes to pulses and grains, you can create delicious vegan dishes that everyone at your BBQ can enjoy.
We hope our list of recipe ideas has given you some inspiration for catering for your vegan guests (or yourself) at your next family party.