Looking for ways to make use of your forgotten corner in your backyard? Invest in a corner shed!
This shed type has an ergonomic angled design that fits right into corners, hence the name. Ideal for space-challenged gardens, owning one doesn't mean you're limiting yourself to usage.
The truth is, a corner shed can offer benefits in the same way that standard sheds do. And with a few tricks and design ideas, you can have the optimum utilisation of the space!
Browse through our list of corner shed ideas to make the most of your garden.
1. Convert it into a summer house
A corner summer house is both practical and attractive. Tucked in a corner, out of the way yet offering the best views of your garden!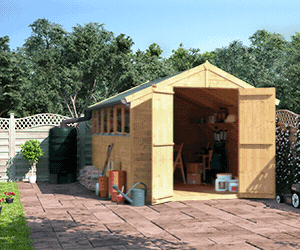 Maximise the corner of your garden with the BillyOh Picton. It fits seamlessly into your garden while offering you a bright place to relax.

2. Extend the outdoor living space with decking
Garden decking ideas can make a small outdoor living space bigger. Ideal for a small corner summer house, a deck adds a dimension and gives extra space.
This space is great for entertaining, hosting BBQs, and having garden furniture.

3. Make it versatile with extra storage space
Make your summer house more functional by adding integrated storage space. The storage room, as the name suggests, can serve as a place for you to keep your DIY & garden tools.
The rest of the corner summer house can be used for leisure, hobby, or a mini working area. A versatile and practical design!

4. Tea house style summer house
Like log cabins, summer houses can be sanctuaries for tea house parties. Regardless of the size, you can bring a touch of Japanese architecture to your summer house.
Take inspiration from our Japanese garden ideas and make your tea house the focal point of your yard.

5. A corner potting shed
With a potting shed positioned in the corner of your garden, you can make use of that awkwardly shaped space. Perfect for growing your flowers despite the minimal space.
You no longer have to sacrifice your garden once you've picked the perfect potting shed ideas.

6. Lairs for the ladies
To complement the idea of a "man cave", she shed ideas are dedicated to the women of the house. A corner she shed should conveniently squeeze into even the smallest of gardens.
The interior style is pretty low-key too. Add a couple of beanbags and perhaps put some effort into sorting the wall-mounted TV.

7. Dedicated garden office
Creating a garden office helps set the boundaries between home and work. If you're working from home, a corner garden room idea makes a compact home office.
Design a bespoke unit to fit in the available space, so you can still have enough room to enjoy your backyard.

8. Enhance with greenery
A corner garden shed can then be enhanced with various flowers and greenery all around it. For one, create a traditional English garden with a path that goes from the house to the corner.
What a beautiful and lush setting you could create even in a small outdoor space!
9. Tucked in sunroom
What better place to be than outside, a.k.a in your corner sunroom during the summer months? Stretch out and bask in the natural sunlight while lying on a sun lounger.
Less eye strain, more vitamin D, and a fresh start to your day!

10. Corner garden play structure
A playhouse is a place for children to call their own, and it can be found in even the smallest corner of a garden or patio. Consider a pergola style platform that sits above a playhouse.
Add storage for the bikes, neatly tucked in under the stairs.

11. Humble yoga studio
With a corner yoga studio, you have control over the environment, the atmosphere, and the space. Even if it's small, you have a private space that's your own where it's quiet and peaceful.
On top of fresh air, you'll also be more exposed to the sun, which is great for building up vitamin D in the body!
12. Ensure it meets the planning regulation
In most cases, a corner shed won't require any planning permission. But to ensure you can maximise the use of your garden building and backyard, contact your LPA.
The room could be built near a boundary, so to be sure, see if a permit is needed.
Round-up
Corner sheds may be in unusual shapes, but that doesn't mean they're only suitable for the corners. One can be installed anywhere in your garden.
It could be used to hide a part of your backyard you don't like or simply improve the look of it. Or, in most cases, make use of the forgotten corner of your outdoor space.
Standard garden sheds can't match its flexibility. What's more, if your corner shed is well-designed and put together!
We hope our list of corner shed ideas will give you inspiration and help you utilise your garden better.