Creating a garden space that complements your home is all about choosing the right style. Classic and modern are two of the most popular options. Each with its own unique design and material choices.
Here, we'll take a closer look at both, exploring their features, benefits, and drawbacks. Keep reading to find out which style is best suited to your tastes and needs.
Classic Gardens

A classic design outdoor space is characterised by its formal and symmetrical layout. This scheme creates a sense of order and balance. The use of traditional materials also adds to the timeless and elegant feel of the garden.
Formal gardens often feature clipped hedges, well-manicured lawns, and a variety of topiaries. Fountains, statues, and parterres also make up for the grandeur and beauty.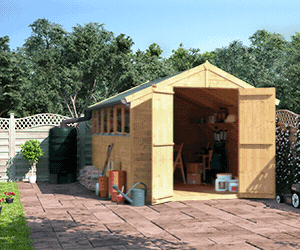 The timeless appeal it gives off never goes out of style. Well-maintained, and it can create a beautiful backdrop for outdoor entertaining. Even better, add curb appeal and boost the value of your home.
But classic garden designs demand a significant amount of maintenance. This includes regular pruning and fertilising to keep the greens looking their best. Moreover, the cost of high-end features can make them an expensive investment.
Classic garden ideas:

(Image Credit: Wikimedia Commons)
Parterre garden.

This formal garden design features symmetrical patterns of ornamental plants and hedges. It often includes a central focal point, such as a fountain or statue.

Topiary garden.

It involves sculpting and shaping trees and shrubs into geometric or fanciful shapes. A classic garden feature that adds a whimsical touch to any garden.

Cottage garden.

A classic English-style garden that features an informal design. It often includes a mix of perennials and annuals, as well as climbing vines and trellises.
Modern Gardens

(Image Credit: Wallpaper Flare)
A modern design outdoor space is embodied by its simplicity and minimalism. It focuses on clean lines, geometric shapes, and contemporary materials. Concrete, steel and glass fall into that category.
Modern gardens often feature a colour palette limited to shades of grey, black and white. Water features, sculptures, and geometric shapes dominate the landscape.
Unlike the formal design, a modern garden requires little to no maintenance. The sleekness and sophistication also create a sense of calm and serenity. This, in turn, makes contemporary gardens ideal for relaxation and meditation.
But some may find the style too cold, lacking the warmth and character of a traditional setting. The absence of organic elements can also emit a rather artificial feel that isn't for everyone's taste.
Modern garden ideas:

(Image Credit: Wallpaper Flare)
Minimalist garden.

As mentioned, this style hints clean lines, simple shapes, and limited colour palette. It often features contemporary materials such as concrete, steel, and glass.

Water feature garden.

This style incorporates elements such as a reflecting pool, waterfall, or fountain. It creates a calming and relaxing atmosphere in the garden.

Sculpture garden.

A modern garden that features sculptures and other art pieces as its main attraction. It often includes abstract metal sculptures or geometric installations.
How to Choose Your Garden Style
When deciding between a classic or modern, several factors must be considered.
First, think about your personal taste and preferences. Do you prefer a traditional and elegant look or a more minimalist and contemporary feel? Your garden should reflect your personality and lifestyle. Go for a style that you find visually appealing and comfortable to spend time in.
Next, consider the architecture of your home. A classic outdoor living space may be more suitable for a traditional or historic home. While contemporary styling may be a better fit for a more minimalist home design. Your garden should complement the style and character of your home rather than clash with it.
Lastly, think about the practical needs of your family. Do you need space for outdoor entertaining or play areas for children? Consider how your garden will be used and choose a style that accommodates your needs.
Ultimately, there is no right or wrong answer when it comes to choosing a garden style. Take your time, and experiment with different elements and styles. Remember, your garden should be a space where you can relax and enjoy the beauty of the outdoors.
Furniture Selection
For classic garden designs, consider furniture made of traditional materials. These include wood, wrought iron or wicker rattan. Pay attention to intricate details, such as carvings, for a timeless look. You'll also want to invest in sets that are more ornate and formatted. Add extras like decorative cushions and canopy-style umbrellas.
For reference, have a look at some of the best BillyOh wooden garden furniture below:

There's no better way to spend a warm, sunny day than relaxing out in the garden with a loved one. And this love seat is the perfect yard companion – perfect for a small countryside or cottage setting.
The seats have been designed to be slightly wider than regular outdoor seating. This allows you and your company to sit comfortably for longer periods.

Enjoy alfresco dining ala French with loved ones with the Windsor oval dining set. It comfortably seats 4, so gather around for a BBQ, a game of cards, or simply relax in your outdoor living space.
For a contemporary garden design, go for pieces made of sleek and modern materials. These include metal, glass, plastic, or synthetic rattan. Go for sets that feature clean lines with a focus on functionality and simplicity.

Create a small relaxing space where you can get away from it all with the Bjørn Adirondack Chair. Made from durable materials and designed to provide ergonomic comfort.

Made of a strong and sturdy aluminium frame provides comfort and stability. The sleek modern design will look great in any outdoor space!

Top-quality, weather-resistant rattan sun lounger built for the hardships of the British Weather! It reclines and comes with a padded grey cushion.
Overall, classic furniture may be more comfortable for extended periods of use. While a modern one may be more versatile in seating arrangements or storage options. Also, consider the durability and maintenance requirements of each material. This is especially important if your furniture will be exposed to the elements.
Round-up
The choice all comes down to personal preference, practical considerations, and maintenance requirements. Whether you prefer a classic or modern garden style, each has its own unique set of perks and quirks.
Ready to turn your outdoor space into a beautiful and functional extension of your home?