When it comes to creating a private oasis in your garden, fences are a top choice and for good reasons. First, they provide the much-needed separation from neighbouring properties. And they also offer enhanced security.
A fence can be more than just a functional enclosure, to add. It can be a stylish statement piece that elevates the overall aesthetics of your garden.
To help you find inspiration, we've curated a selection of fence colour ideas that are sure to impress. Plus, some painting designs to transform a plain fence into a captivating focal point.
Let's begin with the colours!
---
Colours
To make your fence stand out, opt for neutrals, greens, and limes range. Use pale colours to make your backyard appear sunnier, as they reflect the light better.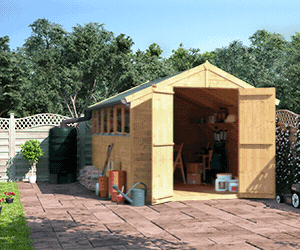 ---
1. Light blue
The light blue shade creates a sense of spaciousness, making it ideal for small gardens. It harmonises well with neutral surroundings and garden furniture. This dreamy colour also lends a luxurious and contemporary touch to your backyard.

2. Cream
Cream or off-white creates a bright and airy atmosphere. At the same time, it offers an illusion of a larger space. It serves as an excellent backdrop for greenery, allowing the vibrant plants to pop. For a traditional and elegant garden, cream is the way to go!
3. Grey
Achieve a stylish and modern paradise by painting your fence in cool grey. This versatile and on-trend shade complements both classic and contemporary fence styles. Grey can also effortlessly elevate the overall aesthetic of your outdoor space.

4. Pink
Lighter shades of pink work wonders in creating the illusion of a larger backyard. A soft pink hue can blur the boundaries of your garden, resulting in an expansive atmosphere. Opting for this attractive colour choice adds a touch of endearing charm to your fence.

5. Mint green
Bringing a refreshing energy, green paint colours like mint lift any yard's ambience. Inspired by nature, this shade brightens the environment. It creates a soothing and invigorating atmosphere.

6. Muted clay
A blend of red and orange tones and muted clay adds a striking allure to your fence. This shade harmonises perfectly with casual and balanced neutrals. Warm grey or deep brown are great examples, creating a cohesive aesthetic.
7. Pale Jasmine
Choose a soft off-white shade like Pale Jasmine instead of stark grey. This gentle hue complements any colour palette and imparts a fresh and clean look. It acts as a versatile garden backdrop, allowing other elements to take the spotlight.
8. Sunny lime
Lime serves as a vibrant contrasting colour to the surrounding greenery. It is a delightful blend of yellow and green, adding a playful touch to your garden. The sunny lime shade creates a smart and refreshing look. This colour especially stands out best when paired with dark furniture.
9. Charcoal
Charcoal is a versatile colour option. With its dusky blend of grey, black, and a hint of blue, it complements garden fences perfectly. Its neutral nature allows it to pair seamlessly with crisp or creamy white accents. Such a combination can create a sophisticated and timeless appeal.
It's also a great neutral paint colour and works well with a crisp white or creamy white.
10. Black
For contemporary garden designs, consider framing your outdoor space with a black fence. This bold choice provides enhanced definition and serves as a striking focal point. Pairing black with white accents creates a sleek and sophisticated monochrome palette. This can beautifully complement shades of green in your garden.
---
Painting Designs
Ignite your imagination and take your fence to the next level with these painting ideas!
---
11. Butterfly and sunflower mural
Transform your fence into a breathtaking outdoor summer scene. Take a cue from this charming butterfly and sunflower mural! This artistic addition will infuse your garden with beauty and whimsy.
To enhance the overall effect, place large pots filled with lush greenery in front of the mural. Doing so will create a delightful visual contrast between nature and art.
12. Tropical
If your fence lacks visual interest, add a touch of vibrancy with a tropical-themed mural. This idea works particularly well if you have a tropical garden theme. The painting will instantly transport you to a lush oasis every time you step into your backyard. Let your fence become a captivating canvas that captures the essence of paradise!
13. Under the sea
The under the sea concept makes a little sense in the average backyard. But it does make for a great play-escape full of imagination. Ideal for poolside fences, consider featuring all kinds of fantastic sea creatures!

14. The "community fence"
For a cheerful and inclusive touch, paint each fence post with friendly faces. Encourage your kids and, if possible, invite your neighbours to join in the fun! Let them paint their own self-portraits! This collaborative artwork will surely add a personalised touch to your fence. Best of all, it'll foster a sense of community and creativity.
15. Chalkboard painted art fence
Although this isn't a "painting", but hear us out! By adding a chalkboard on your fence, your children will be able to share their artwork with everyone.
This is where you'll get your painting design idea! Opt for colourful chalks to add colours to the board.

16. Geometric pattern
Give your fence a colourful, patterned update with this geometric design. Choose your preferred colour and include a variety of shapes if you like for added interest. Squares, rectangles or stripes will make a perfect addition to the design.
17. Tree of life
The image of a mighty tree growing from the earth and reaching toward the heavens is considered a powerful symbol. If you want to add a mythological and religious approach to your garden, go for this painting idea.
There are various designs out there, but the black and white colour is perfect for a simple fence touch-up.
18. Paint stencilled quote
Do you have a way with words rather than illustrations? If so, bring inspiration to your fence by adding a stencilled quote!
Start by painting the fence with your chosen background colour. Then, using a stencil, carefully add a meaningful or uplifting quote to the surface. This painting design will serve as a daily reminder of positivity in your outdoor space.
19. Outdoor cactus mural
Traditional in Mexico, Guatemala and Caribbean countries, cactus fences are also a favourite in the UK. The rich green colours add vibrancy to a backyard with less greenery. This is great for adding bright decorations to your garden landscaping.
20. Fence and shed matching colour
The concept is to match whatever colour or painting design you want for your fence to your garden shed. For colours, if you painted the fence in black, paint the shed in the same colour.
But if it's a painting design, try to extend the "art" from the fence all the way to the shed. However, if you suddenly want to stick to the wood's natural colour, apply treatment to make the exterior wood appealing.

Round-up
Garden fences help improve security. They also prevent unwanted animals, unauthorised vehicles or people from accessing your land.
In short, a fence keeps the inside in and the outside out. And with the right garden fence colour, your border can help increase your home value!
We hope our list of colour and painting ideas will give your fence the makeover it deserves. Let us know in the comments below your favourite shade and design! And if you're looking for garden furniture or an outdoor building to match your fence, we've got you covered!
Shop Rattan Garden Furniture
FAQs