Garden furniture like benches make excellent outdoor companions. They make a great addition to patios, porches, and backyard sitting areas.
Plus, they are portable which makes them convenient to have around. If you're thinking of adding garden benches to your garden, these design and DIY ideas surely will add an eye-catching addition to your lawn.
Ready to get inspired with our top pick benches ideas and have the perfect place for outdoor entertainment?
1. Arbour-covered bench
A garden bench alone won't suffice if you enjoy reading books or lounging in your backyard. You need some shade against the harsh sun to enjoy the experience fully; so why not consider this concept?
This arbour-covered bench can fit in the corner, creating a focal point and resting area in your garden!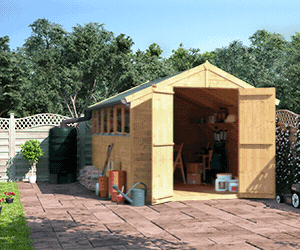 2. Outdoor seating out of repurposed door
Don't get rid of your worn out door yet! Breathe new life into it and turn it into something useful just like this up-cycled wooden door bench.

3. Victorian garden bench
Metal garden furniture like this Victorian bench is ideal if you want a sturdy seating area in your yard. Make sure to add some cushions so you can sit there comfortably for longer hours!

4. Go for the wood slat style
This stylish mid-century bench with walnut finish would look amazing to your primeval (or even modern) garden setting. Position it along the pathway so you can have a good place to escape in the immediate vicinity.

5. Wood, concrete, and metal bench
Wood, metal, and plastic are a common material used for bench making. But what about going for something unusual and custom-made?
Wood, concrete and metal are combined to create this contemporary bench. The structure guarantees that it can withstand harsh outdoor conditions.

6. Antique cast iron
Your garden could be the last refuge of this vintage bench. Find a spot in your yard and it will surely blend in with your landscape.
It brings a nostalgic reminder of the past, too!

7. Wooden bench on chrome legs
A warm wooden deck can help extend your indoor space to the outdoors. Pair it with this DIY bench on chrome legs, you'll have a simple yet elegant outdoor living space.
8. Modern L-shaped corner floating bench
You won't have to worry about running out of seats for your family or friends with this L-shaped corner bench. Its floating feature makes it so modern, along with the pebbles aligned underneath.
The cushions match the colour scheme of the place, making everything look neat and uniform.
9. Futuristic metal outdoor stool
The appearance and style of this bench alone is enough to tell that it's from the future! The design resembles an eagle claw hook, while the base is made from tungsten.
10. Wagon wheels
These two wagon wheels have done their service to whatever vehicle they came from. Now, they act as the arms and support for this rustic Western-style bench.
This DIY piece would look magnificent to a yard with drought-tolerant landscaping.

11. DIY customised garden bench
An old bench can be enhanced with a simple painting project. Just like this one; it was painted in a sky blue colour and the artist drew a few branches of cherry blossoms on it.
It's simple but it adds liveliness to the space.
12. Brick and plank combined
Who would've thought that a few bricks and a wooden plank would make a pretty garden bench? Bonus: it's easy to make as well!
All you need is a few pieces of blocks, a plank, and your handy dandy DIY kit to make this one.

13. Metal headboard bench
Looking for ways to make the most of your old, rusty metal bed frame? Throwing it out isn't the ideal solution; get inspired in this cool DIY project and I'm sure you'll find a way to reclaim it again!
14. Stylish and practical garden seating area
Featuring a curvy S design, this wooden bench gives off a natural yet trendy demeanour. It's long enough to cater to a group of people, making it practical.
Place it on a nearby tree and flower bed to add charm.
15. Bamboo tree trunk bench
Trust us; this bamboo tree trunk bench would be the talk of the neighbourhood if you'd add it to your tropical-themed garden! A bundle of brown bamboo poles is strapped together in a smart and simple way.
How cool is that?

16. Outdoor fire pit seating
There are tons of fire pit ideas you can find online, but this one is sure a scene-stealer! The unique circular seating is sunken into the pit, with a wooden base.
The wall is built with concrete, making the fire pit bench sturdy enough.

17. Garden storage bench
When it comes to practicality, this garden storage bench has it all! It doubles as an extra seating for guests and storage for throw pillows when not in use.
18. Metal base and glass table top bench
This outdoor seating area is supported by a sturdy metal base and a shatterproof tabletop that can be seated. There's not much going on the design, but when mixed with lush foliage, it'd make a huge difference.
19. Garden bench wooden pergola
A pergola can stand on its own, but it can work well with another garden fixture such as a patio deck and a wooden bench. Incorporating a deck pergola in your seating area can help create various zones to your yard.
You can opt for a built-in bench or a custom-made one.

20. Pallet bench with planters as base
Nail pallet wooden boards together and rest them on two planters to achieve a rustic bench for your yard. Make sure the pots are concrete, or at least sturdy enough; as long as it can support human weight everything should be fine.

21. Knock-off bench
You can make your own knock-off version like the one from West Elm if you have the right materials! Get inspired by this DIY project featured on Homemade by Carmona.
22. Stone wall landscape with seating spot
This simple landscape design of stone wall features a seating area in the middle. Made from dry-laid masonry walls, this natural garden bench also incorporated reclaimed granite.

23. Corner bench with built-in table
It's always a great idea to have a portable bench that comes with an in-built table. With an outdoor seating companion like, you can set up a lounge space for your guests effortlessly.

24. Minimalist concrete garden bench
This outdoor piece has a minimal feature yet its appearance is pleasing to the eyes. It's pretty easy to make, too, according to DIY experts.
Simply mould a concrete brick large enough to fit a yard chair and you have a bench for your garden!

25. DIY cinder block backyard seating
We love some outdoor extra seating and this do-it-yourself bench project seemed a perfect alternative. And did we mention that doing your own cinder block bench is really cheap and easy?
26. French-styled bench from old chairs
Not only does this European style bench make an excellent garden bench, but also it would look perfect for your entry, dining room or foot of your bed. Attach two chairs with wooden planks and you'll have a bench – easy peasy!
Paint them with the colour you like to enhance their visual.
27. Rustic log bench
Log benches are a great addition to any garden. Not only will children use them for play, they are great resting and gathering places for adults too!
All you need are a couple of logs from an old log pile and some vintage scrap wood to achieve this.

28. Moulded cast stone pebble bench in oval
This stunning pebble seat is such a must-have garden feature. Arrange one with sculptural planting to create a contemporary feel to your space.
Despite its oval shape, it's surprisingly comfortable to sit on.

29. Cottage garden wheel bench
Outstanding appearance, check! Protection against the harsh weather conditions, check! This pod-like garden bench is surely to add interest in your garden and stand out if you have a small space.
In addition to its space-savvy quality, it's water-resistant and offers enough shade. What an excellent addition to backyards!
30. Bathtub outdoor sofa
Even an old bathtub can be transformed into a useful outdoor seating like this! With a bit of mending and makeover, you can have a unique garden piece to your space. Make sure to add cushions for a comfier experience.
31. Elegant tree bench
Unusual and eye-catching designs will surely add value to your property. Spiralling in a large tree, this bench gives off an exquisite and marvellous focal point to the garden.

32. Daybed garden seat
Who wants to have a perfect place to spend lazy summer days and evenings in their gardens? This French oak bench that can double up as a daybed is all you need.
It can transform your space into a relaxing and inviting setting.
33. Farmhouse bench
This DIY project will only take up a few wooden planks, screws, and a couple of your time on a weekend to put together. Make the design practical by adding storage slots below.

34. Match it with your Zen garden
Whether you have a Zen garden, Japanese or Chinese-inspired backyard setting, this bench stone would be a great feature. Surround it with pebble stones and bonsai to make the seating area the focus of attention.
35. Convertible picnic table and bench
This large convertible bench can cater your whole family. If you decide to have an alfresco dining, expand the bench and adjust it to transform it into a picnic table.
When not in use, keep it as it is (in its bench form) to save space.

Round-up
Building a bench, in general, is pretty much a beginner level project. The process is likely easy to follow, especially if you have a guide like this!
We hope these ideas will be able to help you bring whatever your vision is to life. If you have the budget, you can invest in high-quality bench pieces – just like the futuristic metal outdoor stool we mentioned.
But if you want to go to the DIY route, we're sure you won't run out of ideas! You might as well get some inspiration from the projects we've curated above.
Shop Rattan Garden Furniture