Thinking of transforming your small British garden into an exotic oasis?
Luckily for you, you can now create your own tropical hideaway in your garden using clever planting and colourful decorations. We're not just talking about introducing your humble space to garden furniture and decors.
Have a look at our curated list and get a great deal of inspirations and tips! Are you ready to create your own tropical garden?
1. Open garden with small palm trees
Palm trees are a staple for any tropical garden if you have the space. Add other lush greenery to create an exotic hideaway right in your backyard. 

2. Tropical plants
Use tall tropical plants and trees as screening to block out unsightly buildings and walls, then add sculptures and decorations to get the holiday feel you're looking for.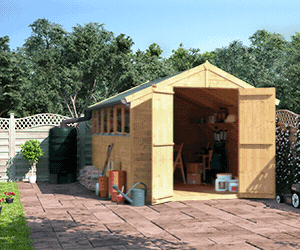 3. Jungle plants
Or go even more exotic and go for deep jungle plants to decorate your backyard. Make sure they can still grow outside the jungle though.

4. Wooden deck and flowers
Simple wooden decking is the perfect base for an exotic garden. The winding path, unusual shaped flower beds and clever use of screening help this small garden feel larger.

5. Jungle deck
Some tropical plants deal well with the weather in the UK and look really pretty in a tropical-themed backyard. Weathered decking and bamboo barriers add to the jungle feel.
6. Path with lights and tropical plants
Add lighting to accentuate particular plants and light your way through the garden after dark.  

7. Tropical corner
A simple bench or seating spot with some tropical plants will help you enjoy your corner garden every day. 
8. Plant dominance
Filling your garden with plenty of lush, green plants creates a great jungle effect.

9. Light wood deck and table
Tall trees and leafy climbing vines will give your garden a jungle feel and provide extra privacy from your neighbours for those cosy dinners outside. 
10. Wooden deck and palm tree
Keep it simple with wooden decking that leads to leafy greens and a luscious palm tree. 
11. Bench amongst plants
Place a bench amongst the plants in your garden for some afternoon relaxation in your 'jungle'.

12. Modern urban jungle garden
Add some tropical-style plants into your raised garden bed for a jungle feel but in a neat, modern way.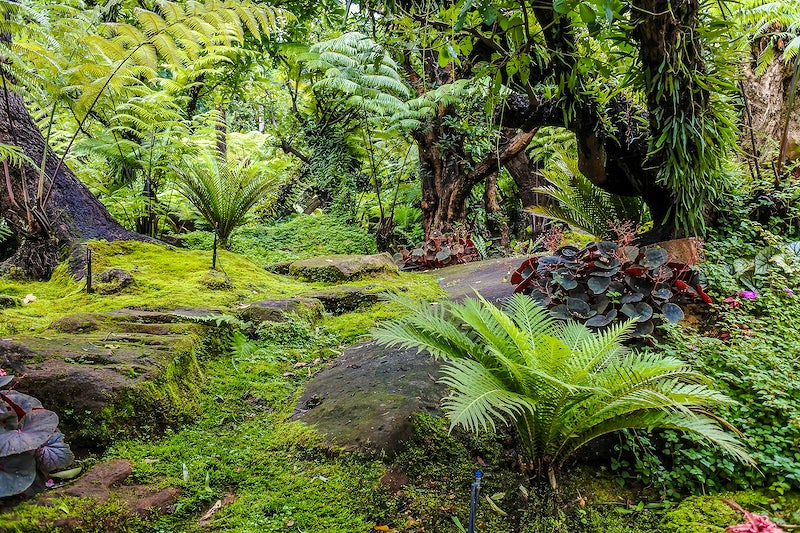 13. Thatched gazebo
If you're looking for protection from the sun (or rain), add a thatched gazebo into your jungle-themed space. 

14. Lots of plants in a small garden
Leave a small grass path to reach every plant in your garden and fill the rest with all the colours you can think of.
15. Exotic paradise garden
Add a deck or even a jungle hut to make your garden totally different from anyone else's. 

16. Tropical plants and simple L-shaped couch
A simple seating area like this L-shaped corner sofa is perfect for relaxing in a small garden filled with plants. The tall bamboo plants give the garden extra height and block the view from any nosy neighbours. 

17. Fish lake and exotic garden
Bring your garden to life with a tropical pond full of fish and other wildlife.

18. Patio jungle with leafy layers
Small and cosy, with multi-coloured, leafy plants to make it look full and pretty.

19. Rock path and colourful plants
Set up your garden path and decorate it with some colourful exotic flowers and plants on the borders. You'll never want to miss your afternoon walk.
20. Tropical corner in a small garden
You don't need to have a garden filled with plants to make it look tropical. Just choose the right plants for the space you have.
21. Small tropical garden with lights
Some under-bench lighting adds a great effect to your tropical garden at night. You can also highlight your favourite plants and trees with some spotlights. 
22. Wooden deck and garden bed
Wooden decking, raised beds and furniture, and also the right planting, make a great combination for a tropical garden. Green is the perfect background colour for your exotic plants. 
23. Stone flooring and tropical plants
Irregular-shaped stones make a more natural looking patio area for your tropical garden. 
24. Large leaf tropical plants
The larger the leaf, the more tropical the plant looks. Perfect for exotic planting schemes, this rice-paper tree is a fast-growing, woody shrub.
It bears huge, fresh green leaves up to 60cm across and is suitable for cultivation across the UK.

25. Plant-dressed fence
Use climbing plants and vines to disguise your fence and make your garden look even bigger.

26. Small gazebo with flowers
A gazebo makes the perfect resting spot on a sunny afternoon while enjoying your wild garden colours.
27. Tiny garden with tropical plants
A small space means a cosy space! Just fill it with appealing plants and add a bench for a comfy spot to enjoy your handiwork.

28. Exotic plants and wooden chairs
All the lush trees and bushes give this seating area the feel of a jungle hideaway. Grab a cushion for your sun lounger and forget about the world. 
29. Compact space-turned multi purpose garden
If you're short on space, keep tall trees to the borders of your garden to give yourself extra privacy from overlooking neighbours without encroaching on your relaxing space.
Just create a small seating area to enjoy the outdoors and a spot of lawn for your pets or children to play. 
30. Rock resting spot with exotic plants
A small place to rest in your garden while admiring your tropical plants.

31. Jacuzzi in the jungle
Place a hot tub deep in your garden for some relaxing baths surrounded by palm trees and exotic bushes.
32. Tropical plants and modern deck
Having some tropical plants doesn't mean you can't have a modern-looking garden. Just keep it neat with raised planting beds and pebble borders. 
33. Jungle plants and privacy fence
You could add a privacy fence with trellis so you can add some climbing flowers or vines.

34. Exotic colourful garden
Plenty of palms and exotic flowers will transform your garden into a tropical paradise. 

35. Jungle garden with fire pit
Add a fire pit to your tropical garden so you can still enjoy sitting out on cooler days or in the evenings.

36. Simple jungle garden with bench
The key to a tropical garden in the UK is to fill it with a mixture of exotic and British foliage to get full, lush green garden beds. Don't forget to add a seat from which to enjoy it!
37. Rustic wood seating area
Some rustic wood looks great amongst your jungle plants. Add some cushions to make it more comfy and you're good to go.

38. Mirror or window on hedge
Mirrors are great for reflecting more sunlight into darker gardens. They also give the feeling of space to small gardens. 
39. Tree ferns and timber slatting
Transform your long, narrow garden using palm trees to add extra height and privacy. 

40. South-facing jungle garden
Pretty and bright all day due to its orientation, you won't even want to leave here.
41. Red tone garden
Tropical plants look amazing on red tones like brick or clay. Think about using those materials when setting up your tropical garden.
42. Tropical garden and small path
Fill your backyard with tropical plants and bushes, leaving only a small path to wind your way around your garden. 

43. Tropical plants and pebbles
Some tropical plants don't need much water or soil to grow beautifully, so decorate their base with some attractive pebbles and stones for a neater-looking bed.

44. Pond and rustic bridge
A rustic wooden bridge over a natural shaped pond is perfect to create that jungle feel in your garden. Just add some tropical plants around the edges.

45. Plants everywhere
You don't need flower beds to create a tropical garden; it can work just as well with pots. Just add some trellis with climbing plants and flowers to add some height to your planting. 
46. Bamboo plants and mirror
A large mirror will bring extra light into your garden and give the feeling of extra space. Bamboo trees are great for screening and adding extra height and privacy. 
All you're missing is the pandas!
47. Corner gazebo in jungle garden
A corner gazebo provides a place in the back corner of your garden to rest and admire the beauty of your tropical plants.
48. Modern looking deck and jungle plants
For a more minimalist take on a tropical garden, use wooden decking, simple benches and raised bed planters for your exotic plants and trees. 
49. DIY planters for tropical plants
Craft your own planters from recycled tin baths to keep your tropical plants organised. 

50. Colourful path borders
Use lush, lavish greenery and brightly coloured flowers to create your own tropical hideaway. Don't forget to include a pathway through the wilderness to admire your work. 
51. A picture-perfect pergola dripping in vines
To create an oasis in your garden, create a place to sit and soak up the atmosphere. Take a look at this pergola dripping with vines, with a raised decking enclosed with rope balustrades.
What a serene place to lounge in!

52. Create a statement with architectural forms
Did you know that a plant alone can provide you that unique architectural form in your garden? Look at this foliage; its exotic style is impactful, contrasting evergreens.
You can't go wrong with striking shapes when choosing plants for your tropical garden.
53. Incorporate vibrancy and height to garden borders
A mix of height with tall, towering plants like bamboo and bananas are a great choice for garden borders. Not only can they provide a protective canopy for lower growing plants, but also the dense planting will help create the feeling of a jungle.

54. Brighten up shady spots
You don't want your tropical garden to look dull and plain, even in the shady parts of your yard. This outdoor setup with warm tones prep up the overall space.
Add shade-loving plants like hostas to achieve that jungle-like ambience you're after. Don't forget the bamboos!
55. Citrus trees in pots
You can turn your patio into your dream tropical oasis with just vines and some citrus trees in pots. Display the container in summer and group them prominently on the patio or deck.

Round-up
It is possible to create a tropical garden hideaway, right here in the UK. The trick is to mix exotic plants with British ones and use an evergreen backdrop so your garden is alway lush and green.
Add some height with tall plants, such as bamboo and palm trees, and fill out your beds with shrubs and bright flowers to give your garden the exotic feel you're looking for. 
Hopefully, our compilation of tropical garden ideas has provided some useful design tips for when it comes to creating your own jungle-themed space. So why not sit out in the garden and enjoy your new tropical space?
Shop Rattan Garden Furniture