---
Thinking of making your personal gym right in your back garden? Other than training tools and equipment, you might also need garden furniture for relaxing after workout.
---
Signing for a gym membership can be a great motivation for you to sweat more and get physically active. But have you thought about the idea of having a garden gym?
Turning a log cabin into a home gym is a great starting point. In terms of gym room designs, here's our curated list of ideas that may inspire you!
1. Personal home gym with second floor
Cooling down is a must after working out; it allows for a gradual recovery of heart rate and blood pressure. Hence, it's recommended to have a special room for this routine as much as possible.
A great way to carry out this idea is to have a second floor, especially if the space is limited.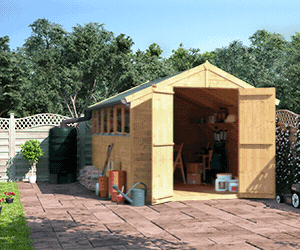 2. A simple gym room with a view
Owning a log cabin with large windows is surely a luxury. Transforming it into a lounge for exercising can mean you have the perfect view of the landscape while working out.
What an excellent way to get fit in the comfort of your garden!

3. Get surrounded by trees
Who says you can't have the perfect gym in your own backyard? If you own a large outdoor space with surrounding trees, put the gym room there!
Get that beautiful panorama of palm trees, soothing enough to get your blood pumping.
4. Go bigger for larger gym equipment
A small shed may not suffice for your massive collection of gym tools and equipment. Prepare a larger room to keep them all without getting too crowded inside.

5. A dedicated space for cardiovascular fitness
If cardio workouts are your forte, you can focus on cardio equipment in your garden gym. A small to medium outbuilding would be enough to house a cycling machine, treadmill, and a rowing machine.

6. Install LED lighting
Whether you exercise during daytime or at night, proper lighting is crucial. Install LED lighting with stunning coloured lights to give your space a more futuristic vibe.
7. Weightlifting fitness area
A garden gym set up for weightlifting is great if you're focusing on improving your strength. You may need a weightlifting bench, a power cage, barbells and dumbbells.
All these items are going to take up a lot of space, so we recommend a large garden building for this one.

8. A combination of mirrors and glasses
This concept is a great solution for a narrow big room. By adding in mirrors, you can make the space larger and, of course, for you to observe your form, alignment and posture when exercising.
Meanwhile, glasses can provide separation to the other rooms.

9. Decorate with coarse brick wall
If you own a concrete shed or building, this design is perfect for your love of rustic and natural styles. The coarse brick wall can bring the aesthetic you want for your home gym.
There's no need to finish the wall with decorations, so the budget spend can be lessened, too!

10. Everything black including the walls
This home gym design works well for most men. Everything is black, from the tools and equipment to walls!
It creates uniformity which is pleasing to the eyes, despite the dark colour. Top tip: Pick a lighter colour for the flooring and ceiling to create balance.
11. Zen dance fitness room
Thinking of creating a dance space in your yard? This zen dance fitness room would be a pleasant space to do your morning routine!
This home gym idea provides the tranquil of mindfulness and fitness in one room. Imagine doing a fun aerobic exercise like Zumba with a view of your small paradise.
12. Wall graphics and murals for extra inspiration
A mural to at least one section of your garden gym can boost the appeal of the space. Most importantly, it can motivate you and your pals to push further to reach your fitness goals.
Wall murals also provide a customisable solution and are sure to upgrade the appearance of any size wall.

13. A personal yoga studio
Having a yoga studio in your garden allows you to meditate and achieve spiritual enlightenment without leaving your home. Converting your shed or log cabin is an excellent way to do this!

14. Open gym room with a scenic landscape
For cottages or villas, this idea is highly recommended! This also works with any type of garden building with large windows.
Be it a view of your garden, the city, or the lake, it's guaranteed that you'll have an amazing workout experience with this one.
15. Jersey in frames for decorations
This kind of wall decoration isn't a new concept; it's widely adopted not only for gyms but also for bedrooms and man caves. If you own a bunch of classic sport outfits and are no longer used, hang them on the wall.
This is such a unique and stunning decoration for your garden gym.
16. Home boxing gym
Home some spare space in your home gym, garage, or garden basement? Why not consider putting up a boxing ring there?
Don't forget to add punching bags and a great pair of focus mitts for a real boxing match feeling!

17. Mini shed or cabin for treadmill or stationary workout bike only
Sometimes, all you need is a separate space from your home living to do your basic workout regimen. If you wish to enjoy your gym time in a calming and quiet place, a small garden structure will do the trick.
There's no need to fill the whole space with equipment, as well. A treadmill or a stationary workout bike surely will fit inside.
This concept is especially ideal for beginners and seniors.

18. Set up a TV in your fitness centre
For some, nothing beats having sophisticated exercise entertainment while working out. Adding a television to your facility is one of the best ways to do it.
It can help pass the time, making your routine more enjoyable. If it's a smart TV, you can connect it to YouTube and watch some videos that can help you stay fit at home.
19. Brown and black with LED strip lights
This home gym screams modern with a touch of future interior design. It has an earthy brown and black decor with rugged rock features.
While the LED lighting and strip lights add a focal point to the room.
20. A garden gym and a bar at once
Do you want your garden gym to have a unique feature? Add a bar next to the room!
There are lots of garden bar design ideas available online that'll look great with your home gym. Get ready to make your workout activities more exciting and interesting than ever!
21. Stick to wooden floor and accents to add warmth
To make your exercise result more effective, your home gym may need a certain temperature. We're not talking about adding extra AC units, but installing stuff like wooden floors.

22. Add in contemporary furniture
This is a great solution for a gym room with small and narrow space. Other than adding a big mirror, contemporary furniture will provide you more space for storage.
The minimalist look on this design also helps make the room look less stuffy.
23. Big windows around
Not all gym rooms need to be surrounded by glass walls. A brick wall is still necessary, though, but some big windows must be installed for air to circulate well.
For concrete sheds, you can customise your preferred window size. As for ready made wooden structures, you may change the windows or look for a unit with massive window glasses.

24. A luxury inspired fitness centre
This all-suite and villa resort and spa boasts a re-imagined space focused on fitness, mindfulness and personal training. The unique arches and expansive workout space deliver a superb training environment.
Plus, the gym area has the view of Maui's Wailea coast!
25. A small glass room for gym
If you don't plan to utilise your outbuilding fully for working out, create a separated space for it instead. A small glass wall like this offers an excellent separation.
This is perfect if you own a medium to large garden structure. The glass wall gives off a more stylish look without compromising the space.
26. Simple compact space for practising Pilates
If strengthening your core and improving your balance are your fitness priorities, a small compact space will do! You'll need less room for equipment.
With few mats and shelving to store items such as resistance bands, you'll be all set for Pilates!

27. Garage gym room
Use a space in your home that you think is spacious enough, such as the garage. Clean, organise and set it up by adding your go-to workout equipment, and your personal gym room is ready to use!
Top tip: Make sure there's proper ventilation so you'd feel comfortable.

28. Go for a vintage look
Most gyms look modern and futuristic. If you love the old, classic styles, there are some vintage designs that you can apply.
This includes retro colours that are often less saturated and have a more flat feel than other hues. Plus, classic details on the walls and windows.
29. Adding in houseplants
If you wish to have a tropical garden or zen outdoor space vibes inside your home gym, adding houseplants inside is the key! Nothing's more refreshing and tranquil than being surrounded by greens while working out.

30. Modern gym room with advanced technology
In this digital era, doing outdoor activities at home is now possible because of technology. A great example of this is playing golf!
If you have the budget, you can add a big screen and a field to carry out indoor golf in your gym room.
31. Wooden and bamboo wall accents
The placement of big windows and the view of your garden sure does offer soothing vibes. But even the natural accents like wood and bamboo can also make your gym room more refreshing, elegant, and unique.

32. Incorporating indoor wall climbing
One of the trendy home gym activities is wall climbing. It's a great exercise routine for kids and adults.
If you don't want to install the climbing holds on the actual wall, use plywood panels instead. Get as creative as you wish!

33. How about some indoor sports court?
If you own a massive garden building, adding in a sports court for playing basketball and volleyball may work for you. Take a look at this barn turned into a home gym with a sports court.
It has a country medium tone wood floor and walls. There's also a net for volleyball and a ring for basketball.

34. Garden gym room with bowling alley
Let's get more interesting here! Bowling is one of the popular low-impact activities.
Imagine having a bowling alley in the corner of your home gym. What a great way to stay active and improve your health and, at the same time, lift your mood.
35. Workout and pole dance room
Exercise coupled with pole dancing are excellent ways to keep you physically active and improve your flexibility. Create your own pole room vibe in a certain area of your home gym with decor, wall art and backdrops.
Round-up
There you have it! We hope our curated 35 ideas will help you tailor the design to your chosen form of fitness.
As there are so many ways you can set up a gym, it's always a good idea to have a few inspirations like our guide. Are you ready to transform your garden building into your own personal gym? Click the button below to get started.
Shop Log Cabins