If you want o think out the box with your garden – from the shed to the landscaping, then why not push the boat out on a tropical-themed garden? Bring the Mediterranean and beyond to your backyard with bright and colourful flowers and lush greenery.
Even if you live in colder climates, you can adopt a tropical garden theme and create the crowning glory of your garden!
That's why our team has curated tropical garden ideas to help you with your garden project. Check it out below!
1. Opt for quick-growing annual flowers
Growing the right plants and the fastest-growing ones will let you enjoy your tropical garden as soon as possible. Plants like amaranths and Bishop of Llandaff dahlias are a great shout.
You can grow them from seed stage to maturity in your backyard in no time.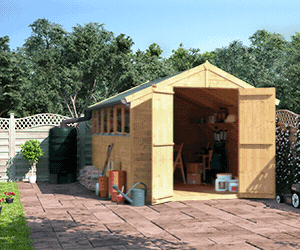 2. Surround your tropical plants with mulch
To have a successful tropical garden, don't overlook the importance of mulch. When a tropical flower is surrounded by mulch, this guarantees a foil for beautiful blossoms and foliage.
Not only that, but a mulch can also help reduce competition between plant roots for nutrients and water. As a result, this helps your plant, including the rare ones, to thrive.

3. Decorate your garden with vines
No tropical garden is complete without vines. Vines are naturally tropical plants that can enhance the look of your garden.
To increase the appeal of your tropical garden, place the vines in strategic locations, such as by a fence, wall, or near another tree.

4. Don't forget to add tropical trees
If you want a really knockout design, planting a tropical tree is the key. If you live in colder climates, we recommend using a shrub instead, then prune it.

5. Keep your plants hydrated
For healthier tropical flowers, proper irrigation is important. 
A humid atmosphere is crucial for keeping them fresh and dewy, especially for exotic flowers. Keep the plants hydrated to achieve a healthy and lush tropical garden.

6. Align orchids along your garden wall
Orchids are one of the ultimate tropical flowers. Placing them outside will create that tropical vibe in your backyard.
Aligning them along your wall can also help to beautify your whole home.

7. Instant tropical landscape
If you're worried about the temperate climate in your region in terms of growing tropical flowers, worry not. The right selection of fast-growing annual flowers can make the tropics accessible in any region.
On top of 'Hot Biscuit' amaranthus star and dahlia 'Bishop of Llandaff', Cannas and flowering castor beans also make an excellent choice for an instant tropical landscape.

8. Grow quick Cannas
Canna are a perfect option if you want to grow taller tropical flowers in your garden. Cannas are a fast-growing plant, especially in the summer.
They also can be salvaged in the winter and used again.

9. Inject some colour with bold florals
For colour, go for flowers with bold colours so they can peep through the green background. Top tip: Water them while they establish and tidy them up now and then for better results.

10. Pot citrus trees
Bring the exotic style of tropical gardens on your patio with some potted citrus trees! Containers are ideal for tender plants like this one.
They can even live outside in summer and come back indoors for winter if you've got a good greenhouse.

11. Install a water feature
Investing in a water feature (like a small waterfall) can attract attention. What's more, water features also provide a humid environment that's ideal for the plants.

12. Let your plants grow into each other
By letting your plants grow into each other, you can expect to have a rain forest vibe in the comfort of your backyard. This idea is akin to a tropical garden, giving off a fuller garden look.
13. Mix small plants with larger ones
Another easy yet effective way to bring the tropical feeling into your space is to incorporate small plants with larger leaves. Banana plants will do the trick, then add shrubs and ferns.
14. Add a houseplant to the mix
Most houseplants enjoy a summer holiday outdoors! They benefit from fresh air and extra light, resulting in a healthier look.
Try to incorporate cacti and succulents somewhere in your tropical garden with hot spots.

15. Create a shade cover
Don't forget about the shade! This is especially important if you live in a sweltering region.
We recommend adding a shaded area for plants like orchids to avoid piercing sunlight as they are sensitive to UV. A tree is perfect, but you can create other shade structures.
To add shade to your outdoor space, check out these 15 garden shade ideas!

16. Add sculptures and structures
Decorate your tropical garden with rocks, sculptures, and structures to create an ancient look. This idea can also increase the ambience of your backyard.
For example, a thatched garden bar makes a great addition!
17. Hang some tropical plants along the walls
Bananas are a great example of tropical plants that can add both shade and ambience to your garden. Others with large leaves work wonders, too!
Place them in pots and hang them along the walls of your backyard to create shaded areas.

18. Pair bright colours with a living wall
If you think your outdoor space lacks lustre, a simple way to liven it up is to add furniture with neutral-toned colours. You can also DIY old furniture sets by painting them with a bolder hue.
Not only does this trick can help you save money, but you can also get an affordable, whole new outdoor setup for relaxation.
19. Create a tropical-themed spot for outdoor bathing
Hot tubs and plunge pools are a brilliant alternative to full-sized swimming pools. Garden hot tubs may not be as big as pools; they can create a holiday-hotel ambience, nonetheless.
Plus, they can bring a touch of luxury to your garden, especially if decorated alongside tropical-inspired decor. Think bamboo (it can grow quickly, too) and a screen of green for privacy.

20. Patio tropical garden
Don't forget your patio when transforming your garden into your dream tropical vibe. Make your outdoor living space feel like you're in a rainforest, too.
Simply line your patio with tropical flowers and large leaves, and let them run wild and thick.

21. Tropical pathway
Your pathway shouldn't look dull and lifeless when its surroundings are filled with green. Instead, line beautiful and bright tropical flowers along your pathways.
Decorate paths with coloured pebbles and rocks to enhance the look of the edge.

22. Add plants along a water feature
Do you have a garden pond? Mini river or at least a water feature (like a small fountain) in your garden?
Growing your tropical garden along these bodies of water will create a unique and fresh look for your outdoor space.

23. Consider potted palms
If you've got a small patio or courtyard, you can still embrace the tropical vibe with some potted palms. Palms in large containers that are placed together can create the sense of a tropical border.
You can try the European fan palm, the pygmy date palm, or the silver saw palmetto.
24. Or go big and bold for a sense of luxury
If you've got the budget, why not create a stunning tropical garden set-up like this one? A pool paired with massive tropical leaves and palm trees makes a perfect combination for serious vacation vibes!
25. Opt for synthetic rattan garden furniture
Rattan garden furniture is your best bet when it comes to adding that tropical vibe you want for your space. At the same time, this type of outdoor fixture can complement your space well while providing ultimate comfort.
Top tip: Look for high-quality rattan sets made with:
PE rattan

Powder-coated steel frames

Strong flat weave
These features can ensure your furniture set can last from 5-10 years. It could last even longer if you use it with extra special care!

26. Use block beds
Cedar blocks look great as garden beds. You can create one in the corner of your garden to provide your tropical flowers with the ideal foundation.
Block beds are great, particularly if you have limited spaces in your courtyard.
27. Playground fence
Create a little lawn area for your kids to play around in the garden! Using tropical plants, form a fence around your lawn to set up an enclosed space for your little ones to enjoy.
28. Add tropical plants to stone beds
Using stones and mortar, create a garden bed filled with tropical plants. Make sure to choose different sizes and colours so you can present a variety of plants.
This design could be the centrepiece of your tropical garden.

29. Use concrete pots
Concrete pots make a beautiful addition to a garden. At the same time, they can transform a plain outdoor space into a more modern looking one.
Plant your tropical plants in large concrete pots, then paint them with different colours. Don't forget to line the containers close to your front door or the main entrance of your garden for a beautiful view.
30. Go for a hypnotic water feature
If you have a dramatic focal point to your tropical garden, this kind of water feature can help you achieve that. This high water pressure sprinkler is installed in the middle of a small pond, surrounded with metal flamingos.
It adds more life to the garden, along with the lush green jungle.
31. Use extra large containers
Abundance is the key element when it comes to a tropical garden theme. Using oversized containers is one of the effective ways to create a lush atmosphere in your outdoor space.

32. Contemporary tropical garden
This concept features the trendiest plant species and landscaping elements. This modern tropical garden has a corner with a brown brick wall which helps the hanging, climbing, and potted plants stand out more.
33. Tropical patio
Adding tropical foliage to patio or rented outdoor space might not be possible, especially if it requires digging. The good thing is that many tropical plants like this do well in containers.
This style would work well if you have a tiny garden or porch.

34. Narrow space and plants
Filling a narrow garden bed can be quite challenging. But if you want to have a functional pathway or at least make that space practical, have a look at this cramped aesthetic!
Fill it with tall and lush foliage to create a natural forest in that tight space.
35. Do regular 'jungle' maintenance
To keep the beauty of your indoor jungle, regular cleaning is a must. You don't have to do it every day, but make sure the plants are growing healthy and the garden itself is well maintained.
Tip: Remove dried leaves and insects that may kill your plants.

The Bottom Line
Transforming your garden into a tropical rainforest with a real vacation vibe isn't as hard as you thought! Especially if you use some of these awesome ideas.
The possibilities are endless. But we hope these designs and inspirations will help you get started in no time.
Feel free to mix more than one idea and see what you can create. And check back as we'll be keeping this post up to date with the latest from around the web.
Shop BBQs