Make the most of your outbuilding extension with these garden room furniture ideas!
Interior designing improves experiences within the space, bringing a concept to life. Although there are a few tips and tricks, there are no rules.
You can create safe, functional and attractive indoor spaces, your garden room included. And establishing a style and sense of order is where furniture pieces come into play.
These garden furniture ideas for garden rooms will walk you through with tons of inspiration!
Garden Room Furniture Ideas
1. Start with a sofa
A sofa is a figured-out seating choice in living areas and many garden rooms. Besides the lounging comfort it provides, it creates a casual and welcoming space.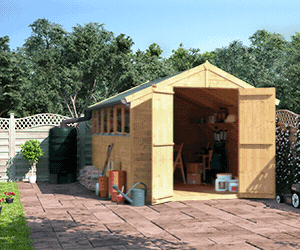 Alternatively, you can go with an armchair furniture set – like this BillyOh Marbella! It's complete with luxurious seat cushions and guaranteed fade and UV resistance. At BillyOh we offer a range of furniture options in all types of different materials like Rattan Garden Furniture, Metal Garden Furniture, and more.

2. Install window blinds
During the summer months, blinds can help block the heat and UV rays from entering your garden room. What's more, they give you privacy and insulation to save on your energy bills.
There's a variety of choices available, from Venetian and roller to Roman and pleated.

3. Hang wall mirrors
Create the illusion of a larger space and make the most of the natural light available with wall mirrors. Go for statement frames to add a contemporary look to your space or floor-to-ceiling if you use the space as a garden gym.

4. Shelves for the plants
A touch of greenery helps blur the lines between your indoor and outdoor space. The best way to showcase their beauty is through shelving units.
Some popular house plants are Aloe Vera and Snake plants, which also double as air purifiers! If green fingers don't run in your family, artificial plants are your best bet.

5. Sophisticated storage cabinets
Regardless of what you use your garden room for, you can never go wrong with storage cabinets. For one, they help avoid clutter and allow for optimal space utilisation.
Take this creative studio, for example. Although there's so much going on, the cabinets give the room a clean, uncluttered look.

6. Invest in an outdoor heater
An infrared heater can provide heat through some level of gentle radiant warmth. Installing one means you don't have to worry about warmth being blown away by draughts.
It also solves the problem of poor insulation. The Alberta comes with remote control with 1000W, 1500W, and 2000W power levels.

7. A coffee table with storage
A coffee table with storage is a great option if you have limited space or wish to maintain a little more order. Depending on the design, its appearance and functionality can make an outstanding piece.
Other models, like ottoman seats, offer double functionality.

8. Home bar set up
Save the money you'd be gratuitously spending at a bar in your very own garden room pub! Sharpen your bartending skills in the BillyOh Nightjar and enjoy drinks with friends.
It features a classic L-shaped design countertop (over 1m² of usable bar space) and room to sit 3-4 people.

9. Don't forget bar stools
You're going to need some bar stools, and make sure they're the right height for your counter and are comfy enough. Choose a style that goes with your garden pub theme and, on the whole, the rest of your furniture.

10. Install a dining table
A garden room is technically an outdoor space, so it's best that your furniture reflects that. We recommend using durable, weather-resistant pieces, such as this Malmö unit.
In beautiful graphite, it creates a stylish real-wood effect and features aluminium frames. A dining set is a 

11. Set the mood with lighting fixtures
Illuminate your space and highlight your best bits with indoor lighting! The right light fixture can improve the mood and create a warm and bright ambience.
This LED firework light, for one, is made up of 120 warm white micro lights that give off a warm and inviting glow.

12. Curl up by a fireplace
If you use your garden room year-round, especially in winter, a fireplace makes a great focal point. Curling up in front of a fire while keeping your heating bills down is sure to give you a warming feeling.
You can use either a wood-burning fireplace or an electric fireplace.

13. Relax with a hot tub
By adding a hot tub to your garden room, you will be creating an entirely new way to use your outdoor space. There are different types of hot tubs to choose from, and one is an inflatable like this Respiro model.
Experience a taste of luxury in your own home and soak in a wonderful bath of soothing, bubbly water. You may never want to leave your garden room again!
14. Fix floor tiles
The right floor tiles can introduce comfort and grandeur to your garden room. Not only are they stylish but also easy to clean, durable and low maintenance qualities.
Go for vinyl flooring for inexpensive and bespoke options or ceramic for a vintage look. Top tip: Avoid putting small tiles as they'll make the room feel smaller.

15. Carts & sideboards
If your garden room is for entertaining and hosting, you'll want a nifty corner for beverages. A bar cart or sideboard is great as either doesn't take up too much space.
At the same time, it gives you everything you need to whip up some tasty tipples.

16. Work right with an office desk
If your garden room is your makeshift home office, you'll need a desk. When buying one, ensure it's the right size for your space and has enough storage to keep your supplies.
Alternatively, go for a corner desk. It's great for small spaces and can help you make the most of your backyard view.

17. Stylish lamp
Whether it's for work, reading, or mainly to add some ambient lighting, get a lamp! Floor lamps, for one, can illuminate an area at eye level and help open up the room.
There are more ways to create the right ambience, and this Rattan Floor and Table Lamp proves that. It has a cool retro feel that feels homely and almost like having a warm flame burning in the corner of the room.

18. Cushions and soft furnishings
A sofa or couch isn't complete without soft, comfortable cushions. They enhance your seating's comfort level and add style and warmth.
The added cushioning will also help in reducing the pressure on your muscles and joints. Choose two cushions with different patterns or colours for extra touches.

19. Get a rug
Rugs are one of those furniture pieces and decors that offer a cosy touch. One can instantly warm up your garden room or somewhere that needs a little colour or texture.
A rug is also better if you only wish to accentuate your space without an elaborate setting.

20. Hang a clock
Accessory furnishings like a wall clock are ideal for quick fixes, creating a point of focus or interest on a wall. Choose one that's appropriate for the size of your room.
Don't just put it anywhere; hang it somewhere you'd glance at it if you sat down.

21. Beanbags for extra seating
Bean bags are affordable compared to other types of seating furniture. They're easy to store and move from room to room.
And the best part? The ergonomic design allows it to mould to your body, which prevents back pain.

(Image Credit: Flickr – Jisc Infonet)
22. A TV for entertainment
Television in your garden room can also mean having your own mini cinema! You can create an alfresco home theatre, allowing you to watch Netflix while enjoying BBQ.
Top tip: Fit a bracket that swivels so you can watch TV from anywhere in the room.

23. Set up the curtains
Another fixed asset you'll want for your space is a set of curtains. Like blinds, they keep the sun out in the summer and help retain the heat during winter.
Heavy velvet curtains will look great for a classic setting. In contrast, light voile curtains will be perfect for a contemporary mood.

24. Something leather
Introduce classic and chic pieces to your dark-stained wooden garden room with leather. Quality leather sofas, for instance, are a worthwhile and timeless investment.
If you're going for signature leather, install curtains to protect the set from the sun.

25. Display artworks
Furnishings like artworks and other decorating ideas can add personality to your space. The right art piece breathes life into a space, lights up a room and enhances the aesthetic value.
A wall of art also makes the perfect finishing touches to your garden room furniture ideas!

Round-up
Furnishing a garden room gives you the opportunity to use new designs that you haven't used in your home. This includes employing different materials and styles of furniture.
And when furnished right, it can provide so much more than just a functional space. With these garden room furniture ideas, you're a step away from finding the perfect fittings! For all kinds of garden room furnishings, click the button below!
Shop Garden Furniture