Is shade good for a garden? This shouldn't be a question at all!
A shady garden can benefit both the tenants and plants in many ways. And there are a variety of shade source options available in the market.
From arbours and pergolas to canopies and parasols, there are tons of garden shade ideas out there! The right one will help you create the ideal environment where you can enjoy fresh air without being in direct sunlight.
Cool, huh? To help you choose the perfect garden shade, we have exciting and popular options to offer you below!

Different Types of Shade Gardens
Enjoying time outdoors on patios or garden space is all fun and games until the weather gets a little too warm. But don't let the hot afternoon sun stop you from your leisure.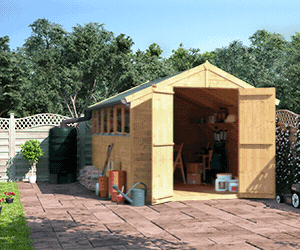 Get that much-needed shade and enjoy the warm weather to the fullest! There are popular options for shade gardens that can elevate and make your backyard feel like your personal, private escape.
And some could also benefit shade-tolerant plants. Most of these structures almost have the same similarities, but they're unique in their own form and function.
Moreover, each garden shade type will have different requirements. Thus, some choices may not work for your outdoor space.
If you don't have a way to make one option work, fret not. It just means you'll have to consider another selection.
If you're wondering what's available and common in the market, keep reading!
1. Gazebos
When talking about garden shade and garden room ideas, gazebos are a favourite pick. Offering a nostalgic appeal, a garden gazebo is a wonderful solution to spice up a backyard scene.
Gazebos are freestanding, usually in an octagonal shape, with a pitched roof with a tiny dome at the very top. Multiple columns support these structures. Traditionally, they include built-in benches for seating.
A garden gazebo can be used for lots of things. These include alfresco dining, lounging, entertaining and relaxing, to name a few. What's more, they also add a sense of enclosure and extra privacy.
You can find them in several materials like vinyl or aluminium and styles such as pop-up gazebos. Have a look at our wooden and pop-up gazebos selection below!

BillyOh Quadra Timber Garden Gazebo
The Quadra creates the perfect cooling sun-shelter anywhere in your garden. It's an extremely versatile garden structure, offering shady spots, including for plants, any time of day.
Made from quality T&G boards, the gazebo provides sturdy protection from harsh elements. A pressure-treated option is also available for keeping the wood long-lasting.
The striking pyramid roof design will make for a beautiful garden centrepiece. Plus, it's ideal for water drainage.
This garden gazebo also puts you in control. Meaning you can put in on pre-existing paving or create a whole new area with a base option. Or keep the sides open and use it as an outdoor hot tub idea shelter.

BillyOh Hexagonal Pop-Up Garden Gazebo (2x2x2m)
You can take shade under this pop-up garden gazebo when it's sunny and cover under it when it's raining. It makes the perfect choice of outdoor shelter for any family gathering or outdoor party.
The hexagonal structure of this heavy-duty unit is both practical and stylish. And when the party's over, simply pop it back down for easy storage.
This garden gazebo comes with ropes and iron pegs that you can fix into the soil. This ensures it doesn't fly away in strong winds, and it will stay securely tethered in place.
Thanks to the PVC coated canopy, the gazebo is protected against rainfall. What's more, the powder-coated steel frame includes support bars that provide additional reinforcements.
There are three different height settings to choose from, ranging between 227 cm (89.4 inches) and 245 cm (96.5 inches). And if you're looking for inspiration, get inspired with these ideas!
2. Pergolas
Thinking of adding a source of shade on your patio? Or a structure that can boost your garden's curb appeal? A pergola can offer both!
Pergolas are large structures, usually made of wood, using columns or posts as the frame. They feature either a closed or openwork roof.
They're mainly used to create separate outdoor spaces, offering light shade and sitting areas. The posts and ceiling can be used to hang lights, decorations or even plants. And they can be open or closed to your liking.
A wooden pergola, for one, is often draped with plants like grapevines. This naturally adds aesthetics. Once placed in hideaways through gardens, it can offer partial shade and breathing space.
Pergolas are now more common as focal points for smaller outdoor spaces. Many homeowners even attach them to their homes or a vertical addition to a deck or patio.
It makes sense that the term "pergola" and "patio cover" are used interchangeably.
The right design will help you add dynamic definition to your landscape. Check our pergola ideas next to find a style that suits your taste and lifestyle.

3. Arbours
Garden arbours are simple arch or flat-topped structures supported by a beam on either side. They comprise a frame that serves as an entryway; many even include a gate.
Simply put, an arbour incorporates a trellis into its structure. It creates a tunnel-like passageway for gardens, framing a part of the plot.
It can be freestanding or connected to another structure, such as a fence. It's perfect for adding vertical interest to the garden.
Arbours were originally used to provide shaded passageways in early Renaissance gardens. Today, they serve many functions: anchor paths, add height and privacy, act as an accent, etc.
As they combine function with art, arbours also make perfect garden screening ideas. This is especially true if you know which arbour ideas to go for!
This arch and trellis combo structure come in various sizes, styles, and materials. Wood, metal and vinyl are among the popular options.
Metal arbours are rust proofed and long-lasting. Vinyl ones, in contrast, are ideal for those who live in hot regions. Meanwhile, wooden arbours offer that rustic look in gardens.
If the latter sparks your interest, we have a great selection of arbours made from pressure treated timber!

BillyOh Orchid 83″ Fir Wooden Garden Arch
The BillyOh Orchid offers you a point of interest and a place for your garden to flourish. It uses a unique design, constructed into a stylish pattern ideal for your plants to climb.
Built from Fir wood, it makes an attractive outdoor centrepiece. It's strong, lightweight, and naturally resistant to water damage and insects.
The structure from top to bottom is stable; whatever the weather, it won't topple the arbour. It's also built for the outdoors, all year round.
The Orchid arbour is a show-stopping garden feature with a strong structure that's built to last! Add it to any corner of your garden to transform it into your personal outdoor retreat.

BillyOh Primrose 84.5" Fir Wooden Garden Arch
The BillyOh Primrose adds a touch of elegance to anywhere it's placed. It's a sophisticated addition to any garden, with lattice trellis features.
The trellis supports climbing plants or fruit trees. This allows your garden to grow plants in beautiful and unique ways around the arch, a.k.a. a trellis garden.
The arch also uses a water-based stain and white paint to create its gorgeous sleek finish. On top of aesthetics, it also forms a protective layer against harsh weather.
Like Orchid, Primrose is built from fir wood. Strong and durable, it allows the arch to continue looking gorgeous for years to come!
4. Parasols
A thoughtful garden design comes with adequate protective shading. And when it comes to shaded garden ideas, you can't go wrong with parasols.
Parasols work as large outdoor umbrellas, offering protection from the harmful UV rays. At the same time, they provide privacy in gardens.
Many parasols are also water-resistant, so they make a suitable rain umbrella if needed. They can also serve as a shield against small objects like falling leaves or acorns.
As for materials, they're usually constructed from delicate fabrics such as lace, cotton, silk, linen, canvas and plastic. If you want a parasol that provides the best sun resistance, opt for a model that blocks up to 98% of UV rays.
Also, you can find garden furniture with a parasol base, either in the middle or side. This allows for an easier installation process.
Or you can purchase a separate heavy-duty base just like this 14kg base or one made from rattan. Take a look at our available cantilever parasols with crank and tilt features below.

BillyOh 2.7m Crank and Tilt Parasol 8 Ribs with LED Lights
This 2.7m parasol is manufactured using high-quality 180-gram polyester material. Meaning it's fade resistant and can block out 98% of UV rays.
The sturdy frame is finished in a smart, weather-resistant anthracite powder coat. It opens and closes effortlessly with a smooth-turning crank on the pole.
What's more, it comes with 24 integrated LED lights powered by one solar panel. This outdoor lighting helps create a cosy and romantic ambience at night.

BillyOh 3m Garden Parasol Cantilever 8 Ribs with Crank and Tilt
Stay cool and out of the sun with this 3m garden parasol in a range of colour options, including tan, black, and beige. It's cantilevered, allowing you to position the umbrella where you need shade without a base.
Made from high-quality 180-gram polyester, it's fade resistant, 98% UV resistant, and water repellent.
5. Canopies
A patio area without any kind of shelter or shade will be exposed to the elements. We all know what the British summertime can often be like.
A garden sun canopy swings to the rescue, allowing you to carry on enjoying your outdoor space! It can provide that extra bit of protection, in one way or another, to your patio.
It also offers a useful cover which you can retreat under if the weather turns too wet. And gives you a space to store garden furniture without worrying about the rain.
Most canopies use a cantilevered design system and are self-supporting. This eliminates the need for any large pillars or posts to hold up the roof.
It can also be fitted to the side of your house in exactly the size and design idea you'd like. Each canopy is bespoke to your individual needs. You can customise it to your home or patio with a variety of styles and colours, too!
What Are You Waiting For?
Add a new interesting and practical feature to your garden of dreams with our range of shade structures! Here at BillyOh, we aim to cater for our customers' needs.
Guaranteed, these shade structures will offer the right shade and comfort that you need!