Finding the perfect garden sofa starts with comfort. The material is also an underlying factor, and the design comes next.
Investing in garden furniture takes a lot of consideration. And with your savings involved, you wouldn't want to settle for less.
This is what our garden sofa ideas are for. A helpful guide that you can always refer back to when looking for inspiration.
The list starts with a synthetic rattan sofa; browse through for more!
1. Synthetic rattan corner sofa
Synthetic rattan is an artificial fibre which mimics the look of a genuine rattan. The material can withstand both moisture and intense sunlight.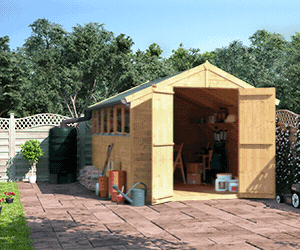 A corner style sofa features a modular L-shape, allowing you to make the most of even tight spaces. Take a look at the BillyOh Salerno.

2. Or go for a U-shape design
You'll always have plenty of space for guests with a U-shaped garden sofa. The arrangement is perfect for relaxed garden party ideas. Everyone has a place to join in the conversation with ease.

3. Industrial style in metal
Giving off a very urban spirit, an industrial metal sofa is ideal for a backyard somewhere in the city. Most comes with a sleek design, but thanks to the seat cushions, comfort is still present.
Choose colourful fabrics for a playful contrasting pattern.
4. A daybed and sofa in one
If you're looking for functionality, choose a daybed that doubles as a sofa and sunbed. Choose a design piece with a comfy, UV protected cover so you can bask in the sun with no worries.

5. Mix and match design
Choose furniture pieces from the same range, such as from BillyOh. A mix and match scheme can help you visually link the different zones of your outdoor living space.
For instance, go for the same frame material and style for the sofa and dining set. Then opt for contrasting cushion colours to create a subtle sense of variation.
6. Low and angular approach
The idea here is to create a seating area that screams "lazy weekend outdoor lounging". The structure is lower than usual couches, levelling the centre table.
Get a matching footstool (the same height) for flexibility. Make sure it can be pushed at the corner sofa for a chaise effect.

7. Pair it with an outdoor rug
Garden furniture can risk looking a bit lost in the space, especially in large gardens. To help your sofa sit well in its surroundings, lay an outdoor rug.
This also helps give it a strong focal point. We recommend a subtle colour for an added layer of interest.

8. Opt for coloured cushions
If you own a wicker sofa set, give it a lift with a new set of cushions. Introduce a splash of colour with soft coral hues or something a little bolder and brighter.
Take this chance to add personality to your patio.

9. Aluminium and wood materials combined
Here's a pro tip: choose a sofa that combines different materials, and you'll get the best of both worlds! For one, powder-coated aluminium frames with a touch of natural wood.
This combination ensures a hard-wearing structure and less maintenance.
10. Pale colours for a Scandinavian vibe
Scandinavian garden ideas are timeless and won't go out of style. When it comes to furniture pieces, go for subtle oatmeal tones, such as for your sofa and armchairs.
The muted tones can keep the space clean and pleasing to the eyes. Plus, the lush greenery in the background will stand out more.
11. Choose curves
To set off the hard hedges of your landscape and create a softer look, opt for curved shaped furniture. The striking design will add interest to the overall look of your patio.
As curves don't have sharp corners, this makes it kid- and pet-friendly.
12. Pop in a parasol
To make the most of your garden sofa, even in sunny weather, add a parasol overhead. A cantilevered one can sit neatly to one side of your seating space.
A tilting model also lets you move it anywhere, shielding you from the changing sun angle. With one, your outdoor seating can be your retreat and enjoy the summer sunshine.

Round-up
The Internet is an amazing place to look for design inspiration. But with the overwhelming search results, it can be a headache to browse them all.
That's why our team has put together a list of garden sofa ideas – a few of our favourites from the web! There's something for you here that will make you want to lounge forever. From the best materials, designs and styles to accessories, name it all.