Many UK homeowners are talking about Mediterranean-style backyards. But have you heard about the Nordic approach, otherwise known as Scandinavian gardens?
Scandinavian gardens draw inspiration from the majestic and tranquil landscape of Nordic countries. Breathe in that Scandinavian scenery in your own yard with these ideas!
1. The magic of stone fireplace
Take things a notch higher by incorporating a fireplace into the space. Surround your backyard campfire setup with Adirondack chairs for some entertainment.
Bring the traditional Scandinavian touch outdoors with a patina style fire pit idea.

2. Feature natural elements
Scandinavian gardens feature natural elements for most parts and less greens. A small water body in the middle edged by pebbles ensures that you have a controlled natural setting.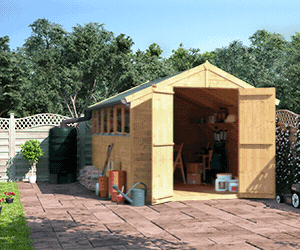 Have a look at our garden pond ideas for some inspiration!

3. Opt for rustic, wooden outdoor pieces
The ideal landscape to achieve this scheme is to emphasise wooden garden furniture. For one, add a couple of large cushioned couches on the side of a rustic wooden coffee table.
Upkeep your lawn so you can set up an outdoor dining area flanked by potted plants.

4. Deck your garden
A great Scandi-inspired garden idea is to create a seamless movement in and out of your home with a flush deck. Deck the half of your yard with a roof extension and keep the lawn on the other half for some diversion.

5. The beauty of pavilions
If your garden space can be matched with woods, add a pavilion between the foliage. The natural setting gives you enough privacy. At the same time, the pavilion creates a warm ambience for a lovely afternoon lounging.

6. Employ greenery to the maximum
Can't skip the greenery? We've got you covered! The idea is to utilise bushes as boundaries. Add flowering plants strategically planted for a charming Nordic garden touch.

7. Keep it simple
Scandinavian gardens are all about simplicity: clean lines and bright spaces with plenty of space to move. Show off your perfectly manicured lawn with medium-sized trees. Install a picket fence for a sense of home security idea.
With this, children and pets will have a place to run and play around!

8. Give way to the driveway
When it comes to garden gravel ideas, you can't miss the driveway. Border it with two low stone columns to support your double swing aluminium gates. Polish the shrubs and level them with the columns, separating the driveway from the rest of the lawn.
9. Overgrown shrubs and tall trees
Keep your outdoor space simple and modern with straight lines and stylish colour pallets. This concept can be contrasted with a Scandi-style landscape of overgrown shrubs and tall trees. The scheme will make it seem like your backyard is in a jungle!

10. Trust nature pallets
Speaking of colour pallets, use colours found in nature as backdrops. Grey, brown, white, and green will complement the greenery in the surrounding landscape. These colours are experts' top picks.
11. Blend in
Take a minimalist approach to hardscaping elements such as paths and fences. This will allow them to blend into their natural surroundings. Less is more.

12. Build a privy
That's utedass to you, in Sweden. Traditionally, a privy is a detached outbuilding, a.k.a. wilderness toilets, that sit near cabins in rural areas. Before, the privies were made of built-in scrap wood and were austere in design.
13. Get a potting shed
Further your cultivation throughout the winter with a potting shed. This will offer you a pleasant workplace environment when the weather becomes inhospitable.
To make the most out of your potting shed space, check our organisation ideas next!

14. Keep it classic
The main elements in this design are a framed pathway with creepers running all across. Keep the mood warm by incorporating more timber and burnt clay pots for the plants.

15. Recycle, reuse, reclaim
As much as possible, use natural and recycled materials around your garden. It could be a DIY made from weathered wood or old benches and metal bins transformed into planters. These projects are gentle incursions on nature's domain.
Round-up
Scandinavia doesn't get too much of the sun, but when it does, locals make sure they make the most out of it! This is their way of enjoying the great outdoors – their gardens, whenever possible.
Calm, laid-back, yet utterly chic, our Scandinavian garden ideas will surely inspire you! Most importantly, enjoy your outdoor space for a lifetime.