A put-together house exterior can make an impression, especially on those who see it for the first time. From your gate and front yard to the porch, they set the entire look of your property.
Setting the perfect ambience is key, and this is where outdoor lighting ideas come into play. A well-lit porch is a good starting point, boosting your home's architecture after dark.
Here's a list of porch lighting ideas to help you get started and light things up!
1. Wall sconces
As the name suggests, scones are installed on the wall, hence wall-mounted fixtures. They provide uplighting and can be installed on most materials, such as brick and wood.
Perfect for showcasing your front door or brightening up the dark corners of your porch! For symmetrical frontage, hang two wall sconces on either side of the door. This will help dress up the space and create an intriguing and inviting ambience. Most experts recommend going for units about a quarter height of your main door.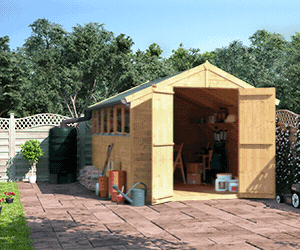 Then, set them approximately 66 inches (5.5 feet) from the porch floor to the bottom of the fixture. Leave 6 to 12 inches on either side of the door casing. For asymmetrical entryways, a single sconce will do. Hang it on the doorknob side, and this should be enough to light up the doorway.
This Biard Architect IP44 Round Up/Down Wall Light might be the one you're looking for! With a modern black finish, it bathes the wall in soft ambient lighting. Complete with an energy-efficient GU10 LED for low running costs. Perfect for pairing beside the front door and around the garden.

2. Pendant lights
Ceiling-mounted lights are fixtures attached to the ceiling. A popular choice for porches is pendant lights, and other styles include chandeliers. If you have a high ceiling on your porch (and no wind exposure), this is the ideal lighting option for you! Depending on the size, pendant lights work better for larger, covered porches as well.
They are usually hung by chain, wire, cable or stem – ropes even. But with a chain, you'll have more room to adjust the height. A pair of wall and pendant entry lights will also make your exterior more welcoming. Ensure that the pendant is proportioned to the space, though.
Take a visual note of how it looks and feels around the entryway, then adjust accordingly. Generally, consider hanging the fixtures about 84 inches (7 feet) from the porch floor. The pendant should be centred about 6 inches above the door, with 1/5th height of the size of the door itself.

3. Solar-powered string lights
Sustainability is worth considering when it comes to porch lighting ideas. Enter solar-powered lights; they have become one of the preferred choices. The batteries can be expected to last about 3-4 years, and the LEDs can last ten years or more. What's more, they're energy-efficient, helping you save on electricity bills.
An eco-friendly approach to lighting up your front porch is a great long-term investment! Have a look at these BillyOh Solar Powered Lantern String Lights. The lights automatically switch on in the evening. Plus, the geometric cage design has a modern chic-industrial look that will look great on a contemporary porch.

4. Flush mount lights
Another type of outdoor lighting that adds welcome light to your porch is flush mounts. They make a suitable option if you want a fixture that doesn't detract from your main entrance or columns.
If there isn't enough room for two wall sconces, and your porch has a low ceiling and is open to wet weather, get a pair or a few. Place them somewhere that provides ample light to the door and the rest of the porch.
Top tip: Flush mounts should be at least 80 inches (6.6 feet) from the floor.

(Image Credit: Designing Idea)
5. Floodlights
Take your home security to another level with floodlights installed on your porch. They act as a spotlight on your front door, allowing you to see who's approaching. Most units feature an in-built motion sensor that activates whenever it detects movement. This discourages potential intruders (animals included) from approaching your home.
The dusk-to-dawn timers are also excellent features. These sensors automatically turn the lights on when the sun goes down.
And this next-generation model floodlight with PIR motion detection is a must-have, too! It provides a bright light with a high lumen count that helps to improve security at a cost-effective price. It's weatherproof, and the all-black modern design will suit any porch setting.

6. Post mount rail lights
Outdoor post mount lights lend a warm glow to your outdoor space. They also expand the usable hours you've got to enjoy your porch and are a perfect addition to garden decks. Alternatively, opt for post lights designed to be installed on top of posts. They provide enough light and aren't too intense as you'd expect from floodlights.
Perfect for lighting up hidden nooks, highlighting steps, or beautifying landscape features. They'll also look good along the entrance or your porch railing.

7. Up & downlights
An uplight fixture, as the name suggests, emits light that goes up to the ceiling. Meanwhile, the downlight spreads the illumination down to the floor. You don't need to worry about which one to get when you can have both in one fixture! Up & down lights can add subtlety and drama to your porch and overall outdoor space.
Get a pair so you can experiment with a few lighting tricks. For instance, you can make ground-level downlighting more subtle. Then, a more natural approach for softening the area with uplighting. Either way, you can illuminate objects or surfaces from above or below.
If you're looking for one, you'll like this Biard Le Mans Up or Down Wall Light! It creates an efficient lighting scheme with a modern and compact cylindrical body.

8. Spike lights
Spike lights are known for their flexibility. You can readjust, reposition or reorient them after installation, adding aesthetic porch appeal.
Install a few to highlight charming features, like the columns or container gardens. They're great for lighting a range of details on your porch. And when positioned right, spike lights can also make up a part of your garden security lighting.
Waterproof and rustproof, the Biard Le Mans is ideal for your highlighting needs. IP44 rated, your porch will benefit from it for years to come!

9. Lantern and candlelight
If you want something that doesn't involve wiring and power, go for lanterns and candles. Giving off a rustic approach to your porch, place a range of lanterns and candles on the steps.
You can buy LED candle options or solar ones for longevity – if you're using a separate lantern. A realistic but flameless candle with clear glass panels that emit a soft light and warmth! Candle lanterns (a set) are also available, most powered by 3AAA batteries and have a timer.

10. Layer types of lighting
Improve curb appeal to your porch by layering different types of outdoor lighting. A combo of wall sconces and hanging lights, for one, can bring depth and visual interest.
To achieve a cohesive design, opt for light fixtures with similar styles and finishes. This Biard Glass & Black Aluminium Lantern wall sconce is a great choice! Place the lantern sconces on each side of your front door, with matching pendant lights in the centre. This helps balance out the look while creating a statement piece.

Bonus tips
To find the right outdoor entry lights for your porch, plan the location well. If it's sheltered from rainwater, for instance, a damp-rated fixture is your best bet.
But if it's exposed to rain, fog, snow or salty air, go for wet-rated fixtures. Take note of the UL rating to know which location the light is suited for. This also means the bulb has been tested by Underwriters Laboratory and is safe for use. The IP rating is also important, as it denotes how resistant to water and material ingress the product it.
The sizes also matter. To keep a balanced look, here are a few proportions recommended by experts:
Wall sconces: ¼ to ⅓ the height and width of the door (including trim)

Pendants: ⅕ the height and width of the door 

Flush mounts: ¼ the height and width of the door 
If considering sconces with a 100-inch. high and 60- inch wide door, opt for a 25-inch high and 15-inch wide fixture.
Porch Lighting Ideas: Round-up
Whether you're planning a major overhaul for your porch or a simple update, lighting is vital. And it's worth considering these porch lighting ideas when devising your scheme.
The type of fixture and spread of light is up to you. But ensure your chosen fixture provides the desired effect to create the most impact.
May your front porch help your guest find the right way and leave an excellent impression! To browse our great outdoor lighting range, including fantastic porch lights, click the button below!
Shop Outdoor Lighting