Rock gardens don't have to be boring and unimaginative, especially when mixed with stylish garden furniture. Whether it's a restful, relaxing space you're looking for, or some creative ideas to makeover your garden, we're here to help.
We've got ideas that will help you make the best of your garden using rocks and stones. Let's jump in!
1. Front yard rocks
Not all gardens need to have flowers. Rocks work amazingly as a front yard decoration. If you have a sloped garden, you can even use your rock design to build in some steps. 

2. Bench on top
Use rocks to give your garden some extra height, then add a bench to sit out every afternoon and look at the view.

3. Stacked rock cairns
Rock cairns are human-made stacks of rocks and can be any shape or size. They're really simple to set up and you can arrange them in any way you like. They usually used to signify landmarks.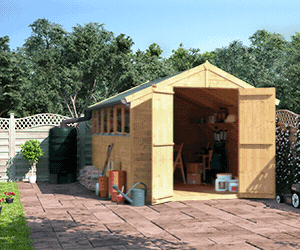 4. Rocks and gravel steps
If you're using rocks for decoration in your garden, why not use a small gravel for your steps to continue the stone theme.  

5. Rock river
Use stones and rocks to create a dry river bed in your garden. It's easy to create – just dig a shallow trench and fill it up with stones, then add some plants and flowers along the edges.
It's much easier to maintain than a regular pond or river as you don't need to consider the water flow or any erosion.

6. Planters on rock
If grass isn't for you, a rock base with some simple planters on top provides a modern look. Stones are a low maintenance alternative to soil and should help reduce the risk of weeds. 

7. Alpine plants rock garden
You can always add some colour to your rock garden with some alpine plants. They won't have a problem growing between the rocks and the results are beautiful.

8. Spiral rock garden
Get creative with different coloured stones to design a garden bed with a difference. Arranging them into a spiral design will spruce up a plain flower bed. 

9. Small waterfall
Nothing like the sound of water splashing to relax in your backyard. Use rocks to create a natural design. 

10. Rocks garden bed
Arrange some rocks to create borders for your garden beds. They're hard-wearing and will help to keep the bed neat and tidy.
A stone border can also protect plants near the edges of the grass from stray mowers or weedkillers. 

11. Big rocks
You could arrange big rocks to change the landscape of your garden. Add some plants to make the area feel more natural rather than placed. 

12. Wood and pebbles
Create a desert-style garden with distressed wood decking, stone beds and succulents. 
13. Tiny rock garden
It doesn't have to be huge to be something worth admiring. Keep it simple with different sized stones and minimal planting. 

14. Slope rock garden
Sloped terrain? No problem! Use rocks to build steps into your slope to make it easier to navigate. Don't forget to leave space for planting to add some colour. 

15. Rock and pebble path
Rocks and gravel are a budget-friendly solution when creating your own pathway. Use larger rocks to create a border then small gravel for your path. 
You could even add some flat stones like slate to create stepping stones, which should stop you from slipping when it's wet. 

16. Entrance rock garden
If you have a small space in your front garden to fill but you're on a tight budget, why not create a simple stone flower bed. Gravel and rocks make an attractive base and won't cost the earth.
Just add your favourite flowers for a pop of colour.
17. Small rock island on grass
White or light-coloured rocks look amazing on grass, bringing a modern look to a formerly boring spot of your backyard. 

18. Zen rock garden
Zen gardens are designed to be the essence of nature. Rocks are used to symbolise mountains and sand or fine gravel is meant to represent the sea or a river. 
Traditionally, a rake is used to create water-like patterns in the sand.

19. River and rock borders
If a dry river bed is not to your liking and you prefer the real thing, rocks make a great border to separate the grass from the water.
20. Rock shapes
A rock garden doesn't have to be dull, so get your creative juices flowing! Paint some small rocks and arrange them into patterns to create a beautiful and lasting design for your backyard.

21. Japanese inspired garden
Rocks are the perfect starting point for a Japanese-style garden. Use them to create a river bed through your garden (wet or dry) and carefully place a few amongst the sand to represent the mountains in your zen garden. 

22. Small Japanese corner garden
If you're short of space, use rocks to create a small Japanese-style corner garden. Add some small plants and oriental decorations to complete the look. 

23. Rock garden bench
Use large rocks to build your own natural garden bench. It's really easy to make and you'll gain a comfy spot to sit and enjoy your backyard.
24. Rock dragonfly
The great thing about rocks is that you can arrange them in cool shapes or even animals. 
25. Small lantern
You can place a small lantern on your rock garden for a cool effect in the evening.

26. Rocks and pond
Place rocks on the edges of your garden pond to decorate the border and protect your surrounding area. 

27. Rock edging
Adding your own borders to your flower beds gives your garden a distinctive look. Get some rocks and start working on yours!
28. Rock garden and fire pit
Use flat rocks to create a quirky patio for your seating area. Then a fire pit and a couple of comfy chairs are all you need for a relaxing spot outside.

29. Rock ladybirds
For a beautiful, budget-friendly decoration for your backyard, get the paints out and design your own little ladybirds with the kids!

30. Dry creek bed
A simple dry creek is easy to create and even easier to maintain. It's the perfect way to break up a boring patio area and you'll love seeing it every time you take a walk in your garden.

31. Low maintenance rock garden
Rock gardens take basically no maintenance at all. Simply arrange the rocks and add your favourite plants and flowers. Then enjoy!

32. Painted rocks
You can use paint to add some colour and create some rock sculptures for your garden.

33. Rock flowers
Create your own flower bed without the actual flowers. Instead, make some DIY rock flowers!
34. Rock retaining wall
Use rocks to build retainers for your raised beds. Try to use different colours and sizes to create an attractive wall.

35. Indoor rock garden
If you haven't got space for a garden outside, design an indoor garden using rocks and simple, shade-loving plants. 
36. Colourful path
You can make it yourself with some paint, or even some markers. Your kids will love it, guaranteed!
37. Turtle stepping stones
Wouldn't it be nice to walk on these awesome stepping stones every day? And they're really easy to create using flat rocks and paving stones. 
38. Rock wall in sloped yard
Do you have a sloped yard and want to change it up a bit? Use rocks to add some texture and plant a mixture of flowers for some pops of colour.

39. Rocks and logs garden bed
Amazing look and it's way easier to maintain than a grass garden bed.
40. DIY rock garden
Design your own unique rock garden using stones of different colours and shapes, and plants of different heights and shades to give a boring patch of lawn more appeal. 
41. Pebble and stone backyard
All pebbles and rocks, no grass to damage. Hard wearing stones will last for years with little maintenance.
42. Modern rock front yard
A grass lawn can be too simple sometimes. Rocks add personality and shape to your front yard.

43. Rocks island
Or you could create an attractive rock garden within your lawn to add a focal point. 
44. Bright rocks garden
All you need for a simple but effective garden bed to complement an ivory pathway is some budget-friendly gravel, large rocks and simple plants. 
45. Grey flowers
Create your own flower garden but without having to worry about watering them, plus they'll last all year round!
46. Rocky colourful river
You can add some water or leave it dry; it looks really appealing both ways.
47. Rock sculpture
Get creative with rocks – how about some DIY art to decorate your garden? 

48. Minimalist tranquil garden
You don't need to take up all the space in your backyard with your rock garden. You only need to dedicate a small corner and even add a small water feature to help you relax.
49. Rock spiral
Spruce up the base of your trees in your backyard with some creative rock designs, and use different colours and sizes to make it more effective.
50. Light and pebbles
Adding some lighting will always make your garden look awesome, especially during the evening. 
51. Rock garden with alpine
Rock garden enthusiasts know how alpine plants grow naturally in most rocks. This kind of garden arrangement is an excellent option if you don't want anything too pricey.
It's best positioned at the centre of your garden or property.
52. White rock with green bush
This low-maintenance small rockery consists of white rocks with an all-green bush in the middle. You may substitute the stone lantern with any stone you like.
But for a better flow with the garden arrangement, keep it short and simple.

53. White stones and succulents
If you live somewhere in drought-affected areas, maintaining a garden can be a challenge. But this concept can help you have an aesthetically appealing backyard.
The solitary palm tree, a few widely spaced succulents, and a low stone wall come together in a balanced.
54. Hillside rock garden with pebble pathway and flower beds
Ideal for large gardens, this design lets you station stones at one point, a pebble pathway at another point, and flower beds in between. Add plenty of bushes and cacti types, and other rock formation ideas.

55. Traditional zen-style rock formation garden
These zen-style rock formations draw their inspiration from nature. This concept comprises plenty of pebbles and some green shrubs.
This serene design is appropriate for both small and large spaces.

Round-up
Rocky gardens don't need to be routine; you just need to use a bit of creativity to make the best of your rocky space. 
We hope you can use some of these ideas to transform your garden into a place you can enjoy with all the family. Last but not least, why not spruce up your rock garden with some BillyOh garden furniture? Available via the button below.
Shop Rattan Garden Furniture