Low-maintenance gardens are great in times of watering restrictions and for limiting upkeep costs. And succulents with minimum care required are a great choice for this type of garden.
They're tolerant to low water levels, can thrive in dry environments, and hardly need any water at all. A common variety known as Aloe vera is a great example, but it doesn't stop there.
There are hundreds of species to choose from, and this list has the best succulent garden ideas. Most are even adaptable to indoor conditions if you're after some great house plant ideas.
1. Mexican snowballs
As with most succulents, Mexican snowballs need a few hours of direct sunlight per day to thrive. They have pale, green-blue foliage and will eventually create a thick carpet of rosettes.
Works well both as a house plant and in summer bedding displays outside.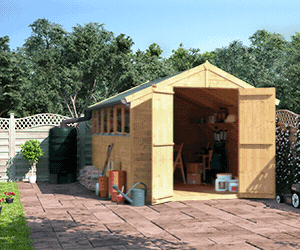 2. Horse's teeth
A small succulent with a warty surface that grows up to 3″ to 5″. The leaves look like large green teeth with translucent ends, aiding photosynthesis.
Due to its small-growing habit, horses' teeth can remain in the same pot for years.

3. Agave
Agave is one of the largest and most impressive succulents to grow. It's known for its leathery rosette leaves that can grow more than 8 feet (2.5 m), depending on the species.
It needs full sun and gritty soil that percolates easily.

4. Chinese money plants
Warm days and moist air provide the perfect environment for Chinese money plants. The minimum temperature is 50°F (10°C), so bring the containers in when the temperature drops at night.
This Asian native is also traditionally considered a 'good luck' plant.

5. Gollum jade
Gollum has fascinating green finger-like leaves with a red circle on the tips. Look forward to small pinkish star-shaped flowers during late fall and early winter.
Very sensitive to overwatering, but it does well in containers.

6. Sedum burrito
Sedum makes a beautiful hanging succulent. This soft plant bears thick trailing stems covered with plump and bead-like leaves. It grows best in the morning sunlight and sandy soil.

7. Lace aloe
Unlike some Aloes, this frost-hardy variety is particularly fast-growing. Lace aloe forms rosettes of fleshy, lance-shaped spined green leaves with white spots.
Although hardier than others, it's best grown in a greenhouse or as a plant house.

8. Corsican stonecrop
This is your best plant choice if you want to grow succulents as ground cover in a hot sunny spot. It has fat, blue-green leaves (purple hue in winter) and creeping stems forming shrubs.

9. Hens and chicks
These low-growing evergreen succulent plants look a little like rubbery roses. The fleshy pads are thick and arranged in rosettes.
Visually, there's a mother plant with several smaller offshoots that surround it. They're low maintenance and can be grown outdoors in-ground or in container gardens.

10. Graptopetalum superbum
Graptopetalum superbum is one of the most beautiful succulent plants in existence. It's a succulent plant with thick, fleshy, pale grey-lavender to pink leaves.
Easy to care for, perfect for beginners and also indoor growing.

11. Cactus
Cacti are some of the most durable and versatile succulent plants. Their success in extreme conditions makes them a reliable addition to your landscape. Grow them in different sizes, shapes, and colours for variety.

12. Lithops
The Lithop succulent is a colourful one that looks like a real stone. The thick, padded leaves also resemble the cleft in an animal's foot.
This unusual South African native plant has evolved to deal with harsh sunlight. Best grown in pots.

13. Euphorbia succulenta
Euphorbia is a unique-looking succulent that trails down, perfect as a hanging plant. It has large fresh rootstock, several branches, and leaves at the growing point. 
The stems can spread all over, reaching up to 60 cm (24″) in diameter.

14. Aeonium 'Zwartkop'
A branching shrub with magnificent, almost black-purple, succulents. The polished leaf rosettes feature a lime-green centre at the ends of their branches.
Zwartkop is perfect for containers on a sunny patio or as summer bedding on a hot, dry border.

15. String of pearls
Each bead of the string of pearls is actually a succulent, modified leaf. Growing this plant outdoors likes bright, indirect sunlight. It also prefers protection from the hot rays.
Hang them in containers to showcase their dangling stems in their best forms.

16. Tricolour jade
A beautiful shrub with attractive green leaves with pale yellow markings. The leaves are also flushed with pink in the bright sun.
As the plant matures, you can expect it to reach up to 30 cm (12″) tall. It prefers full sun to partial shade.

17. Silver bracts
With rosettes that look like chalky stones, Silver bracts can grow up to 20 cm in diameter or more. It produces large fleshy leaves and offsets, and it blooms in spring with large flowers.
Heat and drought-tolerant, and deadheading aren't necessary.

18. Pig's ear
The pig's ear succulent bears fleshy, round silvery leaves with fine red margins. It usually grows up to 4 feet tall, is drought tolerant and can be used in xeriscaping. 
It also does well in containers and makes a good houseplant.

19. Buddha's temple
This eye-catching succulent has leaves that face upwards, resembling a temple. The leaves are silvery-green, stacked together, and have a white cast on their surface. Ensure it receives plenty of sunshine.

20. Blue frills
Growing up to 15 cm in height, Blue frills form rosettes of brilliant blue colouration. Flowers are ball-shaped, yellow-orange, and appear in summer.
Careful watering habits and plenty of light are needed.

21. Barberton
A succulent shrub with light green cylindrical, finger-like leaves packed around the stems. When planted in full sun, this perennial bush can become a green ornamental canopy.
It grows up to 6 feet (1.8 m) tall and can be nearly equal in width.

22. Kalanchoes
Kalanchoes make a pretty addition to your succulent landscape and indoor plant collection. Unlike most succulents, it boasts long-lasting flowers and interesting foliage.
It bears glossy, dark green leaves and masses of blooms for weeks.

23. Aeonium 'Sunburst'
Among the loveliest of Aeoniums, Sunburst is a striking succulent to use as a mass planting. It effortlessly adds interest and drama to the landscape.
The leaves are a delightful combo of creamy yellow and green stripes, with pink edges that turn red in the full sun.

24. Ice plant
These ground cover succulents have brilliant blooms and would make ideal lawn substitutes. Best grown on steep, rocky slopes and somewhere not possible with a lawn.
The flowers and leaves seem to shimmer as though covered in ice crystals, hence the name.

25. Aloe vera
A great spot for growing aloe outdoors is on a covered patio or porch. Plant it directly in the soil or choose a container with holes, and keep the soil moist but not soggy.

26. Senecio
Another good ground cover option for succulents is the Senecio plants. It forms blue drifts and is vivid adjacent to red and orange-leaved succulents.
Most senecios can also tolerate a few degrees below freezing.

27. Snake plant
A snake plant can be distinguished by its green sword-shaped leaves that grow upright. It prefers bright, indirect light and can tolerate direct sunlight.
Snake plants do well outside through spring, summer, and early fall. But bring them inside before the first frost to prevent damaging the leaves.

28. Hoya
This sweetheart plant is a flowering vine with long tendrils and thick, waxy leaves. When the conditions are right, clusters of fragrant blossoms grow.
Like other Hoya varieties, this heart-shaped plant is stunning and low-maintenance.

29. Watermelon peperomia
Low-maintenance succulent with thick, juicy leaves. The small bushy rosette appearance is perfect as a ground cover. It does well in outdoor settings in partial shade – perfect for tropical gardens.

30. Gasteria
The wide, thick and textured leaves on this dark green succulent bear a resemblance to Aloes. It needs lots of bright light, but not too much intense sun to thrive, and minimal watering.
Give it a drink when the soil has dried out, and it will thrive.

Round-up
Succulents do best in bright light and well-drained soil. Their roots are prone to rotting if they stay wet for too long. They can be incorporated into any sunny backyard as long as they are kept on the dry side. But if you want a long-lasting succulent display, add them into the landscape around a desert theme.
Plant them on walkways, slopes and ledges, and water features. It's important to ensure they get enough light, especially when you bring them indoors.
Shop Garden Tools