Container gardening introduces growing opportunities for small gardens. It also makes the best approach for people who:
Is new to gardening

Doesn't have the space for an actual garden

Are looking for a low-maintenance option
If you fit into one of these categories, then you'll appreciate our list of container garden ideas. Our experts have put together a wide range of what you can grow and pot designs to meet your needs.
Whether it's for your yard, patio, or balcony gardening, there's something for you here!
1. The 'gabion' method
Container gardening is usually for containers/pots, but not if you think creatively! This gabion planter is a perfect example of that possibility.
This style can easily blend into both modern and rustic outdoor settings.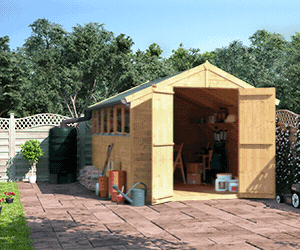 2. Potted Agapanthus
Get soothing blues for your space by planting Agapanthus in big pots. These lovely blossoms offer breathtaking displays of architectural blooms.
They're best to pair with hydrangeas for a more sculptural look. Place them on your porch, outdoor seating area, or by a pool to inject more colour.

3. Large centrepiece containers
Like water feature ideas, large container gardens make an exceptional outdoor centrepiece. And they're even better when they're filled with colour filler flowers such as purple verbenas.
Add subtle splashes from petunias and fuchsias, or some herbs, for an added focal point.

4. Hanging baskets for the veggies
Grow vegetables in hanging pots if your space is limited. You can start with tomatoes, though many herbs grow well with this method, too.
This pairing of tomato and basil is a great example. Top tip: Set up a drip-watering system to save time from using a hose or watering can.

5. Hydrangeas in planters
If this looks like your dream patio, start growing these cone-shaped flower heads in pots! We recommend getting a medium to large planter – at least 2 feet wide.
A lime-yellow hue of hydrangeas is perfect for the summer. Then it fades to cream before turning a spectacular shade of pink in autumn.

6. Pot display
A simple pot display like this can lift a patio or front garden as well as brighten up bare walls and fences. You can also show off your container display across multiple levels, such as on tiered shelving.
Opt for a matching set of pots for an orderly and cohesive look; terracotta is a timeless choice.

7. Introduce height
Add a sense of height and movement by:
Having containers of different sizes

Introducing grasses into the pots
Create a 'grouping' for added interest. Have a look at these containers filled with cucumber, tomato, basil, thyme, and parsley. And to mix up the textures, blend ornamental grasses in.

8. Mix in edible flowers
Can't choose between planting produce vs floral? Why not plant both? A blend of fresh greens and edible flowers will add colour and cheer to your containers.
A great starting point for growing a beautiful, bountiful edible container garden!

9. Window box
A window box planter will waft lovely scents through your home each time you open the window. It's simple while offering a striking display.
Petunias, geraniums, and begonias are good choices for main-theme flowers. Purple sage and rosemary will add to the mix of scents, flavours, and colours in the box.

10. Containers with succulents
For low maintenance and year-round wow, use shallow containers to grow hardy succulents. Some succulents will also flower, adding a whole new season of interest to the planting.

11. Container herb garden
Most herbs are well-suited for growing in containers. These greens can exist anywhere as long as they're given proper sunlight, water, and good soil.
Choose herbs that you love to eat and plant these in pretty and colourful pots for aesthetics.

12. Pollinators in pots
Welcome butterflies and bees to your small yard by adding nectar-rich plants to your display. Plant fuchsias to attract the longer-tongued Bumblebees.
Other summer beauties include lavender and echinacea, perfect for growing in containers.

13. Contain vining vegetables
Watermelons and pumpkins usually need a lot of space to grow; others will do just fine in containers. Take, for example, a scrambling cucumber.
With its big leaves, bright flowers, and refreshing fruits, it's a natural showstopper. Pair it with an upright plant like rosemary for a more vivid touch.

14. Potted topiary trees
Potted topiary with foliage and evergreens can create a dramatic focal point. Use a pair of topiary sculptures to feature a doorway, or to delineate a staircase along a path or garden rill.
Big pots will surely add a classic, dramatic effect!

15. The vertical approach
Use walls, fences and other vertical structures to support pots and planters. Hanging baskets and wall planters are also great for creating a living wall.
Support pots on rings or brackets for patios and balconies or with shelving indoors.

Round-up
Who would've thought you could grow quite a bit of food and year-round blooms in a container garden?
Each container can give your space that dramatic effect; it's just a matter of what to grow. And the good thing about container garden ideas is they're adaptable.
Plus, they can be replanted whenever you wish for a fancy, fresh new look. In short, you can mix a variety of greenery over the seasons to ensure your plot is always full of visual interest.
We hope our list of container garden ideas will give you the flower power to spruce up your patio, yard or balcony. May you find something that'll give you the drama, scent and vibrancy you're looking for!
Shop Summer Houses
FAQs