It can be difficult keeping children amused for long periods of time during the weekends or school holidays. While a playhouse can help them role play in a variety of settings and situations, you may need some backup for entertaining.
Here, we've compiled a list of budget-friendly DIY games and children's garden design ideas. These fun and classic activities will help your children keep their brains and bodies active while still having fun!
Let's take a look.
1. Tin can bowling
Create your own outdoor bowling pins by recycling your old tin cans. Take off the labels, wash them out then give them a makeover with some brightly coloured paints! 
Then stack them up and take turns throwing a ball for hours of fun with all the family.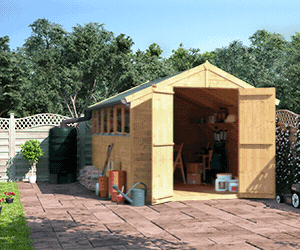 2. Clothespin tag
A little rework on your traditional tag game. You can have your kids decorate the clothespins and then the fun begins.

3. DIY ring toss
Also very easy to make with items you can find at home, a ring toss could even be played inside the house if it's a rainy day. Even better, if you have a long garden; you can make a bigger version of DIY ring toss!

4. Natural scavenger hunt
Create your own scavenger hunt to find certain insects and flowers in your own garden, then see who gets all the items first! 

5. DIY water wall
Build your kids their own water wall to play with on sunny days. You can even recycle some of your old plastics and hoses to keep them busy for hours. 
6. Toppling tug of war
For a fun twist on tug-of-war, use upended crates as a platform to stand on, to make the game more about balance than strength. 

7. Water balloon toss
A water balloon toss is really simple to create, you could even get your children to help design it. Plus you could add some scores on the board and have them add up their own for some hidden maths!

8. Outdoor field hockey
All you need are some pool noodles, balloons and maybe some laundry baskets as goals for a more gentle version of hockey in the backyard. 

9. Frisbee golf
Another simple game to create at home, Frisbee golf can be easily set up with some old laundry baskets. You could even make some simple stands to raise them up. 

10. Tin can stilts
This one is maybe a bit of an old-fashioned game, but also great training for your kids' balance and coordination. Recycle large tin cans to make these at home. 
11. Backyard race track
Design your own race track for marble or car races in your backyard using old piping or a pool noodle cut in half. You can have your kids decorate the track before the races begin.
12. Water wall on fence
In a hot summer, water games are great for your kids. Use a wall or fence to build them a water wall and keep them cool.
13. Shirt painting with water guns
Get some low-cost, plain white t-shirts and some paint or dye, then help your kids get creative by filling water guns or spray bottles with the paint and let them have free reign!

14. Pool noodle boats
Craft some boats of different sizes from pool noodles with your kids. Use straws and cards to make sails and place them in a crate filled with water for hours of fun! You could even take this one indoors on a rainy day.
15. Soda bottle sprinkler
You'll need a hose and something sharp to pierce some holes into the plastic bottle. The result? 
An amazing water feature for a hot afternoon!

16. DIY giant kerplunk
Giant kerplunk is an old-school game that you can recreate in your backyard with some low-cost materials. Just grab some metal meshing, plastic balls and garden or bamboo sticks. 
Lots of fun guaranteed!

17. Giant angry birds
Can you imagine playing Angry Birds in real life? All you'll need are some cardboard boxes and green balloons, and you can use a football for the "birds"!
18. Balloon dart board
Attach some balloons to a board and have three darts each for a fun garden game. You could place a cover on the floor and fill every balloon with a different colour of paint, so you can create a work of art while playing.

19. Hopscotch
Who doesn't remember this classic? All you need is some chalk to have your kids practice their balance and counting.

20. Frisbee tic tac toe
For a new twist on tic tac toe, throw Frisbee instead of drawing out the noughts and crosses. Your kids will need some practice to master it, so that means more time outside!
21. Lawn scrabble
Make your own scrabble tiles with your kids and start playing! It's great for teaching them some new words and an amazing rework of the original game.

22. Rock dominoes
Start a rock search with your kids and then paint them as dominoes to create an awesome garden game.
23. Sidewalk scavenger hunt
Use some chalk to create a list of things for your kids to hunt. The first one who gets everything on the list, wins!
24. Bullseye
Draw a bullseye on the floor and have your kids throw some pennies or stones into it to see who gets nearest the centre.

25. Chalk checkers
Draw a checkers board with some chalk and find some rocks to create the pieces. You can paint the rocks to make them different from the ones on the other side.
26. Hula hoop tunnel
Add a sheet and create a cute obstacle track for your kids to have fun and do a little exercise.
27. Balloon pinatas
Fill some balloons with water and hang them in your backyard. Then, cover your kids eyes and give them a bat for a fun and refreshing activity for a hot afternoon.
28. Pool noodle sprinkler
Another great way to create a garden sprinkler is to pierce some holes in a pool noodle and attach it to a hose. This is a great activity for a hot day. 
29. Water cup races
Place some plastic cups on strings and race them along the string by aiming water guns inside for a fun family game.
30. Soap boat races
Let your kids decorate the sails and help them create soap boats for some backyard races using pipes cut in half.
31. Rainbow bubble snakes
All you need are some basic materials from around the house. A plastic bottle with the bottom cut off and a sock that has lost its twin secured over the end with an elastic band. 
Dip the sock into a water and washing-up liquid mix, and then blow through the top of the bottle to create beautiful bubbles! You could even add food colouring to create coloured bubbles.
32. Water balloon volleyball
Using a towel, both teams have to pass a water balloon over a volleyball net without dropping it, or there will be splashes!
33. Water balloon hunt
This one is great for a sunny day. Hide lots of water balloons in the garden and have your kids hunt them. Afterwards, you can start a water balloon fight to cool off!

34. Garden twister
Fun to make and fun to play. Use spray paint or outdoor paint to create the colourful circles needed for twister. 
If you make a stencil using a box like in the picture, you could use the circle you've cut out to make the wheel.
35. Fill the Bucket
This one is a fun and refreshing family game to enjoy on those hot afternoons. Carry water from one bucket to another by soaking it up into a sponge. The fastest wins!

36. Potato sack races
Sack races are an easy game to set up. First one to the finish line gets an ice cream!

37. Giant backyard checkers
A classic checkers game but on a bigger scale. Great for outdoor fun on a warm day.
38. Backyard mini golf
Create your own miniature golf course in your backyard and add as many obstacles and holes as you want. This is a great way to maximise your small garden on a budget!

39. Marshmallow shooters
Start a war in your backyard with these marshmallow shooters. Good thing is that the bullets are yummy.

40. Backyard obstacle course
Easy to make and will help your kids start working on their agility and coordination.

41. Flamingo ring toss
You don't need a lot of space for this one and you can spend hours having lots of fun with your kids. It doesn't have to be flamingos though, you could use any garden ornaments you have available.
42. Giant lawn memory matching game
Perfect for your kids to start training their memory while having fun outdoors. Make your own giant cards and turn them face down to try and pick two the same. 
43. Human ring toss
A little rework of a classic game. Use inflatable rubber rings for a family-friendly competition. 
The first team to catch all their rings wins!
44. Football score toss
For kids who are already into football, this is a great way for them to have some fun in the garden and sneak in some adding up while they're at it.
45. Nerf gun aim practice
Place some ping pong balls on the top of bottles and have your kids practice their aim. Put some rocks at the bottom of the bottles to keep them from moving or falling over.

Round-up
It doesn't have to cost the earth to create fun activities to keep your children busy and active in the garden during the school holidays. 
We hope you've found some inspiration in our list for outdoor games! You can make these fun games at home out of things you'll have lying around, so there's no need to spend much.
Shop Playhouses