When shopping for garden furniture, consumers usually focus on certain characteristics. These include comfort, style, and, of course, price. The type of material is an underlying feature that's often overlooked, however.
Although, in essence, no outdoor pieces are 100% weatherproof. But there's a considerable gap based on the materials used, and each has its own benefits and drawbacks.
Understanding the strengths and weaknesses of the various material options helps. This is especially helpful when finding the perfect outdoor lounge – say, for a modern patio. Or maybe you want a chair set that matches your rustic deck setup.
Read on, and we'll guide you through the different materials and how to choose the best one for your garden!
1. Wooden Garden Furniture
Wooden garden furniture has been a popular choice for gardens for centuries. It's durable and versatile and adds a natural feel to any space.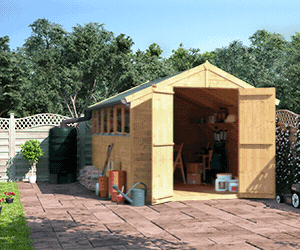 But then again, you may think wood loses out on all fronts. For one reason, the garden furniture material is susceptible to rot, pests and damage by the weather. Lucky for you, this common issue can be resolved with proper care and attention. With the right TLC, coupled with pressure treatment, it can outlive you and last a lifetime!
The versatility in aesthetics that the timber material offers is also a great factor. With a wide range of design options, there's something to suit your rustic patio setting. If you're on the lookout for quality wooden sets, check out our exceptional offers below:

Price: £195.00
There's no better way to spend a warm, sunny day than relaxing out in the garden with a loved one. And this love seat is the perfect yard companion – perfect for a small countryside or cottage setting.
The seats have been designed to be slightly wider than regular outdoor seating. This allows you and your company to sit comfortably for longer periods.

Price: From £419.00 to £370.00
Enjoy alfresco dining ala French with family and friends with the Windsor oval dining set. It comfortably seats 4, so gather around for a BBQ, a game of cards, or simply relax in your outdoor living space.
For more, check out our wide selection of wooden patio furniture – suited mostly for rustic setups.
2. Metal Garden Furniture
Metal garden furniture is known for its durability and sturdiness. It's often made of popular materials, such as aluminium, besides steel and wrought iron. Overall, it's weather resistant and not subject to wear and tear.
The designs are often sleek and modern, with clean lines and minimalist shapes. If you value lightweightness, those with aluminium frames are your best bet. Unlike iron, aluminium garden furniture doesn't rust, fade or rot, and it's low-maintenance.
If you're looking for lounge chairs to fit your minimalist-themed patio, go for aluminium:

An aluminium-designed dining set perfect for entertaining guests or enjoying al fresco meals. The state-of-the-art lattice design makes the set an excellent choice for modern patios. The beige seat cushions also provide added comfort. And thanks to the garden furniture material, the Sunjoy can withstand British weather too!

This aluminium folding outdoor chair is the perfect budget-friendly option for many uses. The foldable design works just as well for garden bars, as deck chairs, or as for taking on camping trips. Perfect for more modern gardens, the sleek design and light grey tones work perfectly.

The Malmö perfectly imitates real timber, bringing real elegance and style. The powder-coated aluminium frame ensures rigidity on almost any surface, as well. Whether you have a traditional or contemporary garden, it fits perfectly.
With a great selection on offer, you can find an aluminium set to tie in with your wildest garden ideas!
3. Rattan Garden Furniture
If metal furniture has aluminium, the furniture has a synthetic polyethene (PE) type. Synthetic rattan is made from synthetic fibre, mimicking the appearance of natural rattan. It's highly durable and resistant to weathering, making it ideal for use in outdoor settings.
The material is also lightweight – a great perk when rearranging your patio furniture. Additionally, it's easy to clean and maintain. A great example is this grey rattan garden furniture below. A type of outdoor furniture that works well for both contemporary and country setups:

Create a space for relaxation with this amazing Rattan Corner Sofa Set. Complete with Rattan L-shaped Sofa, two stools, and a glass-topped coffee table.
Made from durable PE materials, in an ash grey finish, and equipped with padded cushions. This outdoor furniture is stylish – the perfect choice for a modern-rustic garden!

These egg chairs feature a pair of comfy chairs in a lovely modern style. The unique design adds a sense of fun to the garden, bringing its own charismatic style right into your home.
Made from synthetic weaved rattan, the bistro set is durable and weatherproof. Comes with a glass-topped coffee table that can be stored inside the chairs.
As with all products in our wide range of rattan garden furniture, you can expect nothing but the best. Shop here for more.
Round-up
When choosing garden furniture material, consider the weather conditions in your area. Moreover, the style and aesthetic you want to achieve.
Wooden furniture is classic and versatile and would look best in a rustic garden setting. Metal furniture, in contrast, is robust and low-maintenance. An outdoor piece like this fits a minimalist and modern patio setup.
Synthetic rattan furniture features the same appearance and texture as natural rattan. But what makes it superior to the genuine type is it's highly durable and resistant to weathering. It's the perfect choice for a modern-rustic garden! Shop our broad range of garden outdoor furniture by clicking the button below.
Shop Garden Furniture