Hot trend alert! Now, you get to enjoy the experience of an open fire even in the wintertime and outside with fire pits and patio fire pit tables.
Staying warm at home has never been more convenient with patio fire pits and fire pit tables! Luxury and convenience, paired with ambience and a safe but authentic flame – how about that?
These two trendy outdoor pieces have certainly made an impression on British households. And this might be the perfect time for you to equip your patio with one or both!
In this article, we'll be talking about everything you need to know about rattan fire pit tables and fire pits. Read ahead if you want to know the best selling units this 2021.
Key takeaways:
There's a great range of fire pit dining choices available on the market. For

fire pit tables

, rattan (particularly

synthetic

) and glass are the materials of choice. 

As for

patio fire pits

, most consumers want something compact that can double as a cooking area.

The increasing preference of homeowners to create

ambience

on their patios has been driving the demand for fire pit tables. No wonder why they've emerged as one of the popular

Garden Trends

we've seen in 2021

!

What Are Fire Pits?
If you want to have a lovely evening in your garden or patio with your family and friends, a fire pit can come in handy. A fire pit creates a warm, central gathering area for entertaining into the evening hours.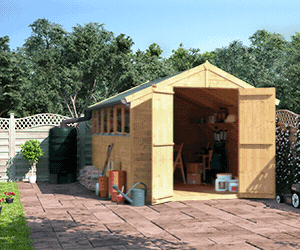 Moreover, fire pits are ideal for cultivating an alfresco lounge space. Like indoor fireplaces, they also provide the perfect focal point for an outdoor sitting area.
Fire pits look fantastic, especially surrounded by garden furniture, such as rattan, wooden, or aluminium sets. Top the seating with comfy cushions, and you can have a great open fire experience.
Add to that the crackle of wood and the smell of woodsmoke, and you can have a campfire right in your very own backyard (without all the messy cleanup!)! Most fire pits have a simple base, and permanent ones are usually surrounded by pavers or bricks.
Fire pits may come as a:
Stone or brick fire pit.

It's a popular and classic type of fire pit. As the name suggests, it features materials like bricks, stones, or cinder blocks.

Wood burning grill.

This type of fire pit gives off a sense of a contemporary fireplace. It also doubles as a grilling, courtesy of the grill gate set above the fire.

Chiminea.

A free-standing wood burner, the mesh door makes for easy refuelling.

Classic campfire ring.

Perfect for offering protection for fires on the move.

 

What Are Fire Pit Tables?
Hint: a fire pit in an actual table!
Firepit tables, also known as fire tables are usually built into a glass dining table. They also tend to be run off by gas and come as a burner.
In this way, a fire pit table can burn a bit cleaner than fire pits that rely on wood or charcoal. Not only that, but it also adds a sense of luxury and style to any patio or garden setting. We're sure you'll hear a few 'oohs' and 'ahs' when you get your fire pit table going.
With a fire pit table, you can be confident that you can stay out and enjoy the outdoors even when the temperature starts to drop. It's a perfect companion for hosting guests and keeping everyone warm during chilly nights on the comfort of your patio.
Firepit tables come in a wide variety of materials and trendy shapes. But one of the primary styles that most modern models come inis as part of a garden furniture dining set.
Common fire pit table construction materials include:
Rattan, particularly synthetic.

The synthetic material alone guarantees the edges and legs of your fire pit table to be weatherproof and low maintenance.

Aluminium.

This material is lightweight and resilient and blends well with modern furniture. Hence why homeowners also adore

aluminium garden furniture

much.

Stainless steel

. This type of fire table material tends to be more expensive. But the material offers a contemporary and sleek, complementing modern home.

Glass

. Housing the fire pit itself with any of the above materials you'll usually find fireproof glass. This allows you to enjoy not only the heat but the aesthetic.
The Difference Between Fire Pits and Fire Pit Tables
Fire pits are a slightly more basic option for having an outdoor fire feature. Still, they can be installed as a permanent patio feature, surrounded by pavers or bricks.
Or they can be like portable campfire rings, chimineas et cetera. They're great for sitting outside or taking with you when you travel.
Firepit tables, in contrast, are higher-end and a little more sophisticated. Since they come in an actual table installed at the centre, they can be architectural statement pieces.

Why are they so popular?
Many UK homeowners enjoy spending time on their patios and in their backyards (duh!). And with fire pits, they get to prolong that outdoor enjoyment through spring, summer, and even into autumn.
Installing a backyard fire pit, or even just having one in your garden shed ready to bring out is a great investment. What's more, fire pits are a natural and easy way to create a focal point at an outdoor gathering.
Meanwhile, fire pit tables serve as a dramatic centrepiece to anchor furniture pieces. They make a great alternative to fire pits as well.
With a fire pit table you won't just be sitting on camping chairs with a plate in your lap, you can still have sophisticated dining around a cosy fire. So what makes fire pit tables more popular than fire pits is they can be used all year round, including winter without having to:
Set-up

Bag up

Venture out into the garden

Collect fuel

Tidy up after
Hot Trend: Fire Pits
Sit in a circle with your family in the garden, roast up some marshmallows and have a few drinks. Tell some ghost stories and make the night more amusing while basking in the warmth of a fire pit.
Sounds exciting, right? When you have the right fire pit, it makes any evening out in the garden more fun.
So check out our favourite fire pit picks below, perfect to be customised as a cooking space with the addition of a grate or grill, or for use as a cosy focal point.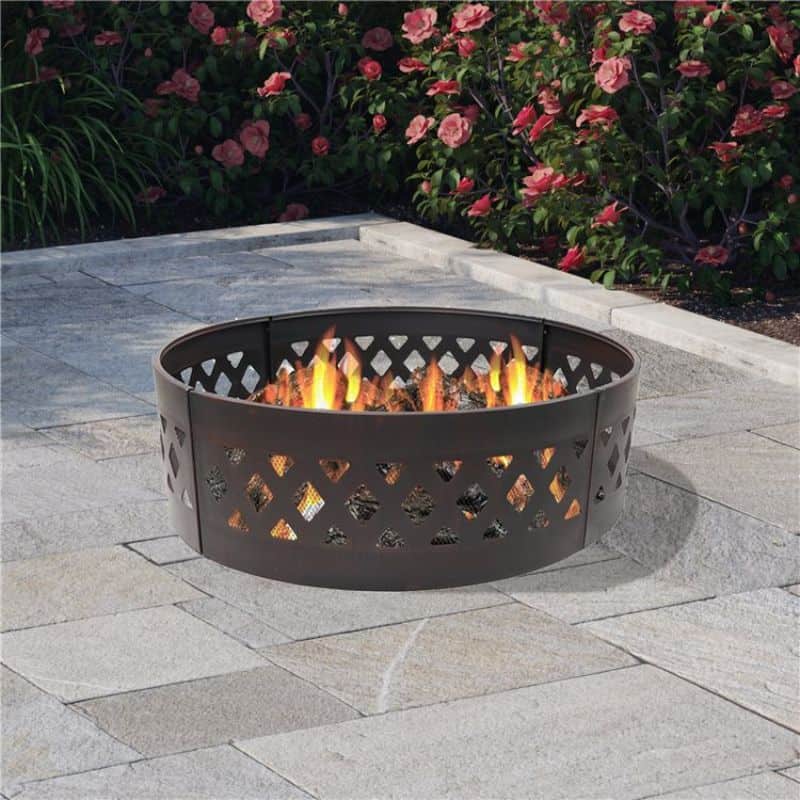 Price: £49.00
The Alaska fire pit ring is ideal for smaller gardens. Its compact design makes it great for storage and the perfect choice for camping, too.
So what's it made from? This is a well-built steel constructed ring with a heat-resistant finish to last longer. The ring is also surrounded by a mesh, preventing ash spitting from the fire onto exposed toes in flip flops!
The cross-hatched and meshed walls give off a modern and stylish look. Wood is the recommended fuel.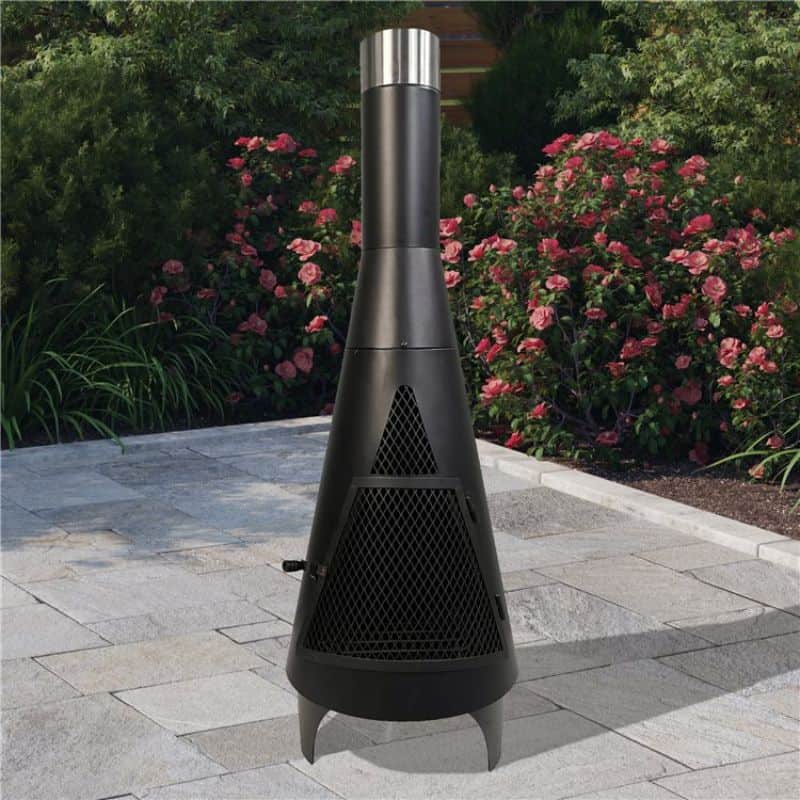 Price: £139.00
This tall chiminea makes a perfect centrepiece and goes well with a range of seating. Our Austin is sleek and great for smaller gardens.
It's a traditional outdoor fire pit chimney, with the black body and mesh door giving a modern twist.
So what's it made from? A well-built steel chiminea with a heat-resistant paint coating, this quirky design is guaranteed to last. The sturdy legs also ensure the fire pit is raised away from your patio or grass.
The chiminea's mesh front door allows you to keep an eye on the fire and access it when more wood is needed. It's quick to set up, easy to use, and beginner-friendly!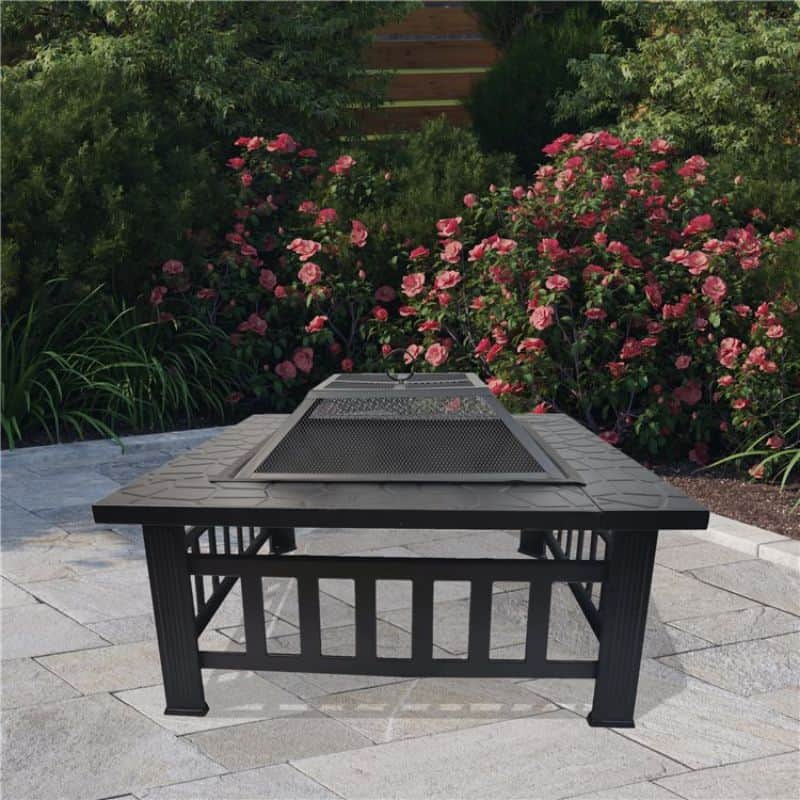 Price: £129.00
The Phoenix highlights a stylish design with a matching black mesh fire pit cover. Its framework comes with a textured top plate, too, great for keeping ash from spitting out of the fire. It's not only a square metal fire pit, it can double up as a BBQ and ice store too! (Not at the same time…).
Whether you have a large or small backyard, this versatile fire can chuck out enough heat to keep you toasty. You could even use it whilst hosting a BBQ party or for backyard camping.
The heat-protective paint gives the steel a black finish and helps to keep the fire pit looking new while making it easier to clean.
Hot Trend: Fire Pit Tables
A cosy rattan dining set with a fire pit at the centre lets you make the most of your patio all year round! Plus, you won't have to relegate yourselves to the end of the garden around a fire pit. 
For those who want a more permanent, year-round solution with oodles of style, a fire pit table could be the way to go. And lucky for you, there's a couple of different options.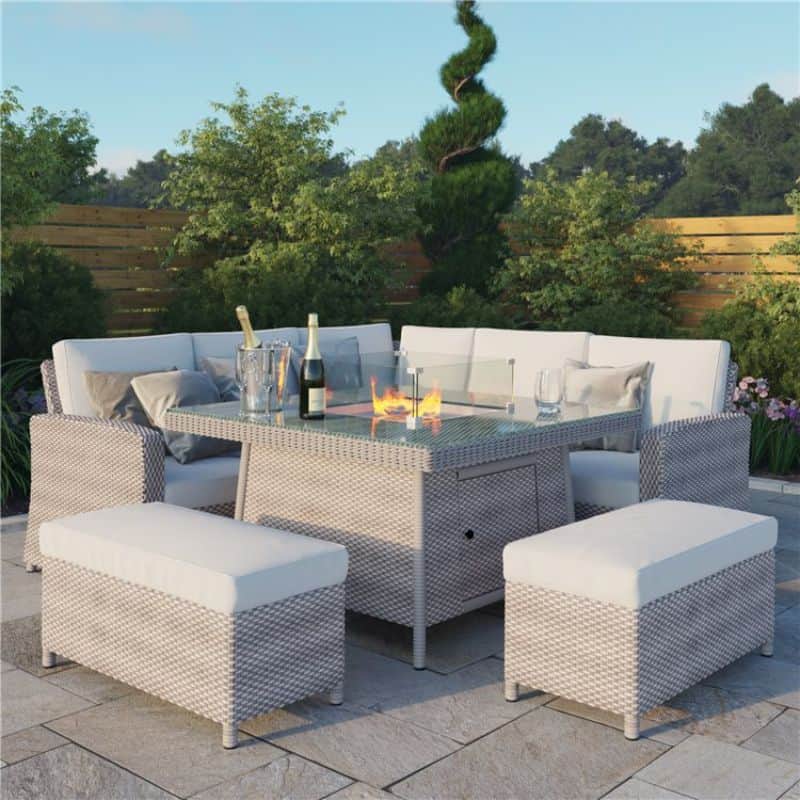 Price: £2249.00
The Capri is the perfect blend of functional design, comfort, and style. The large square table is complete with an impressive integrated fire pit, perfect for al fresco festivities long into the night.
This model comes with protective glass surrounding the fire pit as well as two benches, providing extra seating. At the same time, they can be doubled up as footstools.
The convenient corner design also allows you to make the most of the space in your garden.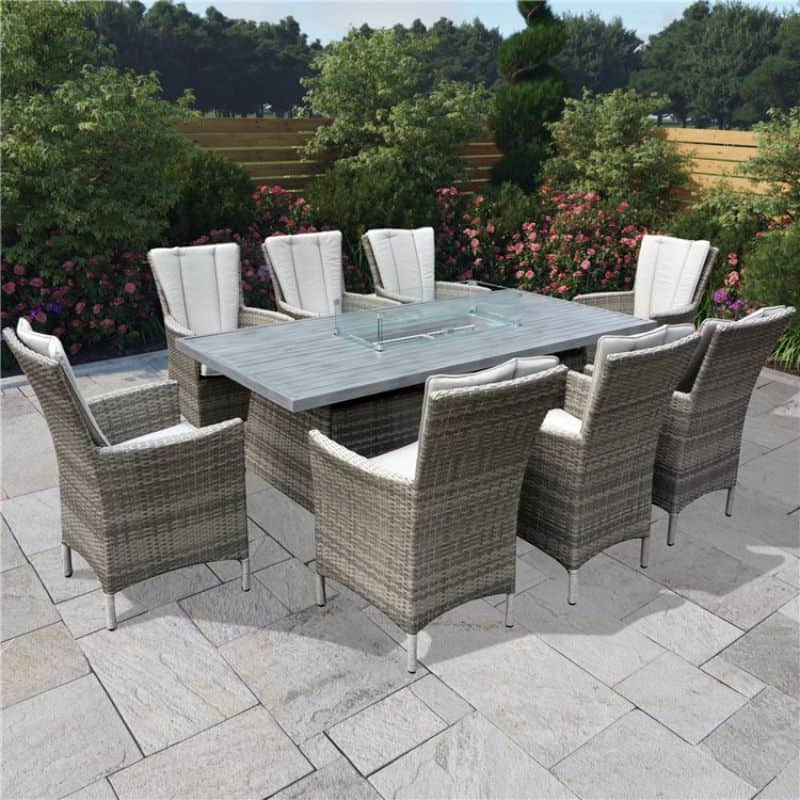 Price: £1849.00
If you're looking for a luxury rattan set with a real wow factor, look no further than the Silicy! The wood effect table top paired with glass ensures plenty of space for even the largest of feasts.
The main feature of this stunning set is the rattan dining table with a large central gas fire pit. What's more, the stainless steel gas fire pit comes with multiple heat settings – so you can keep a low ambient temperature or turn it up in colder weather.
This enables you to prolong your outdoor relaxation long into the night. Each chair is also designed with an angled high backrest for extra support.
Shop Rattan Garden Furniture
FAQs