Fire pits can make a garden or patio a space that's usable year-round. But have you heard about fire pit tables? That's right, a fire pit in an actual table.
Sitting around an open fire is a lovely outdoor experience no matter what time of the year. But when winter rolls around, so too come risks.
You could step out to snow all over your fire pit and, worse, the entire backyard. And hard surfaces such as garden paths can become slippery and dangerous if you walk on them on the way to your fire pit.
But who said you had to huddle at the end of the garden to enjoy the light and warmth provided by fire in the yard? Thanks to modern rattan furniture with fire pit tables, you can enjoy dining and socialising well into the evening (and maybe even some s'mores!).
With a cosy rattan set and a heat source, you can now make the most of your patio all year long. What a great backup plan to roast some marshmallows and have a warm, cosy night during the cold season!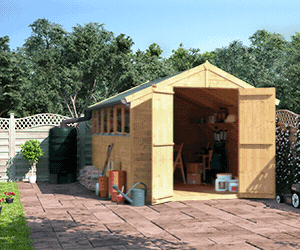 Trust us, if you're thinking about adding rattan furniture to your garden design, go for it! You won't want to go back inside after all this.
Key takeaways:
A fire pit table provides convenient light, warmth, and at the same time, a level surface to put things down

It's also known as

a fire table

, a piece of outdoor furniture that combines a fire pit and a patio table

They're much safer than usual fire pits or campfires and other exposed open flames

Perfect for those who love to have late-night conversations or try roasting marshmallows on the patio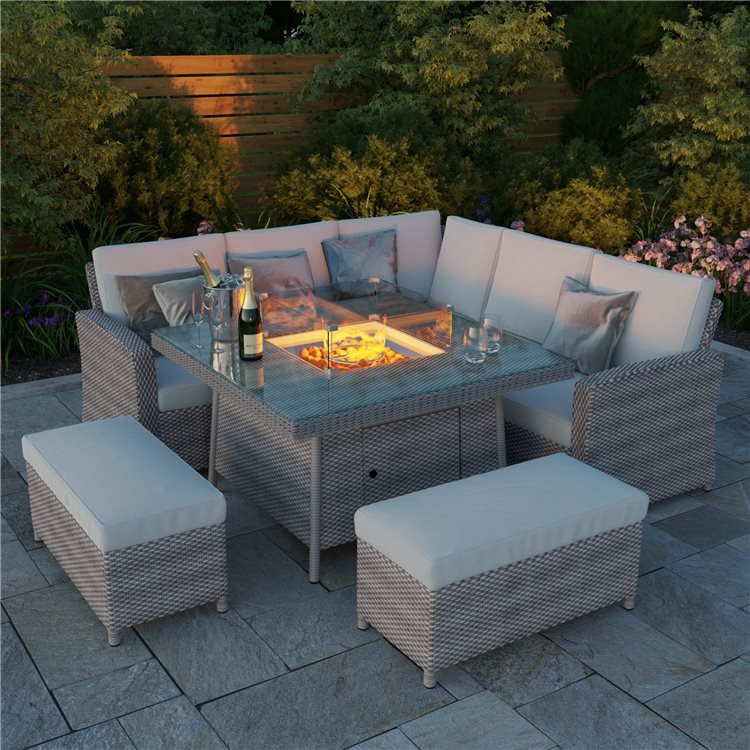 1. What Is a Fire Pit Table?
A while back it seemed like we only used to have tabletop BBQs; compact alternatives to full-sized grills that can be set up on tables. They provide powerful heat, perfect for whipping up burgers and baking s'mores.
Until fire pit tables along with modern garden furniture, that is. A patio table featuring a fire pit at the centre offers ambience with a safe but authentic flame.
The addition of a fire pit table to patios also adds a sense of luxury and convenience. When the temperature starts to drop, you can be confident that you and your family can still enjoy the outdoors.
The difference between fire pits and fire pit tables
A fire pit has a simple base, usually surrounded by pavers or bricks. Firepit tables, in contrast, also have a base but fit into a table.
Unlike a standard fire pit, a fire pit table runs off gas and comes as a burner. 
2. Different Types of Fire Pit Tables
For this category, we'll break down the different types into three sections. From fire pit table fuels to styles and the materials available.
Fire pit table fuels
Firepit tables in the UK have two common fuel options: gas and charcoal. But most models are fueled by propane, making the gas version more popular than charcoal.
The benefits also tend to tilt in favour of gas fire pits because of these reasons:
They're easier to clean.

You're left with no pile of ashes to clean up afterwards. They don't need any of the cleanups that charcoal or wood-burning fire pits take.

Less hassle.

You don't have to put in more charcoal or any wood-burning sources to keep the fire going. You can sit back, relax and enjoy your outdoor living space with your family and friends.

More visually appealing.

Since there are no leftover coals to dump, there are no unsightly residues. You can also see the flames as they leap in the glass; a lovely sight.

A lot safer.

Like with any

gas BBQs

, gas fire pit tables let you control the flame level. You don't have to worry about your children or pet coming too close to the fire.
Just take a look at the BillyOh Sicily Rattan Garden Dining Set with Firepit Table. A rattan garden furniture set with a fire pit table; it's luxury outdoor dining with the wow factor!
The main feature of this stunning set is the rattan dining table with a large central gas fire pit. But it's not just a fire pit; it's a stainless steel, glass enclosed one with several heat settings.
And the wood effect tabletop has plenty of space for even the largest of feasts. The set is made with synthetic rattan, featuring a weatherproof weave and powder-coated steel frame.
The high-quality advanced weave material ensures the furniture is UV-resistant, anti-fade and anti-mould. What's more, it also comes with luxurious seats and back cushions for total comfort.
Apart from rattan, fire pit tables are available in a variety of styles and materials, too.
Fire pit table styles
Firepit tables come in diverse high-grade materials and trendy shapes. But one of the primary styles that most modern fire pit tables come as part of is the dining set style.
It features a mid-height profile ideal for intimate conversations and meals. You can also get fire pit tables as part of lower rattan coffee table sets.
Fire pit table materials
Firepit tables feature high-quality materials designed for maintaining a safe open fire. Below are the common construction materials, which each have their own unique qualities:
Rattan (particularly synthetic).

With artificial fibres, a rattan fire pit table brings a unique natural look to patios. The material alone is weatherproof and low maintenance.
Even better, rattan fire pit tables are often constructed with metal frames like steel. That's why our BillyOh rattan furniture sets have powder-coated steel frameworks.
This means the material will last longer while being resistant to rain, frost, and snow. With decorative rattan and a fire pit table, you'll be the talk of the town!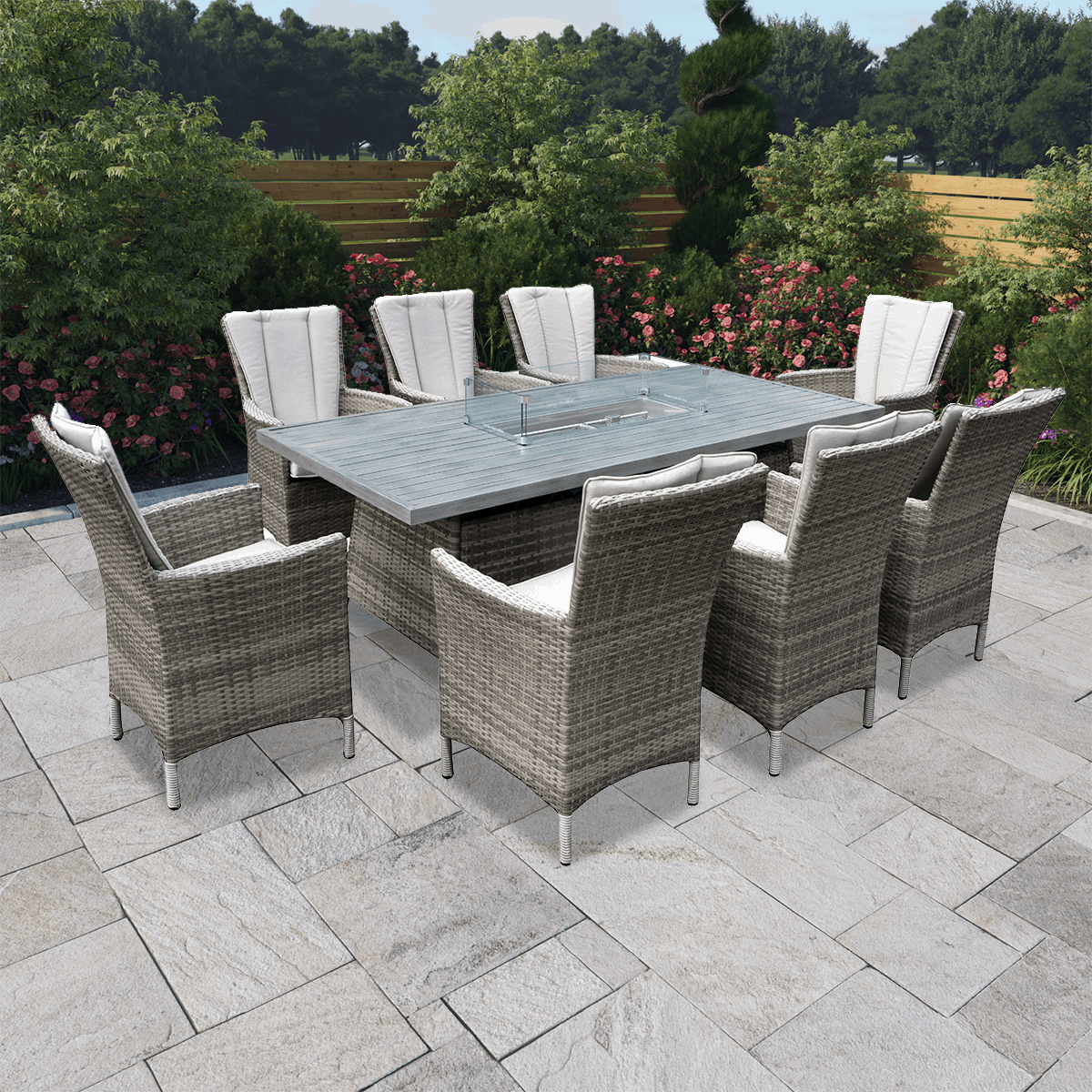 Stainless steel.

This is a top-of-the-line and often very expensive option. The steel material offers a contemporary, sleek style for modern homes.
Yet, despite its contemporary beauty, stainless steel is susceptible to rust and corrosion. Unless you can find models with powder-coated steel frames like those that come with synthetic rattan.
Aluminium.

This type of material is widely used because it's conveniently lightweight and resilient. It blends well with modern outdoor furniture and garden settings as well, hence why we see so much lovely

aluminium garden furniture

.
Its lightness is an advantage, but it can become a huge problem if not stored during strong weather.
It can be blown over, unlike synthetic rattan that features sturdy steel frames.
3. How Do Gas Fire Pit Tables Work?
The housing contains a gas line with a tank of portable gas. There are several burners attached to the tank underneath, which supplies the combustible gas.
The pit also comes with an ignition switch. Once it's turned on, the burners will ignite and give the appearance of a real coal or wood fire.
Some models require mesh covers over the burners to prevent clogging. But some units come with glass surrounding the fire pit – just like the BillyOh Capri corner sofa with a fire pit table.
4. How to Use a Fire Pit Table?
Once you know how to operate a fire pit table, you'll realise that some of them can almost be used as a BBQ grill. Roasted marshmallows could be the go, but you can even cook full BBQs over some of them.
So, if you have a grill grate, you could cook hotdogs, bacon, or even kebabs while having a table to place the utensils and yummy sauces. Aside from the meat, you could also prepare corn on the cob.
5. Are Fire Pit Tables Safe?
While it's safe to use fire pit tables on wooden decks, it's always best to keep the following safety precautions in mind.
For one, if you wish to place a fire pit table on your wooden porch or patio, opt for a gas version. Gas fire pit tables tend to have a lower fire risk – no sparks and flying embers, unlike charcoal ones.
But if you prefer a charcoal fire pit table, you need to follow these preventive measures:
Ensure the fire pit table is far away from plants, railings, or any decorative hanging items you have on the porch

Consider adding a flame-resistant pad below the fire table to catch embers and sparks

Or create a safety zone with bricks, pavers, or metal underneath the fire pit

Don't forget to use a screen or some covers to avoid the risk of jumping sparks that can ignite in nearby surfaces
A charcoal fire pit table may provide you with authentic flavours; still, gas versions are a great option when it comes to safety. And safety is essential, so you decide!
6. How Much Do They Cost?
When it comes to pricing, the numbers vary due to the different types and brands available. Are you planning to go for a high-end model or a standard one?
Firepit tables UK usually range from £1,500 to £2,500, depending on the brand. You can expect a higher number if you want a rattan garden furniture set with an in-built fire pit on the table.
Browse through our great variety of fire pit rattan sets, ranging from £1,800.00 to £2,250.00. 
With design insights, including:
Tempered glass table

Stainless steel gas fire pit system

Gas fire pit centrepiece with glass cover

Lightweight rust-resistant and powder-coated steel frame

High-quality UV light resistant and weatherproof synthetic rattan material

Luxurious seat and back cushions for an ultimate comfort
We can assure you that they're worth every penny!
7. Who Are Fire Pit Tables For?
A fire pit table is a great outdoor companion if you like hosting al fresco dining during chilly nights. Or if you want to have a late-night conversation with a friend around an open fire, this furniture is perfect for you!
If you have a limited patio space, the BillyOh Parma Round Rattan Set with Firepit Table might even be your best bet! Thanks to its spacious round dining table, you can still dine al fresco even without a long patio.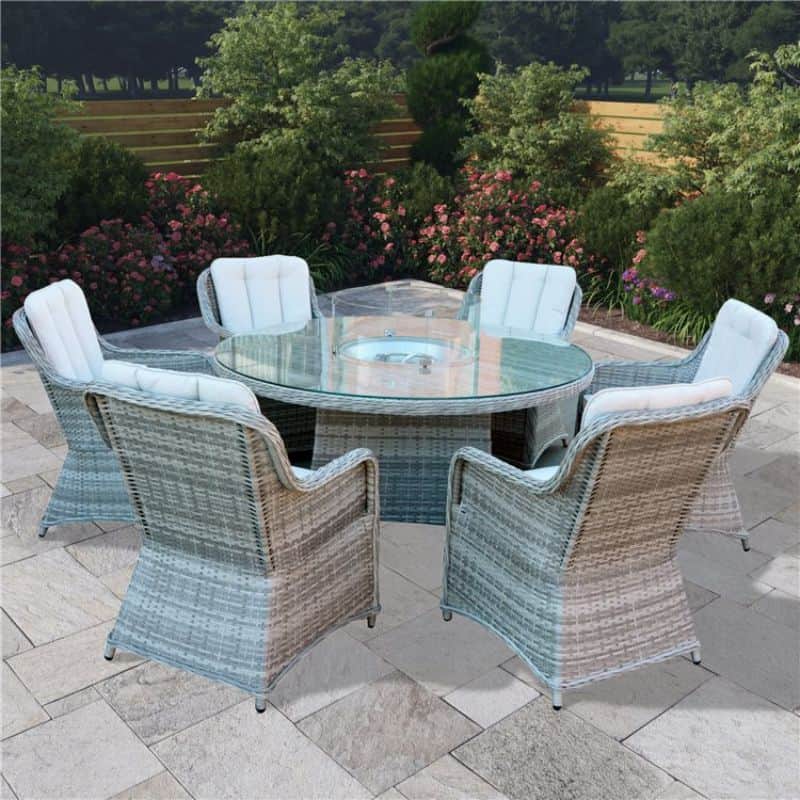 8. Where to Buy Best Fire Pit Tables?
BillyOh offers fire pit rattan sets that are stylish, weatherproof, robust, and worthwhile investments. It can be your one-stop shop for high-quality and built to last outdoor pieces.
We also have various types of rattan garden furniture, from dining sets to sofa and cube sets. When you purchase from us, you'll get a 10-year guarantee and free delivery to most of the UK!
How about that?
All You Need to Know to Buy a Fire Pit Table
A fire pit table can make your winter season more magical and warmer with a view of your snow-covered garden

They come with various fuels and materials, but gas, glass-topped and synthetic rattan are the real winners!

You don't have to worry about safety beyond the obvious. This is especially true if you follow the precautions, whether you own a gas or charcoal fire pit table.

If you're planning to invest in one, you can't go wrong with our fire pit rattan sets. You can take advantage of them, come rain or shine, for many years to come without any stress. Simply turn them on and go. 
Shop Rattan Garden Furniture
FAQs
Of course! They provide warmth and entertainment while adding style to your backyard. They're an energy-efficient way of staying warm outside whilst combining with your rattan dining set.
It depends. Ultimately, it's unwise to put any object that's going to heat up too much without an adequate base and insulator straight on to your table. You also run the risk of knocking it over or damaging your table. So why not cut out the middle man (and all the hassle!) and just opt for a fire pit table instead?
They do! They're great at keeping everyone out and socialising even when it gets a bit chilly. And who knows, with a grate and some grill accessories you could even give a bit of cooking a go over your fire pit table.