It takes little effort to keep synthetic rattan garden furniture looking as good as new. It's durable enough to preserve its natural strength and colour. However, you can take steps to ensure it stays looking it's best. Start by only cleaning the cushions when necessary as this will keep them from getting worn. You can leave synthetic rattan furniture outdoors all year round, but you should bring the cushions inside or store them away during winter months.
How to clean synthetic rattan garden furniture
Cleaning synthetic rattan garden furniture couldn't get any easier! That's why synthetic rattan is a great low maintenance furniture solution for any garden. You will need a soft cloth which has been dipped in a small amount of soapy water. Or, you can use furniture polish to enhance the shine on the rattan. Simply wipe up any spillages or stains to keep the set clean. 
Wicker and natural rattan need to be cleaned much more regularly to lengthen its lifespan. If you don't clean the grooves and crevices of your wicker furniture, dirt and dust will build up between the weaves.  Use a soft bristle brush to clean natural rattan regularly.

Maintaining your rattan garden furniture
Keep pets away from rattan furniture as they can cause abrasions or scratches.

Don't sit on the arms of the garden furniture to keep the structure strong.

Any major stains such as dark liquids should be dealt with quickly. Use detergent and a cloth to remove stains when they occur.

Completely clean the rattan furniture once a year to remove any dirt or stains which have built up over time. You'll need to use more detergent than a weekly clean

.  
Protect rattan garden furniture legs with rubber feet
The legs of your rattan garden furniture will receive abrasions when when chairs are scraped back and forth. It's more common to happen when a set is placed on decking or a patio area and can cause the rattan to split at the base of the legs. Over time this can split the legs higher up and eventually weaken the rattan furniture. In order to stop this happening, place rubber feet on each leg, this will absorb impact when dragging rattan furniture across hard surfaces.
Durable and weatherproof synthetic rattan furniture

Rattan garden furniture is made from synthetic fibers that have stronger and more durable properties than natural rattan or wicker. This makes synthetic rattan garden furniture equipped for the outdoors and extreme weather conditions.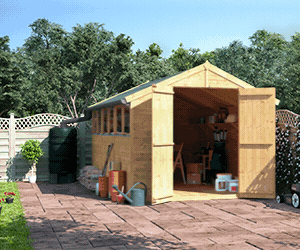 You don't need to move synthetic rattan garden furniture of out the sun for risk of sun damage as the modern materials are UV protected which will stop the furniture from fading in the sun or cracking.
The aluminium frames which are used to construct synthetic rattan garden furniture are corrosion resistant and provide a solid structure making them durable. Synthetic materials used for rattan are also resistant to pests and fungus.