As the season shifts from warm to chilly days, having a patio fire heater makes a difference. It creates a cosy and inviting space, extending your time spent outdoors. But with a multitude of options flooding the market, finding the best one can be overwhelming. That's why we've put together this curated list of the top five outdoor heaters from BillyOh!
Understanding Outdoor Heaters

Patio fire heater solutions come in various types. Each offers unique advantages to suit different preferences and settings.
Propane heaters
Propane heaters are portable and easy to use, powered by propane tanks. They provide instant heat and are ideal for outdoor spaces without a fixed fuel supply. Their mobility allows you to position them wherever needed. This makes them versatile for events and gatherings.
Meanwhile, natural gas heaters are often permanent fixtures connected to a natural gas line. They offer a continuous heat supply, like a 6 burner gas BBQ, as long as the gas is full! This makes them ideal for commercial establishments and larger outdoor spaces.
Electric heaters
An electric patio heater is convenient and eco-friendly, requiring a power source to function. It offers steady and consistent heat with minimal maintenance. Best use for enclosed outdoor spaces and areas with access to electricity.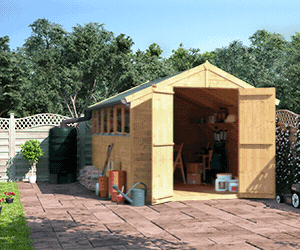 Wood-burning heaters
Wood-burning heaters provide a rustic charm and natural ambience. They share the same fuel as a fire pit BBQ grill, a.k.a. wood. Well-suited for outdoor enthusiasts who enjoy the traditional warmth and crackling flames.
Top tip: When selecting an outdoor heater, consider factors such as:
heating capacity

fuel efficiency

safety features

design
With these, you can ensure it matches your heating needs and complements your garden.
This selection from BillyOh guarantees the best heating performance, durability, and safety features. Best of all, overall user satisfaction.

Type:

3-in-1 fire pit, BBQ and ice cooler

Key features:

Transform your outdoor space with this superb, multipurpose fire pit table.

Equipped with a central fire pit section that you can change out for an ice bucket cooler or a

BillyOh BBQ

.

There's even a height-adjustable rack for spit-roasting! Combined with a stylish ceramic table and cover, it's perfect for parties and social events.

Benefits:

Looks fantastic as a focal point to gather in any garden, patio or terrace.

Choose between logs, charcoal, wood, or coal to fuel the

fire pit table with grill

.

Type:

Electric, infrared (IR)

Key features:

Uses a discrete design that takes up little space to heat your patio quickly. The 1.9m rubber cable gives you flexibility on where you mount your heater. Utilises halogen tubes that are 25-30% more efficient than standard tubes. It also comes with a remote control that gives you a choice between 1000W, 1500W, and 2000W power levels. Plus, IP65 waterproof rating, making it water resistant.

Benefits:

Adjust the heat depending on the season and time of day and on your preference. Wall mounted and is sustainable, guaranteeing no Co2 emissions.

Type:

Electric

Key features:

The weighted base ensures the heater stays upright even in strong winds. The height is adjustable from 163cm to 205cm with a heavy aluminium base for stability. Tip over switch for safety and long extension cable.

Benefits:

It's waterproof – designed to be left outside, whatever the weather. With a simple flick, you can adjust the temperature in an instant! IP55 waterproof – suitable for indoor and outdoor use.

Type:

Gas

Key features:

Made from durable enamel with smooth black paint, making it rust-resistant. The four legs support the patio gas fire pit to stand firmly on the ground. Designed with an ignition switch to customise the heating power from low to high. Comes with an LPG tank hose to hold your stand's 20lb propane tank (not included) securely out of sight. A lightweight and portable design to add.

Benefits:

A safer, easier-to-use warm option, a spark-free propylene campfire. A set of natural lava rocks are included to enhance the flickering effect of the flame. Its versatility is perfect for camping, beach parties, and BBQ evenings in the garden.

Type:

Burning

Key features:

Its jet black tone will blend perfectly with the natural colours. This design creates a wonderful contrast that fits in with modern and classic styles. Thanks to its vertical structure, it won't take up much floor space. Once in place, it will soon become an important and functional feature year-round.

Benefits:

The sleek design features 3 clear sections, with one for storing logs. Comes with additional poker to stoke the fire. Low maintenance, requiring only a quick wipe down the outside to remove stains and marks. Its lightweight nature also makes it easy to be lifted from one location to the next.
Round-up
Finding the best outdoor heater can elevate your outdoor experiences. With BillyOh patio fire heater selection, there's a perfect model to match your needs. Ready to create lasting memories with friends and family throughout all seasons?
To take your dinner hosting to the next level, consider investing in a fire pit garden dining set. Place it under a wooden gazebo with the Aurora heater in place, and your guests will keep coming back for more!
What you should read next: Chiminea Ideas to Heat up Your Patio in Style