An arbour acts as an archway, perfect for an entrance or a little snug and may incorporate a trellis into its structure. It creates a tunnel-like passageway for gardens, framing a part of your lovely plot. It can be freestanding or connected to another structure, such as a fence.
Arbours are great for adding vertical interest to the garden. They combine function with art, and they're perfect as part of some garden screening ideas, too.
Browse through our garden arbour ideas to get started!
1. Rose arbour
With its classical look, this rose arbour forms an entryway that links this garden to a different area. This design is perfect if you want to divide your garden into sections or emphasise a certain area.

2. With fences
Dress up a plain fence with a garden arbour. Place it over an entrance or gate. Add trail vines up to the side to add texture and create a lush look.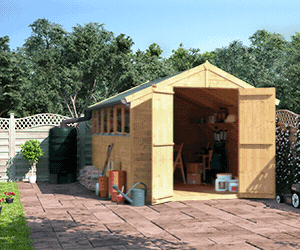 3. Front yard entrance
A simple yet lush arbour like this can deliver a sense of surprise to your front yard. The design is simple but what makes it look magical is the greenery surrounding it.

4. Arbour bench in one
Create a shady mini-retreat in your backyard with an arbour-covered bench. Decorate it with cushions for comfort, and this can be a perfect outdoor reading spot.
This covered bench also makes a beautiful addition to the unused corners of your yard or patio.

5. On deck
Besides enhancing patios, the right arbour can also add a statement to decks. For a unified look, keep the style of the arbour consistent with the rest of your deck. Then finish the look with a quality garden furniture set.
6. Wonderful willow
A rustic arbour idea with simple charm, this woven arbour takes arbour designs to the next level. Hang fairy lights, and they can be the main focal point of your garden, giving off an inviting appeal.

7. Defining the patio
The grape arbour is the highlight of this patio – and the rest of the outdoor space. The thick willow structure blends well with the classic alfresco setup.
The grapevines also provide efficient sunshade – and when the time comes, you can enjoy the fruits of your vines!

8. Hot tub retreat
Looking for outdoor hot tub ideas? Enhance your garden spa experience with a hot tub enclosure like an arbour or pergola ideas. Take a cue from this concept that gives off the feeling of a luxurious getaway.

9. Cottage garden vibe
A cottage garden idea is not complete without a whimsical-looking arbour like this. Adding height and drama enhances transitional areas, making the yard more inviting.

10. Rustic logs
Rustic log arbours add an instant country charm to outdoor spaces. Featuring natural materials, climbing vines and flowers can define the look even more.
This nature-ish structure adds a focal point that blends beautifully with its surroundings.

11. Made of metal
The simple lines and sturdy structure provide an aesthetic entrance. Metal also provides good support while letting planting design take centre stage.
A metal or steel arbour would make an ideal backdrop for your climbing vines and flowers.

12. The DIY route
A simple four-post structure is enough to make a statement entrance for a small garden. It can also provide the right overhead shelter for a garden bench. Finish the arbour with Clematis and hanging lamps to add character.

13. With trellis sides
Grow plants, add privacy and provide overhead shade with an arbour and trellis combo! The lattice pattern of the trellis supports climbing plants. Put a piece of fabric on top of the arbour for shade.

14. Arbour hedge
Consider incorporating a hedge into the arbour to add greenery to the background. Here, a crisp wooden arbour rises out of hedges and is crowned with vines.
Other than wood, use metal or stone to highlight the arbour amongst the lush greens.

15. Birdhouse arbour
Arbours offer an ideal perch for climbing plants. But they can look just as attractive standing alone – or with a birdhouse on top! Secure the birdhouses at the top of the arbour to create an inviting perch for our feathered friends.
16. Trellis-walled garden room
An enclosed arbour and trellis-walled garden room provide a private backyard retreat. Or you can utilise the space as a potting bench area. Let the trellis wall be covered in vines to maximise its purpose.
17. Asian-style
Great for Chinese garden ideas, this Asian-style arbour is so simple yet elegant. The design is clean, with simple lines and natural colours. In Asian gardens, the simpler the design is, the better!

18. Weeping larch
A weeping larch tree is a perfect plant to combine with an arbour. Its elegantly draping branches add the enchanting charm of a secret garden. Make sure the arbour is sturdy enough to support the weight.

19. Curved with clematis
Here, the purple clematis cascades over a curved wooden pergola. Regardless of the design, blooming clematis can dress up a timber or metal arbour. It can also climb up a pergola, trellis and fence.

20. Custom made
This freestanding arbour is wide enough to fit a swinging bench. Located at the poolside, this custom swing offers the perfect spot to relax after swimming.

21. Match it with the entrance
When choosing materials for your arbour, look around your home for inspiration. Consider your siding, roof, and exterior trim colours and textures.
Here, the beautiful arbour features the same timber material as the gate. The climbing vines add up to the aesthetics, while the entrance shape gives off a Hobbiton vibe.

22. Doubles as a garden room
The right pergola structure can double as a garden room idea. Whether it's wood or metal, create an arch or a partially covered area to create an instant outdoor room.
Grow vines on them for a touch of nature and consider decking for a sense of enclosure.
23. Round and metal
Spruce up your garden with a metal tunnel garden arbour in a round, circular shape. Make it lush by covering it with climbing vines or roses. This design is something you'd normally see at weddings.

24. Paint it red
Arbours are usually painted in either white or their natural timber shade. But to make yours extra alluring, paint it in a bright or bold colour, such as red.
A vivid shade of red will surely stand out against the surrounding greenery. It also can transform a basic arbour into a focal point and a work of garden art.
25. PVC arbour
PVC vinyl doesn't peel, crack, or fade from being exposed to the outdoors. Freezing cold or scorching heat, both would have almost no effect on a vinyl arbour. A design that's perfect for extreme weather conditions.
26. Tucked in an urban paradise
Create an intimate space for relaxation even if your yard is small – with an arbour, nothing is impossible. Here, the arbour has a shallow area on the roof for vines.
A screening also serves as a backdrop while adding visual interest and a sense of privacy.

27. Arbour and hammock in one
Hammock pergolas are great for relaxing summer days, slipping a wine or getting lost in a great book. If you have a sturdy arbour, use it as a stand for your hammock. Lie on it in the beautiful, warm sunshine.

28. Japanese-inspired tea house
A mini arbour setting designed to mimic a Japanese yard, mainly a tea house. The spot is surrounded by lots of greens and tall ornamental grasses. We also love the details, especially the open centre table with grass growing under it.

29. The strawberry arbour
Thinking of growing strawberries in your garden? This DIY strawberry arbour is a smart way to add vertical growing space to your backyard. Add planters on the side so you can grow more variety like salad greens, herbs or tomatoes.

30. In the corner
If your garden has an empty corner in need of something special, how about a corner arbour? A perfect way to view your outdoor space from a new angle.
An ideal garden room for plots with more restricted space or awkward spaces.

31. Backyard pool entrance
These vine-covered cedar arbours act as the entrances to the yard pool area. The wooden structures have thick vines trained to grow over them. You can also have a stained wood pergola over the BBQ area.
32. The tunnel effect
Arbours don't necessarily have to be a thick portal, which proves this sleek design. A simple one can be made up of 2x4s, which can easily blend along with the landscape. Vines can further the tunnel-like effect as well as add an enclosure.

33. Free-standing with a swinging bench
The solid, free-standing structure features a mix of a traditional arbour and a gazebo look. It's wide and open and comes with a regular bench and a swinging one for added fun and functionality.
34. Ultra wide one
You'll need a big backyard to accommodate an arbour that's the length of a car. Ideal for large garden ideas, this wide arbour will enhance your yard's charming appeal.
The design includes a simple lattice pattern in wire. Plus, climbing vines that flesh out the arbour.
35. Arbour on Tuscan columns
A series of traditional arbours creating a tunnel for the walkway. It stands on concrete Tuscan columns, using solid wood beams to create arbours. Metal wires were wrung around the columns to help the rose vines climb.
36. Powder-coated aluminium
Arbours with powder-coated aluminium finish add to the steel's durability. This helps the frame to withstand damages better and last longer.
Here, the well-structured side panels offer places for your plants and vines to climb. Top bars also provide structural support and a place to hang pots.

37. Made from repurposed materials
What we have here is an old shed structure with weathered thatched roofing. And voila! A simple yet functional rustic arbour was made.
You can find cross vines growing on its beam, adding colour and interest to the arbour. The bright blooms also make it stand out from the mostly green surroundings.
38. The magic of Wisteria
An arbour paired with Wisteria combines both beauty and functionality. You can grow it in abundance in a wooden, metal, or PVC arbour.
In the summertime, a Wisteria arbour provides a contemplative garden retreat. When in full bloom, it'll give a stunning and lasting impression to anyone who passes beneath it.

39. Traditional but make it iron
A traditional style iron arbour makes a striking addition to gardens. Most designs are full of romantic and intricate details, welcoming more flowering plants to surround the arbour. 
The mini gate brings style and sophistication to the overall look.
40. Marking the entrance
This wooden arbour marks the entrance to the deck from the backyard. Using the same timber materials offer symmetry, adding a rustic charm.
The whole deck and arbour are swathed in lovely, fragrant flowering vines.
41. Made out of sticks
Twig arbours cost little or nothing to build. You can use twigs that you find on a forest floor. Featuring natural materials and simple designs, it adds a country charm to your yard.
It's never too late to use nature as inspiration for rustic arbour ideas.
42. Gabled design
The Gable garden arbour is inspired by the pitched roof you frequently see in a house with the same roof angle. Metal or wooden, if the gable arbour is placed as a gate to your garden, it can bring a home-like, welcoming vibe.
43. Overrun it with foliage
This lovely hideaway is almost overrun with foliage. The arbour is built simply, allowing the vines to take over the entire structure over time. The design also includes a mix of metal and wood and a stone pathway to the bench.
44. From old doors
Projects that give new life to something old are always inspiring. Take this DIY old door transformed into a garden arbour, for example. Solid old wood doors especially make great garden entryways.
45. Ancient style
The design includes wood, pebbles, and trees. Together, all these features make this yard look ancient. The arbour itself is made from wood material, which makes it look like it belongs in a forest.

Round-up
Similar to pergola ideas, arbours have some sort of roof to arch features in gardens. They can be a lovely way to mark the start of a pathway or elevate a gate.
Paired with climbing plants, an arbour becomes a beautiful focal point. It also works wonders for sheltering seating areas, mainly built-in benches. An arbour-covered bench from our garden bench ideas is a great example of this.
Garden arbour ideas can vary hugely – and you can have loads of fun with them! But we hope our curated garden designs will give you a starting point to give your backyard a boost of style with added function.
Shop Log Cabins
FAQs