Have an empty and dull space on your terrace?
City lives can be a challenge for people who love being close to nature, so having a small terrace is such a great addition! In most cases, living in condos or apartments means there's less space to be surrounded by greenery.
But you can turn your balcony into a tropical oasis by growing a garden or adding in rattan furniture, or both! 
And if you're looking for ways to utilise your limited space in a great way, then take inspiration from these terrace garden ideas. We curated helpful and cost-effective ways to redeem your balcony or rooftop space.
Read on and explore them to know how!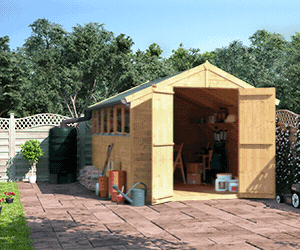 1. Tall plants for maximising greenery to your space
If you have a rooftop terrace, grow bamboo in the corners and shrubs on the walls to maximise greenery. Your space can benefit from tall plants like them.
Use trees to create foliage, while hedging for privacy garden screens. This can give you a beautiful terrace garden from the balcony floor upwards.
2. Plant your own fruit
If you have a sunny balcony, this is your chance to grow your own citrus trees. Take inspiration from this creative condo terrace with a variety of plants and fruit trees, and red and white striped fabric shade.
3. Sky garden with rooftop lawn
Artificial turf adds beauty to rooftop gardens with a feel of natural grass, achieving the "green look." If you want to refinish or improvise your sky garden design, artificial lawns can be your perfect solution.
4. Micro-park garden
No matter how small your terrace or balcony is, there's a way to make the most of it. This micro-park garden concept features hanging wooden crates with edible kale.
The garden boxes also add extra growing space. Even the tiny herbs have a home in the small terracotta pots lining the side of this balcony.
5. Vertical garden is key
The beauty of vertical gardens is they work best in limited space. If you live in the city and have a small area for gardening, you can't go wrong with this one.
Even better, there are plenty of experiments you can do with vertical gardening!
6. The secret garden
This small serene balcony is reminiscent of a secret Victorian garden. The ivy growing along the stone wall and the trees in pots add vertical elements to the space.
Regardless of how your terrace is, you deserve a retreat you can escape to like this.
7. Incorporate a water feature
Water features can adorn your terrace, balcony, or rooftop garden too. They make the perfect finishing touches if you're running out of what to put in your tiny living space.
8. Install a BBQ grill
One of the best ways to maximise your balcony is to add a BBQ area. Nothing's better than cooking food on your terrace in fresh-air!
Set up a grill and have an enjoyable BBQ mini party with the view of the city.
9. Create a stylish outdoor lounge with drapery
Adding a drapery in your rooftop garden can complete the private environment of your rooftop dreams. Not only does this give you a sense of privacy but also a place to comfortably rest.
10. Introduce ivy to your bare walls
Covering the existing walls of your terrace with ivy is a terrific idea if you wish to enhance your privacy and add something unique to the space. This type of climbing plant can utilise your balcony from the ground upward, creating a beautiful display of natural greenery.
11. Balcony outdoor cinema
For plant and movie lovers, this terrace garden concept is a win-win. How about watching your favourite movie with friends under the stars, while surrounded by plants and trees this weekend?
Hang an off-white outdoor fabric, set-up the speakers and a bistro set like this, and enjoy the evening!
12. Treat your rooftop like an outdoor living room
Add the comfort of a living room in your rooftop terrace, such as comfy furniture, wall art and lighting. Imagine the outdoor space as though it were a room inside and arrange it more lavishly than a simple outdoor space.
13. Light it up
Adding LED lights to your plants and trees can give off a more inviting vibe, especially in the evenings. Or hang some string lights in your pergola and light some candles to achieve that luxury mood on your rooftop.
14. Grow a green screen
Use a wooden lattice fence to provide support for a leafy screen. And cover an area of the rooftop with a pergola or shade sail.
This is another excellent way to add both shade and privacy from neighbours' windows, or for blocking views of adjacent buildings.
15. Add curves
Have a look at this custom curved bench that snakes around the outdoor table. It forms an inviting seating area, while defining the edge of the planting bed.
You'll also see the metal fountain on the side which features a loose S-curve shape. This concept is perfect if you want to make your rooftop terrace feel more like a garden – in a unique and modern way.
16. Two-tiered rooftop terrace
A two-tiered style can help you design your terrace to support how you'd like to use the space. Take this playful rooftop in Paris as an example; it includes a couple of distinct seating areas, each with a different intended use.
17. Welcome a bit of wildness
If you want your terrace to be a wildlife garden, hang a bird feeder, add a water source like a mini pond, and plant pollinator-friendly native plants around.
18. Balcony lounge with a mini bar
Transform your little outdoor space into an entertaining lounge by adding a mini garden bar. Add a rattan garden furniture set and decorate the space with greens.
This will be a place where you can relax and have leisure time with the view of the city lights!
19. The humble garden trellis
A simple structure of wood like this can cover a vertical surface with vines and make a divider between outdoor rooms. This simple garden trellis concept also helps create a focal point and increase privacy.
20. Reading nook terrace with built-in bookshelf
This is a dream balcony for bookworms out there! Make use of the bare wall by adding an in-built bookshelf, add a reading chair and a small table, and you'll have the best reading spot.
21. A lush working space
If you're working from home and have an unused balcony, it's time to make that space yours! Decorate it with lush plants, add a table for your workspace, and if the space allows you, add storage cabinets to keep things organised.
22. Add a hammock
Hammocks are a great choice of outdoor furniture for those with limited space garden or balcony. Hang it on the wall and add cushions and blankets for extra comfort.
Add a foldable table so you can have a place to put your morning coffee, books, or laptop on.
23. Railing planters
These railing planters in red lacquer garden boxes seem to float on the glass walls of this high-rise garden. This is a wonderful way to keep up with your gardening hobby even if you don't have an actual garden.
24. Set a more variety of plants up for a success
Lush vines, leafy shrubs, swaying grasses and colourful flowers can transform your urban terrace into a perfect calming oasis. Vines and tall, skinny plants, such as arborvitae, and large ornamental grasses also offer a good bang for your buck!
For one, they provide lots of green while only taking up a little floor space.
25. Literally a rooftop garden
In most urban areas, a gardener is limited in the amount of space they have for gardening. If you're one of them, you can completely turn your balcony or terrace into an urban garden in the sky!
Lay out the beds and containers, leave space for a small table and chairs.
26. Cabin by the woods terrace garden
Bring a slice of cabin by the woods vibe by setting up a rustic terrace garden on your porch or rooftop. Add a hammock and align it with lush plants to swing away all your worries.
This design works best if you're looking for small terrace garden ideas.
27. Go tropical
Balcony gardens prove no space is too small for plants and this tropical balcony is no exception! Decked up with tropical plants, a lamp post, and a seating area in the middle.
This tropical garden idea is simple yet appealing enough for your garden.
28. Zen garden terrace
A Zen garden is effortlessly enchanting and can do wonders on balconies and rooftops. Take inspiration from this terrace garden, with earthy stones and antique fixtures details. Don't forget the plants!
29. Minimal yet luxe rooftop oasis
This blank rooftop is turned into a sprawling green oasis. The space is filled with lush foliage and a variety of small trees, with a small square wooden deck at the centre for reading or having a glass of wine.
The concept is minimal but it gives off a luxury mood, making you feel you're at the top of the world.
30. Modern terrace garden with 'hard' landscape
This garden design used 'hard' landscaping elements to create structure and symmetry in nature. You'll see a cantilevered arbour, a seating area paved with intricate stonework, and a fire pit in the middle.
31. Keep it simple
You can create a stunning terrace garden without getting too extravagant. Take a look at this one; the lounge chairs and planters are placed around the nook.
Pull off a winning terrace garden even in a small space with simple design!
32. Mix wooden elements with greenery
Warm wooden aesthetics and greenery surroundings are always easy on the eyes. If you have a long terrace garden, this seating arrangement is worth noting for. It's subtle yet functional.
33. Grow your own food
A vegetable garden is a must-do if you have a well sunlit terrace. You can choose whatever you like to grow, but make sure to start with easy-to-grow vegetables and herbs.
34. Display your passion
Show off your collection and use your terrace as a display area for them. Be it arts, crafts, books, utilise your outdoor space as a quick personal escape.
Dedicate a wall or a corner to do so and make sure the elements can withstand heat, dust or excessive moisture.
35. Add some fragrances
Add in some scented plants like lavender and roses to make your terrace garden smell mesmerising. Herbs like rosemary and basil have a divine aroma, too, and can be used to flavour your dishes.
Everyone walking into your garden will surely be impressed by the fragrance of it.
Round-up
It's never too late to convert your terrace into a lush garden and inviting outdoor living space. Make it your favourite place to sit, relax and enjoy!
We hope these concepts will give new hope to aspiring city-dweller gardeners and for homeowners looking for ways to decorate their space just the way they like it.
Shop Rattan Garden Furniture