Fireplaces get most of the glory when it comes to patio heating. But over time, homeowners can come to embrace the nostalgic appeal of chimineas in their backyards.
Famed for their vertical chimney shape, chimineas are becoming timeless outdoor focal points. And with the right setup, you can relax by the glow of a chiminea on your patio pronto.
Check out these chiminea ideas to style and heat up your patio sprucely!
1. Matching material with the furniture
Choose a chiminea that matches your patio furniture like this one! The modern metal chiminea in white couples with iron seats in the same colour.
The combination of green injects a lively flush into the space.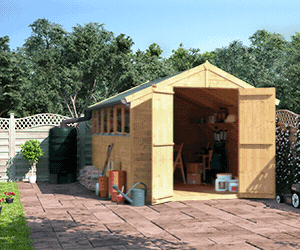 2. Angled obelisk shape
A strikingly modern addition to the patio, this obelisk chiminea features a sleek black finish. The storage space for wood below the firebox is also a great perk.
The design is perfect if you're looking for one that can blend classic style with modern features.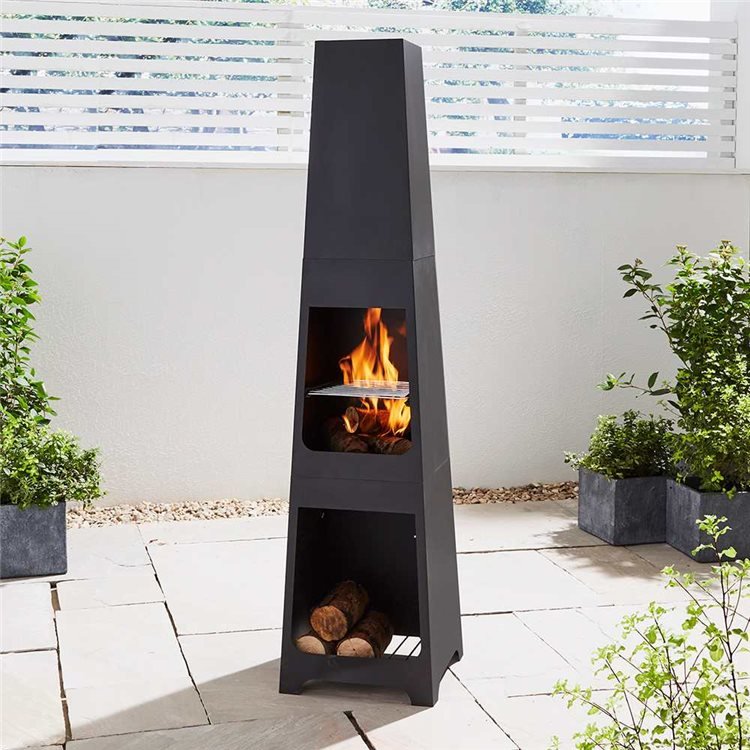 3. Play with clay
Enliven your patio with a clay wood-burning chiminea. The antique finish and smoke funnel give this front-loading fireplace a fresh look. Opting for this style will help you achieve your dream rustic look for your patio.

4. Fireball design
A simple yet elegant sphere shape design with three chunky legs. You've never seen a fire pit quite like this, have you?
The fine mesh feature is a great factor, especially if you don't want a model that spits hot chunks of fuel at you.

5. Small but practical
A small chiminea like this can serve 2-in-1 purposes in your outdoor space. The right model can provide light, heat, and repel mosquitoes.
Instead of using a zapper, keep the bugs away naturally with the addition of bug repellent oils.

6. Wood-burning faux stone
The design involves faux stone at the bottom, adding modern elegance to patios. The sleek and streamlined scheme also exudes stylish details, amping up the ambience.
This style would especially look amazing, along with grey-finished rattan garden furniture.
7. Lantern-like cast-iron chiminea
Considering the approach of this chiminea, it can work both as a decorative piece and heat source. The lantern-like framework makes it a creative addition to the landscape.
The mesh on all four sides also offers a clear view of the fire no matter where you're seated. This could be a great outdoor lighting idea alternative for you!
8. Metal steel house-shaped
Crafted from sturdy steel, the black finish and unique shape make it an attractive piece. The small detail of the moose adds up to the overall style. Look for this design if you want to add a contemporary presence to your patio decor.

9. Rust patina look
To achieve an authentic antique patio look, opt for a rust patina finish for your chiminea. The rusty polish is formed when the metal is exposed to water and oxygen.
Keep in mind that the colour may continue to change over time. As long as it gives off an antiquated look you like, it should be fine.
10. Go pyramid
Heat up your outdoor living space and make s'more in style with a midcentury modern chiminea. The timeless classic piece is squat in design, with points forming a natural chimney. Shop around, and you can find more angular takes on this style.
11. Two-piece with grill
The added grill extends your evenings longer around the fire while enjoying cookouts. If you have an old clay chiminea, you can recreate this piece. Find a way to cut the chimney part and add the grill grates in the middle.
12. Something white
For your clay chiminea with a terracotta finish that has been neglected, it's time to revive it! The fresh and clean colour helps the old piece blend with the modernistic fixtures. And look at the details – it makes it look more Spanish-style in white.
13. Propane tank design for the hommies
Nothing cooler than equipping your outdoor corner with a DIY chiminea (or brazier). Made from an old gas tank, with a bit of creativity and painting, wow everyone with this masterpiece!
If you'd look at it from afar, you wouldn't even expect it's a chiminea.
14. Tall and rectangular
Made for corner garden ideas, this tall chiminea is one of the most starkly modern pieces for sale. It is strikingly innovative, and using a couple of these to mark a pathway would be a brilliant idea.
There's a lot of visual interest, though the form is as minimal as you can get!
15. Up and suspended
It may seem unrealistic, but suspended from a ceiling-hanging chiminea looks spectacular. Take a cue from this fancy setup! Hanging down from the patio ceiling, the pendant style adds a dramatic focal point to the area.
Note: Do not hang your chiminea under an awning or a low-hanging tree. The heat and stray sparks can cause a fire risk.
16. Tiki chiminea
This state-of-the-art tiki chiminea brings an extraordinary feel to patios and backyards. A must-have fot tropical gardens, this piece will surely be well-recognised by many. Place it on the deck to complete the look of your outdoor lounge.

17. Long chimney funnel
The extra-long chimney design will help prevent smoke in your garden from the fire. It draws fresh air into the fire, and moves the smoke and soot via the chimney, keeping the space smoke-free.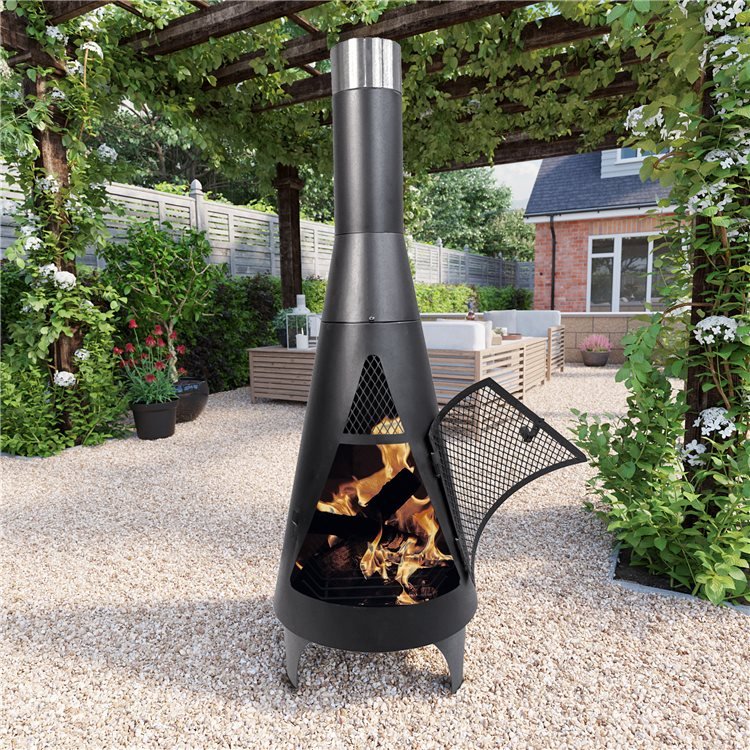 18. A bigger version
What a scene setter! This massive 3-sided chiminea resembles the look of a fireplace but with a chimney. When lit, it provides a fair feat across the patio. The wood and stone also provide a rustic scene accented with modern furniture.
19. Metal cone
An ultra-modern with an inbuilt log store made of stainless steel. Featuring a metal cone design, it makes a statement piece even with a bare design.
If you're going for this, we recommend opting for a model finished with a protective coating.
20. Vintage malm
If you're a die-hard fan of mid-century modern design, these iconic pieces are your best bet. They're a classic fireplace design that will bring warmth, colour and style to your beloved space. It doesn't get more authentically retro than these!
21. Contemporary see-through
The see-through feature allows everyone to enjoy the cosy ambience the fire emits. And the sleek black design ensures it can fit
easily
into any sort of garden aesthetic.
The design of this
chiminea
would look amazing on a traditional or modern-style patio.

22. With a fireproof mat
It's always a great idea to put a fireproof mat under your chiminea, so it doesn't burn your deck. Most pads are made of flame retardant and fire-resistant food-grade silicone coating.
Not only do they offer protection, but they also add a touch of aesthetic to the chiminea!
23. A Spanish touch
Many still prefer the look of an authentic Mexican chiminea over modern ones. It's not just the traditional construction materials that make it original. But also the use of decorative patterns (in some models) that bring some extra touch.
24. Vintage cast-iron
This antique cast-iron chiminea features a mesh covering to help you enjoy the fire view. The rusty finish can add a stylish touch to your patio, particularly rustic-themed. A great option other than clay, aluminium and steel models.
25. The rise of steampunk
Steampunk has broken into mainstream culture in a big way over the years. The trend also has been covered by countless furniture designs, including this chiminea!
The design is classic and is rich in stunning Steampunk-like detailing from top to bottom.
26. Bespoke design with flowers
Come up with an attractive chiminea style to make a bold statement on the patio. Take a cue from this flower design! The intricate design makes it a lovely centrepiece. Plus, the matte black finish makes it modern.

27. Poolside chiminea
A chiminea by the pool will induce a great sense of relaxation after swimming. Providing a great level of warmth, make your backyard swim experience cosier than ever!
You can also take this opportunity to create a stylish set-up with mis- or matching seating.
28. Ultra-modern structure
This striking prism geometric chiminea is crafted from raw, hand-welded steel. It gives that "luxe look for less" vibe. What's more, the metal will patina over time, giving the piece even more character than it already has.
29. Cobbler shaker inspired
This stylish chiminea mimics the look of a cobbler shaker. And for that, the style makes a clever addition to your garden bar ideas.
It's crafted of hammered iron in matte silver and black finish. Plus, the 360-degree screen allows everyone around it to bask in the fire's glow.
30. Steel material with wood storage
The sleek and streamlined design adds eye-catching modern elegance to your patio. The streamlined fire pit with a tall chimney also exudes a stylish approach. If you want something simple yet elegant, this one is for you!
31. With pizza oven
A pizza oven attachment is a fantastic addition to a chiminea. This concept is one of the unique ways of cooking your favourite pizza outdoors.
Cooking on a chiminea, in general, adds more flavour and fun to your pizzas. And a great way to experiment with various outdoor cooking techniques.


32. Doubles as a planter
This clay chiminea fireplace doubles as a planter when not in use or no longer functional. A simple source of warmth on cold nights in your outdoor living space as well as a fire feature.

33. Stacked stone
Referring to design, lay concrete cinder blocks and a layer of mortar between each block. Leave an opening at the top of the chimney for ventilation.
This is an excellent fireplace-chiminea DIY approach. Adjust the height, size and shape to suit your taste.
34. Made out of car rims
If you've got some old wheel rims lying around your garage, it's time to make them useful. Whether you want a chiminea, a fire pit, or both, this project is worth trying! A barrel of a washing machine also makes a great material.
35. Washing machine drum with chimney
Speaking of washing machines, a drum makes an excellent fire pit. To make it more functional, fix a chimney at the top with a wire mesh cover – and voila! You have a fire pit and chiminea for your patio.
36. Ceramic candle chimineas
Enjoy a little illuminating ambience outdoors without a full-blown bonfire with candle chimineas. These mini versions feature a rich and rustic finish and come in three sizes. The ceramic models will emit enough soft glow when paired with oversized lit candles.
37. Terracotta tabletop lanterns
Set a romantic mood for your alfresco dining this weekend with chiminea lanterns. These tabletop versions hold a candle for mood lighting on your patio, porch, deck or hearth.
You can use a real candle, LED candle or even string lights to bring aura to any occasion.
38. Bungalow clay
This bungalow clay chiminea follows the style of authentic Aztec and Mayan designs. The wood-burning patio heat source piece works well for revitalising the space.
Most are ready-to-use models and come with a metal stand and clay lid.
39. Retro matte black finish
Ambience is an easy way to make things feel warm and inviting outdoors, and a retro chiminea is a great way to add that! The retro style is timeless, and thanks to the matte black finish, it suits a modern space well.
The wire mesh cover can be opened in case you want to toast some marshmallows for your s'mores.
40. Lighthouse metal design
A stylish chiminea in a lighthouse shape made of metal in a trendy rust-look. The design is a real eye-catcher, making it a perfect ornament for the garden or patio. Aesthetic and practicality in one, a heating source staple, indeed!
41. Repurposed metal bin
Building a chiminea makes excellent use of an old 45-gallon steel drum and a piece of the heavy metal flue pipe. Burn barrels also have been turned into attractive fire pits.
To build your own steel drum chiminea, this guide comes in handy.
42. A fishy approach
A fish-shaped chiminea makes outdoor fires easy and interesting. You can have it on your deck or back patio or near your garden pond idea for a focal point.
Most are made of terracotta, but you can find painted versions if you add a pop of colour.
Round-up
Whether it's for cooking or as a source of warmth, a chiminea is sure to provide hours of cosiness on your patio. Not only are they functional, but their rustic appeal adds a lot of character and beauty to backyards.
When lit with fires in them, chimineas become decorative accent pieces.
These ideas have given us a kick in setting up our outdoor living spaces with this type of heat source. And hopefully, the same goes for you!
And although it was a bit challenging to put together this list, we're certain that at least one idea will be of value. We also added some FAQs below to answer possible queries in case we've missed yours!
Shop Chimineas
FAQs