Electric patio heaters rank among the most efficient heat sources for your outdoor space and one of the favourites for garden trends. So today, we're going to introduce you to some of our latest models.
Patio heaters are an absolute game-changer  -they don't produce flames, toxic smoke, emissions, or greenhouse gases. Plus they keep a larger grouper warmer for longer.
If you're in the market for a patio heater, here's why these electric patio heaters might be your best choice. Let's check out the BillyOh Medora, Alberta, and Aurora – your next outdoor heat source!

Why Go Electric?
The number of options available for patio heaters can be intimidating. Between propane, natural gas, and electric, there's a lot to choose from.
But out of the three, electric is more favourable due to its sustainability. It uses an infrared or halogen light to project heat that comes down to a saving of about 60% (infrared with 600W vs standard with 1500W).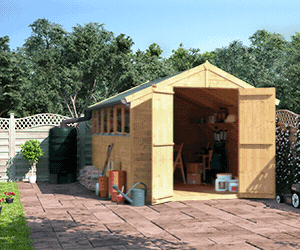 What's more, electric patio heaters don't require ventilation. You can use them in both outdoor and indoor spaces as needed. If you need to heat the patio or even a conservatory or annex in the dead of winter, they're a safe, affordable option.
With electric heaters, you don't have to sacrifice the look of your space. Units are discrete and can even be wall-mounted, perfect for small patios.
Most importantly, they're low-maintenance and cost less than gas heaters. This is a huge plus if you want an easy cleanup and energy-efficient heat source.
Two Types of Electric Patio Heaters
Electric patio heaters come in two main installation types:
Free-standing

Overhead: wall or ceiling-mounted
Let's take a quick look at each of them!
1. Freestanding electric patio heaters
As the name suggests, this type can stand alone on the ground, a patio, or a deck. Simply plug into a standard household outlet and use the intuitive control settings.
Freestanding electric patio heaters are easy to install and ready to use right out of the box. This is where the BillyOh Medora comes into the picture.

BillyOh Medora Free Standing Electric Patio Heater (2100w)
Price: £74.00
The Medora features a freestanding standing design with a double heating lamp. It can transform a cold night at home into a pub-garden-esque party with family and friends!
A benefit of this particular model is that it offers a wide range of heat settings to help you tailor the level of heat. It lets you choose from 900W, 1200W and 2100W to suit the weather and the size of your group at any time of the year.
The Medora is an energy-efficient method of outdoor heating that's cost-saving in the process!
It's easy to use and is operated by a single switch to power on and off and a temperature adjuster. Another great feature is its height can be adjusted from 163cm to 205cm.
The unit is also designed with safety in mind. The weighted base prevents the outdoor heater from toppling over in high winds and bad weather. This is all thanks to its 17 kg weighted base with tip-over protection, keeping it secure in place.
Even if harsh weather does succeed in toppling the heater, there's also a safety tilt switch. This switch automatically turns the outdoor heater off.
Finally, it's IP44-approved! This ensures that it's also suitable for indoor use, making it a truly multipurpose heater.
2. Overhead: wall or ceiling-mounted
Overhead electric heaters are another permanent solution. They don't take up any floor space, preserving the style of your patio.
This type of heater is also designed with versatile control options. You can fully control the temperature and even connect some to your smart home.
There is a fairly easy installation process unlike a free-standing heater which is just plug in and go. 
Here, we introduce to you the BillyOh Alberta unit.

BillyOh Alberta Wall Mounted Electric Infrared Patio Heater
Price: £119.00
The Alberta uses a sophisticated and discrete design to heat your outdoor space. Using an infrared heater can make outdoor entertainment possible for hours.
The halogen tubes are 25-30% more efficient than typical halogen ones, preventing energy from being wasted. They also last up to 7000 hours, so you can heat your patio as often as you like. 
Plus, with the three heat settings, you can tailor the amount of warmth the electric patio heater gives out. Choose between 1000W, 1500W, and 2000W of power for low, medium, or high heat. This feature helps save energy and reduce electricity costs.
Perfect for small patios, this wall-mounted electric heater is an excellent choice. It utilises outdoor spaces that are generally left bare like walls.
Using this untapped space also means it's out of reach, preventing accidents in homes with children. As if that isn't enough, despite the small design, it can still heat up to 6m2 of outdoor space!
Plus, there's no need to get up and adjust the settings on your heater. You can do it from the comfort of your seat. Turn it on, off, and change the heat setting using the remote that comes with the model.
As a fixed outdoor heater, it needs to be able to get wet without damage. So the good thing is that it also has IP65-approval for water protection!
This ensures that the device is protected against low-pressure water from any direction. The power cable also has a rubber exterior to stop water causing electrical problems.
3. Bonus: 2 in 1 freestanding and wall-mounted
Now, what if you want to have the qualities of both a freestanding and wall-mounted heater in one unit? Well, luckily for you, BillyOh has widened your choices with a 2-in-1 electric patio heater model!

BillyOh Aurora 2 in 1 Free Standing and Wall Mounted Electric Patio Heater
Price: £174.00
The Aurora is a brilliant dual-purpose heat source and doubles as a stylish ornament for your patio. As the name implies, it's multi-purpose – use it as a freestanding or wall-mounted heater to suit your needs.
What's more, it uses quartz infrared heating panels. It produces radiant warmth, keeping everyone feeling toasty even outdoors.
Like with the Medora and Alberta, you can personalise the heat level. One day, you may want low heating just to warm the space gently. Another day, you may want it on the highest heat setting.
Choose between 650, 1300, and 2000 watts of power, depending on your desired heat output. With this, besides being energy-saving, it also costs less to run in the long term.
As for the appearance, Aurora has an incredibly sturdy, flat base. The height and head are adjustable, allowing you to move the heater and tilt the head (0° to 45°) to redirect the heat.
Controlled with a pull string. This heater has a tip-over switch, which cuts the power should the heater topple over. This keeps those around it safe.
Lastly, this patio heater model is IPX4-approved. This means that safety features have been put in place to ensure your well-being when using it.
What Are You Waiting For?
No matter what your patio heating needs, BillyOh has got you covered! With our new selection of electric patio heaters, you can equip your outdoor space with top quality heat source.
Shop Fire Pits