The corner part of the garden is often overlooked or underutilised. If this is one of your biggest worries outdoor, then don't worry – we already did the homework for you.
With the right planning, you can transform your forgotten corner garden into a shining focal point, whether it's with some landscaping or a corner garden building. To help get you started, we've put together ideas for transforming your own backyard oasis!
They offer some low maintenance solutions, and many can be created in the space of an afternoon. Or if you're more green-fingered, there's some great suggestions for you to try too.
Are you ready to make your corner garden space beautiful and functional? Let's get started!
1. Corner garden bed
Decorate a corner of your garden with an attractive raised garden bed and plant whatever takes your fancy. Paint it white to create a modern look.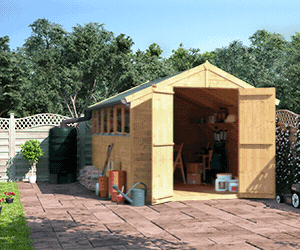 2. Butterfly garden
Create a small spot in your backyard to have butterflies visit you. They are perfect for adding colour to your garden. 
Keep your flower beds in shape with stone edging; this will also help when mowing your lawn around your flower bed. 

3. Corner pergola
A pergola adds some much-needed shade to a sunny garden. Add some seating and tall plants and your garden corner is ready to enjoy.

4. Transformed backyard corner
Transform a corner of your backyard into a haven for birds by adding a bird bath and feeder. Plant trees or climbing plants to give them a place to nest away from predators. 

5. Colourful corner garden
Use quirky planters to brighten up a dull corner of your garden, and add brightly coloured flowers to really bring it to life. An easy setup, and the result is something worth admiring.

6. Small but stylish corner
Use whites and greys to create a beautiful, modern seating area. Clean lines and tidy planting add to the contemporary style. 
Add a sail to protect you from the sun's rays and some twinkly lights so you can still enjoy your garden into the evening. 

7. Garden with sleepers
You don't need a large garden to create a comfortable seating area. It's all about setting up your furniture in an attractive way.
Add a pergola to provide some shade and incorporate some hanging baskets and pots to bring some colour. Then all you need are cushions to make it cosy!
8. Small corner mini garden
Plant some flowers or small plants on your corner spot to make it more appealing. A tiered-style flower bed can help you keep your plants organised; you could even use the top section for herbs!
9. Writer corner
Create a cosy nook in your corner just by adding a small seat and cushions. If you're looking for more of a garden hideaway, add some climbing plants and flower pots. 
Now you have a place to start working on that book you wanted to write!
10. Comfy corner
Add some comfortable chairs and have your friends sit back and relax during those night chats next to the fire pit.

11. Corner light deck
Light colours look great in small spaces; everything will look bigger. Climbing plants are great for camouflaging a plain fence. 

12. Corner bar
If you're having a garden gathering, you need a place to serve drinks. Add some bar stools and tall chairs so you really feel like you're at the pub!
13. Corner privacy pergola
Relax in your garden without worrying about neighbours looking over the fence. Add climbing plants to your pergola for extra shade and privacy. 

14. DIY trellis
Add beauty and function to your garden with a quirky-shaped trellis of your own design. Incorporate some climbing plants and flowers to attract bees and butterflies.

15. Corner fence
Create your own corner flower beds by adding a small section of fencing. It's a simple addition but it will change the look of your garden.

16. Corner swing
Install one of these in your backyard and swing your problems away. Position your swing in the best spot to enjoy your garden, and let the gentle rock of the swing help you relax.
A corner swing is also a great addition in case you're looking for balcony garden ideas.

17. Corner arbour
An arbour is great for providing privacy and shelter in your garden, whether that be from the sun or the rain. Include some comfy cushions to make it a cosy, relaxing space.

18. Flower dominance
Make the most of an unused corner by creating a stunning corner bed packed full of beautiful flowers and plants.  

19. Sculpture and benches
If art is your thing, go beyond the usual garden gnomes and use artistic sculptures to bring your personality into your garden.  

20. Corner cinder block planters
If you're short on planting space, get creative with breeze blocks to build your own tiered planter. It's really easy to set up and only takes up a small amount of space.

21. Corner modern planter with bench
Bring some colour to a boring corner by planting a tall tree in your corner planter. Add some lighting for a cool effect at night.

22. Corner waterfall
A water feature or waterfall is perfect for creating a relaxing ambience in your garden. The sound of the water running helps you to destress and will also help mask any noise from your neighbours. 

23. Small corner planter
Use up every inch of your garden by building miniature tiered planters in your corners. They're easy to create and hardly take up any space, but add some life and colour to an otherwise empty corner. 
24. Modern gravel corner
Keep it classy with black gravel beds and cedar walls. Add some simple planting and rocks to create a zen-feel.

25. L-shaped couch
Create a cosy corner simply by adding a comfy couch to lie down in the afternoons. Surround yourself with simple plants and trees for an idyllic garden hideaway to enjoy. 

26. 3-tiered corner planter
If you can't plant on the ground, getting some of these for your garden corners is a great solution. They're easier to maintain than standard garden beds as there's no digging involved, just the odd spot of weeding!

27. Raised garden bed with bench
Build yourself a bench into your raised flower bed to sit right next to nature. This is great to save space and keep costs down as you won't need to buy a separate seat to enjoy your garden.
28. Brick corner planter
If your ground is not good for growing plants, cover it with some artificial grass and grow your flowers in a raised garden bed, like this one, to create the perfect, low-maintenance garden.
29. Corner fire pit
Build yourself the perfect place to relax with friends; a fenced-off patio with comfortable seating amongst lush greenery. Add a fire pit and string lights to keep the party going into the night. 

30. Small barrel waterfall
Design a unique waterfall using old barrels and surround it with built-up flower beds using sleepers.  All it needs now is the flowers!
31. Pots and rocks
Or use pots instead of barrels and plant some low-maintenance succulents amongst rocks and pebbles to create a desert-style garden. 

32. Mirrors in corner
Add some stylish mirrors to help make your garden look bigger and decorate a plain fence or shed. They will also reflect the light from the sun in the day and from your string lights after dark.
33. Grey corner pergola
Create a little spot to sit back and relax while looking at the clouds by adding a pergola and matching decking to your seating area. 
34. Wood retaining wall
If stone doesn't fit your style, adding a wood retaining wall can change the look of your garden entirely. It also makes the perfect backdrop to built-in benches. 

35. Simple deck arbour
Simple decking and an arbour can give your garden a real focal point. Use no-fuss plants to bring it to life.
36. Grey classy corner
Create a classy outdoor lounge using greys and whites. All you need is some comfy seating and a coffee table, and then let the plants bring it to life! 
The contemporary tiled floor in this area adds to the lounge vibe. 
37. Corner cabin
A corner cabin will give you some sheltered outdoor space to enjoy your garden, even when it's raining! And if you've got a great wifi signal, you could even turn it into your office for those 'work from home' days. 

38. Small corner fountain
If you're short on space, add a small water fountain to your garden so you can enjoy the relaxing sound of trickling water without the high maintenance of a waterfall or pond. 

39. Cosy private corner
All you need is a small table and chairs and you can have some nice conversations without worrying about the neighbours. The climbing plants on the pergola will add extra privacy and shade you from the sun. 

40. Bench and wood
Or go for something simple, like a regular park bench to sit and watch the sunset.
41. Landscaping pavers fire pit
It doesn't have to be difficult to make your own fire pit garden and the results can be amazing. Keep it simple with built-up stone to protect your surrounding walls and plants. 
42. Flowers and bricks
You could use darker coloured stones for your tiered corner beds to complement your flowers.  
43. Modern vertical herb garden
If you're short on planting space, a modern vertical planter will spruce up a plain wall and give you all the space you need to grow some herbs for cooking. 

44. Classic wooden bench
Place it under a tree in your backyard to gain some shade and relax there all afternoon. Surround your bench with fragrant flowers and plants to help you destress. 

45. Private wooden deck with fire pit
You could fence off your seating area from the rest of your garden to create the ultimate private space to relax. 
46. Small garden room
Add a sofa and some homely touches to your garden room. You could even add some windows to keep an eye on the children whilst you're relaxing, and keep the weather out on rainy days.
47. Flowers and sitting spot
Every corner of your garden has the potential to become a relaxing place to spend your afternoons. All you need is somewhere to sit! 
You could add your favourite artwork to give the space some personality.
48. Tree stump
If you've had to cut down your tree, keep the stump as part of your flower bed design. You could even use it as a small sitting spot among your flowers.

49. Corner garden studio
Why not have a place in your garden to work and concentrate, away from all the noises in the main house? 

50. Feng shui fountain
Admire this beautiful corner of your zen garden and relax while hearing the water splash from this stunning Asian-style ceramic vase.
51. Tucked serene corner pavilion
This Japanese-inspired outbuilding is well sited in this Asian style garden. The pebbles and bonsai trees add more touch to the space.

52. L-shaped lounge seating area with pergola
This corner side of the balcony is emphasised with an L-shaped sofa with a wooden pergola. The colourful cushions come in a variety of bold colours.
The pergola also has light pendants and a few hanging plants.
53. With low maintenance decorative tree
Trees are a great garden decor that can be long-lasting, especially when maintained well. If you want a durable backdrop in the corner of your garden or balcony, add trees.
Tip: Before anything else, plan everything meticulously. Know your landscape first.
54. Fit a climbing wall
Don't be afraid to play with different shapes, colours, and textures to your outdoor space. The corner section of this garden features a wooden fence and a climbing wall.
A children's play garden idea like this will surely be loved and enjoyed by your kids!

55. Bohemian chill out space
Spruce up your corner space by adding new elements to it, such as Boho-inspired decors! You usually don't need furniture for this one; a carpet, cushions and blankets with prints or patterns will do the magic.
Round-up
From installing a fence to adding an outdoor fireplace or turning it into a terrarium, there are so many ways you can give your space the makeover that's perfect for you and your family. 
We hope these tips will inspire new ideas of how to use the corners in your yard (or even your balcony!) as places where people can connect with nature while still enjoying the comfort of your home.
So why not click the button below to pick up some rattan garden furniture so you can sit back and enjoy your new corner garden design?
Shop Rattan Garden Furniture
[spacer height="20px"