The corner part of the garden is often overlooked or underutilised. If this is one of your biggest worries outdoor, then don't worry – we already did the homework for you.
With the right planning, you can transform your forgotten corner garden into a shining focal point, whether it's with some landscaping or a corner garden building. To help get you started, we've put together ideas for transforming your own backyard oasis!
They offer some low maintenance solutions, and many can be created in the space of an afternoon. Or if you're more green-fingered, there's some great suggestions for you to try too.
Are you ready to make your corner garden space beautiful and functional? Let's get started!
1. Corner garden bed
Transform a neglected corner of your garden into a captivating focal point with a raised bed. Opt for a contemporary touch by painting it white, adding a touch of modern charm to your outdoor space.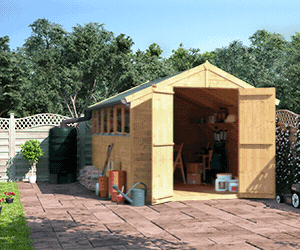 2. Butterfly garden
Create a small spot in your backyard to have butterflies visit you. They are perfect for adding colour to your garden. 
Keep your flower beds in shape with stone edging; this will also help when mowing your lawn around your flower bed. 

3. Pergola addition
Beat the scorching sun in your garden with a pergola, providing much-needed shade. Enhance the ambience by placing comfortable seating and tall, lush plants. This will create a cosy and inviting corner for relaxation and enjoyment.

4. Transformed backyard corner
Transform a corner of your backyard into a haven for birds by adding a bird bath and feeder. Plant trees or climbing plants to give them a place to nest away from predators. 

5. Colourful corner garden
Use quirky planters to brighten up a dull corner of your garden, and add brightly coloured flowers to really bring it to life. An easy setup, and the result is something worth admiring.

6. Small but stylish corner
Use whites and greys to create a beautiful, modern seating area. Clean lines and tidy planting add to the contemporary style. 
Add a sail to protect you from the sun's rays and some twinkly lights so you can still enjoy your garden into the evening. 

7. Writer corner
Create a cosy nook in your corner just by adding a small seat and cushions. If you're looking for more of a garden hideaway, add some climbing plants and flower pots. 
Now you have a place to start working on that book you wanted to write!
8. Comfy corner
Add some comfortable chairs and have your friends sit back and relax during those night chats next to the fire pit.

9. Embrace light colours
This trick gives an illusion of spaciousness. Harness the power of climbing plants. Greenery can beautify your surroundings and conceal plain fences, giving off the charm.

10. Bar hideaway
Elevate your garden gathering experience by setting up a designated drink-serving area. Introduce bar stools and tall chairs, mimicking the atmosphere of a pub. Create a delightful space where you can socialise and unwind with friends and family.

11. Corner privacy pergola
Seek tranquillity and privacy by enhancing your pergola with climbing plants. These lush vines not only offer additional shade but also create a natural barrier. They shield you from prying eyes and allow you to relax undisturbed.

12. DIY trellis
Add beauty and function to your garden with a quirky-shaped trellis of your own design. Incorporate some climbing plants and flowers to attract bees and butterflies.

13. Flower bed and trellis
Elevate the aesthetics of your garden by incorporating corner flower beds. This can be effortlessly achieved with the addition of a small section of fencing. A simple yet impactful feature that will revitalise the overall look of your garden.

14. Corner swing
Install one of these in your backyard and swing your problems away. Position your swing in the best spot to enjoy your garden, and let the gentle rock of the swing help you relax.
A corner swing is also a great addition in case you're looking for balcony garden ideas.

15. Corner arbour
An arbour is great for providing privacy and shelter in your garden, whether that be from the sun or the rain. Include some comfy cushions to make it a cosy, relaxing space.

16. Flower dominance
Make the most of an overlooked corner by transforming it into a breathtaking corner bed. Fill it with stunning flowers and plants. Create a vibrant display that brings life and colour to your outdoor sanctuary.

17. Sculpture and benches
Unleash your artistic side by incorporating imaginative sculptures that embody your unique personality. These artistic accents serve as captivating focal points. They infuse your outdoor space with individuality and creativity.

18. Corner cinder block planters
If you're short on planting space, get creative with breeze blocks to build your own tiered planter. It's really easy to set up and only takes up a small amount of space.

19. Corner modern planter with bench
Bring some colour to a boring corner by planting a tall tree in your corner planter. Add some lighting for a cool effect at night.

20. Corner waterfall
A water feature or waterfall is perfect for creating a relaxing ambience in your garden. The sound of the water running helps you to destress and will also help mask any noise from your neighbours. 

21. Modern gravel corner
Cultivate an atmosphere of sophistication with black gravel beds and elegant cedar walls. Complement this refined aesthetic with simple yet harmonious plantings. Also, strategically placed rocks induce a serene and Zen-like ambience in your retreat.

22. L-shaped couch
Create a cosy corner simply by adding a comfy couch to lie down in the afternoons. Surround yourself with simple plants and trees for an idyllic garden hideaway to enjoy. 

23. 3-tiered corner planter
If you can't plant on the ground, getting some of these for your garden corners is a great solution. They're easier to maintain than standard garden beds as there's no digging involved, just the odd spot of weeding!

24. Corner fire pit
Build yourself the perfect place to relax with friends; a fenced-off patio with comfortable seating amongst lush greenery. Add a fire pit and string lights to keep the party going into the night. 

25. Pots and rocks
Or use pots instead of barrels and plant some low-maintenance succulents amongst rocks and pebbles to create a desert-style garden. 

26. Wood retaining wall
If stone doesn't fit your style, adding a wood retaining wall can change the look of your garden entirely. It also makes the perfect backdrop to built-in benches. 

27. Corner cabin
A corner cabin will give you some sheltered outdoor space to enjoy your garden, even when it's raining! And if you've got a great wifi signal, you could even turn it into your office for those 'work from home' days. 

28. Small corner fountain
If you're short on space, add a small water fountain to your garden so you can enjoy the relaxing sound of trickling water without the high maintenance of a waterfall or pond. 

29. Cosy private corner
All you need is a small table and chairs and you can have some nice conversations without worrying about the neighbours. The climbing plants on the pergola will add extra privacy and shade you from the sun. 

30. Modern vertical herb garden
If you're short on planting space, a modern vertical planter will spruce up a plain wall and give you all the space you need to grow some herbs for cooking. 

31. Classic wooden bench
Picture a timeless wooden bench nestled under the shade of a majestic tree. Immerse yourself in relaxation, surrounded by a fragrant symphony of blooming flowers. This leisure offers a therapeutic escape from the stresses of daily life.

32. Tree stump
Preserve the memory of a felled tree by repurposing its stump as an element in your flower bed design. Embrace its rustic charm and transform it into a charming seating area. A natural way to enjoy the company of nature while being surrounded by the beauty of your garden.

33. Corner garden studio
Create a tranquil oasis within your garden by incorporating a corner garden studio. This dedicated workspace provides a secluded environment away from the distractions of the main house. It allows you to focus and be productive amidst the serene beauty of nature.

34. Tucked serene corner pavilion
Immerse yourself in the serenity of a tucked, serene corner pavilion. The elegance of Japanese architecture inspires this corner garden idea.
Nestled within an Asian-style garden, this picturesque outbuilding exudes tranquillity. The gentle rustle of pebbles underfoot and the presence of bonsai trees enhance the space. Overall, they create a harmonious and contemplative atmosphere.

35. Fit a climbing wall
Don't be afraid to play with different shapes, colours, and textures to your outdoor space. The corner section of this garden features a wooden fence and a climbing wall.
A children's play garden idea like this will surely be loved and enjoyed by your kids!

Round-up
From installing a fence to adding an outdoor fireplace or turning it into a terrarium, there are so many ways you can give your space the makeover that's perfect for you and your family. 
We hope these tips will inspire new ideas of how to use the corners in your yard (or even your balcony!) as places where people can connect with nature while still enjoying the comfort of your home.
So why not click the button below to pick up some rattan garden furniture so you can sit back and enjoy your new corner garden design?
Shop Rattan Garden Furniture
[spacer height="20px"