It can be hard keeping your children entertained when they're not at school, but coming up with some simple activities can go a long way!
From simple chalkboards and stepping stones in your garden to complete adventure playgrounds with playhouses, we've got all the inspiration you need to keep your kids active and enjoying themselves.
Let's dive in to our best garden play area ideas.
1. Artificial grass
In a play area for your kids, nothing beats artificial grass. It's easy to keep clean if they want to run around without shoes and could stop your children hurting themselves if they fall.

2. Slope garden slide
You can take advantage of a sloped garden and build a slide for your kids. You could even build a climbing wall instead of steps to get up to the top!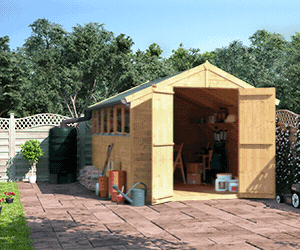 3. Small cave
If you have a slope, you could build a small cave or tunnel for your kid's adventures. The tree stump stepping stones are a creative way to help little legs get up that slope!
4. DIY nature play box
Create your own nature play box for your children using items you can find in the garden; logs, twigs and unused plant pots can all keep imaginative minds active. 

5. Corner playgarden
With swings and slides in their own garden, they'll never want to leave! There'll be no need to go to the park.

6. Tree stump agility arena
Help your children keep active with a fun agility course. You could use old tree stumps to create your own raised stepping stones.
7. Concrete and pebbles mini city
Playing with toy cars is one of the best things to do as a kid. Create your own track for the cars using paving stones.
8. Garden cabin for kids
Your kids will love a small place, just for them. You can make it more appealing by planting some flowers or covering the mini log cabin with grass.

9. Awesome treehouse
With everything your kids love: a slide, a hanging bridge, even some ropes to climb. Just imagine how many adventures there will be.
10. Chalkboard
Add a simple chalkboard to give your kids a spot to enjoy drawing outside and staying in touch with nature.

11. Kids cabin
Wendy houses always go down well with children. You could add homely touches like flower boxes and a cottage sign to make it feel like a mini version of your home.  
12. Playground in slope garden
If you've got a sloped garden, level the ground off to give space for a playground for your kids to enjoy.

13. Wooden treehouse in small garden
Who said you need a tree to build a treehouse? Build a raised platform for your children to play and have imaginative ways to get up and down! 
Here they've chosen a rope ladder and slide. 
14. Custom stepping stones
Craft your own stepping stones to make them look appealing and fit in with the style of your garden.
15. Kids area
A whole section of your garden dedicated to your kids. Fence it off so you've still got an area of garden to enjoy yourself.
16. Outdoor kitchen for kids
Perfect for them to host small tea parties with their friends! It's easy to recreate this at home using pallets, logs and bunting. 
17. Small play area
You don't need a lot of space or a huge playground. This castle-style play area has a simple setup but it would be an amazing spot for your kids to play and have fun everyday.
18. Kids house in long garden
A long garden means plenty of room for the kids to play. Add some comfy seating so you can keep an eye on them.

19. Kids clubhouse
They can gather their friends and have fun in your garden with a mini clubhouse. 

20. Sandbox and garden beds
If you're short on space, a sandbox and flower bed combo is perfect. 

21. DIY spider web swing
Using old logs as a frame for your swing helps keep it more natural, and in-keeping with a garden space. This kind of swing is great for a group of children as you can fit more than one on at a time! 
Or they can just have a lie down.
22. Backyard gym bars
Start your kids gymnastics career in your own backyard! Maybe add some soft flooring underneath, just in case they fall. 

23. Family garden
Defined areas help to separate out the kids area from the rest of the garden so everyone can enjoy it in their own way. 
24. Backyard fort
Kids love a fort! Raise up their Wendy house so they can feel like they're king (or queen) of the castle. 
25. DIY children's corner
Build your own play area using wooden beams and ropes. Tyre wings and rope ladders add some extra fun. 
26. Garden excavation site
Bury some shiny objects for your kid to have the full excavation experience. Add a chalkboard and tool wall so they'll never want to leave their corner!

27. Recycled tree stumps as stepping stones
Create your own stepping stones using tree stumps or log slices. Paint them bright colours to add some colour to your backyard while saving some money on paving stones.
28. Climbing wall
You can teach your kids how to climb from a young age. Try covering the rest of your walls in artificial grass for a great effect.
29. Garden tent
Simple, easy to create and the perfect place for some stargazing.
30. Chalkboard and sandbox with roof
Protect your kids from the sun's harsh rays while playing outside by building a simple roof above their play area. You could also add some walls to hang old piping painted in fun colours and a chalkboard to keep them amused all day.
31. Activity wall and pea gravel area
These types of garden toys and activity walls are great for children to learn new things and have fun. They're easy to build yourself, and that way you can personalise the wall to suit your own children.
32. Tree stump path
Place a few tree stump stepping stones in order to create a path for your kids to practice their jumping and agility skills.
33. Buried trampoline
It's much less likely that your kids will hurt themselves falling off the trampoline if it's at ground level. It also means the trampoline won't block your view of the rest of the garden.

34. Homemade garden den
Use branches and logs to create a hut for your children to play in. Decorate with flowers from your own garden.
35. Small wood village
Build your own miniature village using old planks and some paint for the windows. Use pebbles and other bits from your garden to make the residents feel at home.
36. Gorgeous treehouse
Every kid in the world wants to have a magical treehouse. If you have the space, go for it.

37. Fairy garden in old tyre
Fairy gardens don't need to be expensive or complicated. Build a simple one housed in an old tyre and get your children to help decorate it for the fairies. 
38. Wobble board
Build a wobble board in your garden for your kid to learn the basics of skating before jumping on a real board. At least when falling off this one, they shouldn't hurt themselves.
39. DIY numbered stepping stones
A great way to teach your kids the numbers but still have fun.
40. Chalkboard wall
If you're struggling to come up with an idea to cover a boring garden wall, you could go for a giant chalkboard so your children have plenty of space to get creative and can decorate it in a different style every day.
41. Children's gardening station
Have your kids help you with your plants by building them their own gardening station.

42. Front yard sandy play area
You don't need much space to create a sandpit area for your children. Here they've replaced a flower bed with sand to give their children a place to play. 
43. Awesome playground in small garden
Again, it's not about space. This playground packs so much into a small corner of the garden, the children will never get bored! 
44. Small nest swing
A simple design that's great for swinging small children without worrying if they're going to fall.

45. Pirate ship sails
You don't have to build the whole ship. Thankfully, kids' imagination goes a long way. 
46. Natural drum kit
Perfect for them to start learning some rhythm without making too much noise! 
47. Backyard wooden fort
Imagine how much fun your children could have here! Plus the underneath could be used as storage for their large toys when they're not using them. 
48. DIY outdoor noughts and crosses
For the next level in outdoor games, build your own noughts and cross board using a tree stump, then attach the pieces with wire so they don't get lost.
49. Alphabet stepping stones
You can create them with numbers or the alphabet. Either way, your kids will learn something while having fun outside.
50. Vertical tyre climbers
Another way to give an old tyre a second life is to turn it into a climbing frame your kids will enjoy.
51. Backyard ball run
Another creative DIY you can add to your children's outdoor playpen is this ball run! It's amazing and pretty easy to build, too.
Attach it to a fence, a tree, or set up a base with plywood. Paint the plastic guttering in bright colours and enjoy hours of ball run in your backyard.
52. Covered sandbox
Most kids love sandboxes and you don't have to spend a fortune to get your little ones for one at a department store. This covered sandbox will surely make them happy and entertained, as well as protected from the weather.
It's well-shaded and free of leaves, twigs, UV rays and rain!
53. Large wooden boat sandpit
Or you can opt for this wooden boat sandpit concept. This is a great DIY project for your children who love pirates and being the captain of their own ship!

54. Tyre seesaw
These tyre-made seesaws will build up excitement and give your children a reason to go outside and play. Cut the tyre in half to give it the right back and forth motion and paint them with fun colours.
Add googly eyes and even teeth for extra entertainment.
55. Kid sized balance beam
Help your children to learn and improve their balance with this easy to make balance beam. This is a perfect outdoor play station for kids and you're going to love it, too!
It's always a great idea to involve some sort of development play for your kids.

Round-up
There are so many ways to keep your children busy when they're playing in the garden, and it doesn't have to cost the earth or take up too much space.
We hope you've found our ideas useful for keeping your own little ones amused and inspired you to get creative with your garden space.
And what's a garden play area without a playhouse? Check out our awesome range of kid's playhouses via the button below.
Shop Playhouses