If you live in an apartment or flat, a balcony could be your only outside space. You might think this limits your ability to create a modern outdoor space with garden furniture, but there's so much you can do with it!
We've come up with amazing ideas for making the most of your balcony space, from simple, space-saving planting to total transformations.
Let's jump in!
1. Balcony full of plants
Balconies are normally small and cosy, but you can make it even cosier by filling it up with plants. Add some tall plants if you want to make your balcony more private.

2. Hanging pots
If you're worried about taking up floor space with plant pots, hang them from the ceiling instead. This example would be perfect for a herb garden as you can add multiple pots in a small space.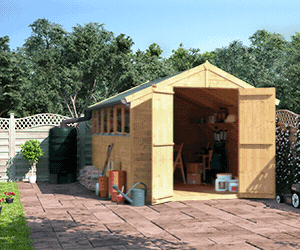 3. Vertical garden in small balcony
Another great way to have a variety of plants on your small balcony is to create a wooden rack and then hang the pots from it.
4. Classy wall plants
You can get creative with your wall planters to fit your style. Here they've used a wood laminate background to fit with the theme of the horizontal planters, and then created a trellis from the same material to hang plant pots. 

5. Bamboo on balcony
Bamboo plants are fast growing; they take up very little lateral space yet they can reach fabulous heights extremely quickly. This makes them a very cost effective choice for masking a plain wall or adding garden screening and extra privacy from neighbours. 
The toughness and resilience of these plants is belied by their beautiful stems and delicately shaped, almost reed-like leaves.

6. Artificial grass
Artificial grass, decking and plenty of plants will give the feeling of a whole backyard on your balcony. Dividing the space up will make it feel less narrow. 

7. Tropical garden oasis
Space doesn't have to be an issue if you're a garden-lover. Use plants and trees of different species and heights to create a relaxing retreat from high-rise city life. 
8. Trellis and coffee table
A garden is all about having a place to relax. Add a cute bistro set so you can sit out with a coffee and enjoy the fresh air. 
Climbing plants will help disguise plain walls and add some colour to your balcony to make it feel more like a garden.
9. Trellis canopy
There's nothing like a natural canopy to protect you from the sun's harsh rays on a warm afternoon. Use trellis to create a frame and add some climbing plants to provide some shade.
10. Flowers in pots
An easy way to add colour to your garden is by adding simple planters with colourful flowers. 

11. Table and flowers
Make the best of all the space you have available, by using window ledges and shelving for your plant pots. This leaves enough room for a small table and chairs so you can relax outside. 
A really simple setup with an appealing result.
12. Adorable balcony
Using wooden flooring for your balcony makes it feel more like decking in a backyard. Add a variety of plants in different sizes and colours to create your own mini tropical garden.

13. Zen balcony
A nice, relaxing spot to admire your zen garden.
14. Side pergola on balcony
A pergola is a stylish addition to your balcony garden if you live in the penthouse and don't have height restrictions. It helps provide some shade and a place for climbing vines to grow. 
15. Modern chair
Keep it simple – simple hanging plants and a comfortable, modern chair to relax and keep your garden stylish at the same time.

16. Coloured pots
Get your paints out to give your plant pots a bit of colour and add personality to your balcony garden. 
17. Vertical garden on steps
Transform an old step ladder into a beautiful vertical garden, just by adding some planters to the rungs. It's a great way to add plants without taking up much space. 
18. Coffee table and rug
A rug is another good way to revamp the floor of your garden without spending much money.

19. Minimalist balcony decor
You can fill your balcony with plants or go for minimalist decor with only a few plants, which gives a clean, modern look.
20. Small garden beds
You can still place some garden beds even if you're in an apartment. Build them in the corner of your balcony to make the best use of your space.
21. Wood and pebbles
On a larger balcony, you could use the same flooring materials that you would use on a standard garden. Like wooden decking, pebbles, or both! 
22. Comfy balcony
A modern, comfy seating spot, surrounded by plants, to settle down with a book and let the hours go by. The tall planting provides some relief from the sun. 
23. Balcony salad garden
Even if you have a small space, you can still grow a garden robust enough to produce a complete salad. Container gardening is the perfect solution.
24. Huge balcony with pergola
If you have the space, go big with your balcony. Add some roofing, lighting, seating; all you need to make it your relaxing spot. Make it feel homely with an outdoor rug and comfy cushions. 
25. Oriental balcony
Bamboo sticks are great for sprucing up the plain walls of a balcony and providing an oriental feel. Minimalist decor and plants are all you need to complete your cosy sanctuary.
26. Pebble edges
Simple, white pebbles provide a great border for artificial grass. 
27. Vertical movable garden
Recycle a trolley to create a mobile, vertical garden for your balcony. Then if it gets too cold for your plants in winter, you can always move it inside! 
28. Tiny corner garden
For a really small balcony, use up corner spaces by creating corner-shaped, tiered planters. 
29. Wooden trellis for balcony
If you're looking for more privacy or shade for your seating area on your balcony, add some trellis and pretty climbing flowers. 

30. Wooden bench in slim balcony
A simple wooden bench is always comfy and great if you don't have much space on your balcony.
31. Small space pallet garden
Up-cycle a wooden pallet to create your own vertical herb garden on your balcony. The sections in the pallet are great for keeping each herb separate. 
32. Planters and trellis
May your balcony be the envy of your neighbours. Add beautiful climbing plants to create a living wall that can be seen from afar. 

33. Colourful oasis
Just because you're short on space, doesn't mean you can't create a beautiful oasis to enjoy.
34. Stacked herb garden
As they're tiered, they take up minimal space so you can fit one of these almost anywhere. 

35. Hanging pot shelf
Use the rail of your balcony to hang a row of plant pots for your herb garden. This is a great idea for small balconies as it takes up hardly any space at all. 
36. Pretty wall and pots
You could use stone cladding or tiles to create a decorative background for your plant pots. 
37. Stylish deck and garden bed
For a stylish, modern look, extend your decking to create sleek garden beds for your balcony. What a great way to maximise a small garden or an outdoor oasis!
38. Knitted wood canopy
A stylish wooden canopy is great for protecting you from the sun. Add some climbing plants to bring it to life.
39. Small roof garden
If you like to spend your evenings relaxing with friends on your balcony or roof terrace, escape city life by surrounding yourselves with beautiful plants and flowers. 
40. Balcony table
This simple addition hangs over your balcony rail, rather than taking up the space of a whole table. Perfect for working outside or watching movies on your tablet in the evening with a glass of wine. 

41. Modern looking balcony with lanterns
Dark tones bring a contemporary vibe to this balcony. Add soft lighting and lanterns for a cosy bolthole to relax after a long day. 

42. Pot shelves for small spaces
When you don't have much room for planters, go up instead! Stack your pots on shelves to save yourself some space. 
43. Narrow wall with pots
Simple but effective, this trellis is the perfect place to hang your pot plants when you're short on space. Plus it brightens up a white wall!
44. Pot corner
If you're a plant-lover, use up every inch of space for planting. Use your shelves, walls and even some hanging pots to fill your space with life and greenery.

45. Modern stylish balcony corner
It's all about picking the right materials and colours to fit your space. White can give the feeling of more space in a tight corner, and the irregular pattern of the brown wooden racking makes the space feel less rectangular and boxy.
46. Wall and roof trellis
You don't have to limit your trellis to the walls, you can add it to the ceiling too!
47. Appealing wall garden
Simple pots hanging on your wall could look a little boring. This wooden cladding provides a stylish backdrop and gives the wall a contemporary look.
48. Vertical steps garden with lights
Add some simple lights to make your small vertical garden look appealing at night.
49. Balcony with flowers
This tidy flower bed with trellis and hanging pots helps to brighten up a plain tiled wall on this balcony. 
50. Bamboo and stepping stones
If you need extra privacy on your balcony, or your view is not so great, add some tall bamboo plants to hide those high-rise buildings. 
51. Rail balcony garden bed
Looking for ways to greenify your narrow and long balcony without compromising too much space? Railing planters can be your best bet!
You can either fix your planters on the rails or just hang them using metal hooks.

52. The dream balcony floral oasis
Even if you have a small balcony, you can still make your dream floral garden come true! As mentioned above, hanging planters to the railings is a great option.
Tip: Pick a variety of flowers that can make your space look like it's straight out of an Italian rom-com.
53. Add cafe chairs and small table to maximise the space
Reading a book or watching the sunset on the balcony while resting in this mini dining set is a fulfilling fantasy. Drinking a cup of warm tea while inhaling the fresh scent of your flowers can add magic to the experience!

54. Install an awning for shade
As much as you want to enjoy the sun on your balcony, you need to protect yourself from the harsh UV rays. A great way to solve this problem is to install a parasol or an awning like this.
55. Jazz it up with lighting
Spruce up your balcony by adding lighting like fairy lights or even lit candles on the table (especially during a romantic dinner!). This setup will also make you feel you're in the city of love!

Round-up
It can be really simple to spruce up your balcony, even just adding a few plants and flowers helps to brighten up the space. 
We hope our list of balcony garden ideas has inspired you to make the most of your balcony and bring it to life.
So why not check out some of our smaller furniture sets via the button below? Perfect for a balcony.
Shop Metal Garden Furniture