If you're looking for inspiration for your rectangular-shaped garden, we've got you covered! From simple driveway upgrades to multi-level gardens, roof garden transformations with fire pits and sofa sets, these ideas will give you inspirations.
Let's jump in!
1. Modern shed
Place a modern-looking shed in the back of your garden to have a new spot to relax. You could even convert it to your new office for those 'work from home' days.

2. Multi-level rectangular garden
Instead of a sloped garden, add some steps to give your garden multiple flat levels to enjoy.  
3. Deck and small shed
Build a stylish deck for your comfy sofas and add a shed in the corner of your garden to keep your tools safe.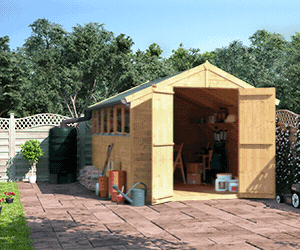 4. Narrow garden with grass
Make a long, narrow garden feel wider by breaking up the space with raised flower beds. 

5. Dark wood deck
Use dark colours for your decking and furniture for a modern look. Use different ground materials to break up the rectangular space so your garden will feel wider. 
6. Rectangular roof garden
Clean lines and light shades bring a contemporary look to a stylish roof garden.
7. Small rectangular garden with couches
No matter the size, a garden can become really cosy by adding sofas to relax in the afternoon. You can use tall trees for extra privacy from your neighbours.

8. Aesthetic backyard
Add a waterfall to your backyard so you'll always have the soothing sound of trickling water to help you relax. 

9. Round shapes
Add some curves to your rectangular garden to help it feel less enclosed.
10. Decorative ponds
Simple water features can make beautiful decorations for your garden. Use symmetry to give your garden a more formal feel. 

11. Sunken seating area
Add some comfy outdoor seating to your sunken patio for a cosy spot to relax in your garden. 
12. Open garden with artificial grass
For an open, spacious feel, restrict planting to the borders of your garden. 

13. Concrete deck and stepping stones
For a clean, modern look, you could use smooth concrete to build a raised deck and add contemporary horizontal fencing. Use the same concrete for your stepping stones to tie it in with the deck. 
14. DIY raised garden bed for herbs and flowers
Grow your own herbs and veggies in your backyard by building some appealing raised garden beds.

15. Rectangular driveway decor
Spruce up your driveway by creating a modern gravel bed at the border. Use simple, low maintenance plants and place some solar lights in between.
16. Two-level modern garden with lights
Lights add a special touch to your garden decoration and make it look more appealing at night.
17. Long, narrow garden beds
When you have a long, narrow garden, some irregular-shaped garden beds would be the perfect addition. 
18. Corner seating area and shed
Place a seating area in the back corner of your garden to sit and relax while admiring the rest of your backyard. Use stepping stones rather than a solid path as it will help the garden feel less narrow.
19. Dinner table and couch
Make sure you have plenty of seating areas to relax in your garden. Add a dining table and chairs for al fresco meals and then a comfortable sofa to chill out in the sun. 

20. Narrow garden with shed
Even if you have a long, narrow garden, you can still find a spot for a shed. Just use tall plants to disguise it and separate it from the rest of the garden. 

21. Tree surgery
Use tall trees to gain extra privacy from your neighbours, and get creative when trimming your smaller trees into different shapes to brighten up a plain fence. 
22. Brick fixing for a slope yard
A great way to deal with a slope is to create a two-level garden with a small containment wall. You can use the same paving slabs as your patio to top your wall and steps. 
23. Modern garden with rectangular pond
For a modern take on a garden pond, go for a rectangular shape to suit the clean lines of a contemporary garden. 

24. Coverable hot tub in garden
A hot tub is the perfect place to relax in your garden. Be sure to get a cover for when it's not in use to keep out any falling leaves and insects. 

25. Living wall and seating area
Transform a boring fence panel by creating your own living wall. It will add some colour and attract more wildlife to your garden. 

26. Stone flooring and fire table
If you have a big, open garden, you can get creative with your patio area. These modern paving tiles create a unique base for this fire pit area. 
27. Artificial grass
A fresh lawn is beautiful but requires lots of maintenance. Artificial grass is much easier to keep clean and tidy.

28. Corner with seating area and fire pit
Fire pits are great for cool evenings if you're not ready to take the party inside just yet.
29. Picnic table
Enjoy meals outside with your family and friends by adding a dining area to your garden. 

30. Classy corner shed and bench
Keep it simple with a wooden bench and matching shed. If you're handy with a saw, you could even build them yourself! 
31. Diagonal garden
Diagonal lines are great for a long narrow garden, as they draw your eye around the garden rather than taking you straight to the back. 

32. Small rectangular backyard
If you are struggling with space, make the best of what you have. A foldaway garden bar or table and hanging baskets are perfect for a small yard space.

33. Small cabin with stepping stones
It's great to have a place to sit and relax, maybe read a book, while enjoying your garden. With a cosy cabin you can even sit out when it's raining!
34. Side yard vertical garden
Every inch of your backyard can be amazing, like this once-boring side wall that has been transformed into an appealing vertical garden.

35. Planter boxes with seating
Add some colour to your seating area by building planters into the back. It makes the perfect place to enjoy the view.

36. Into the wild
A simple two-level garden, separating the wild from the calm.
37. Large stepping stones for side yard
For a simple but beautiful garden entrance, use wide stepping stones and a light gravel to enhance your pathway. 
38. Round pond
A pond is a great way to attract all kinds of wildlife to your garden. Be sure to line one side with stones to give the animals an easy entrance. 

39. Black and white two-level garden
Black and white will give your garden a stylish, modern look. Add some lights for the final touch.
40. Small grey open garden
Grey is a popular colour both inside and outside the home. It brings a modern feel to this garden with a grey patio, stepping stones and raised planters. 
41. Football field
If you have the space, you could give your kids their own football field to practice on. Be sure to save some room for a nice patio area for adults to relax too. 

42. Relaxing corner with waterfall
Nothing beats the relaxing sound of running water when you're looking for a peaceful place to unwind. A waterfall wall like this adds a real focal point to your garden.
43. Well-kept zen garden
Use well-trimmed trees and bushes and simple, modern furniture to create a zen-like garden space in your backyard. You could use lighting to accentuate your statement plants. 

44. Rustic bench with pergola
Build a beautiful pergola around your bench to grab yourself a seat in the shade.  Add climbing plants and flowers for extra shade and privacy.
45. Appealing seating deck
Create a cosy spot in the back of your garden to relax and chat in the sun. Use trees and tall planting to give yourself extra privacy and add spotlights around your seats so you can sit out into the evening. 
46. Bespoke garden resting spot
For a unique seating area, you could add a solid roof to provide some shade on sunny days and protection from the rain. Add some spotlights to give it an outdoor lounge vibe. 

47. Black porcelain tiles
These black tiles are really appealing and super easy to take care of. Perfect for a low-maintenance backyard.
48. White deck and garden beds
All it needs now is some cosy chairs or sofas to relax and put your feet up.
49. Sandstone paving and borders
Use curves in your design to help a rectangular garden look more interesting. 
50. Black porcelain and white garden beds
Give your garden a contemporary feel with monochrome raised garden beds. Build in some benches if you're short on space.
51. Upper level backyard deck
Nothing beats a garden with the best sunset view. If you live in urban areas, this pebble concept is a great solution for you!
Get a view of not only the pretty sunset but also your neighbourhood with an upper level wooden deck in your backyard. The fire pit and wooden stools on the ground complements the pebble garden floor well.
52. Rooftop garden adorned with rustic decor
This small rooftop features a simple yet unique layout. The small outdoor dining set blends well with the wooden decking.
The tall plants and colourful flowers add a fresh touch to the space as well. Overall, the rustic decor and fixtures set off with this contemporary small garden concept.
53. Stay ahead with a curve
A winding route was the key to the transformation of what's supposed to be a plain rectangular plot. You can see a series of circular lawns connecting by a winding path.
This allows homeowners to take a slow walk and enjoy the view of their space. The round lawns are bordered by paths created with sandstone.

54. A stylish, shaded courtyard retreat
This type of asymmetrical layout is perfect for small gardens. It creates an interesting spot for resting and hanging out.
The tall plants break up the height of the wall, acting like punctuation points. The beautiful blooms add a charm while the seating area completes the look.
55. Oval lawns with a mini woodland at the rear
This rectangular garden introduces two oval lawns and features many contrasts in the planting. There's a mix of plant forms at the front part and a mini woodland at the rear.
Round-up
We hope our list of ideas for rectangular gardens has given you some inspiration for transforming your space into a relaxing sanctuary. 
It doesn't have to break the bank either, you can still make big changes on a small budget. It just takes a little work and creativity. 
Get going today! And what goes better than a BBQ on the patio at the end of a rectangle garden? Just click the button below to shop our range of BBQs.
Shop BBQs