Edging is key to making your backyard look more finished. As what many gardeners call it, it's the finishing touch for any type of garden.
For one, a neat edge adds character to a lawn as well as definition between different areas of your yard. In addition to our ultimate list of garden design ideas, here we give you inspiration on ways to tidy up the perimeter of your garden.
Remember, though, that installing garden edging takes some effort. The task itself is a 'dirty' work, and it's going to take at least a half day to complete or more.
Get your tools together first in your garden shed, then take note of our suggestions below! If you do it right, your edging should last for many years.
Let's get started!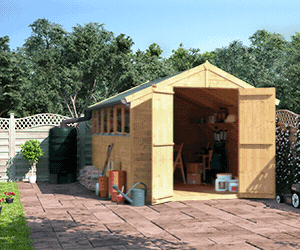 1. Grey gravel border
The gravel pebbles make more of a distinction between the walkway and the lawn. They act almost as a barrier, keeping people on the path and off the lawn.
This grey gravel border concept is far more attractive than a sign saying, "keep off the grass!".

2. Brick edging
Brick edging is a great way to add definition between areas of your garden on a budget. Even better, minimal skill is needed to achieve this look; you can complete it yourself over the weekend.

3. Flat logs
Flat logs are a lovely way to create an edge for your flower bed. They also add a woodsy and delicate touch to your garden beds.

4. Fences and ropes
Looking for an inexpensive way to add visual interest to your backyard lawn? Putting up wooden fence posts and interlacing them with ropes can help you do that.

5. Sharp-edged lawn
Simple yet very strong looking garden edge is what a sharp-edged lawn can provide you with. The concept is modern and minimalist; use turf and stone slabs to achieve this sleek appearance.

6. Curved edging
Adding a curved edge to your garden beds will surely lead the eye to it. It provides a path that leads to your lovely yard. If you have a long garden, consider this landscaping style and thank us later!
7. Pebbles
Garden edge with polished pebbles adds more texture and charm to a yard. This is especially true if you're using a mosaic to create a contrast between the greenery from the cool, grey concrete border.

8. Pebble moat
The use of different levels in this design is what makes it so eye-catching. The deck rising out from the surrounding pebbles gives the impression of a pebble moat.
Meanwhile, the sleek lines and natural palette of colours makes it ideal for contemporary garden settings.
9. Modern block edge
The clean lines and simple style of this design offers a contemporary look. Not only does the grey blocks provide a neat border, but they also enclose the crushed rocks to avoid a messy spill.
10. Boulder edge landscape
If you have boulders around in your property, this is an excellent and creative way to make use of them. Simply source the rocks and pile them on top of each other along the perimeter of your garden.
This would look amazing for your multi-levelled outdoor space!

11. Concrete edging
Set a border in contemporary stone. A solid edging like this can give clear definition to your garden beds, constructing a modern layout. The material also evokes a feeling of minimalism.
12. Garden hedge edge
A well-trimmed hedge along the edge of a garden is a sign of a true gardener. Even those without green fingers can have splendid hedges like this!
It looks impressive and quite luxurious – an absolute perfect garden hedge idea!

13. Glass rock edging
Great for both front and backyards, glass rock edgings add a pop of colour to outdoor spaces. Blue polished glass pebbles were added along with natural ones, giving the front garden a whimsical look.
14. Old wine bottles
Old wine bottles are such versatile decorations – they can be used as a flower vase and a way to give your garden a new unique border. Just place them upside down and place them in the soil to create a glass border appearance.

15. Wood edge raised beds
This type of garden edging provides a neat outcome. Plus, the design is likely easy and inexpensive to achieve, ideal for anyone who wants to edge their own garden on a budget.
Simply create a frame with lengths of timber and screw them together in place, and voila!

16. Limestone flower bed
One of the things we like about limestone, on top of its aesthetic, is it can work well as a barrier between flower beds and the rest of the yard. Just like this stackable and stable stone edging; it gives the yard a more visual impact.
17. Glorious paved pattern path
This garden pathway looks simple and neat set against the lush display of flowers and hedge edges. It also operates as an edge to the lawn, while providing a contrast against the texture of the greenery.
18. Metal landscaping
This multi-levelled garden with metal landscape edging provides rusty steel vibes. It gives a contemporary look that calls your attention!
Moreover, it gives a very minimalist garden feel, looks clean and simple.
19. Gabion wall
Gabion (box filled with rocks) offers a lot of opportunities, and one of them is garden edging. It adds a natural charm, blending in well with nature. It's also quite sturdy and should hold up well.

20. Marble curb edge
This marble curb has been polished, showing off all the natural character of the stone. It's a piece of art, indeed, if you'd ask us!
Edging like this would look perfect if you'll have understated pieces, such as pebbles in similar colours, alongside it.
Round-up
It's true that placing edging around garden beds full of perennials makes a difference. This makes the yard more polished while keeping the mulch stay in place.
It can be hard to know where to begin, especially if you're new to garden landscaping. But we hope our collection of garden edging ideas will help you tidy up the perimeter of your backyard, highlight an area, and dress up your landscape.
Make sure to share this to anyone stuck for inspiration on ways to tidy up the perimeter of their gardens. Also, let us know your favourite edging idea(s) below!
Shop Rattan Garden Furniture