A garden, combined with outdoor furniture, is a great place for relaxation and discovery. But what if you could experience your garden through all five senses?
Looking for ways to create an outdoor space filled with sounds, scents and textures? A sensory garden is the perfect way to do just that!
Sensory gardens are carefully designed outdoor spaces which are devoted to engaging the senses. They are more than just adding plants and decorating it with garden buildings or outdoor seating areas.
They include scents, sound, textures, flavours, and more to help visitors get the full experience of nature. Here are some ideas on how to create one in your very own backyard!
1. Lid curtain
Recycle some plastic lids to create amazing decor for your backyard.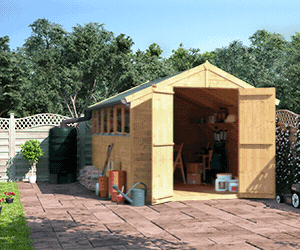 2. Colours and wood
It's easy to create a fun play area for the kids to enjoy in your garden. Use leftover wood and pipes and paint them in bright colours to keep them entertained. 
3. Old can pots
Recycle some old cans and turn them into pretty pots to hang in your garden. These are great if you're short on ground space as you can hang them from posts or fences. 

4. Kids gardening station
Use bright colours to decorate an old pallet and build a miniature planter for the kids to enjoy. You can teach them gardening tips for when they have their own garden! 

5. Mini garden in a recycled tyre
This is simple to build and also budget-friendly if you up-cycle your old tyres. Get the kids involved in transforming them into a fairy garden. 

6. Step into the wild
A huge backyard? Place some steps to reach everywhere without falling down.
7. Mini garden
This family has created a miniature 'Dinosaur World' for their little ones to play with. It's easy to create your own themed mini-garden using bits and pieces from around the garden.

8. Musical panel
Have your kid learn your favourite tunes and then play them to you with a giant, colourful outdoor xylophone! The curved 'fairground' mirror will also keep them entertained all afternoon.  

9. DIY sensory path
You can take off your shoes and walk here every afternoon to relax and feel something different.

10. Planters in coloured tyres
DIY planters give these old tyres a second chance, just add some brightly coloured paint to bring them to life.

11. Colourful concrete planters
Grey concrete planters can be boring sometimes. Add some colour for a whole new look.
12. Miniature pebble garden
A great alternative to a sandpit as it's not as messy! Create a tiny garden for the kids to play inside when it's a rainy day.

13. Spiral garden
Use stones and flowers to create a beautiful spiral pattern. You can even follow the spiral to the middle with the kids like it's a maze!

14. Old boot pots
Give some old shoes a second life as groovy pots to grow some herbs or flowers. They add some colour to plain fences and take up minimal space.

15. Prehistoric mini garden
Turn those old tyres into a miniature Jurassic Park for the dinosaurs to roam around and keep the kids entertained.
16. Colourful path
If grey concrete pathways aren't for you, brighten up your garden with a rainbow path like this one! Kids will love the colours and the spiral shape. 

17. Garden tunnel
It's not hard to make and it's extremely fun for kids. Plus it casts a nice shade in your backyard.

18. Minimalist zen waterfall
There's nothing like the soothing sound of trickling water to help you feel relaxed. Adding a minimalist water in your yard can also add a touch of zen garden vibe!

19. Coloured rock garden
Have hours of fun decorating all the stones you need to create the perfect pathway! Invite the kids to join in to make it a family creation. It will certainly bring some personality to your garden!

20. DIY wind chime
For a nice, relaxing sound every time the wind blows. And you can easily make it yourself! 

21. Mini wildlife stacks
If you like bugs and creepy crawlies, you could make a wildlife area in your garden. Your insect hotel will soon be populated with all kinds of interesting subjects of study.

22. Corner construction area
This is a great idea for the kids to have fun building or tearing things apart. Don't forget the safety goggles!

23. Sound exploration area
Every great musician started out like this. Give your kids the tools they need to make their own music in the garden; they'll have hours of fun!
24. DIY mushroom
Give a cartwheel a paint job and watch it come to life! You could use it as a table or add a cushion for a one-of-a-kind seat. 
25. Colourful pergola
Bright coloured decorations keep your senses aroused with this rainbow-themed pergola! Coloured curtains, cushions and Japanese lanterns bring a carnival feel to this seating area.
26. Mounted chalkboard
Have the kids paint something different every afternoon. Some flowers, a sunset. Whatever their heart desires.

27. DIY water wall
You can build one yourself with some recycled plastic bottles and have the relaxing sound of trickling water in your garden. It also helps to mask any noise from neighbours. 
28. Fairy garden
Create a simple fairy garden using some blue stones for a river, plus some tiny mushrooms and a chair for the fairies! It's a minimalist decoration that looks amazing.

29. Painted rocks
A simple and budget-friendly solution to add some colour to your backyard. You can definitely get the kids to help with this one!

30. Kids tool holder
Have the kids help you with your gardening from a young age. Get some tools for them and start working on that garden.
31. Hand decorations
Enhance your flower beds with this unusual decoration. Hands up!
32. Bug hotel
Now, if you're a really big fan of bugs, build them a hotel for them to spend the nights comfortably in your backyard. It will attract all kinds of wildlife for your kids to study. 
33. Pot fountain
A classy fountain design, just use a smooth plant pot and stones for the base for the soothing sounds of running water.

34. Ball abacus
Make learning fun! Use brightly coloured balls to create a giant abacus for your kids to play around with in the garden. 

35. Herb garden in pallet
This simple but effective idea could be a little project to do with your kids. Just paint the old pallet a colour of your choice and fill it with pots. 
Don't forget to label the herbs so you know what you're growing! The scents of the herbs will also make a great addition to a sensory garden.

36. Modern weather vane
It's amazing to look at this colourful weather vane when the wind blows.

37. Huge sensory garden
If you have the space, you could fill your garden with planters and beds to grow your own herbs, vegetables and colourful flowers. 
38. Painter pallet
A paint pallet flower bed is the perfect way to show off your artistic flair. Use different coloured flowers and plants to represent the paints and add garden tools for the brushes. 
39. DIY butterfly stepping stones
Get creative with your stepping stones – use coloured pebbles to design a decorative path that your children will love. It will also save your grass from being stepped on.
40. Flower planter caterpillar
Build it yourself using a few wine boxes. The kids will love it! 
41. Recycled plastic bottles
Help save the planet by recycling your old plastic bottles into hanging planters. They take up very little space so you can grow as many herbs as will fit along your wall! 

42. Rainbow backyard
Creating a sensory garden doesn't need to be expensive; this one is full of recycled decorations painted in a rainbow of colours!
43. Old keys
Upcycle your old keys into a DIY rainbow-coloured wind chime for your garden. 
44. Colourful garden bed
Small but attractive, this flower bed is full to bursting with a number of different plants and flowers. It is complemented by the various textures and materials used in the path at it's side. 

45. Water play station
Build your own water play station for your children to enjoy from items you have at home; pipes, buckets and funnels all work well with water. 
46. Recycled drum set
If you're upgrading your drum set, use your old one to create some unique garden planters! 
47. Flowers out of rims
Regular flowers need upkeep. These ones, not as much! Wheel trims often fall off and get replaced, so you shouldn't have any trouble finding some to recycle.
48. Playground and garden bed
Use raised flower beds to divide your garden up into different zones. That way you can keep the play area separate so the children will play safely on the grass. 
49. Small pond
If you're short on space but love the idea of a pond or water feature, fill a small pot with water and add some aquatic plants. It's much easier to keep clean than a large pond but should still attract some small wildlife.

50. Flowers in old cart wheel
Upcycle an old cart wheel to create a unique but stylish planter for your garden. 
51. Introduce stress-relieving scents of herbs
Herbs can have real effects on the body and mind when their scents are inhaled. For one, lavender can help induce sleep while rosemary can ease fatigue.
These two excellent plants make a great addition to a sensory garden, which can benefit the kids!

52. Place seating areas within reach of plants
Children can get tired so it's always a good idea to provide them with resting spots. To encourage them to explore the sensory garden while resting (and with their hands), place benches within reach of plants.
Make sure there are plants nearby such as Stachys byzantine (lamb's ears) for them to stroke. The leaves of this plant are soft like felt, which kids will enjoy to touch and feel!

53. Add night-friendly focal points
On top of the health benefits of sensory gardens for kids, it would also be nice to use the space into the evening for some s'mores night. Consider adding a fire pit and use plants like four o'clocks and night scented stock.

54. Add texture and sound with bamboo
Movement and texture are important aspects to a sensory garden. Bamboo, for one, sounds wonderful as the wind blows through.
Positioning them around a seating area will help the kids to immerse themselves in the soft sound of the breeze.

55. Surround winding pathways with tons of ornamental grasses
This fairy tale-like pathway incorporates an element of tactility. When children pass by and reach out, they'll feel the soft stems of ornamental grasses planted on the sides.

Round-up
Building a sensory garden is an enjoyable project that will provide hours of outdoor fun for your family. 
Whether you're looking to create a space that provides calm and relaxation, or one with lots of colour and excitement, there is an idea here for everyone.
We hope we've provided some inspiration for you to create the perfect retreat for all five senses!
So why not click the button below to pick up some rattan garden furniture so you can sit back and enjoy your new sensory garden?
Shop Rattan Garden Furniture