A garden screening enhances privacy and creates separate areas in your garden. It can also act as a wind barrier, increase heat and block out intrusive noise from the outside world.
You don't have to settle for a typical wood screening panel or metal fencing. There are lots of creative garden screening ideas that will give you the sense of seclusion you're after!
Read on to discover the best and most effective screening ways to beautify your garden.
1. Dual-purpose gazebo
Gazebos offer nearly complete outdoor privacy, creating a comfortable refuge from the sun. They're ideal for larger lawns and party areas. Screen yourself from bad weather or opt for a model with draw-across curtains for a place to nap in the afternoon.
Such shading structures will also help you get the most out of your secret garden.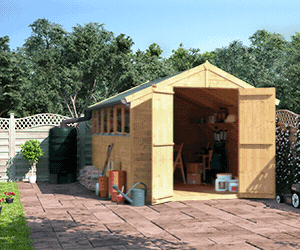 2. Bamboo as fence panels
Lightweight, flexible, tough, and high tensile. A bamboo screen is just a popular option when creating a boundary wall, or garden fences. The material is also cheap, adding a natural touch suited to sunny, warmer months.

3. Pergola  for instant privacy and shade
A pergola creates a screened garden space while letting in plenty of light. It's also a great way to add a unique design element to your outdoor space.
Pergolas can be constructed of natural materials like wood or even metal. They come in different shapes and sizes, so you can adjust them to fit your needs. And with the right plants, you can have an oasis in your backyard with ample shade.

4. Living green wall
Green walls are no doubt one of the best garden privacy ideas out there! The idea is to breathe life into those unsightly walls with wall-mounted planters. This screening design works great on a bare patio, balcony or rooftop living space.

5. Metal screening panels
Laser-cut metal screens offer a total sense of privacy but plenty of style and lighting. Finish off the look by adding rattan garden furniture into the mix!
6. Horizontal wooden privacy screens
Horizontal timber screens create a nice partition while offering support for climbing plants. If you have decking, wooden posts will blend in naturally.

7. DIY wildlife hotel wall
For unique and beneficial outdoor privacy screen ideas, think of building a bug hotel in the form of a wall. Stack up your old pots, waste woods, logs, straws, bricks and twigs to recreate something like this!

8. Take advantage of deciduous trees
Flowering tall trees offer a fantastic view from your living room, plus a natural screen. Growing Wisteria on your pergola is also a win-win! Flowering Cherry trees are a good choice, too.

(Image Credit: Wikimedia Commons)
9. Gabion walls
Need a weatherproof wall for your garden? Then, the gabion wall is the most efficient solution! Basically, it's a cage-like filled with rocks or a mixture of sand and soil. The design offers both screening and a structure on which to raise garden beds.

10. Garden screening rolls
Reed rolls make great privacy screens and space for wall-mounted plants. You can also easily attach reed screens to existing fence posts with staples or ties. A bamboo privacy screen is also a great example.
11. Trellis panels
A wonderful way to showcase your flowering vines is trellis-style fencing. You can use it to create an attractive boundary between two areas or add a definition to a space.
Top tip: Build your own using wooden poles and wire mesh, for instance. This will give you added flexibility when it comes to customisation.

(Image Credit: Public Domain Pictures)
12. Decorative panels
Artificial plants can bring you a nice way to cover unattractive walls or fences. Try weaving some real climbers into it to give it a natural look. Doing so can keep you screened without blocking out natural light.
13. Frosted glass fencing
Frosted glass fencing is a superb way to maintain privacy while letting natural light in. The hinged gates provide just seclusion without letting anyone peek through.
14. Tall plants
Tall plants like ornamental grasses make natural-looking boundary fences. You can grow them over a canopy frame for even higher garden privacy ideas!

15. Honey rattan weave
Honey rattan weaves make an attractive balcony privacy screen. The stylish design adds charm while being handy when it comes to adding a bit of concealment and shade.
16. Sliding screens
Keep your garden or patio area fenced with a sliding wooden screen. A glass screening panel, for instance, is great for allowing dappled sunlight in but not the heat of the day!

17. Colourful windbreak
A simple bit of summery fabric can make a colourful windbreak. This DIY approach can give you the privacy you need at your favourite yard picnic spot!
18. Bamboo planters
Bamboo screening planters make a lovely finishing touch to your existing privacy fence. If you can spare a few, make sure to add some on the sides of your garden room for a greener touch.
19. Woven panel fencing
For a beautiful look and total privacy, woven panel fencing is worth considering. It allows for light and airflow through the gaps, so it's great for you as well as for the neighbours.

20. Pallet fencing
Take up a DIY project, and build a fence from old pallets. And you can see loads more ideas for using used pallets here!

21. Black horizontal slats
Add a gate to your secluded garden fence using black horizontal slats. This style works especially well on driveways.

Have a look at this BillyOh Madrid Pedestrian Decorative Aluminium Garden Gate!
22. Hedge for privacy
Evergreen hedges are excellent garden boundary options. They give you a sophisticated and clean look, perfect for English garden settings.

23. Woven willow twigs
A garden screen made out of woven willow twigs is durable and naturally elegant. Garden willow screening is also great for adding to the feel of a magical fairy garden.

(Image Credit: Wikimedia Commons)
24. Natural wood stain
Wood stains come in a variety of colours, and they're suitable if you prefer a natural garden screen style. Opt for a low lustre shade so that you can match it with darker patio furniture.
25. Mesh fencing
Wire mesh fencing alone is too plain and doesn't provide enough cover in terms of privacy. But by covering it with bright flowering vines, you'll have a more discreet garden screen!

26. Vertical garden walls
To start, attach sturdy wall-mounted containers or planters to a vertical surface. Fill them with a mixture of potting soil and suitable plants, e.g. succulents or trailing vines. Ensure proper drainage and watering to support plant growth.
Place the containers close together for a lush and vibrant vertical garden. Doing so will also provide privacy and add beauty to your space.

27. Outdoor bamboo blinds
Privacy, shade, and a touch of natural elegance – bamboo blinds have it all! To set them up, measure the desired area and choose blinds that fit the space. Install hooks or brackets to mount the blinds securely.
Roll them down for privacy and shade, and roll them up when not in use. Regularly clean and maintain the blinds to ensure longevity and optimal functionality.

28. Stacked stone walls
Stacked stone walls create a solid and visually appealing barrier. To install them, prepare the foundation by levelling and compacting the ground. Apply a layer of mortar or adhesive to the foundation and begin stacking stones. Ensure proper alignment and tightness.
Fill gaps with mortar or smaller stones. Let it completely dry then cure before adding any additional weight or pressure to the wall.

(Image Credit: Wallpaper Flare)
29. Reclaimed wood partition
A reclaimed wood partition offers privacy in gardens while adding rustic charm. Its weathered appearance and sturdy construction also make it an excellent choice.
To install, measure the desired area and mark the placement. Secure vertical wooden posts into the ground. Attach reclaimed wood panels horizontally to the posts, ensuring they are evenly spaced. Use screws or nails to secure them firmly. Finish with a protective sealant to enhance durability and longevity.

(Image Credit: Wallpaper Flare)
30. Privacy screen made from recycled shutters
This DIY project focuses on repurposing old shutters. To set them up, measure the desired area and gather enough shutters to cover it. Attach the shutters to sturdy posts or a framework. Position them close together for maximum privacy. Paint or stain the shutters for added visual appeal and weather resistance.
31. Privacy curtains or drapes
Now, this approach offers versatility and style as privacy barriers in gardens. They can be easily adjusted for desired levels of privacy and shade. In a minimalist garden, choose lightweight, sheer fabrics to maintain a clean aesthetic.
Install tension rods or wire cables between sturdy posts or structures. Hang the curtains or drapes, ensuring they cover the desired area. Secure the ends to prevent excessive movement in the wind.

32. Climbing plants on a trellis
Climbing plants on a trellis provides a natural and lush privacy solution in gardens. They offer greenery and texture and can create a living barrier.
To add one, select a sturdy trellis structure that suits your space. Install it securely against a wall or in a freestanding position. Choose climbing plants suitable for your climate and attach them to the trellis. Regularly prune and maintain the plants for optimal growth and privacy coverage.

33. Ornamental grasses as a privacy barrier
Ornamental grasses are known for their tall and dense growth habit. To grow them for privacy, select varieties known for their height and density. Go for well-draining soil and plant them in a sunny location.
Water regularly and provide occasional fertilisation. Cut back dead foliage in late winter or early spring. Divide clumps as needed to control their size. Combining different grass species also helps add visual interest and enhances privacy.

34. Outdoor privacy screens with integrated lighting
These screens feature built-in lighting fixtures that enhance both privacy and ambience. To install them, measure the desired area and select screens that fit your space. Mount the screens securely, ensuring they are level and stable.
Connect the lighting to a power source, or you may utilise solar-powered options. Adjust the lighting to create an ambience while enjoying the privacy from the screens.

35. Water feature wall for added privacy
A water feature wall can create a visually and audibly soothing barrier. The flowing water acts as a natural white noise while providing a tranquil mood.
To install one, choose a suitable location, such as a corner or against a wall. Construct a wall with water-resistant materials and incorporate the water circulation system. Enjoy the added privacy and serene ambience of the water-feature wall.

Round-up
Well, there you have it – the best and most effective garden privacy ideas in the UK and from all around the web! Whether you choose bamboo and hedge for privacy or metal and modular fencing, you won't be short of ideas.
And if you liked this post, tell a friend or let us know in the comments. We'll keep coming back to update it when we find the newest and hottest outdoor screening designs!
Why not pair one of these awesome choices with a BillyOh garden building? Check out our wide range of products via the button below.
Shop Garden Buildings
FAQs