No one wants to deal with pesky neighbours and nosy passersby when trying to relax in their own backyard, right?
So if you're looking for garden screens and garden screening ideas – you're in the right place. Start enjoying your shed or outdoor living space without the hassle of people peering over your fence or walking up to your door. 
Check out our ultimate list of fun and affordable garden screening ideas to make sure no one ever bothers you again!   
1. Bamboo screens 
Lightweight, flexible, tough, and high tensile, Bamboo is just one preference when building a garden screen or fence. It's also super cheap, and bamboo fence screening adds a natural look that's particularly suited to sunny, warm climates.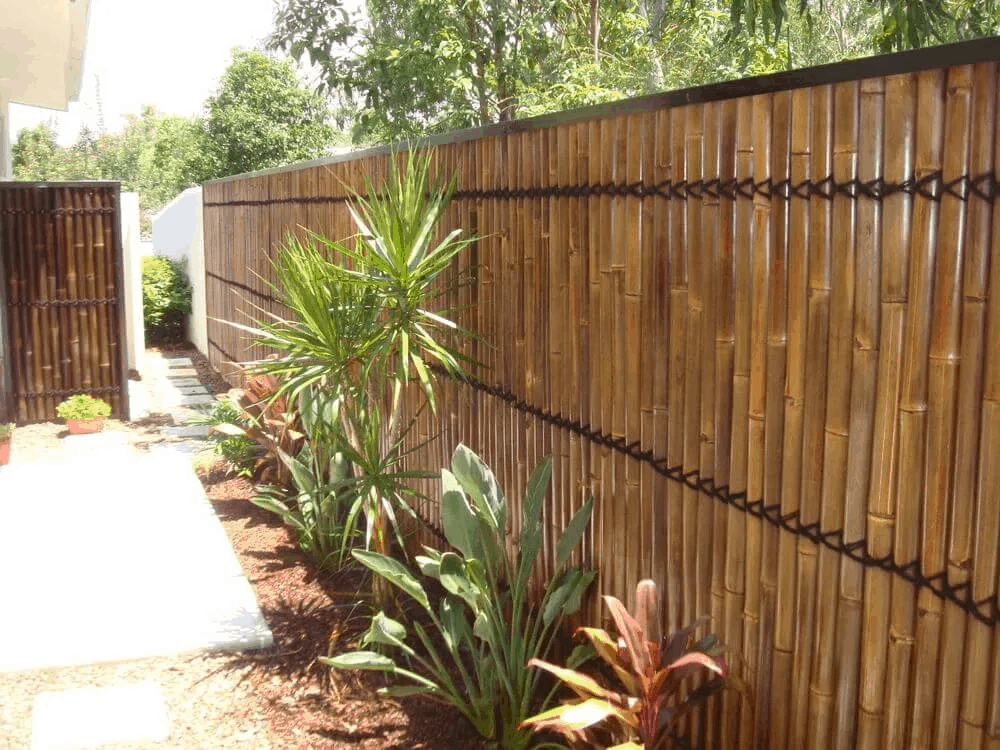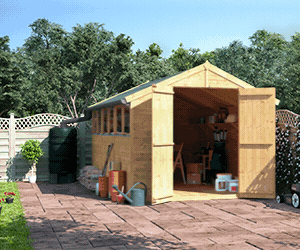 2. Gazebos
Gazebos are ideal for larger lawns and party areas. Screen yourself from bad weather, or opt for a model with draw across curtains for a place to nap in the afternoon!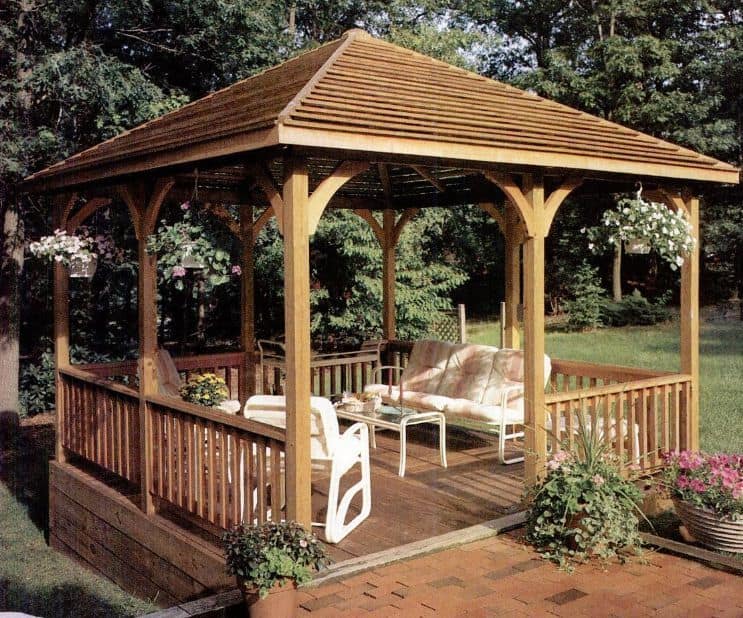 3. Pergolas
Pergolas make excellent shaded walkways, lounging or dining space in your yard. You can also plant and shape climbers for garden plant screening ideas.
4. Living wall
Create a living wall in your garden with wall-mounted planters. This natural screening idea works great on the front of a side entrance.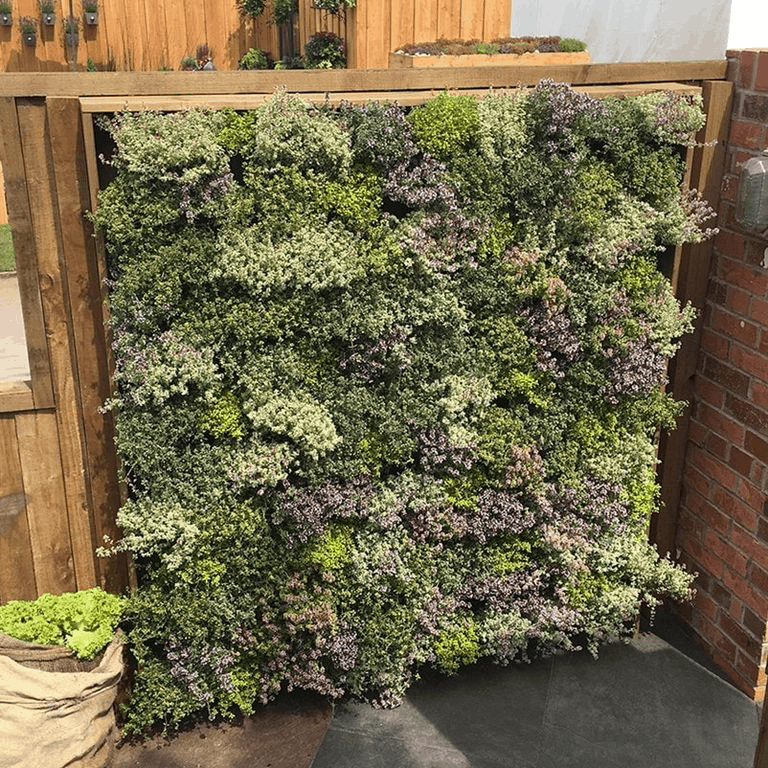 5. Metal screening
Build a screen that offers total privacy but plenty of style and lighting with laser cut metal screens. Then simply top it off with some rattan garden furniture, like in the picture below.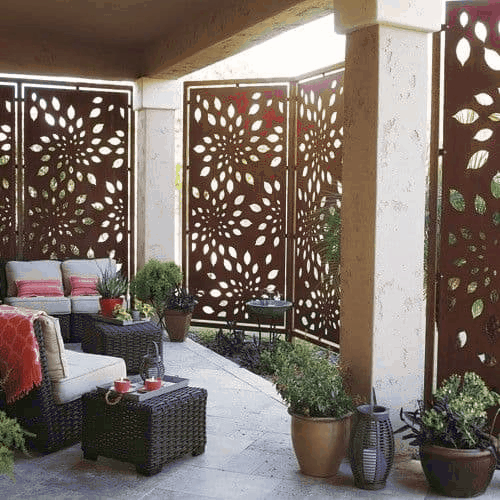 6. Horizontal wooden screening
Horizontal wooden screens create a nice partition, at the same time giving your climbers strong support to hold on to. Timber screening also ties in naturally with decking.
7. Wildlife wall
For an awesome idea for garden screening, stack up your old broken pots, waste wood, logs, straws, bricks and twigs to make a wildlife wall.
8. Trees
A huge flowering tree placed right outside your living room window offers a great look to the house and a natural screen. Allow yourself to look out and enjoy the view whilst screening you and your families from passersby.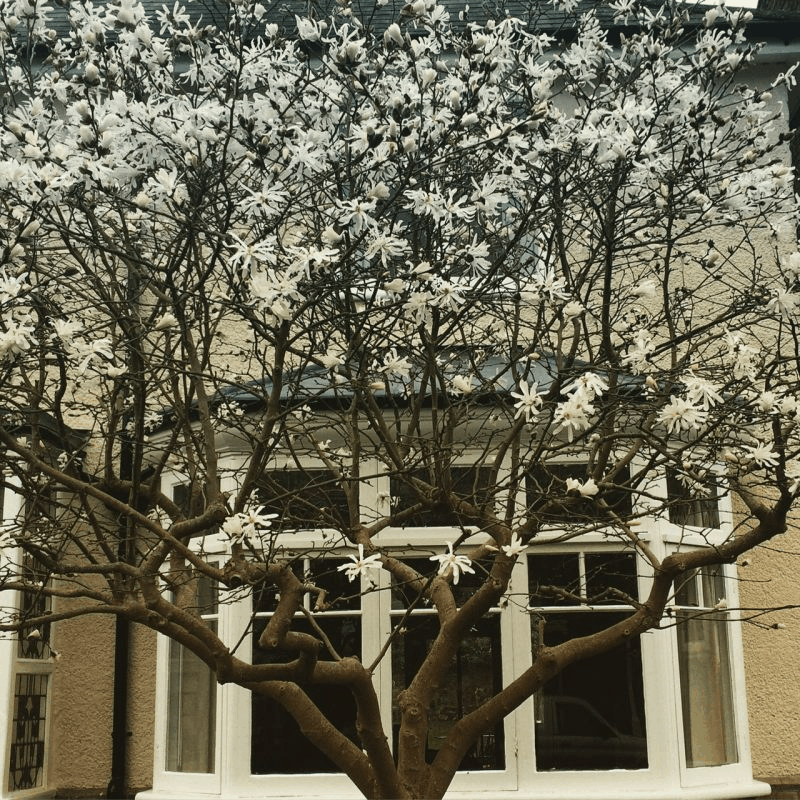 9. Gabion walls
Need a weather-proof wall for your garden? Then, the Gabion wall is the most efficient solution.
A Gabion wall is a cage filled with rocks or a mixture of sand and soil which offers both screening and a structure on which to raise flowerbeds. Neat!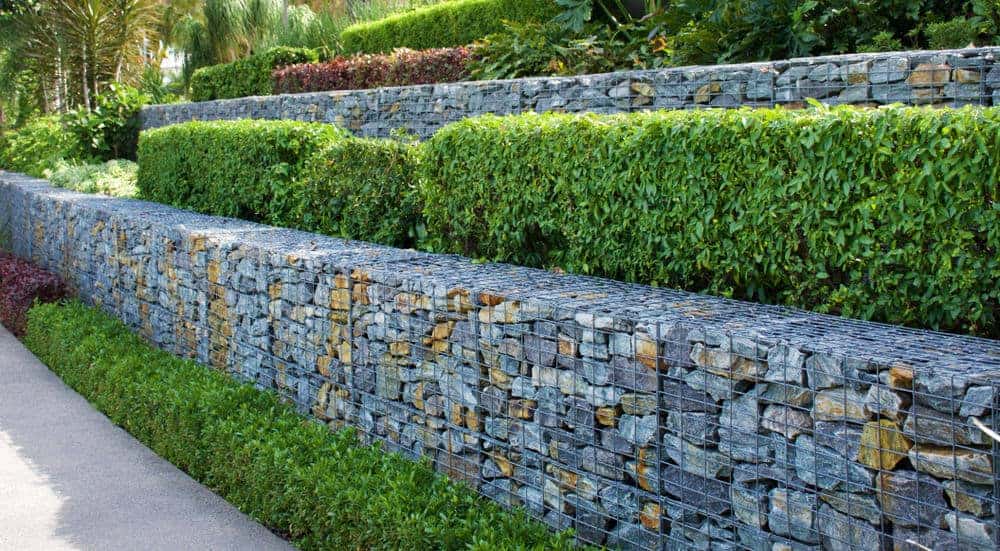 10. Reed roll
Reed rolls make great privacy screens and the space for wall-mounted plants. You can also easily attach reed screens to existing fence posts with staples or ties.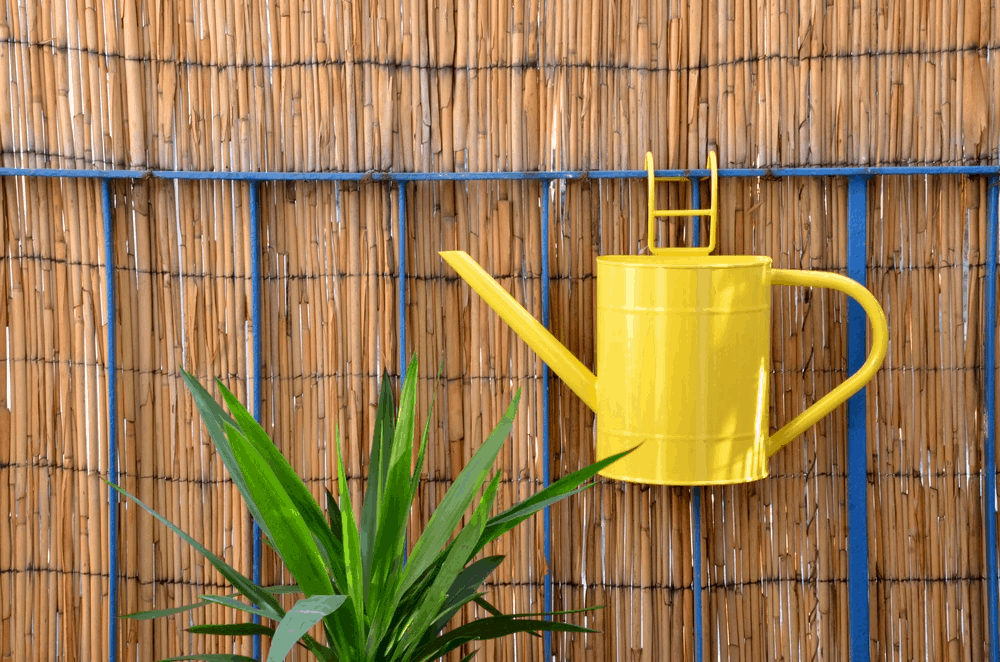 11. Trellis-style fencing
A wonderful way to showcase your flowering vines, Trellis-style fences offer excellent privacy and cool fencing.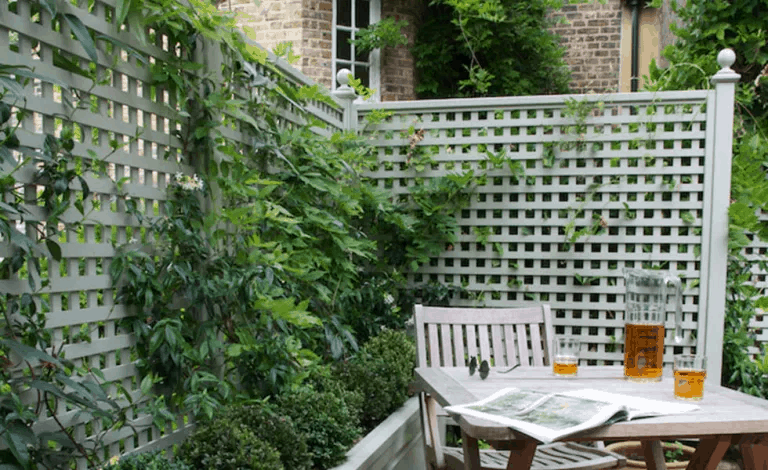 12. Artificial plant panels
Artificial plant panels bring you a nice way to cover unpleasant looking walls or fences. Try weaving in some real climbers into it to give a natural look.
The natural look and colour can also keep you shaded and screened without blocking out natural light.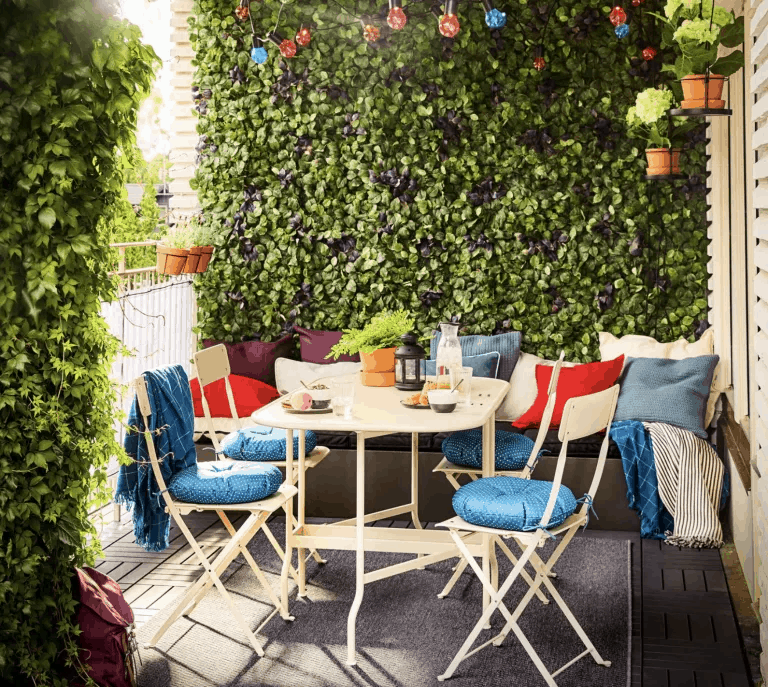 13. Frosted glass fencing
Frosted glass fencing is a superb way to maintain your privacy while bringing in natural light. Slide across or hinged gates offer privacy without letting anyone see in.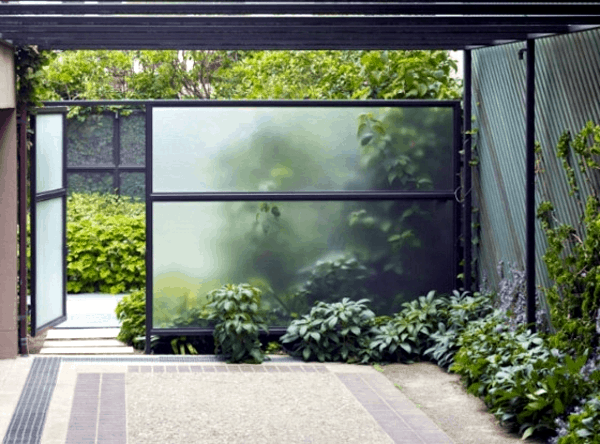 14. Tall grass
Like to have a natural fence? Plant tall grasses. Tall flowers and especially grasses can even be used to grow over a canopy frame for high garden screening ideas!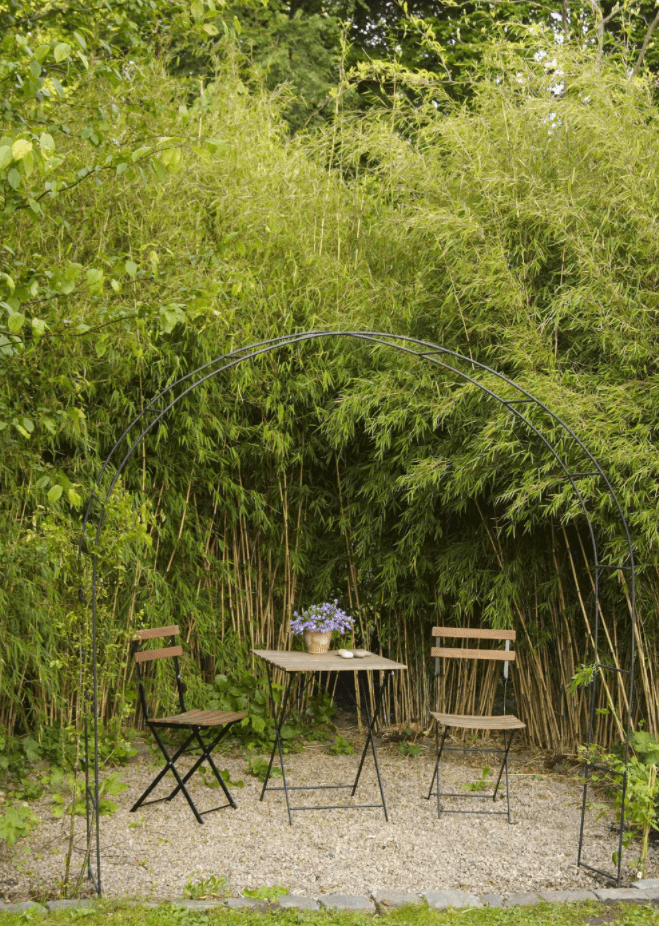 15. Honey rattan weave
If you want some garden screening from the neighbours, then the right choice to give balconies and outdoor spaces a trendy look could be honey rattan weaves. Add a new breath of life to your outdoors.
16. Decorative metal accents
Laser-cut metal decorative sheets can make stunning wall accents to your yards and also act as an acoustic screen if you live near a road.
17. Sliding screens
Keep your garden or backyard fenced with sliding wooden screens. These screening panels in the picture below are great for allowing dappled sunlight in but not the heat of the day!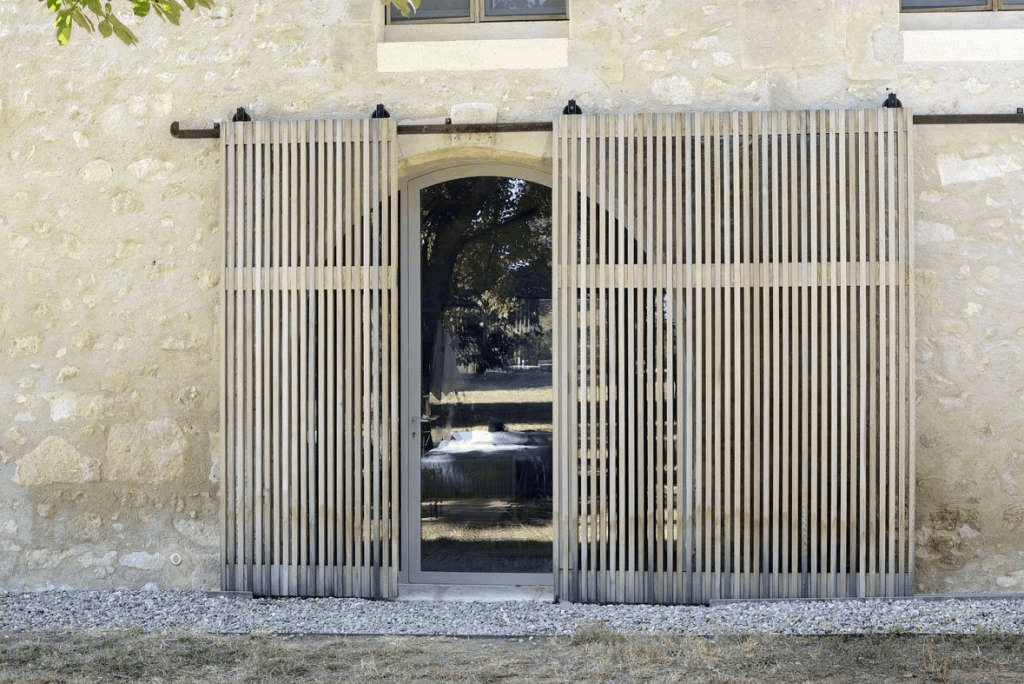 18. Free-standing screens
Very commonly used in commercial pools and resorts, these free-standing screens are portable and durable. Bamboo and willow garden screening tend to work especially well.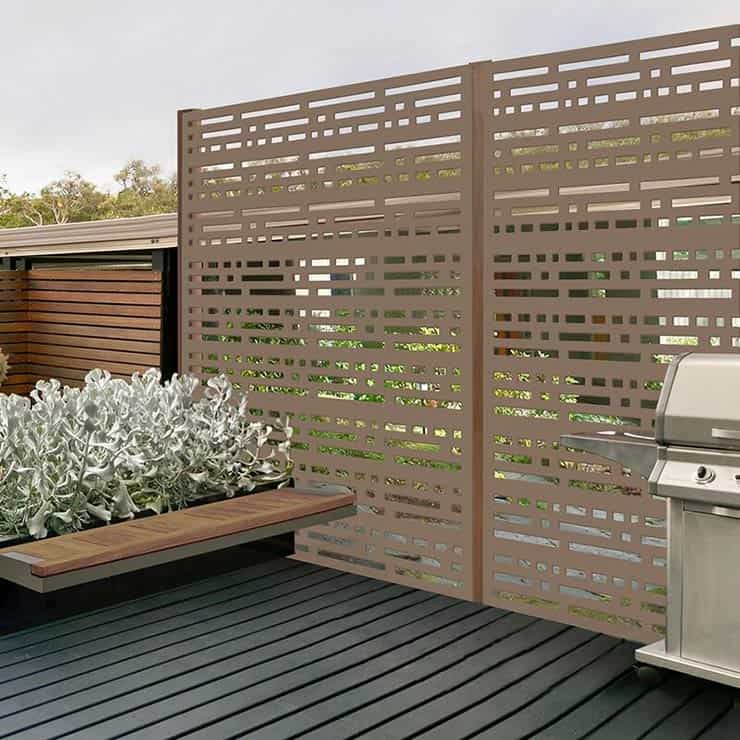 19. Lattice screens
Lattice screens can double up as wall-mounted planters and privacy screens. So add a touch of greenery while allowing for some shade.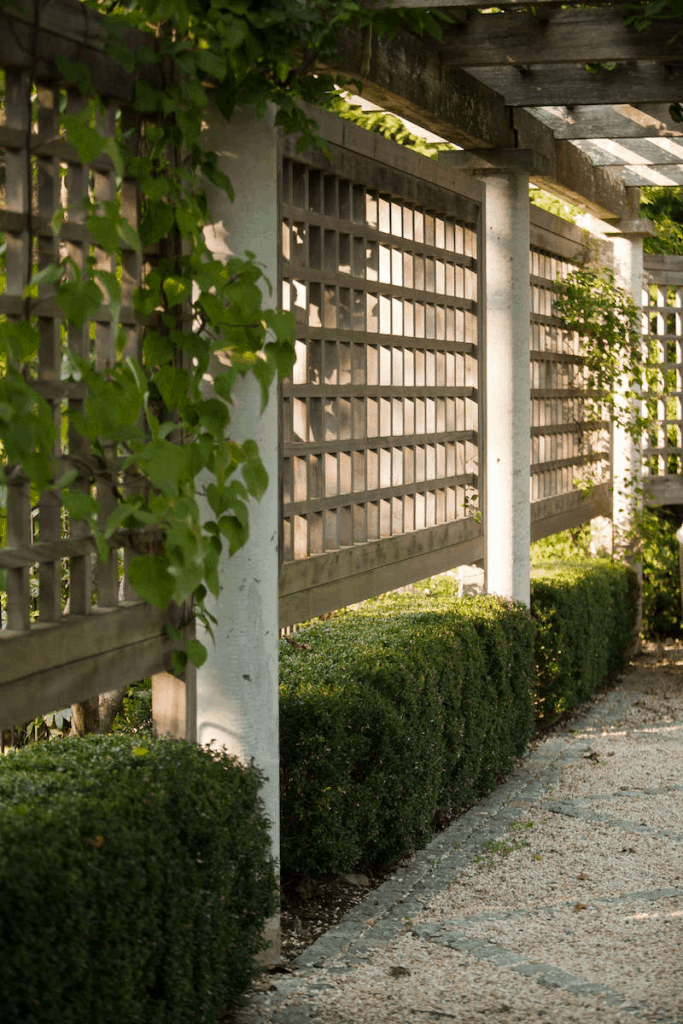 20. Hedge screens
Border your pools with some cool bushes instead of the usual fences.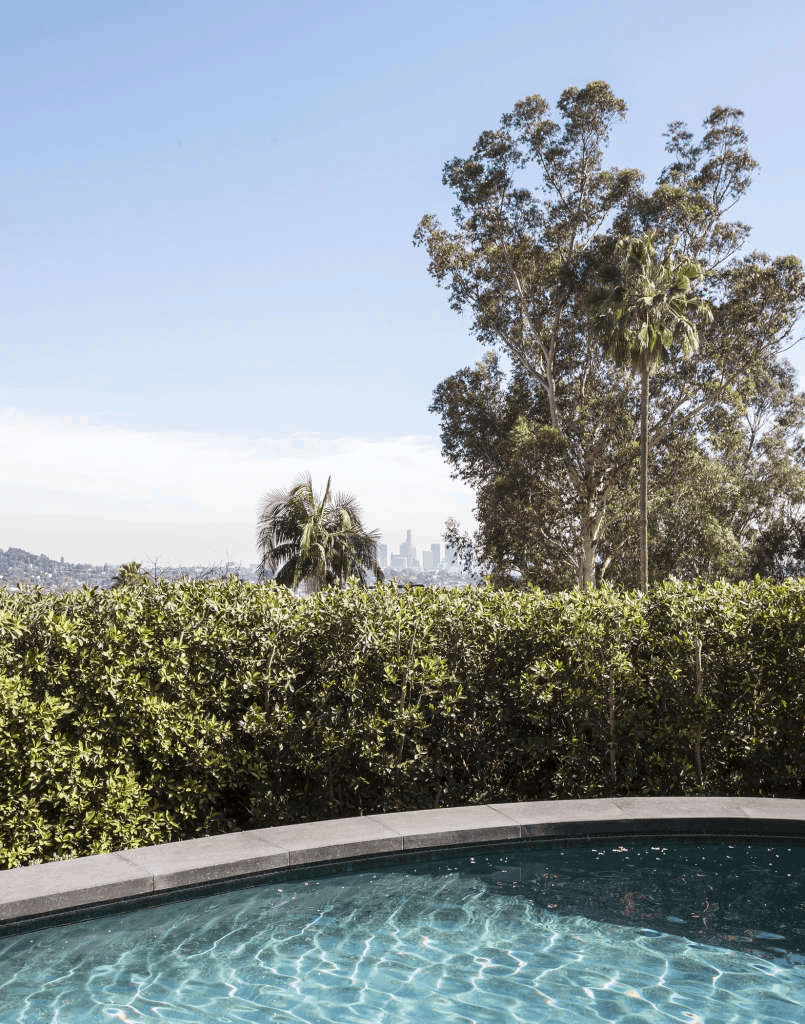 21. Colourful windbreak
A simple bit of summery fabric can make a colourful windbreak, giving you the privacy you need at your picnic spot.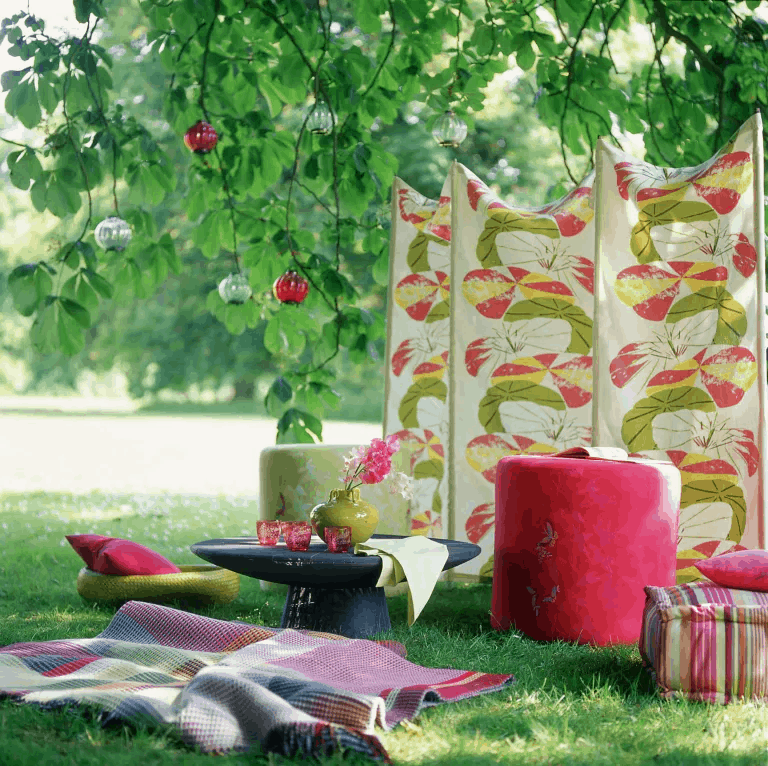 22. Bamboo planters
Bamboo screening panels can keep your garden cool and provide natural fencing.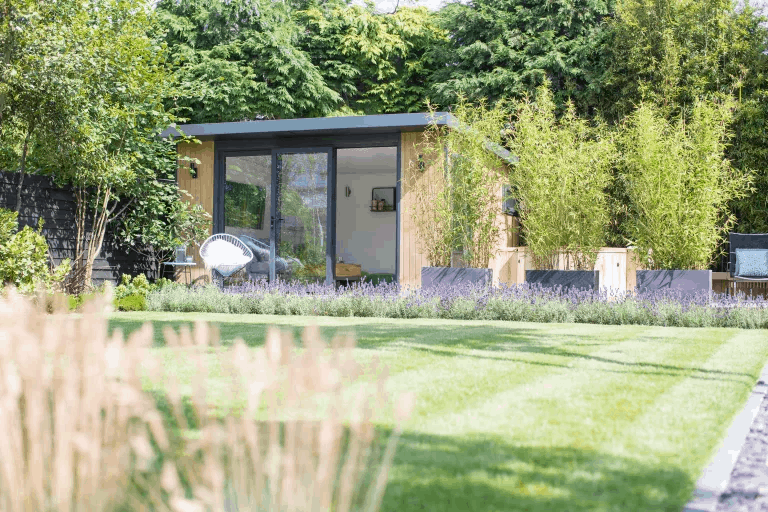 23. Slatted fence panels
Slatted fences are not only trendy but also nature-friendly.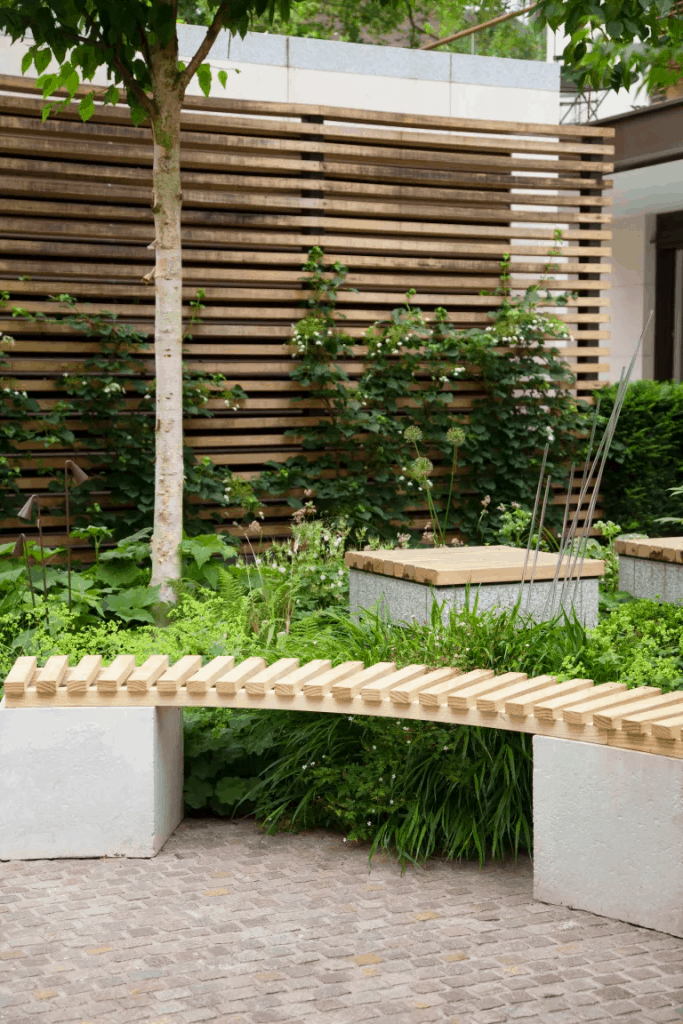 24. Woven panel fencing
For a beautiful look and total privacy, woven panel fencing is the best. It allows for light and airflow through the gaps so it's great for you and the neighbours.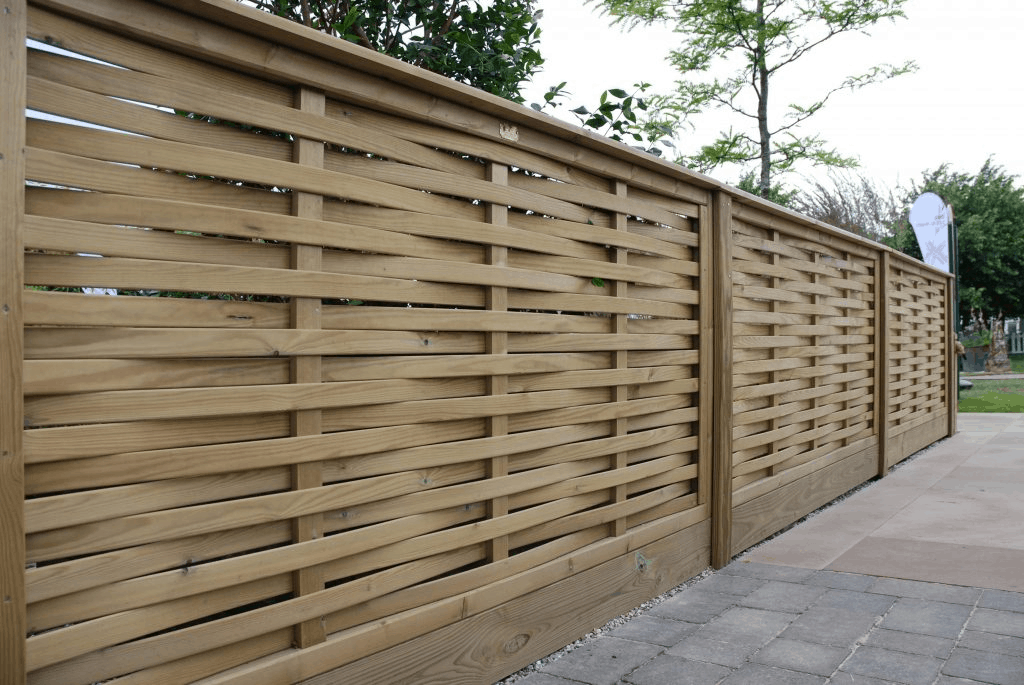 25. Pallet fencing
Take up a DIY project, and build a fence from old pallets.
And you can see loads more ideas for using DIY pallet right here.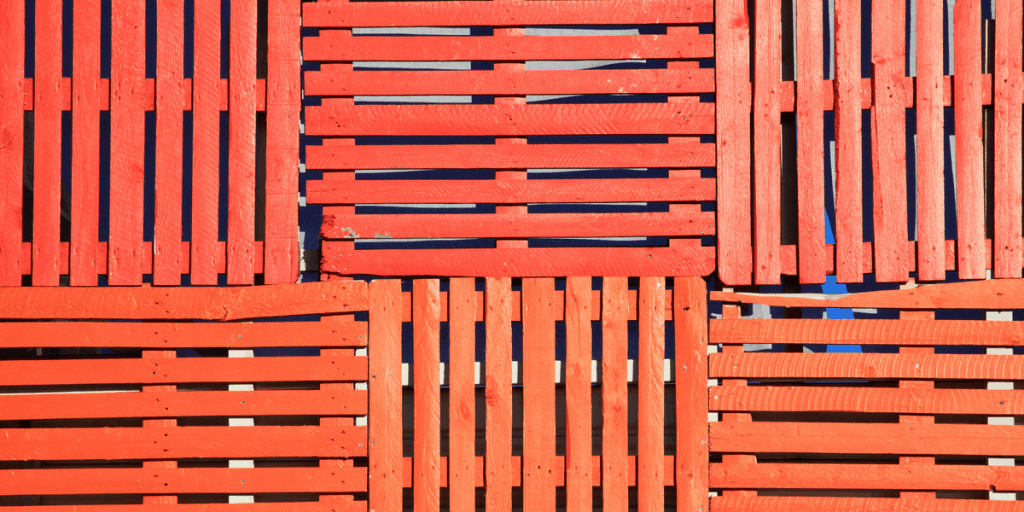 26. Black horizontal slats
Add a gate to your fence or Gabion wall using black horizontal slats. This style works especially well on driveway gates.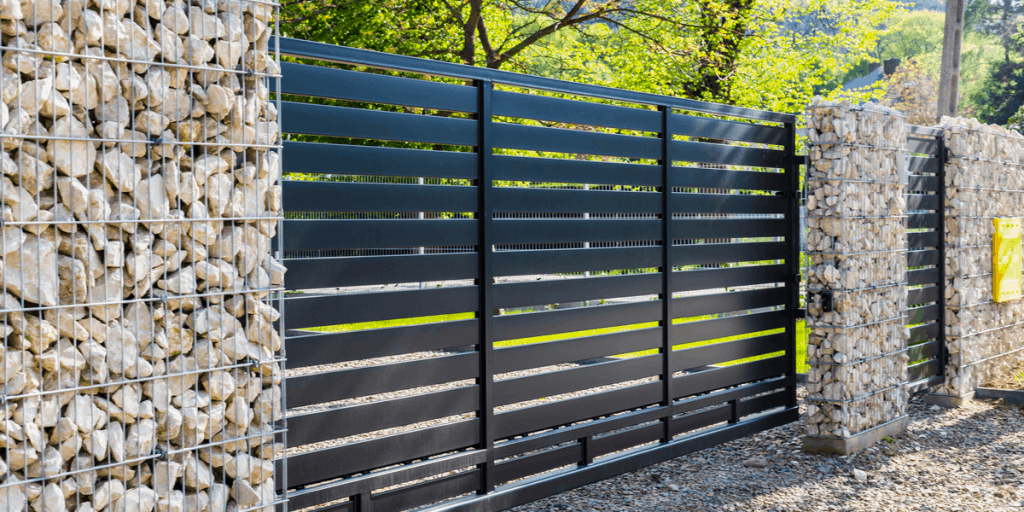 27. Privacy hedging
Hedges are evergreen screening agents. They give you a sophisticated look and act as a natural privacy screen.
28. Woven willow twigs
Fences made out of woven willow twigs are durable and elegant. Garden willow screening is also great for adding to the feel of a magical fairy garden.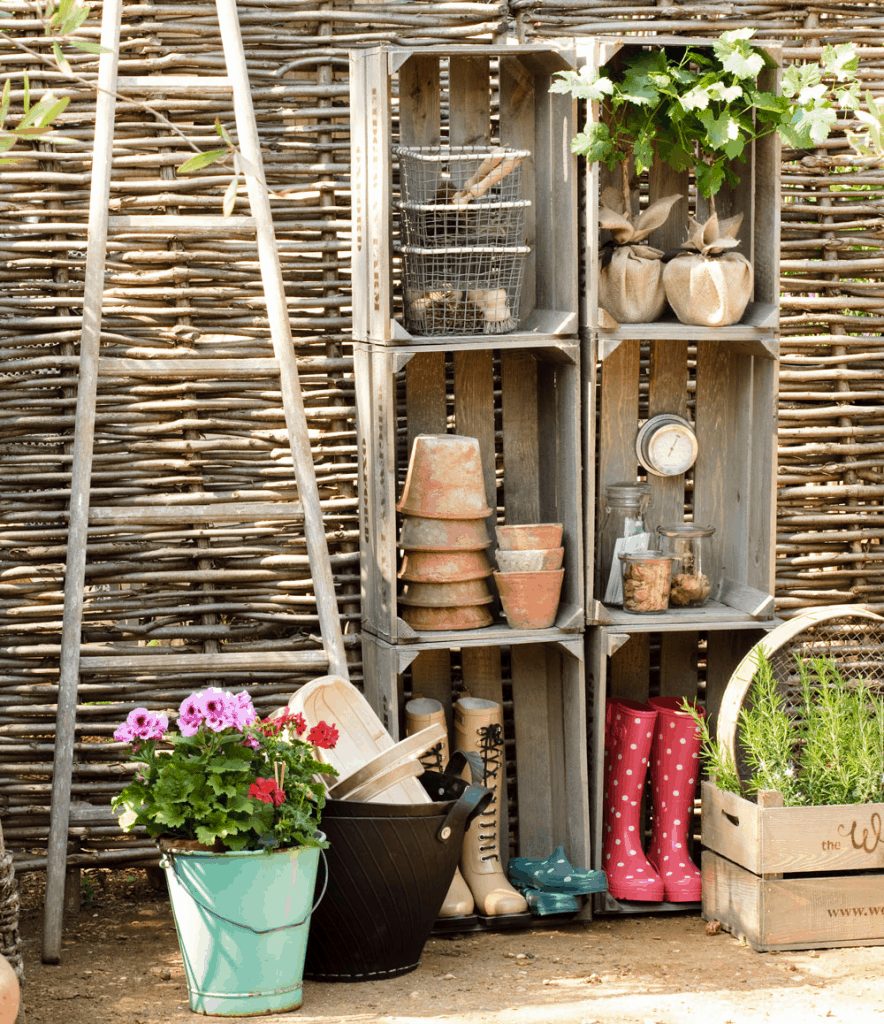 29. Vertical plank screening
For people who want plenty of light and a bit of privacy for their own corner, vertical planks are just the thing and they offer a great, natural alternative to metal garden screening.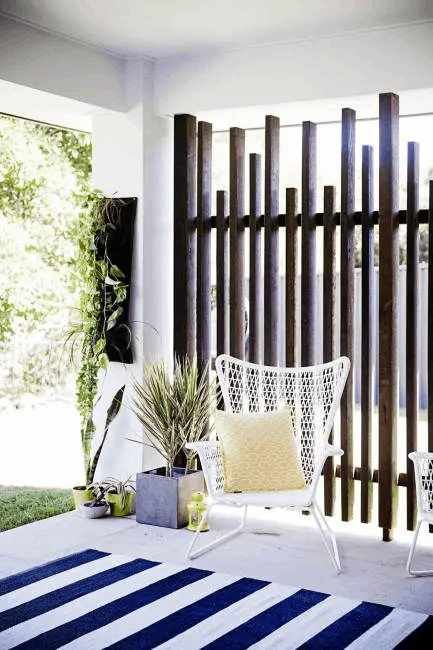 30. Stained horizontal screening
Stripes have a way of elongating a small garden. A screen made with horizontal panels can visually help enlarge your space.
The gaps between the planks keep your patio well lit, at the same time, well-ventilated.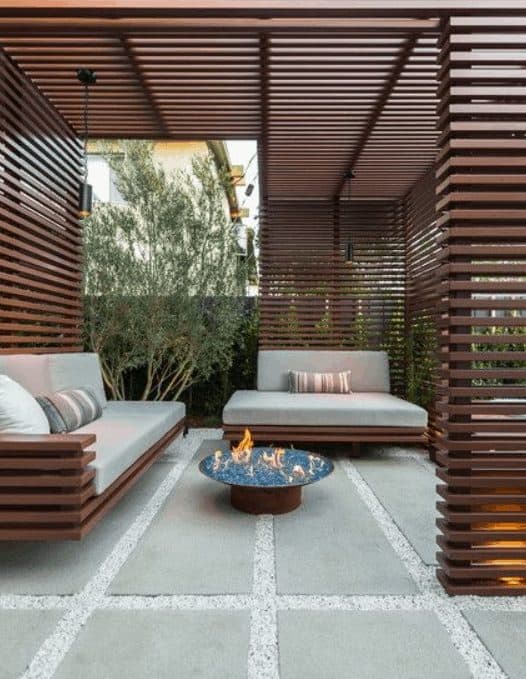 31. Natural wood stain
Wood stains come in a variety of colours and they make an excellent choice if you prefer a natural-looking garden screening style. This design features low lustre, matching the shade of garden furniture.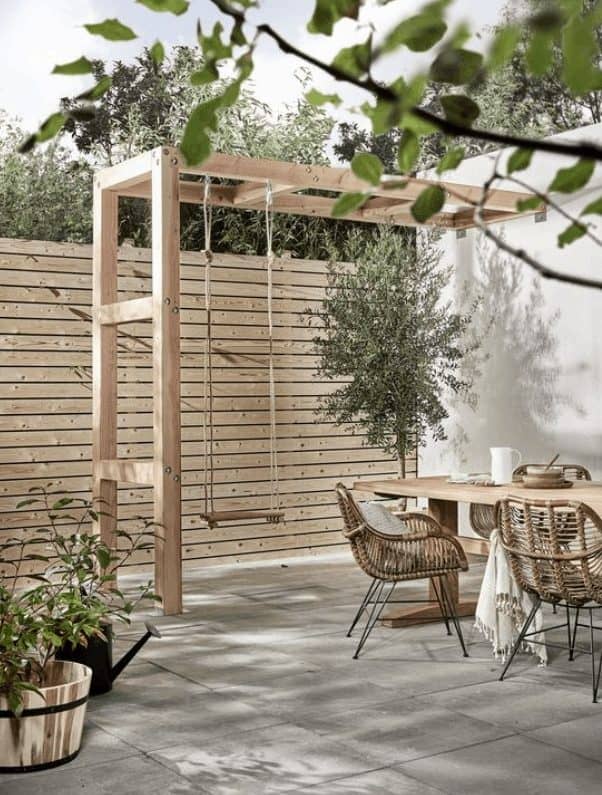 32. Beams and balustrades
The style of this garden screening lays the wooden planks sideways, making the screen thicker. At the same time, it leaves wider gaps between planks to let light and air in.
This concept works best if your wooden screen is secured atop a stone wall.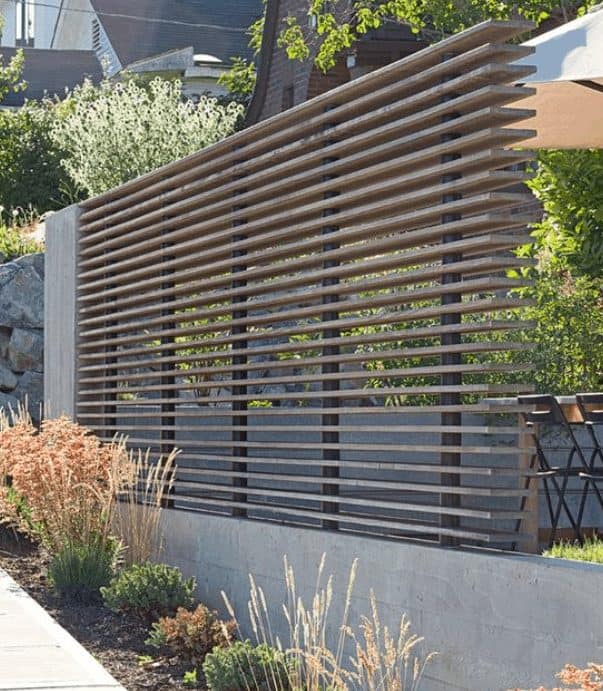 33. Go for frosted glass screening
Have a look at this full-sized frosted glass screen with wooden sides. The timber base adds up robustness to the overall structure of the glass screen, withstanding harsh weather conditions.
Plus, the design helps to secure the tempered, shatterproof, frosted screen.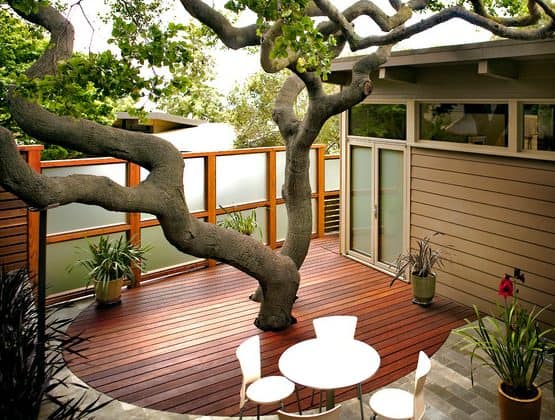 34. Faux bamboo
Faux bamboo may do the trick if you wish for a low-maintenance garden fence. Be sure to choose high-quality bamboos that give an authentic impression.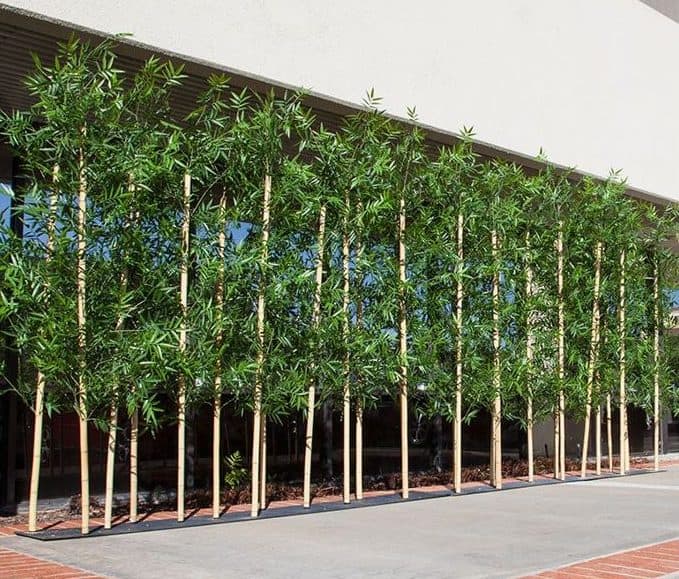 35. Eco-mesh and flowers
Wire mesh fencing alone is too plain and doesn't provide enough cover in terms of privacy. But covering it with bright flowering vines, you'll have a more discreet garden screen.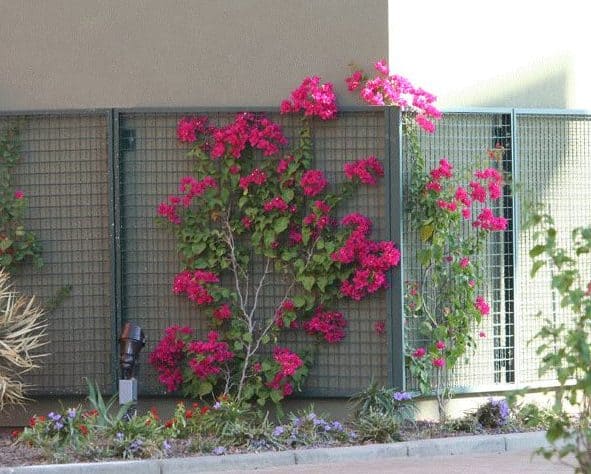 The Round-up
Well there you have it – the best garden screening ideas in the UK! And from all around the web. So whether you choose natural garden screen solutions like bamboo and wicker or metal garden screening, you won't be short of ideas.
And if you liked this post, tell a friend or let us know in the comments. We'll keep coming back to update it when we find the newest and hottest garden screening ideas, we promise.
Why not pair one of these awesome screen ideas alongside a BillyOh garden building? Simply check out our wide range of products via the button below!
Shop Garden Buildings