Garden privacy is a must, and especially for those who spend most of their time in their outdoor space lounging on outdoor sofas and the like (no judgement here!). This also lets you enjoy endless hours in your backyard without worrying about too much sun exposure, and of course, curious passersby.
If you're looking for clever ways to create privacy in your garden, then this blog post is the place to go. We've curated a list of different ideas, as well as pictures to inspire you to create that perfect private garden experience.
These ideas (garden shade ideas) will also come in handy if you wish to add a shady spot to your garden. Let's get started!
1. Tall wooden fence
A simple choice to maintain your privacy in your garden.

2. Fence planters
Use a more natural screen for your garden with some tall plants and still maintain some colour.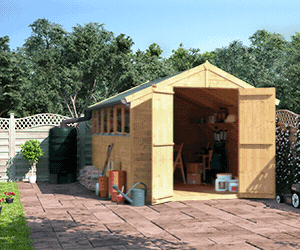 3. Black planks
For a more modern look, try black vertical fencing for your garden.
4. Hedge and wood
Plain wooden screens make a great backdrop for an arrangement of well-pruned trees.

5. Light wood
Light wood, alongside pale tones of grey and white, creates a feeling of space.
6. Beautiful bamboo
Give your garden an oriental feel with bamboo fencing. It not only looks great; it's strong and durable so won't need replacing too often.  

7. Bamboo privacy screen
Bamboo plants also make great privacy screening as they're evergreen so won't lose their leaves in the winter!

8. Small fence
Small fences allow you to separate distinct areas of your garden for different uses, giving privacy to your seating area.
9. Cosy deck
A modern decked area with a gazebo helps provide privacy from overlooking neighbours.

10. Pretty privacy
Trellis with climbing flowers and plants make an attractive privacy screen that changes with the seasons!

11. Pebbles and fire pit
Black fencing gives a modern feel to this small garden featuring wooden benches and a fire pit. All the privacy you need for stargazing at night.
12. Recycled roof parts 
Get creative with this low-budget solution for your privacy issues. Recycle sections of roofing to create a brand new wall!
13. Tree line
A classic but attractive way to keep your backyard private.

14. Modern garden screen
Light-coloured, contemporary-style screening gives off Mediterranean garden vibes. 
15. Hanging plants
Hanging plants bring some life to what was a plain fence. 

16. Wooden pergola
Pergolas give added shade and privacy to your garden. 

17. The sanctuary
Go for a pergola with side panels so you can grab a comfy seat in a cosy corner whilst maintaining your privacy and garden screening.
18. Tall fence with trellis
Add some life to your fencing with some hanging plants. 

19. Wood to extend wall
Use wood panels to extend your low wall for extra privacy. You could even use some leftover panels to hide that unsightly shed!
20. Vertical garden wall
A way to remain connected with nature while gaining some privacy in your backyard.

21. Wooden planks
Good for gaining privacy or for separating spaces in your garden.
22. Short wall with trees
Give your boundary some extra height by adding trees and bushes. 
23. Privacy panels
For extra privacy without having to change your fencing, add some wooden privacy panels and gain further some shading. Look for some water feature garden ideas to add a focal point to your space.
24. Small corner
Grow some climbing plants on your wooden screen for that extra bit of privacy. 

25. Black fence
Black fencing gives a garden a more contemporary feel. Add some lighting so you can enjoy your garden space into the evening.
26. Feline friendly rooftop
If you have cats, they're gonna love this one. Plus it adds some extra shade to your rectangular garden!

27. Curtain
A simple, budget-friendly solution if you want to add some privacy to a small space.

28. Flower dividers
You can always add some colour to a simple privacy divider with climbing flowers.

29. Raised garden bed with privacy wall
Add raised garden beds along your fencing to bring it to life. 
30. Curtains in the middle of garden
Choose whether to separate your seating area from the rest of the garden with curtains and large umbrellas.
31. Consider frosted glass
Frosted glass can make things feel more private on your patio or rooftop. It creates a modern border while giving the illusion of space.
Decorate it with stylish outdoor furniture and decors for a more modern feel to the plot.

32. Go for a woven steel screen
This concept features a woven steel screen, painted chocolate brown, surrounded with native plants. The flat-bar pedestrian gate contrasts the garden's spacing and pattern.
33. Or opt for yellow cedar boards
For a house that's close to the road and neighbour's garage, screening is key. These cedar lattice boards provide the best screening solution!
The design of this privacy screen covers the garden at several levels.

34. Colourful dividers for versatility
These stylish dividers create a subtle screen between areas on your patio or the plot next door. The woven cord screen is inspired by the Venetian islands, giving off a pop of brightness to the space.
35. Brick walls with ornamental panels
The corner part of this garden is a little more open – thanks to the solid brick wall and ornamental panels (half-and-half affair). The decorative panels allow light to pass through while offering a sense of privacy to the garden.

Round-Up
This post has shown that privacy doesn't have to cost the earth and can be achieved, even on the smallest of budgets.
We'll be updating this post with more ideas in the future, so make sure you follow us on social media and you'll never miss an update.
Shop Rattan Garden Furniture