Garden room ideas are key to adding living areas without the hassle of a full-blown extension. Not only can one add value to your property, but it can also provide a functional entertaining space.
If you're considering setting up one in your green space, there are plenty of designs to choose from. Use these inspirations, and then come up with the perfect garden room extension idea. Let's dive in!
Garden Rooms and Design Ideas
Garden rooms, in essence, are garden buildings built from a variety of materials, like wood. These structures provide extra living space or as a house extension. With that, they make an ideal use for a range of purposes, such as a pub, gym, playroom, or guest room. The blank canvas that each unit provides also allows you to customise the space to suit your taste.
Here's a list of garden room ideas to help you get started:
1. Garden room living space
A garden room is a versatile and practical option if you're looking to extend your outdoor living space. Add comfortable furniture, plus plants and greenery to inject life into the space.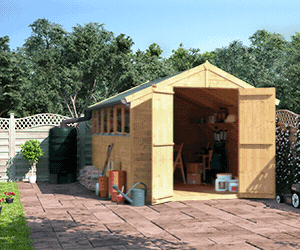 2. Contemporary retreat
Turn the original building into a stylish retreat you'll love spending time in. For fixtures, consider pieces with clean lines, e.g. a sleek sofa and pendant lights for a warm ambience. Add some personal touches with modern hints, such as artwork or decorative items.

3. New home for the greens
Make the most of windows and natural light to make your own grow house room close to your house. Build shelving units to maximise the space and keep it clutter-free. Tuck in a little chair in the corner of a window seat, if the space allows, for a quick hideaway.
4. Guest bedroom
Friend coming over but no extra bedroom at home? No problem! Your garden room makes a suitable 'temporary home' for your beloved guests. Make sure it's well-ventilated and insulated for year-round convenience.

5. Children's playhouse
A budget-friendly way to keep the children busy and entertained! Add colourful decor and child-friendly furniture like bean bag chairs. You'll also want to add plenty of storage for toys and books.
6. Personal workout area
Garden gyms offer many benefits, including convenience, privacy, and cost-effectiveness. You can exercise whenever you want. Even better, focus on your workout without distractions. And say goodbye to expensive gym memberships.
Transforming yours into one is a great investment in your health and well-being, that's for sure!

7. Lounge area
Isn't it nice to have your friends gather in the garden and enjoy a beautiful day? Bad weather can be a bummer, but it ain't if you have covered accommodation to offer, such as a lounge area.
Complete the look with comfortable seating, soft lighting and decors for a cosy vibe.

8. A combo garden room
A small shed beside the garden hot tub is a smart move, keeping the house dry and clean. Alternatively, you can use a gazebo concept such as the one below. Unlike an enclosed garden room, this offers an open space and a 360° view of the outdoor space.

9. Garden office
If you're working from home, it's time for you to have a separate and dedicated workspace. A garden office can offer more flexibility and a work-life balance. It also adds value to your property if you decide to sell your home one day.

10. Shipping container conversion
With some little tweaks, an old shipping container can have a very useful second life. With a few brushes of paint, you can transform it into a functional single-storey extension.

11. Pergola addition
Pergolas provide a shaded area for outdoor activities. They also make a good home for climbers, creating a natural and inviting atmosphere. Adding one to your garden can create a comfy and stylish area for relaxation.

12. Shed storeroom
Converting your existing space can be a cost-effective way to add extra storage. It's a smart move that adds both functionality and value to your property. Feel free to consider this if you don't mind giving your outdoor tools and equipment a better home.

13. Zen garden lounge
This concept is perfect if you want to have one of those garden Zen retreats on the Internet. Fill the space with varieties of houseplants and maybe a mini rock fountain to complete the vibe. Take advantage of the windows and soak up all the natural sunlight as much as possible – the greens will love it, too!

14. Studio room
This is a brilliant idea if you wish to pursue your hobbies or work. The same goes for artists, musicians, writers, or those who need a quiet and inspiring space to create.
Top tip: If you don't like the look of wood, bright and airy paint colours like this will do the trick!

15. Extended patio nook
A tall roof with hanging plants and a couch for some deep conversations in the backyard. What a great way to spruce up your corner garden!

16. Outdoor kitchen
Not only will this expand your living space, but it also allows you to enjoy outdoor cooking more often! A kitchen extension can also encourage more outdoor activities, especially during summer.
17. Contemporary receiving area
Have those long windows and amazing garden views and the nearby mountains? Invest in quality pieces and furnish a room where guests can have a 5-star hotel experience.

18. Makeshift poolhouse
Who would've thought that this rustic classy pavilion is made of reclaimed timber? Not only does it provide a year-round al fresco dining, but also an entertainment space by the pool.
Talk about luxury!

19. Garage conversion
Need that extra space for your vehicles and bicycles? Converting it into a garage can provide a practical solution. It protects your vehicles from the elements and keeps them safe and secure.
20. Art-focused studio
This can help improve your productivity, allowing you to produce higher-quality art. It also allows you to keep your materials and equipment separate from your living space. This reduces clutter and increases organisation.

21. Garden salon
The idea of opening a garden salon in the UK is hotting up. And a garden room is preferable as it gives you a permanent place to run this kind of home business. If you're interested in this concept, this Log Cabin Beauty Salon guide will come in handy!

22. Gaming room
Among the popular garden room ideas is the garden games room. It's a special space designed to accommodate games and entertainment in one place. Make use of what you already have, such as a shed, log cabin or a summer house even.

23. Movie house
DIY cinemas are pretty easy to set up, especially if you have an existing and ready-to-use garden room. There's also nothing quite like watching a movie in your own backyard, and it's a luxury.

24. Music room
By soundproofing the room, you can ensure that the sound quality is optimal. Most importantly, you can fully immerse yourself in your music. If the space allows, enjoy the benefit of hosting intimate music events with loved ones.

25. Garden pub
A backyard bar puts a different take on what you can do to transform your garden room. Instead of mowing the lawn this weekend, wouldn't it be nice to have some nice drinks with your pals instead?

Round -Up
So, there you have it! A range of garden room ideas and inspiration to transform your outdoor space.
By adding a room to your garden, you increase the functionality of your home. It also doesn't have to cost the earth; a bit of creativity and a reasonable budget are all you need. And feel free to check out our range of BillyOh garden rooms via the button below.
Shop Log Cabins
FAQs