Are you planning to invest in a smoker grill soon? Then you don't want to miss our very own Kentucky smoker!
Sure, you can make good smoked meats on a charcoal grill or gas grill. But when talking about tender, fall-off-the-bone ribs, pork, turkey, or even salmon, what you need is a smoker grill.
With a top-quality BBQ smoker and a little practice, you can make regular meat into juicy, mouth-watering, and smoky barbecue. You might even forget that restaurants exist!
Simply put, smoke equals flavour. No wonder why many BBQ lovers to use BBQ smokers.
To help you choose the perfect smoker grill, we've listed the important factors you should consider before purchasing. And to make your buying decision a lot easier, we also included one of our best picks for smokers: the BillyOh Kentucky.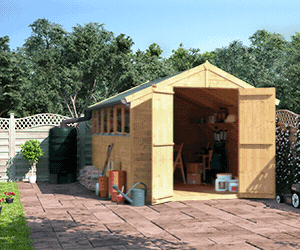 Trust us; everything that you're looking for in a smoker grill is in the Kentucky smoker. Let's get started!
Key takeaways:
Smoker grills are one of the best cooking apparatuses for barbecue. They allow you to cook food at low temperatures in a controlled, smoky environment.
BBQ smokers are known for their tried-and-true method of low and slow barbecue.
They come in a variety of shapes, sizes, and fuel types.
Smoked meat is much moister and more flavourful.
There's a broad type of smokers available on the market, each having its own properties and cooking capabilities. So, there are several things to remember when shopping for a smoker to help you avoid stress later.
Here at BillyOh, we've been writing about bbq grills for a while now. And with all that information on offer, it can be hard to know where to start. So we've created this BBQ learning hub for you!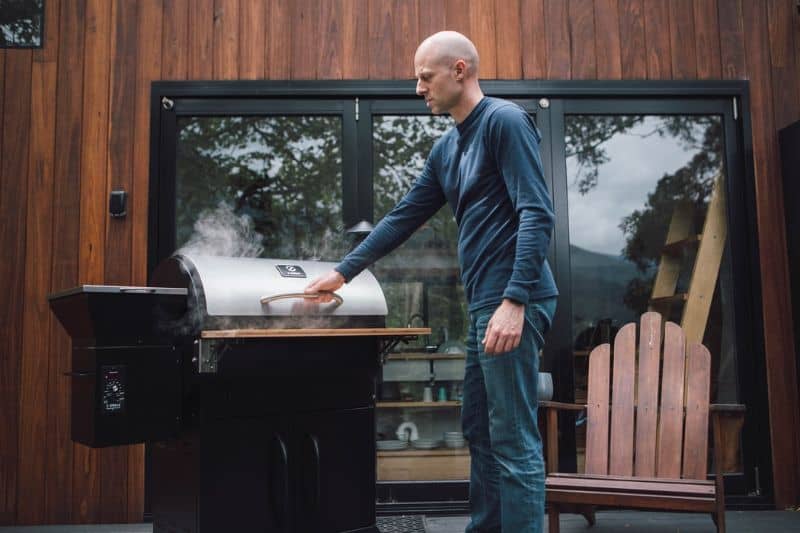 What Is a Barbecue Smoker?
To know how you can benefit from this BBQ tool, let's start with the basic question: what is a smoker? Smokers usually come in horizontal cooking chambers.
BBQ smokers are exactly what they sound like. As the name implies, they are designed to smoke different types of meat.
But unlike a traditional grill (e.g. charcoal and gas), they cook food at low temperatures for long periods of time. The result? Full on smoky flavour.
If there's any piece of cooking equipment that can hold a low temperature for several hours and create smoke, it's an outdoor smoker.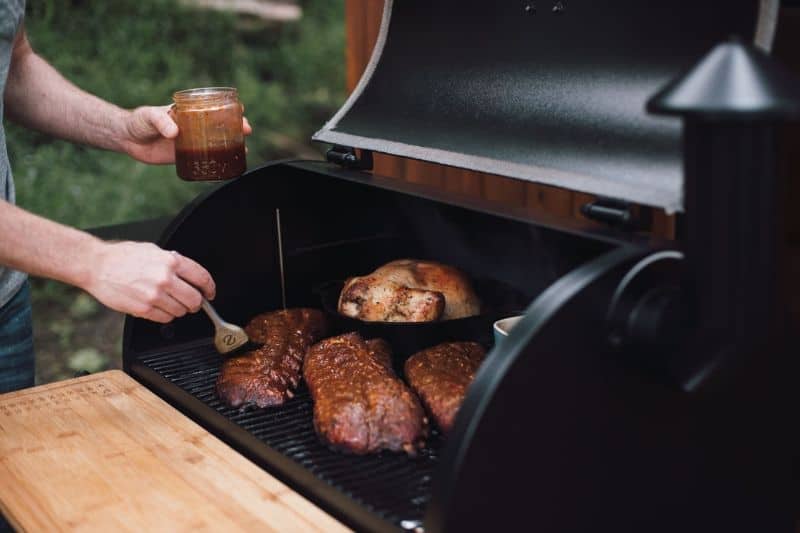 The benefits of BBQ smokers
The highlight of a BBQ smoker is the unmatched flavour it provides. Smoke carries the flavour from evaporated fat and caramelises sugars produced by burning wood while imparting a unique taste.
Smoking slowly (slow cooking) basically vaporises fat as well as breaks down gelatine and collagen. This results in huge amounts of liquid that get trapped within your meat as juices. Plus, this allows you to turn cheaper meat into BBQ magic!
Did you know that competition-level smokers can feed an army? So a large one should be enough to at least cater lunch and dinner at a family reunion!
Lastly, BBQ smoking is fun! Grilling gets dinner so fast, but with smoking, you can challenge yourself a little more (and plan ahead!).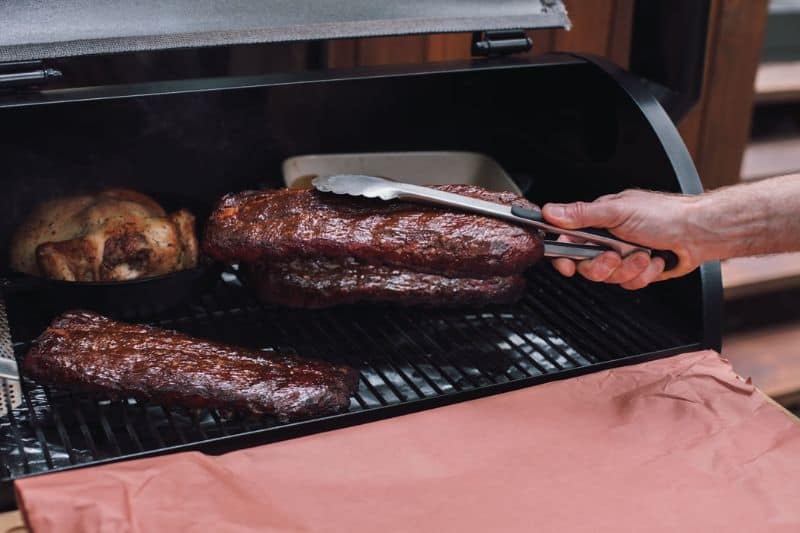 How does a smoker work?
There are two methods of smoking, and these are: dry and wet.
Dry smoking uses indirect heat to cook the food. Smokers usually have two chambers:
One large chamber for food
A smaller offset chamber for fuel or heat sources (e.g. charcoal, gas, or electric)
One great advantage of dry smoking is you can cook more food at one time compared to most wet smokers.
In contrast, wet smoking uses water to add moisture to the smoking process. This helps keep the temperature consistent and may help keep food tender.
They feature cylindrical barrel smokers about 2½ to 3½ feet high and about 18 inches in diameter for wet smokers. They are set on a base that acts as the heat source.
Wood chips or chunks are usually placed above the heat source to achieve a smoky flavour. You might even add aromatics like fresh herbs and citrus peels along with wood pellets, too. Then the water pan goes above that.
Unlike a dry smoker with an offset chamber, a grill rack is the final element of a wet smoker. That's where you'll place the food you're smoking, such as ribs, brisket, or salmon.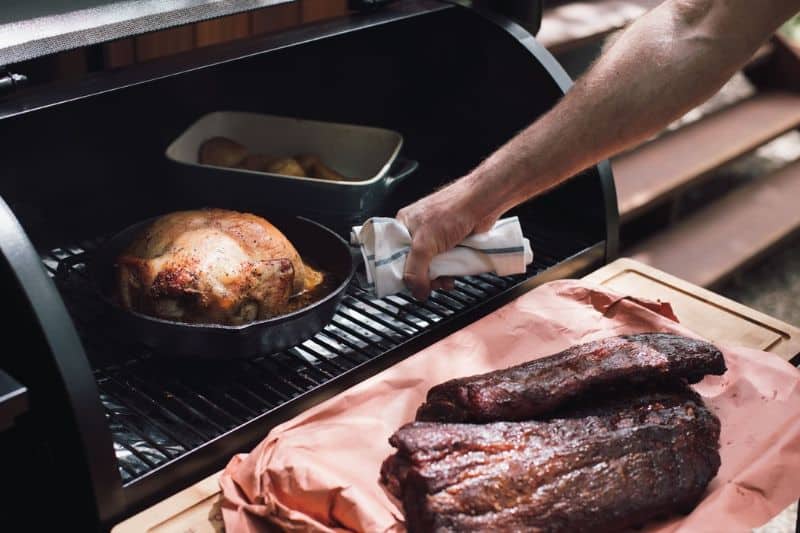 Different types of smokers
Great! Now you know the two main styles of smokers: wet smokers and dry smokers. From there, the different types of smokers depend on the materials used and the cooking method.
These include:
Gas smokers. This type of smoker is vertical shaped, resembling a heavy-duty safe. It comes with a temperature gauge.
Charcoal smokers. For this type of smoker, it can either be vertical or horizontal. A vertical charcoal smoker comes in a variety of shapes (e.g. large drums). Meanwhile, the horizontal version looks much like a grill with a chimney.
Pellet smokers. A pellet smoker resembles the look of a horizontal charcoal smoker.
Electric smokers. An electric smoker is a vertical-shaped smoker that may resemble a small fridge. Depending on the brand, it can come with various shelves or a big drum.
Ceramic smokers. Lastly, this type of smoker is vertical and shaped like a large egg. A great example of this is the Big Green Egg Smoker.
If you're going to ask us which one is our top pick, our answer is charcoal smokers. When it comes to food quality, nothing beats the excellent flavour depth that charcoal offers.
With a charcoal smoker, intense smokiness is always possible! Not only is it perfect for smoking, but also for roasting and possibly grilling over the firebox if you get creative.
Charcoal smokers are also less expensive on average and available at a wider range of prices. Most importantly, they're the most popular for smoking.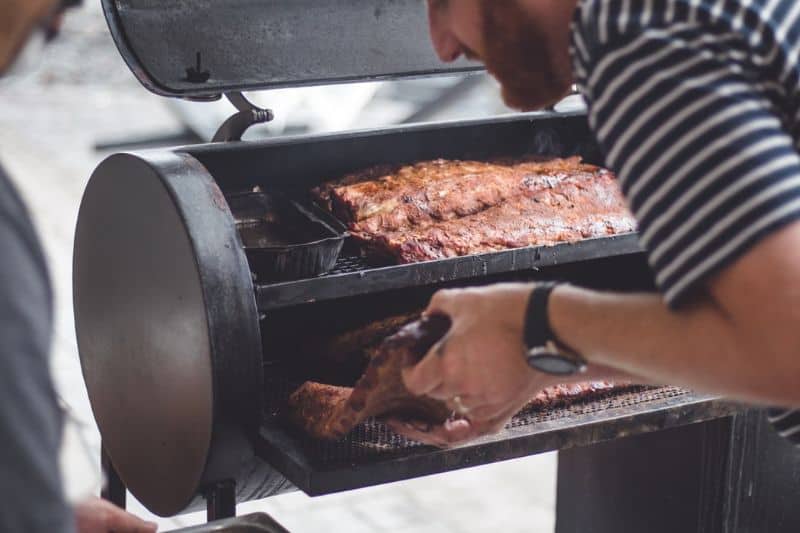 The best smokers for beginners
There's a wide variety of smokers on the market, so how do you know the best one to invest in, especially if you're a beginner? Listed below are the features and qualities you should look out for, particularly for charcoal smokers.
Heavy-duty stainless steel construction
Porcelain enamel inside and out for durability
A lid and chimney keep smoke above the prep areas
Built-in temperature gauge / built-in thermometers to check heat inside
Adjustable front crank to change coal height
Vents beside the grill and coal
Multiple shelving spaces
Removable for catching and disposing of ashes
Now that you know more about the different types of smokers and the best qualities you should consider, you're all set to get your own BBQ smoker!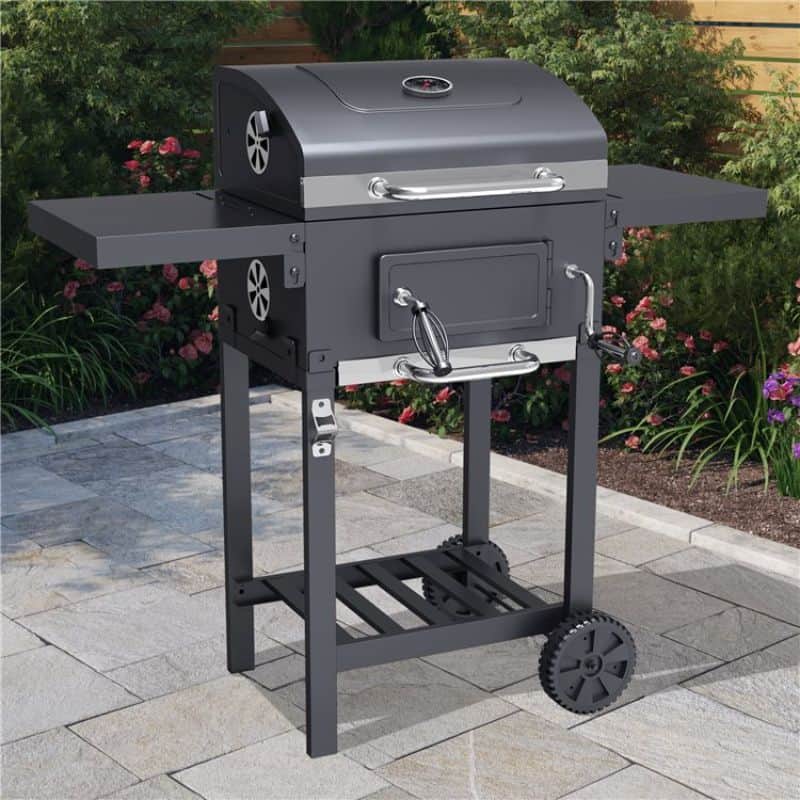 Best Smoker BBQ: BillyOh Kentucky Smoker
Here, we present to you one of our best picks: the BillyOh Kentucky Smoker BBQ. So ask yourself – are you prepared to become a pro-level backyard pitmaster?
This charcoal smoker is your next outdoor cookout companion! Ideal for cooking up feasts, the Kentucky can provide the original BBQ taste that you might find in the best BBQ restaurants in your town.
It also allows you to play with hot coals and wood to achieve the smokey flavour that everyone holds in high regard. What's more, this smoker BBQ is designed for ease of use with an accessible front door for pellets, briquettes, and wood refilling.
Thanks to the removable ashtray, this smoker BBQ is pretty easy to maintain. Keep an eye on your cooking temperature with the external thermometer (built-in thermometers).
Other design insights include:
Stainless steel construction for a sturdy build. Kentucky also features a black powder-coated finish for a premium, stylish look.
Wheels make this portable BBQ easy to move. Whether you wish to move it around your outdoor space, on a patio or away for storage over the cold months.
The charcoal tray can be raised or lowered using a crank, allowing you to increase or decrease the heat.
With built-in side trays and extra storage below, you can keep utensils nearby and stay organised.
There are vents beside the grill and coal for easy airflow control.
For only £159.00, you can get yourself a high-quality modern smoker and get your food on the table on time. Plus, without fear that it's over-cooked or under-cooked.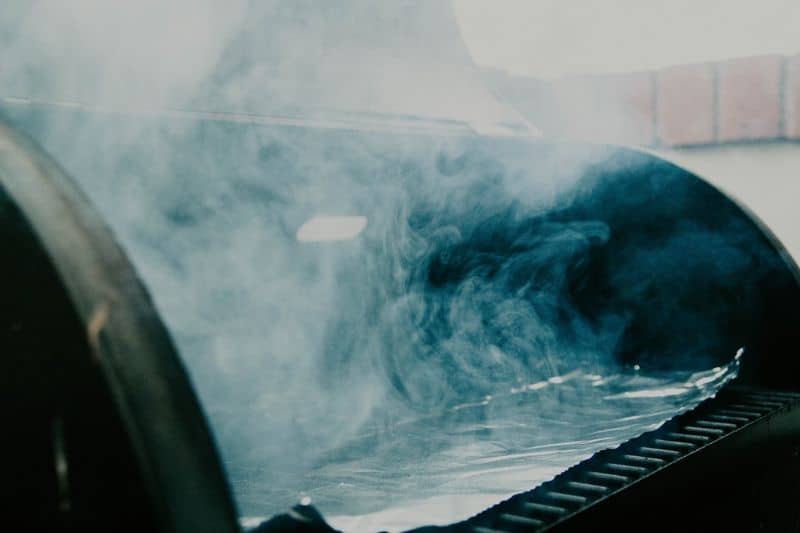 What Works Best for You?
The best smoker for you is the one you can afford and suits your outdoor cookout lifestyle. Do your research and make the right decision for you and your family.
But if you want to impart smokey flavour to your meal, you can't go wrong with a charcoal smoker, especially with the BillyOh Kentucky. It has all the qualities for the best smoker! Shop for the Kentucky and our other smokers via the button below.
Shop BBQs
FAQ
Yes! A BBQ smoker is a perfect choice of cooking apparatus if you want to cook up delicious and tender meats. Its artful and slow cooking method covers your food in a rich smoke, resulting in a unique and smokey flavour.
Our range of BBQs includes budget-friendly and premium charcoal grills and smokers to suit every budget. Speaking of the best smoker, take a look at our Kentucky Smoker BBQ.
It could be your next outdoor cookout companion!
Out top pick for a smoker fuel and flavour is a charcoal smoker. It offers excellent flavour depth, and intense smokiness is possible!