Simple Ways to Repair and Maintain the Look of Your Rattan Garden Furniture
If you are the type who would choose rattan furniture sets over any other garden furniture as the former are more durable and easy to maintain, you are probably on the right track. However, as with any other material types, you have to consider the fact that extreme weather conditions may have an effect to the overall build of the sets.

Another good thing about rattan is that it's a renewable material mostly thriving in the more tropical continents such as Africa, Asia, and Australia. Whilst considered as the cheaper option—and not like it's a bad thing—sets made from this native material have a traditional rustic look that goes well with most of British garden set-ups.
Choosing the best rattan garden furniture like when choosing wooden-made sets boils down to how you would want your patio to look, not to mention the comfort you would always want to go after.
Maintaining the appearance of your outdoor sets need not be tedious and expensive. With the right tools and a few hacks, you may be able to make keeping them looking good as new stress-free. As you know, you can make the most of your patio by having sets around which means taking good care of them is a practical move.
Below are a few things you could do to maintain the natural look of your rattan-made sets: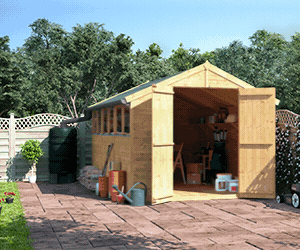 Damages caused by extreme weather conditions
Like any other piece you have at home, it is a basic rule to store them away or at least protect them using furniture covers especially during extreme weather disturbances. The most common reason garden pieces get easily damaged is they are always exposed to either too much heat or excessive humidity. This results to cracks and splits that eventually make the piece completely unusable. That's why it is also important to decide whether to have expensive pieces but with stronger build than cheap ones that get easily damaged.

Photo credit: Andie712b  via Visual hunt CC BY
Whilst this may be a monumental problem, there are a few effective ways to put an end to it.
Linseed oil is one option you may use to deal with the unsightly scratches or cracks on your furniture set. Thinly apply boiled linseed oil to the rattan piece and let it dry. Once it's dry, you may then reapply some more of the oil. Your mark to stop is right when the oil no longer sticks to the surface of the piece.
You have to take note though that whilst the oil doesn't totally remove the scratches, it, however, gives the rattan a new shiny look. Besides, rattan doesn't need to be squeaky smooth, as its rustic look already makes for its traditional charm.
If you'd like to go for the cleaner and smoother look, you can start by cleaning the piece using a cloth. Then using a sandpaper, scrape off any rough strands or edges. Apply paint or varnish onto the surface to give it clean, shiny appearance.
Fixing loose weaves
Loose weaves and frills are a furniture owner's worst nightmare. Don't fret just yet as this can be easily resolved.
Begin by cleaning the set with a cloth. For this, you can use a toothbrush, water, and dishwashing detergent. Remember to soak the cloth or the toothbrush (for cracks) into the bubbles and not directly into the water.
What you need to do next is simply re-weave the strands. You can apply glue or contact cement to the loose weaves to prevent them from sticking out. again.
Repairing stained or damaged cushions
Cushions add a more appealing look to your piece aside from what they are intended for—comfort. With this in mind, you might want to keep them clean. Always. A regular feather duster comes in handy. But for pieces that have been soaked up in water

Remember to veer away from harsh detergent soaps as they might damage the colour of your cushion covers.
Conclusion
Taking good care of your patio pieces is more of a good investment move than a responsibility. If you keep them clean and neat at all times, and always make an effort to restore their look, you no longer need to spend a big amount of money on buying new pieces. Saves you a lot!