As you're sitting in your backyard, watching the sunset with a glass of wine, ask yourself – how comfortable is your seat? Is it an old metal or plastic chair that's been out there for years?
If so, have you ever thought about getting new garden seating to make this experience even better and more enjoyable? Well, luckily, we've got some great ideas for you!
In the following blog post, we'll cover different garden seating options that can be used year-round: wooden benches, chairs with cushions and more.
And by the end, you'll know exactly what seating will look great in your garden.
Ready?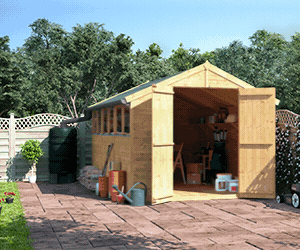 Let's dive in.
The Lounge Outdoors
Why not bring the lounge outdoors. Outside living is exactly that, living outdoors. So why not indulge in total comfort.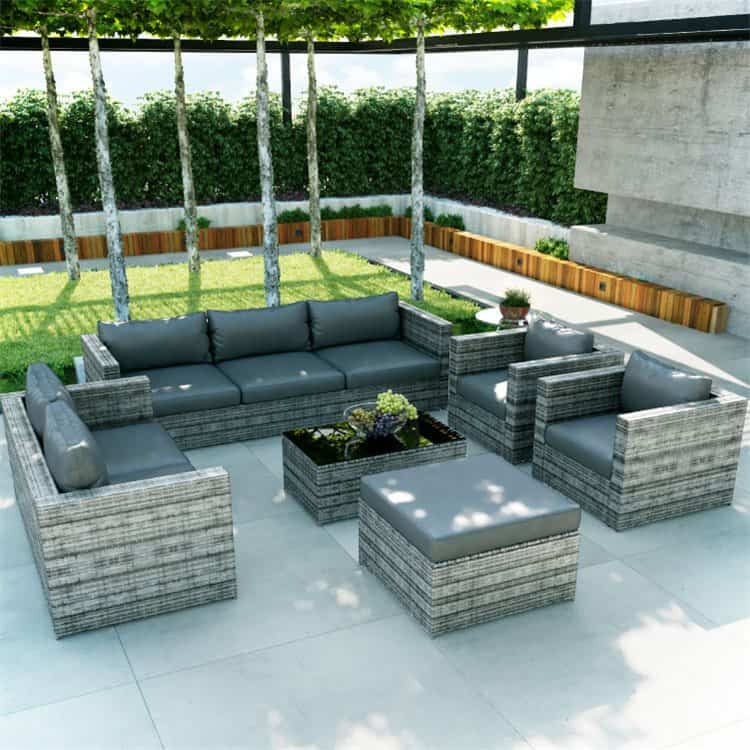 BillyOh Seville 8-seater rattan sofa
Warmth and Dinner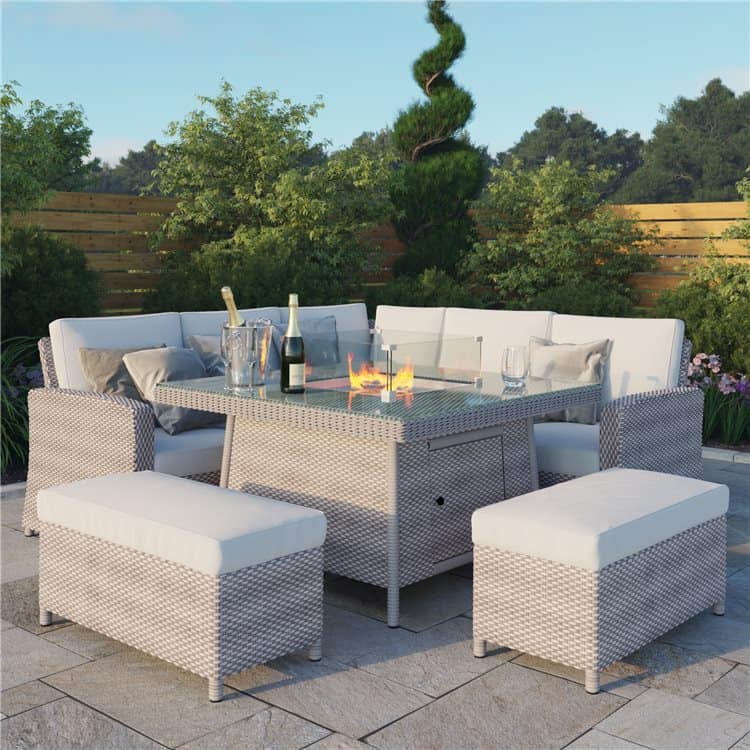 BillyOh Capri corner rattan sofa
Patio Peace
Make any patio area peaceful with a lightweight set that maximises comfort with great cushions.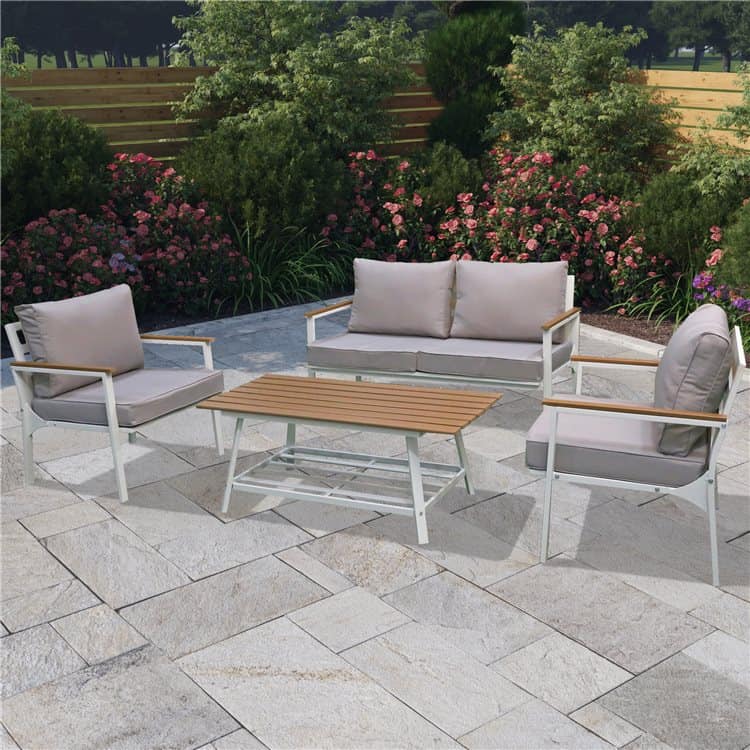 BillyOh Enna aluminium sofa set
Wooden Bench and Pergola
Grab yourself a seat with some shade with a bench and pergola combo! Add some climbing plants to up the wow factor.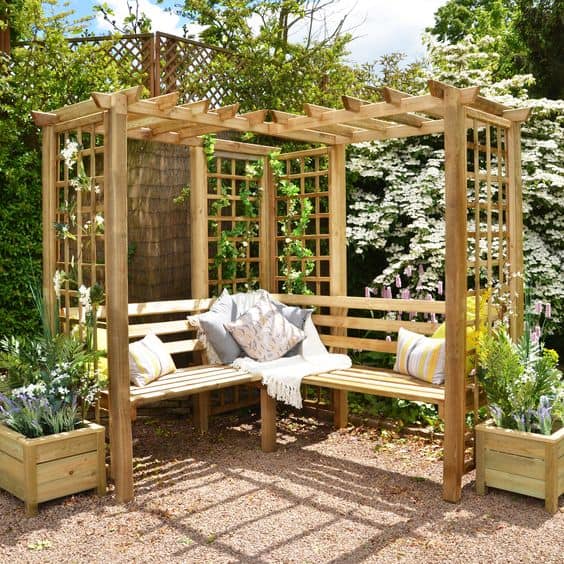 Comfy Pergola with Grill
Settle in for an evening in the garden with some comfy seating under your pergola, and fire up the grill for a BBQ feast!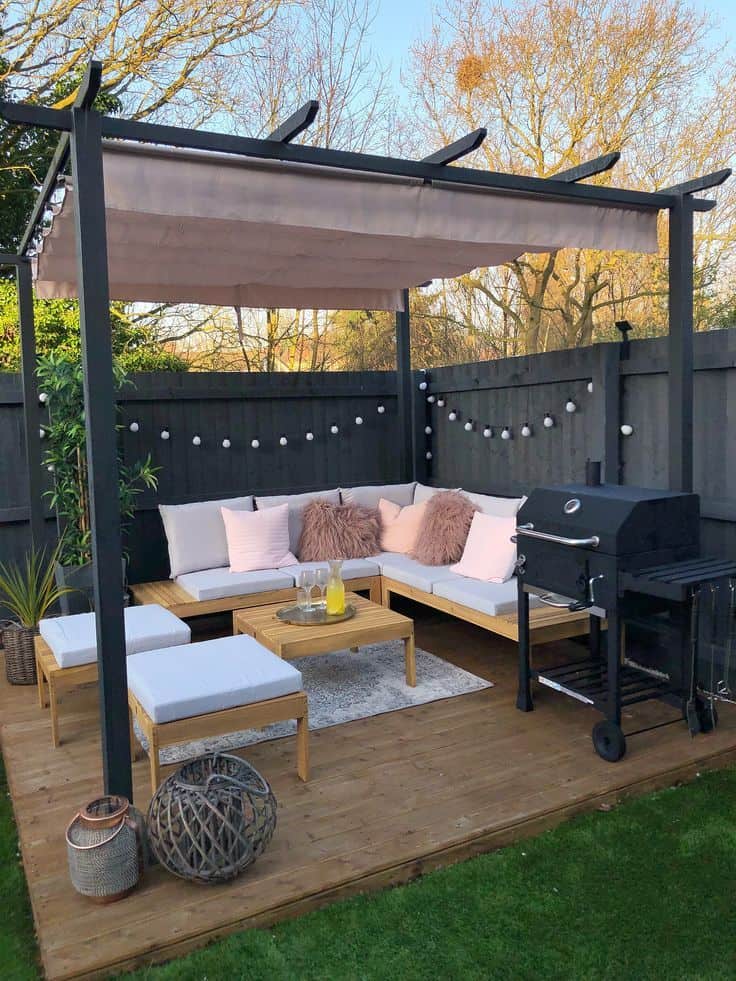 Sofa & Armchairs in Garden
Take the comfort of indoors outside with you this summer so you can fully relax on a sofa and chairs.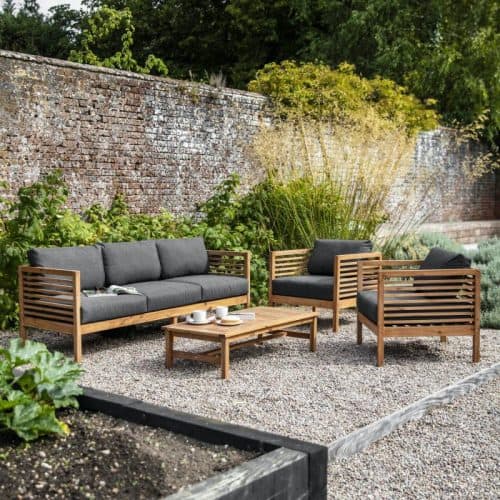 Sofa Small Backyard
Perfect for lounging in your garden on those hot summer days. You could even grab a snooze!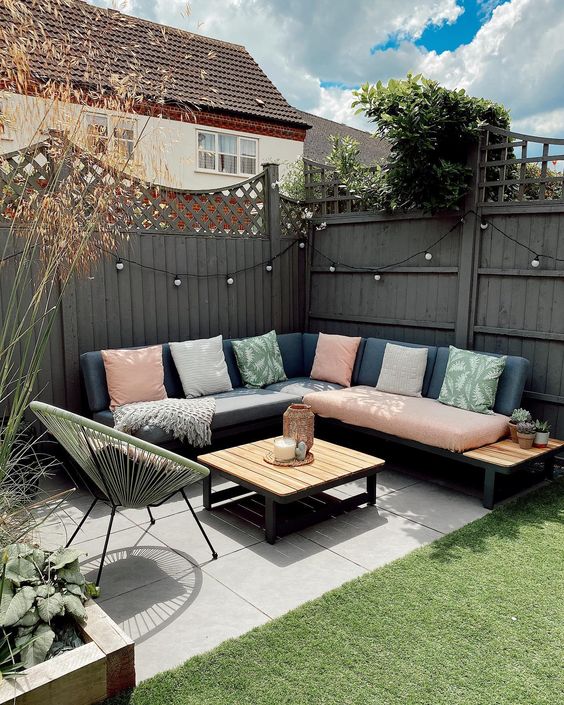 Black Pergola
Go for black to give your pergola a modern twist!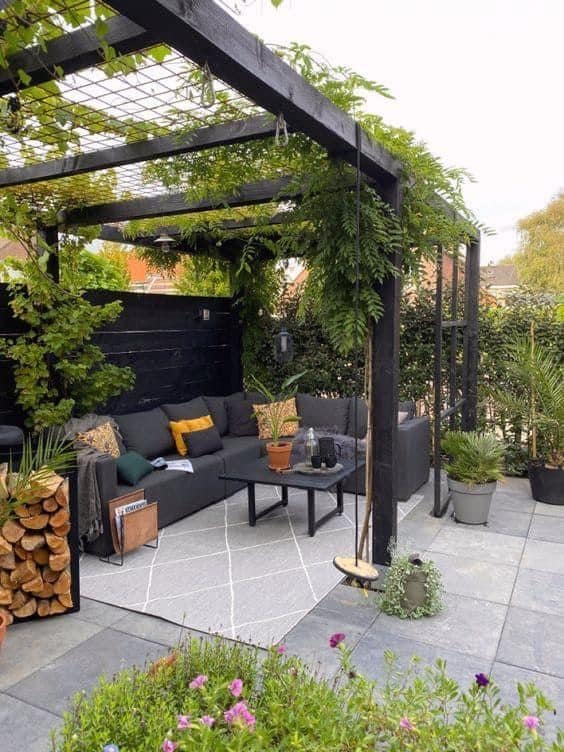 Simple Wooden Benc
h
Perfect for a more natural-looking seating area.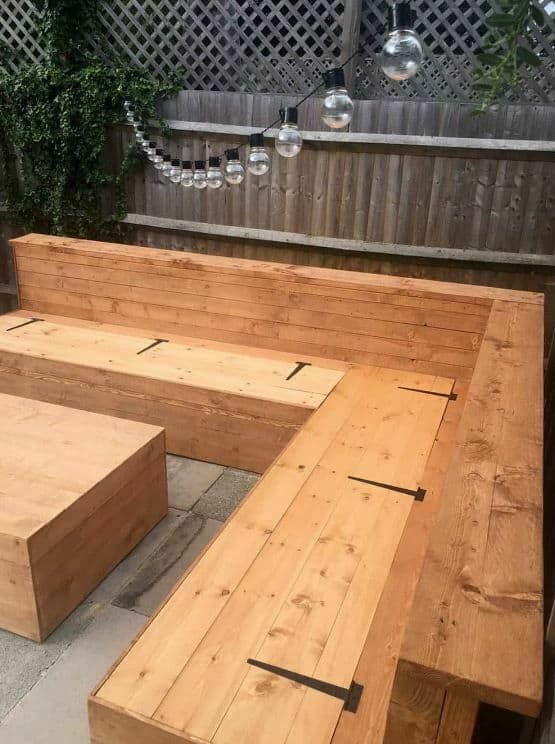 Wood & White
A great natural bench with classic white cushions gives a serene seating area.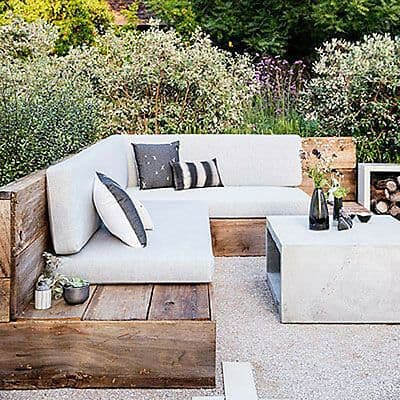 Modern Simple Bench
Clean lines create a sleek seating area to relax in.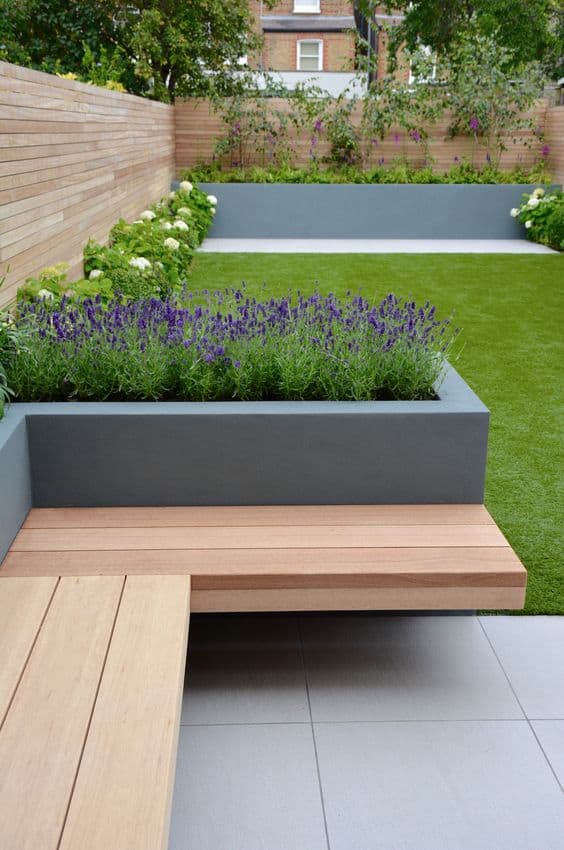 Cosy Corner with Fence
Create a cosy seating area with fencing and tall trees for shade. Add some cushions for comfort!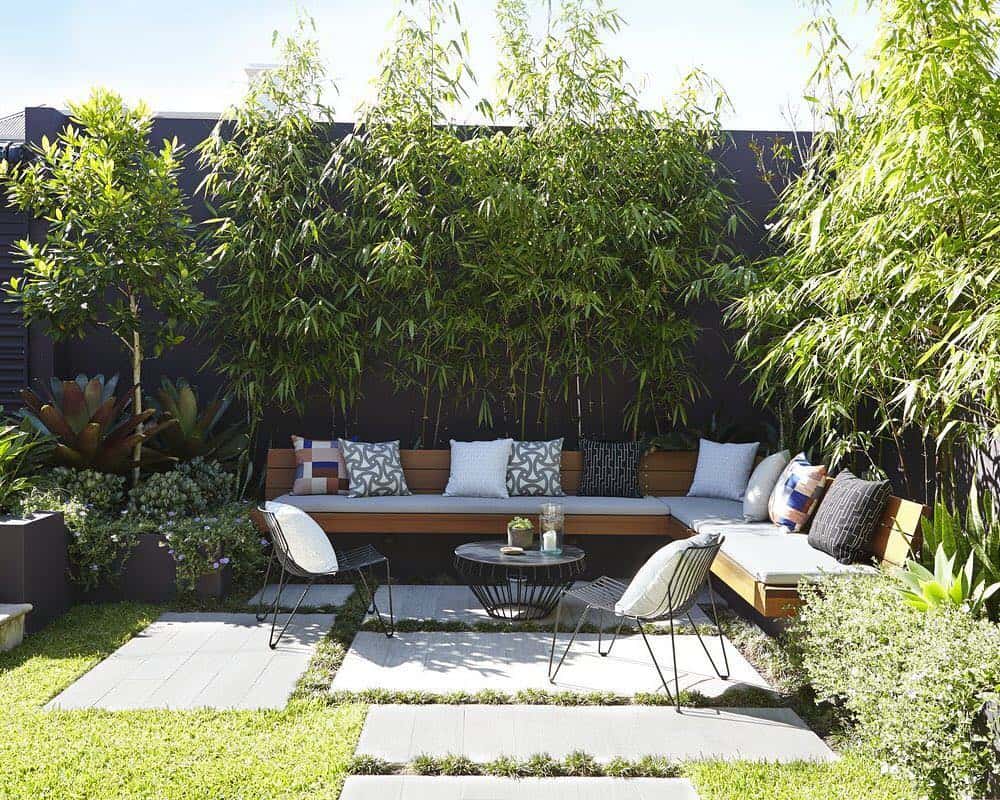 Cosy Hut
Get a roof over your head so you can sit out whatever the weather! Add some lights to make it feel super cosy.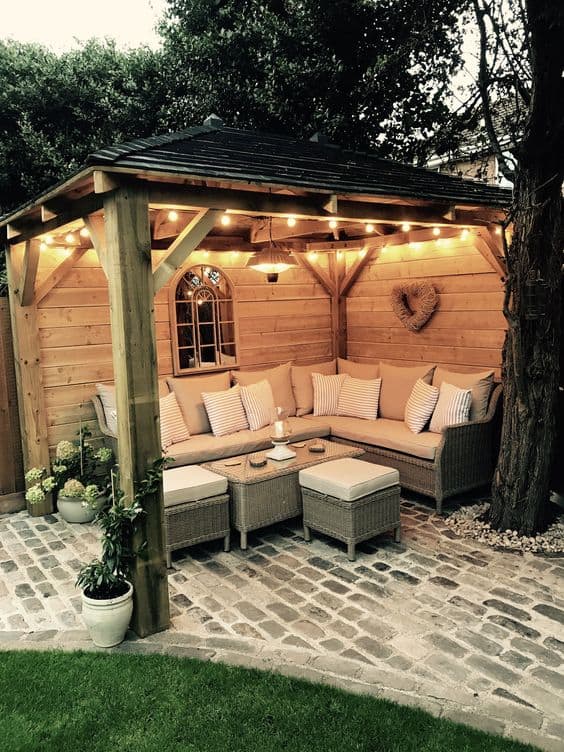 Simple Bench with Fire Pit
Keep it simple with your seating and let the fire pit be the star of the show.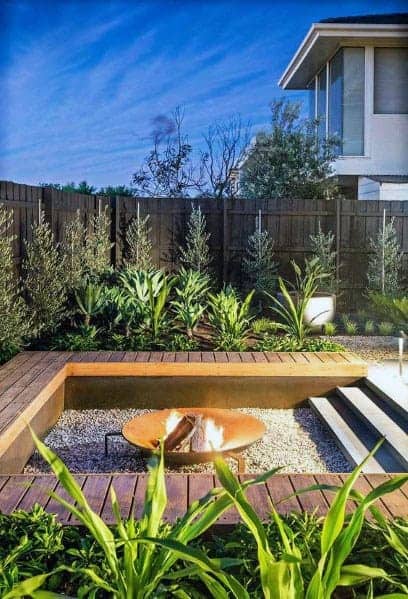 Deep Fire Pit
A deep fire pit with built-in seating makes the perfect cozy outdoor area for the evening.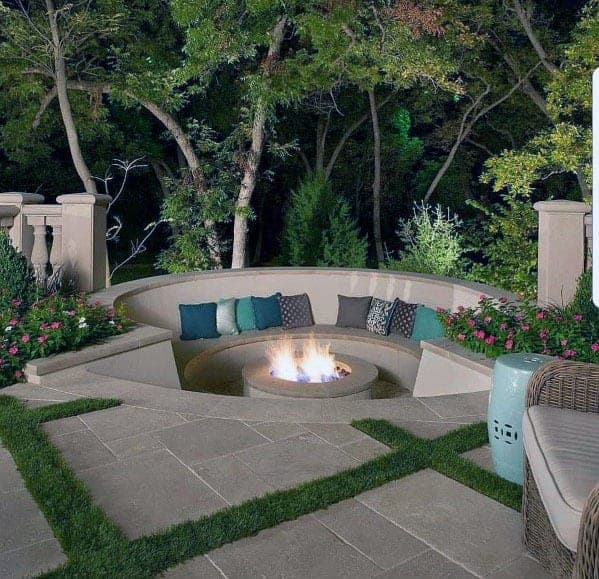 Cubes
Cube stools bring a modern twist to campfire seating.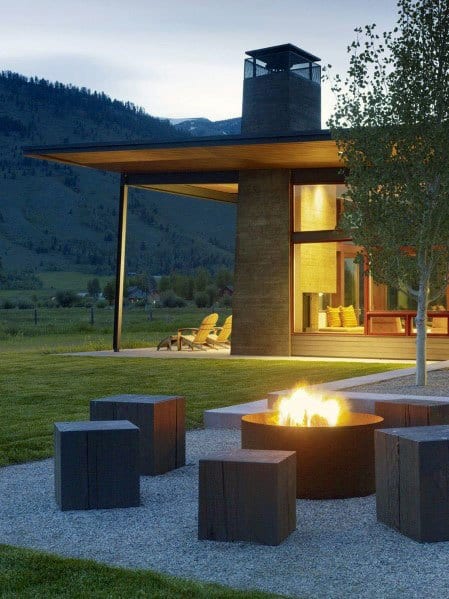 Logs
Log benches create a more traditional campfire experience. Have your ghost stories ready!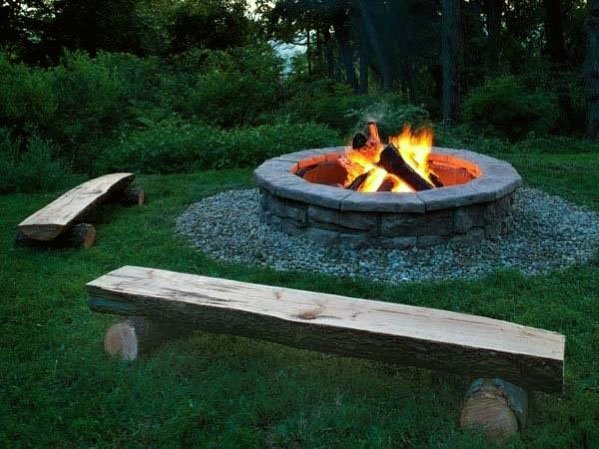 Grey Deck
Grey has grown in popularity in recent years, and it's not hard to see why! A grey decked area would be a sleek addition to any garden.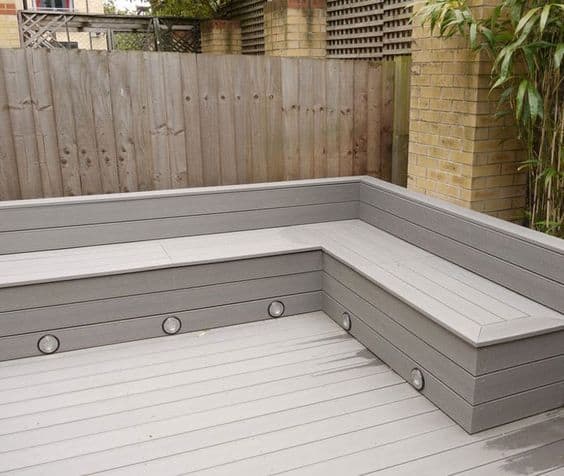 Face to Face Couches
Keep your seating area sociable with face to face comfy couches.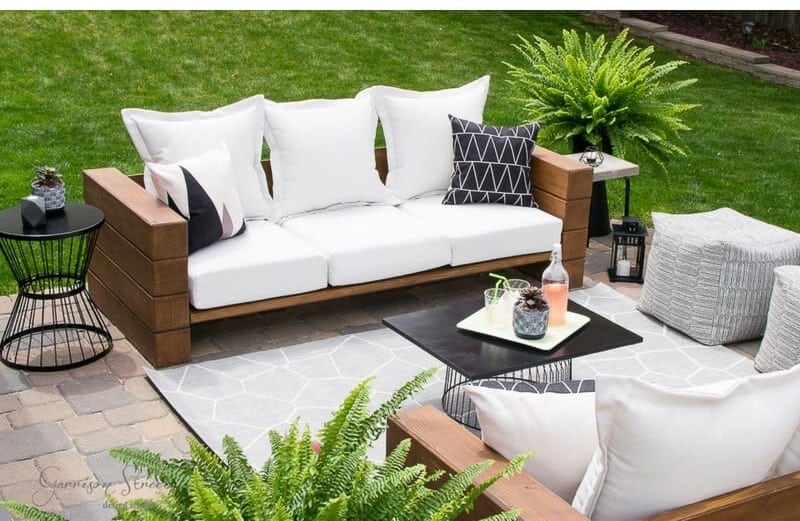 Black & White Modern
Monochrome accessories give a modern vibe to any seating area.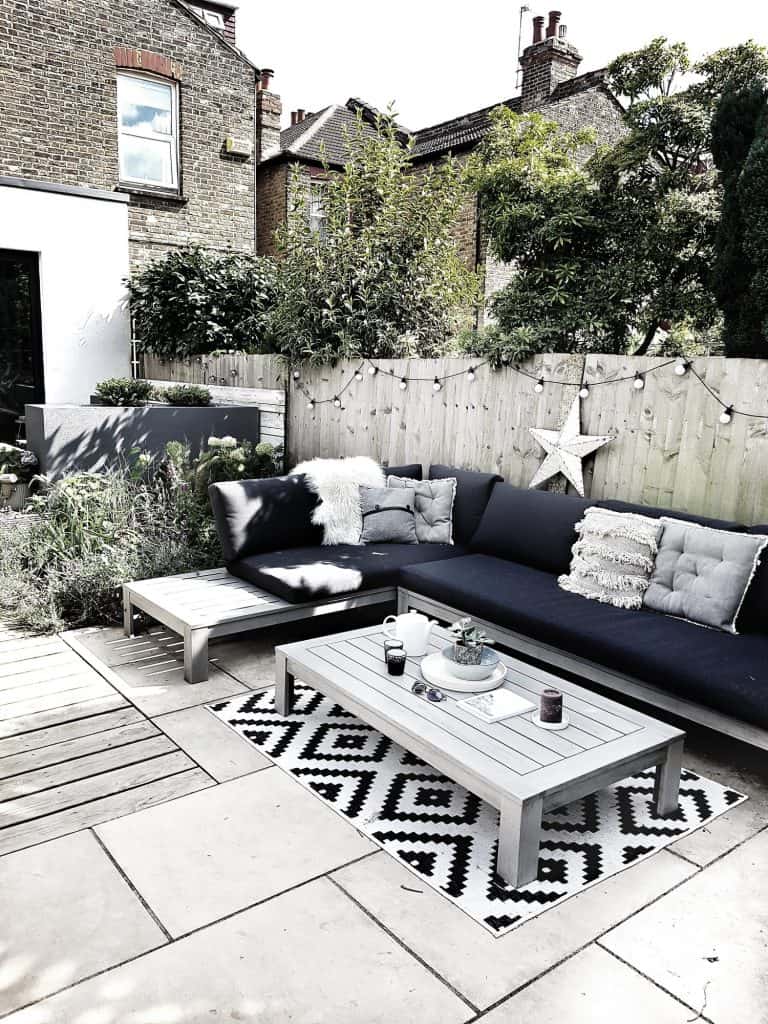 Fulham Modern
Built-in seating with smooth lines brings an ultra-modern feel to any garden.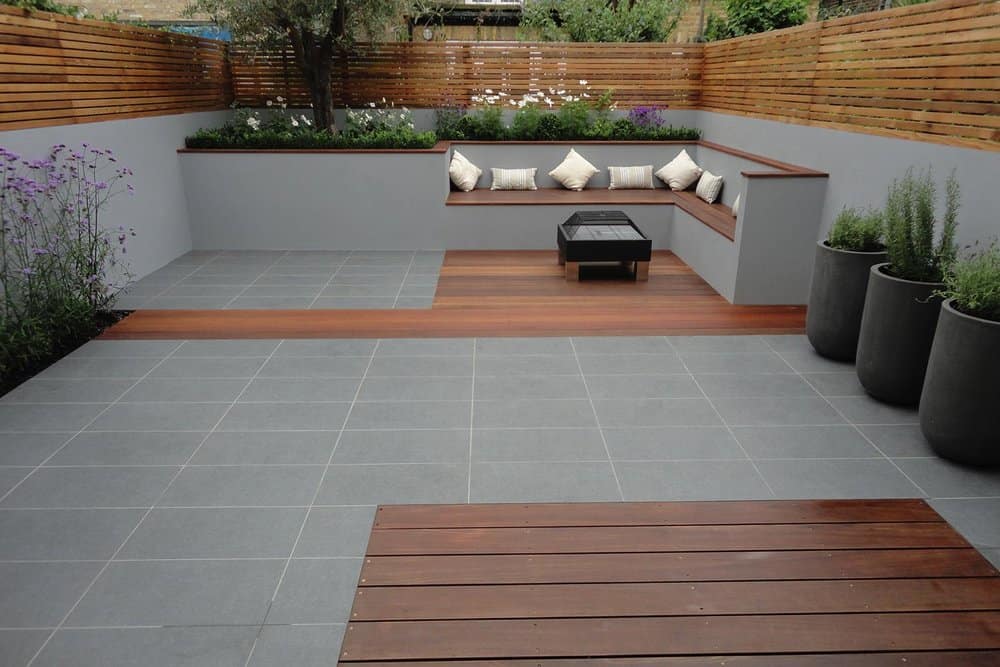 Garden Deck
Spruce up your seated deck with a few plants and add some garden-themed cushions to bring it to life.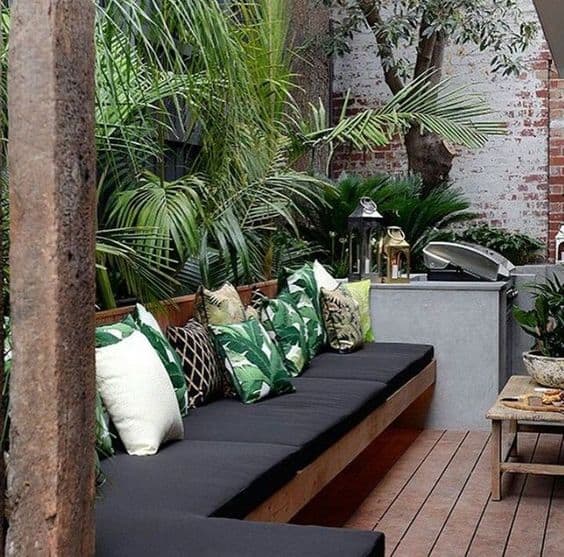 Sunken Lounge
Add definition and luxury to your seating area with a sunken lounge.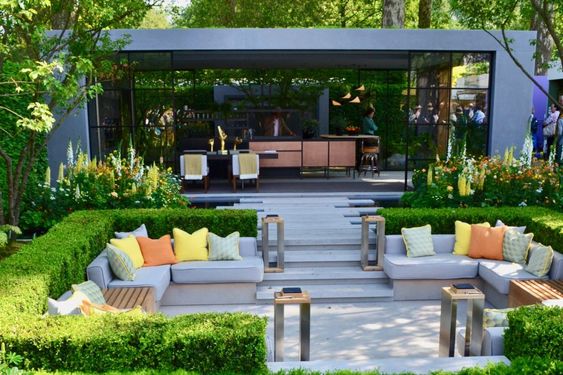 Simple Stone
Keep it simple and inexpensive with a stone bench like this one.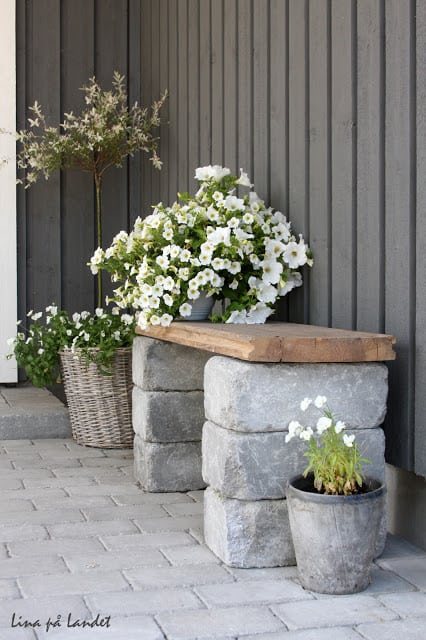 Simple Wood
Wooden sleepers make a relaxed seating area that fits right into the garden. 
Small White Corner
Make use of every inch of your garden by creating a seating area in the corner. The clean, white walls will make it feel more spacious.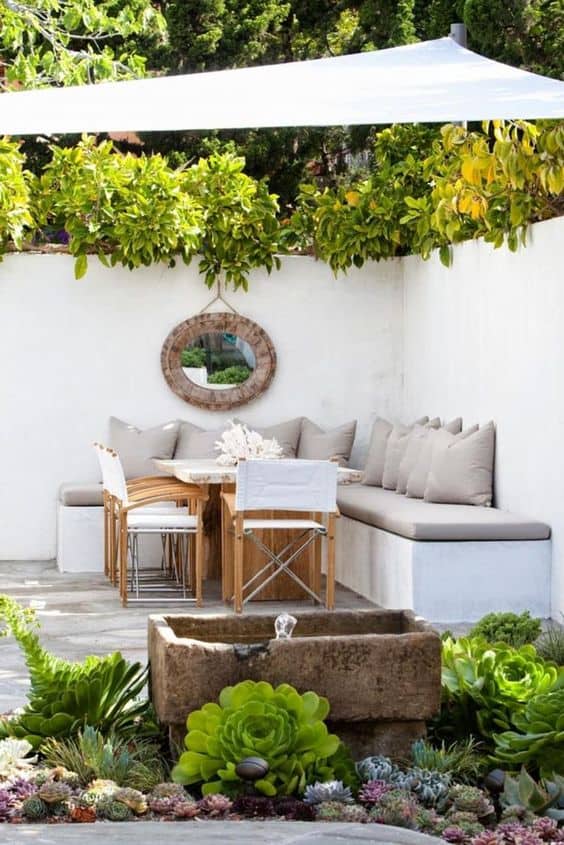 Small Bench
This small bench built into a planter would make a great spot for your morning coffee.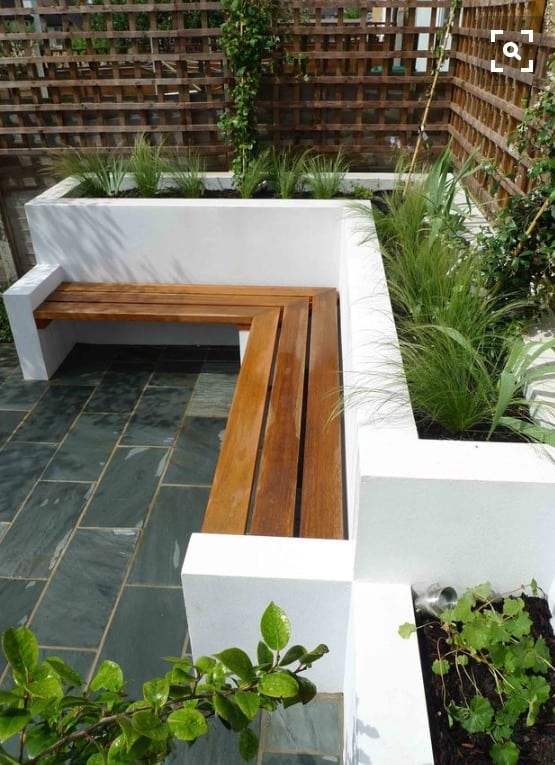 Rustic Wood
Using natural, aged wood for your seating really helps it blend in with the garden.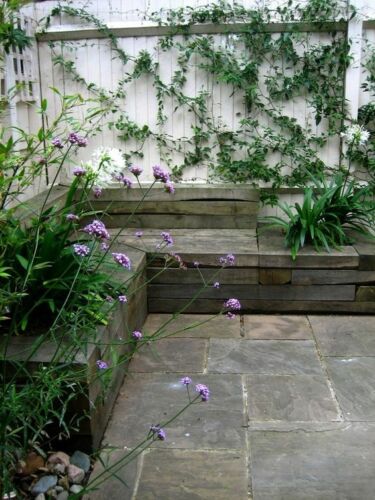 The Sanctuary
Relax into a peaceful haven of tranquillity with comfy sofas, cosy blankets and a mesmerising fire pit.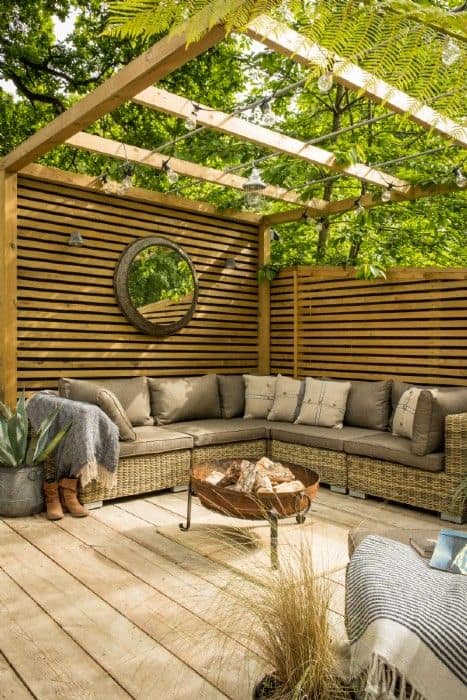 Curved Seating Area
Enjoy a unique, curved seating area that's perfect for sitting around a fire or fire pit.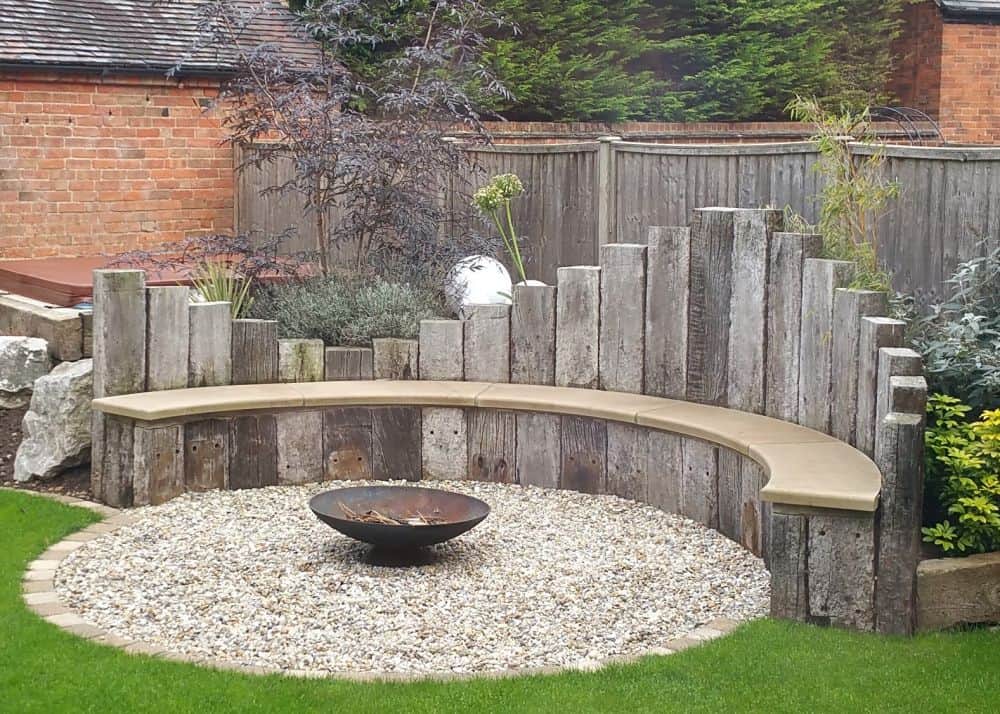 Lights & Sofas
Twinkly lights bring a touch of magic to any outdoor seating area. Coupling them up with comfy sofas means you can sit out into the night.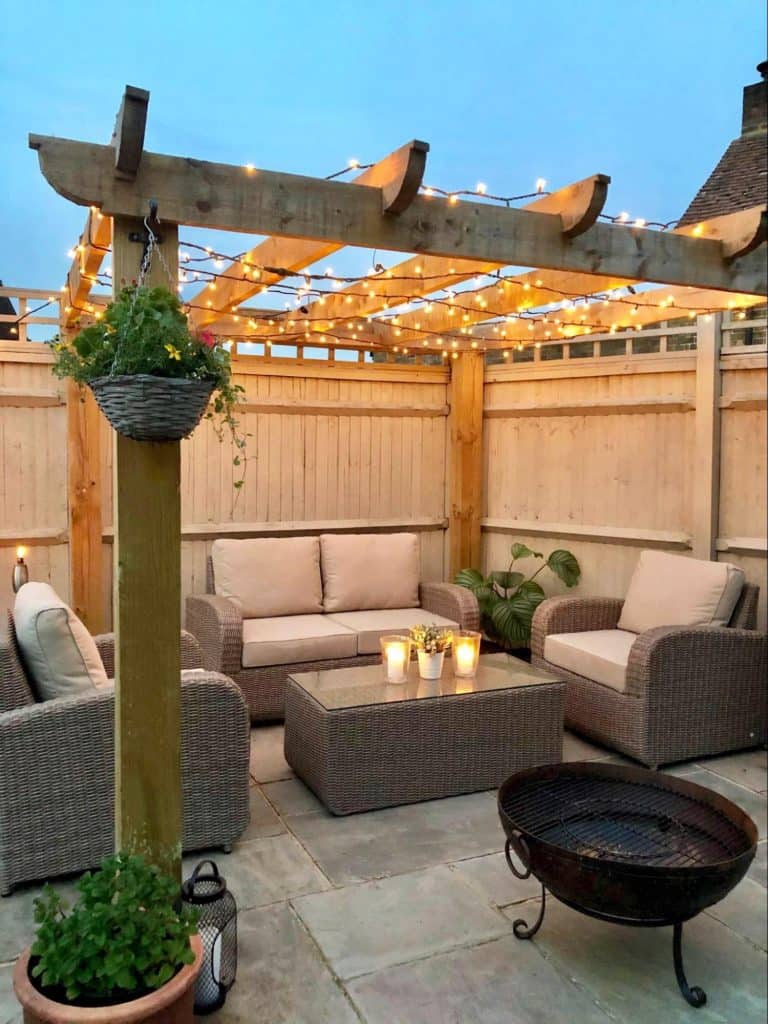 Modern Corner
Add wall lighting and sleek planting beds to give your corner seating area a cool, modern vibe.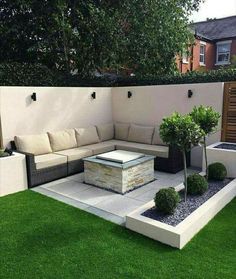 Beach Inspired Pergola
If you love the seaside, why not bring it home with a beach-inspired pergola. With driftwood-like seating and a stone fire pit, all you're missing is the waves!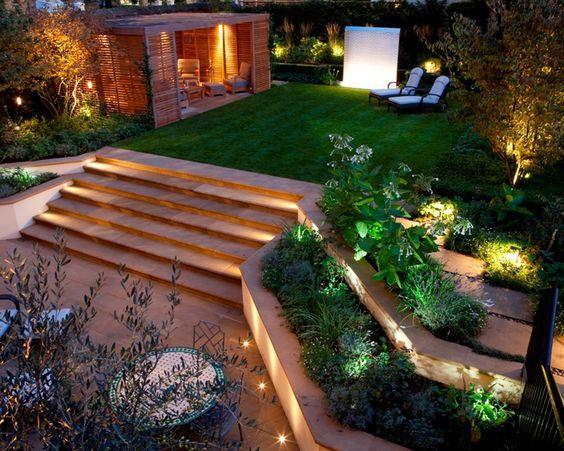 Picnic Corner
When the weather's good, take your dining outside with a super cute picnic corner.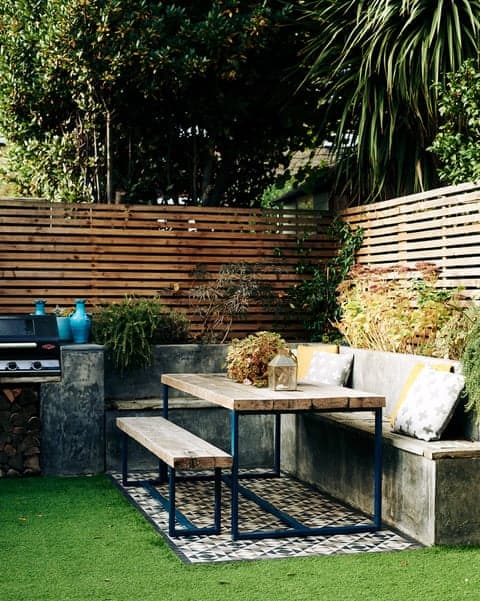 White & Purple
Add a pop of colour to your seating area with your accessories, then it's easy to change it up.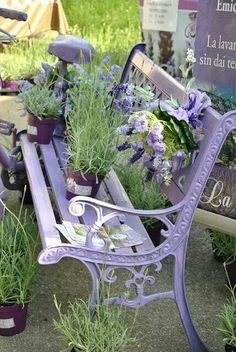 Backyard Fire Pit
Provide your guests with warmth and ambience throughout the year with a fire pit.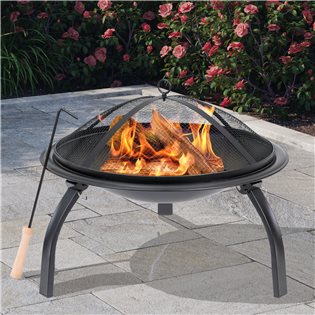 Cinder Blocks
If you're looking for an alternative to the usual garden bench, get creative with cinder blocks!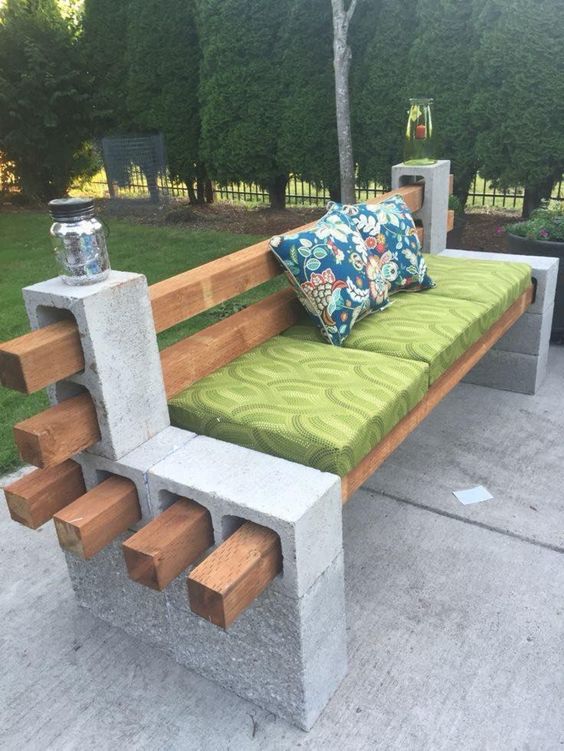 The Round-up
With so many options to choose from, it can be difficult to know where to start.  Luckily for you, we have a range of garden seating ideas that will suit any style or budget! 
Just browse our collections now via the button below – make your backyard dreams come true today!
Shop Rattan Garden Furniture