An unused area of your backyard and the frontage of your house can be the refuge for your beloved vehicles. Many people call it a carport, and it's an open-style structure that resembles a garage.
Basically, it's a roof of some sort and support beams. Carports are an excellent solution to homes that cannot provide a garage. And, if you're one of them, let's take a look at these best carport design ideas to inspire you!
1. Metal structure and glass roofing
A modern carport made of metal structure and glass roofing (or a  clear polycarbonate one). A stylish entry-level carport system with elegant posts, offering a deluxe veranda.
What's more, the glass roofing reduces the noise during a downpour and is also easy to clean.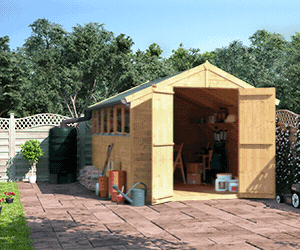 2. Carport and a storage shed
The addition of extra shed in long garden ideas has been very beneficial. Here, the owner has built a carport with a storage building.
It provides extra room for storing items; at the same time, it acts as a support structure for the carport. You may place yours on the side or in the back.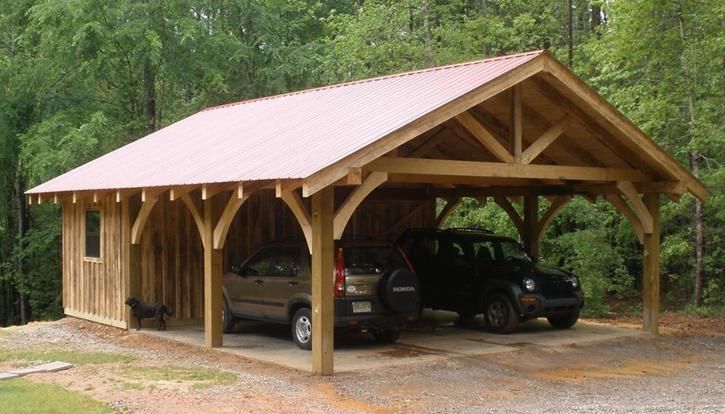 3. Made from shipping container
A carport from containers is a great option when security isn't as much of a concern (and it's cheaper!). And if you think there's any possibility that you may need to relocate your garage in the future, consider it.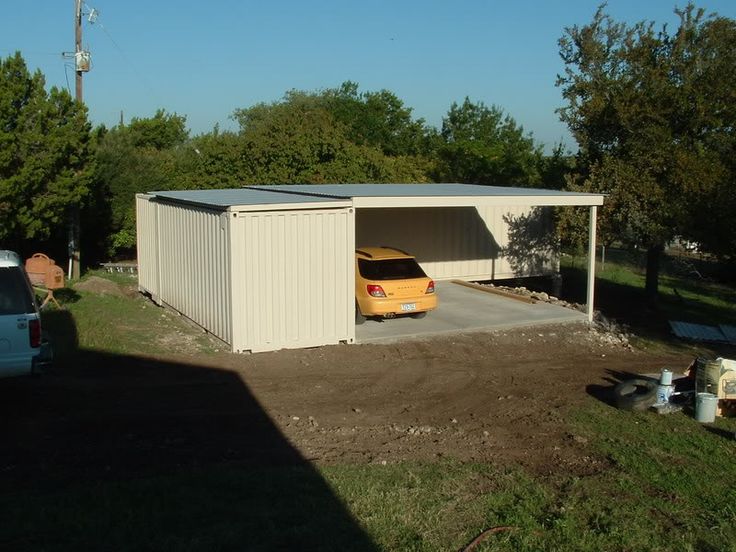 4. Detached carport
A standalone carport may be a solution for you if you have plenty of available space. This carport idea is also an excellent choice if you don't want to take over your valuable driveway.
If you have a vehicle(s) that isn't driven often, this concept is the way out.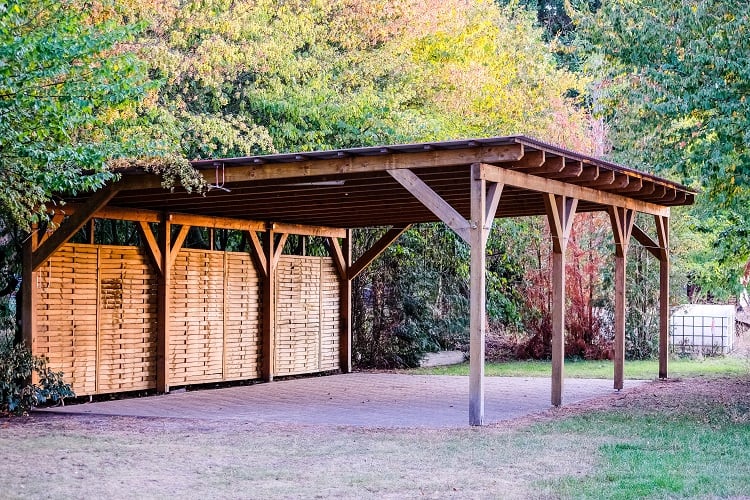 5. Using pallets
With pallets, you can build a custom carport for your vehicle. Peek into the creative details of the sample below. It's durable and comes with a metal roof supported with heavy-duty wooden posts.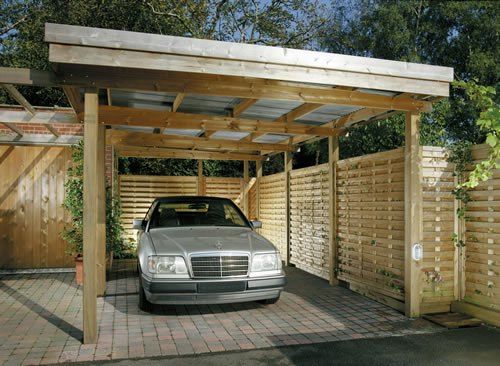 6. Pergola concept
Yes, you're reading it right! Your existing pergola can be transformed into a dedicated carport. When building one, fix the logs in the ground at the proper distance. Leave enough space for the vehicles to pass through it.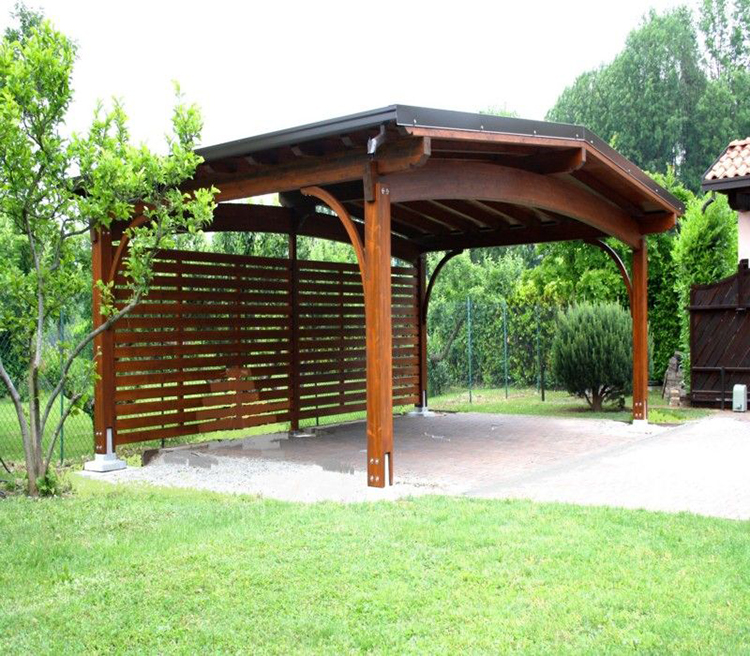 7. Incorporate garden walls
Lattice or slatted garden walls make a wonderful addition to carports. This is especially true if you opted for a pergola structure! Plant low-maintenance climbing vines; their full growth will provide shade and privacy.
8. Harness solar panels
Make your carport extra functional by adding solar panels to the roof. A.k.a as solar carports, you can enjoy the benefits of solar power without sacrificing space.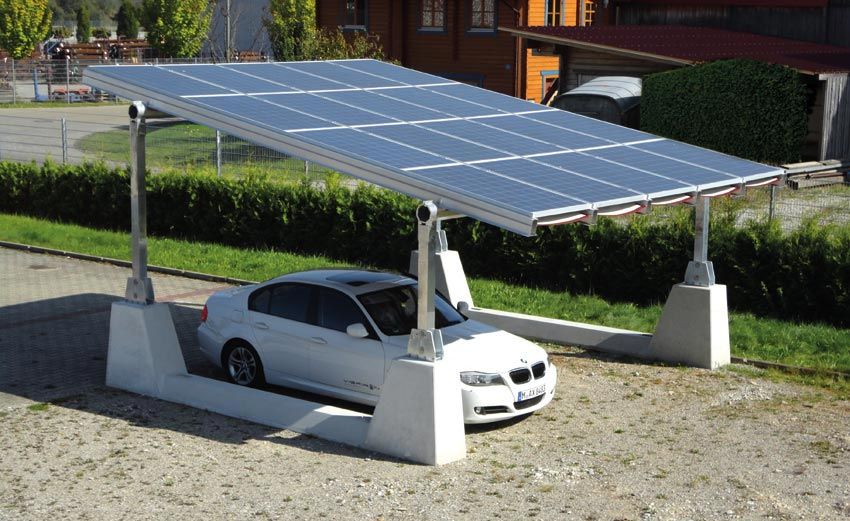 9. Consider a second floor
If you have the available space and budget, add a second floor above and make the most of it! You could build a man cave or a full-blown apartment if the space allows it.
As long as you're building up and not using any more real estate on the ground, the sky's the limit – literally!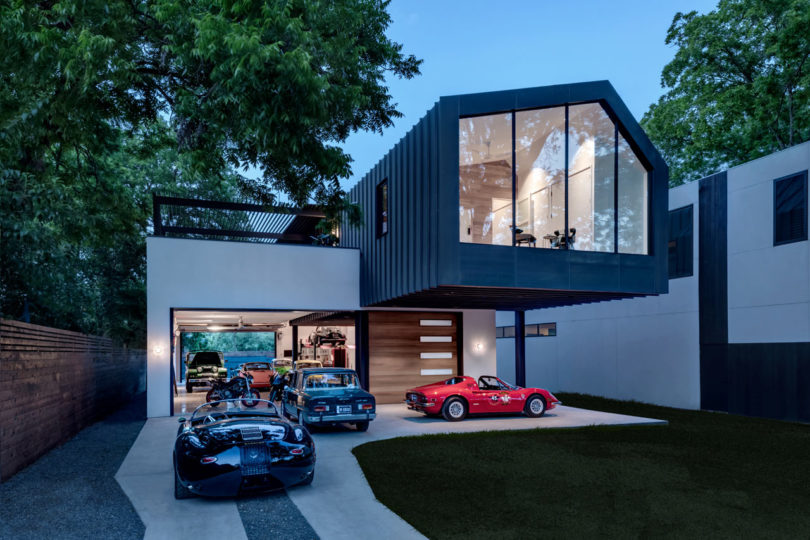 10. From a shade sail
When talking about garden shade ideas, you can never go wrong with shade sails – even if you use them as a carport! Make it simple yet functional. Hang a large shade sail from your home's roof and attach it to the support beams.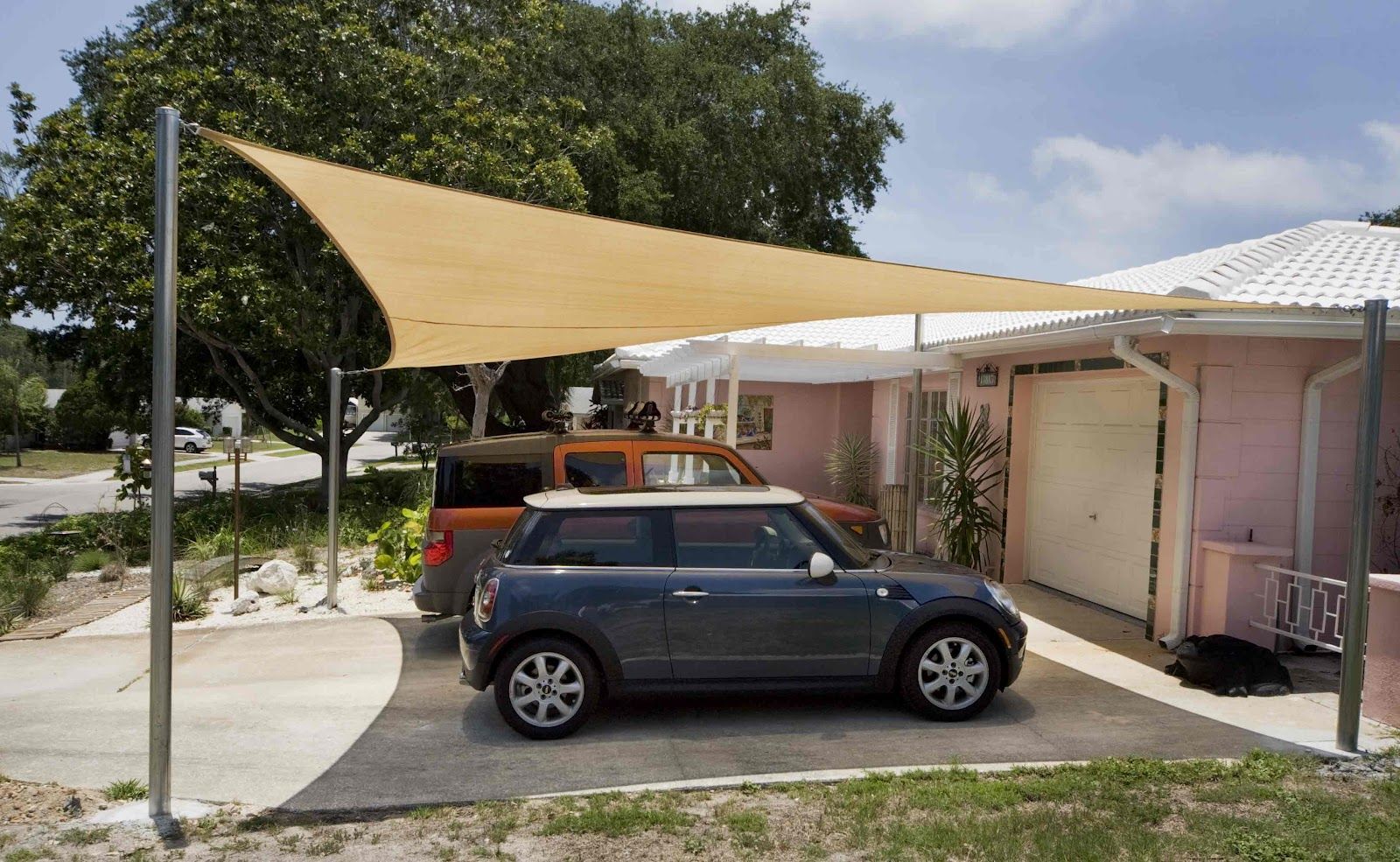 11. Carport and garage in one
What about creating a carport and garage in one? Use the garage for keeping valuables or vehicles safe, while the carport for parking your car.
This carport-garage setup is ideal if you have one oversized car and one that rarely gets driven.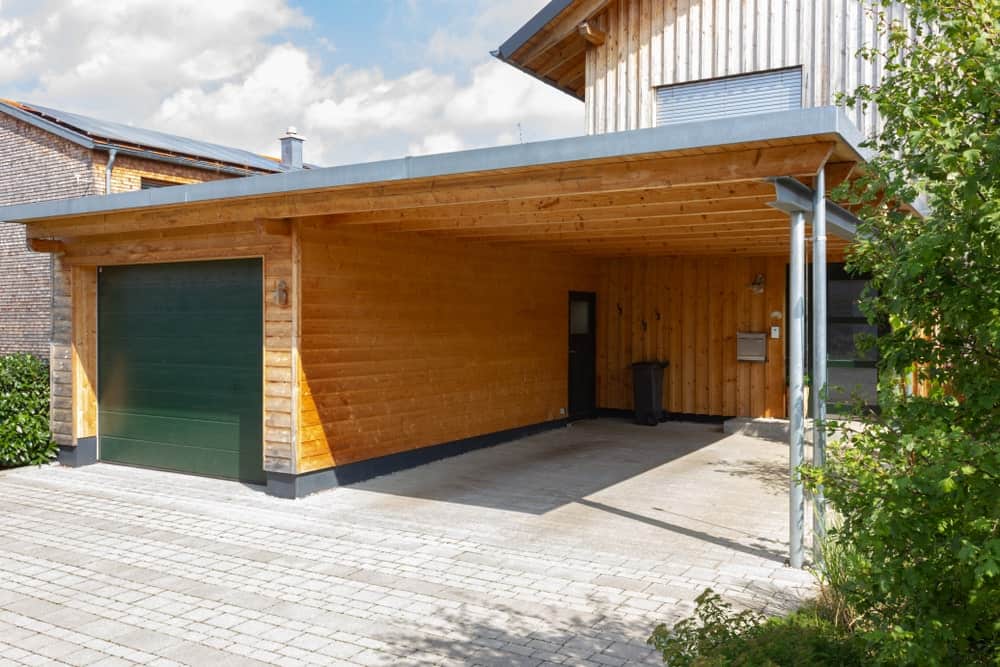 12. Drive-through
Drive-through carports allow you to pull in and go all the way through into the yard. Or whichever part of your home your carport is situated in. If your driveway often accumulates ice and snow, this is a great solution for you!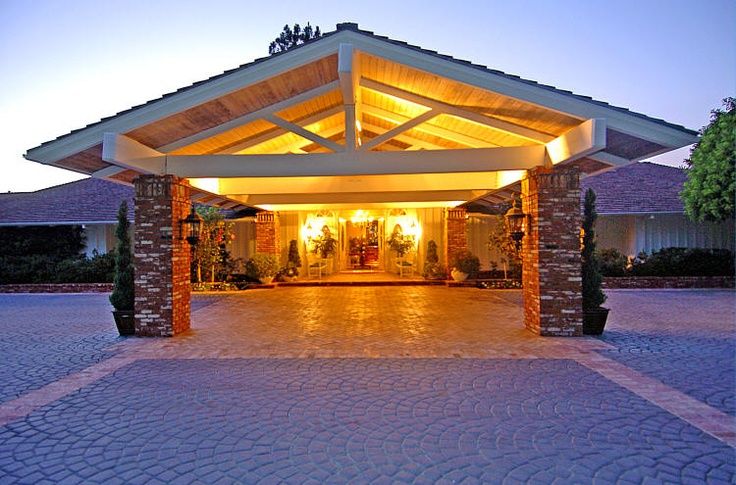 13. As a home extension
If you decide to add a carport to your home, make it look like it was part of the original construction. This gives the exterior of your property a nice seamless appearance.
14. Carport patio
I mean, who doesn't want a carport that doubles as a cosy dining area, right? If there's an area in your backyard that's perfect for a carport, but you don't need to use it much, this one's for you!
Enter the carport-patio; add furniture, lighting, and privacy curtains.
15. The bungalow style
This carport plan comes with a bungalow style chevron roof and with hanging plants. Supported with heavy-duty wooden posts, the structure ensures ultimate protection. It comes with storage, too, which is a plus!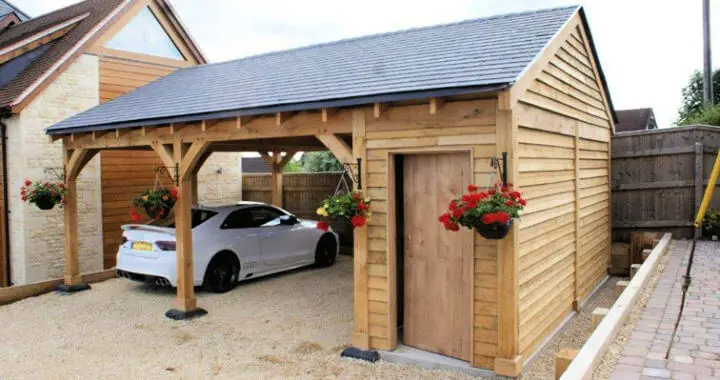 16. Portable carport tent
If you don't have a garage and don't have the resources or time to build one, a carport tent is your best bet. They're way cheaper and can be set up without requiring planning permission. And, you can literally set it up directly on the ground.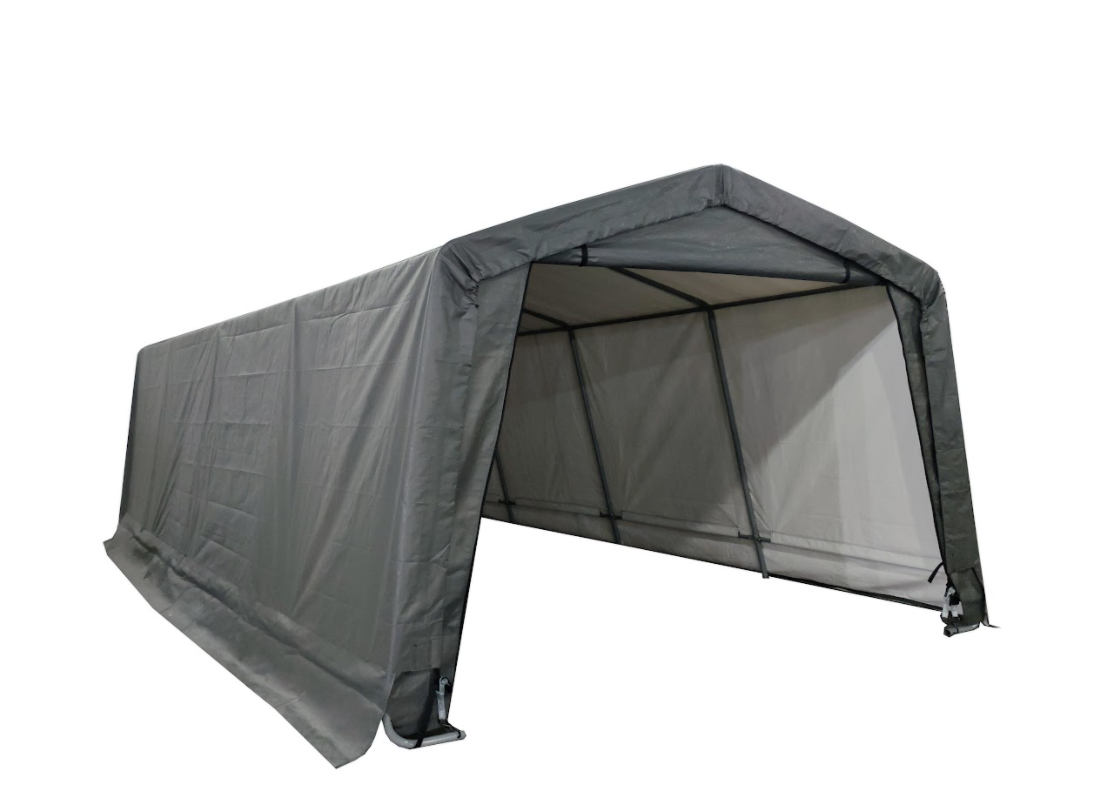 17. A multi-functional one
A brick home that features a separated wing (a.k.a. the carport). The brick pathway leads from the driveway to the house. As you can see, they are spaced to accommodate a car without harming the landscape.
The design also provides access to a carport between the main house and the separated wing.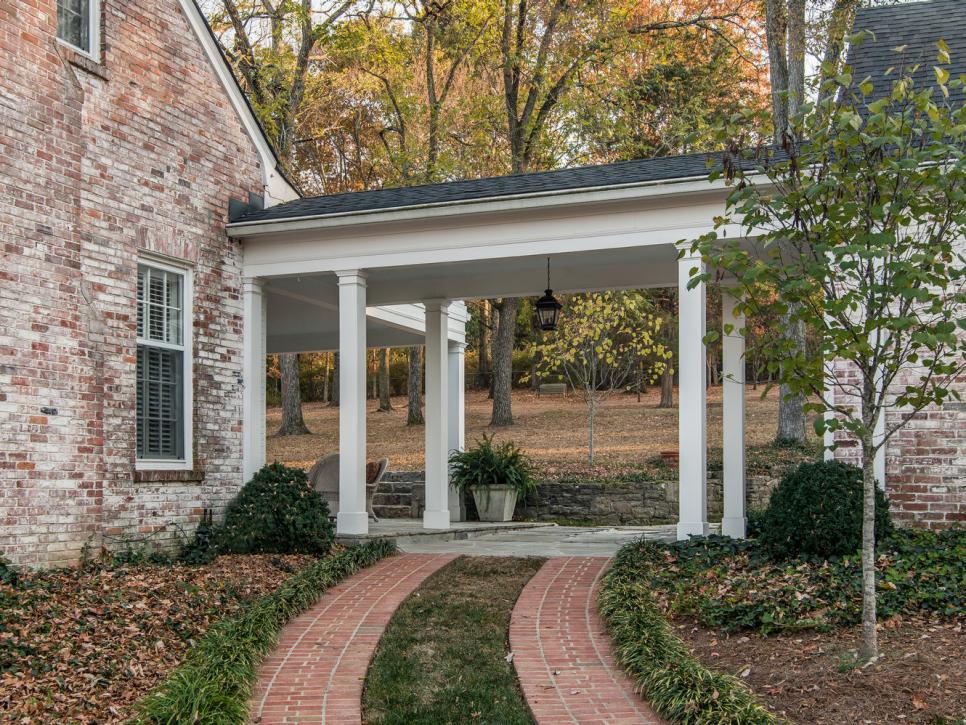 18. Gated carport
Consider adding a garden gate if you value security. Draw inspiration from this steel and wooden mixed style. It features a grand carport with a gate for added security measures.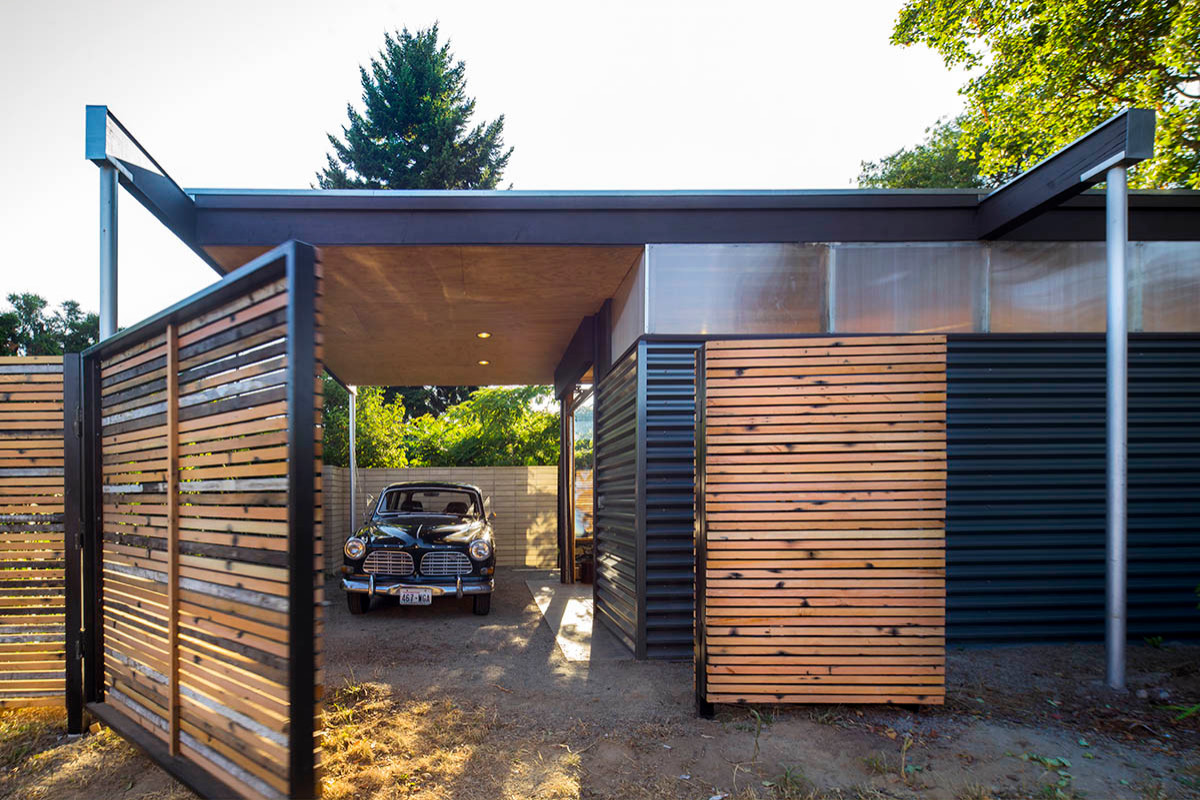 19. Open space
Although the tiny home features a minimalist exterior, the owner went all out for the carport. The coordinating carport features six posts, three on each side, and is wide open.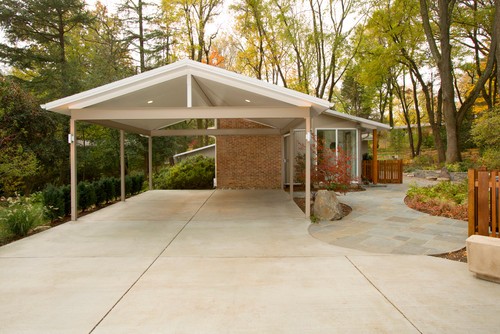 20. A porch above
The gravel driveway flows through the carport. And above the portico is a porch to enjoy the outdoors and take in the gorgeous views. This cottage cosiness setup is perfect for your rest house near the beach!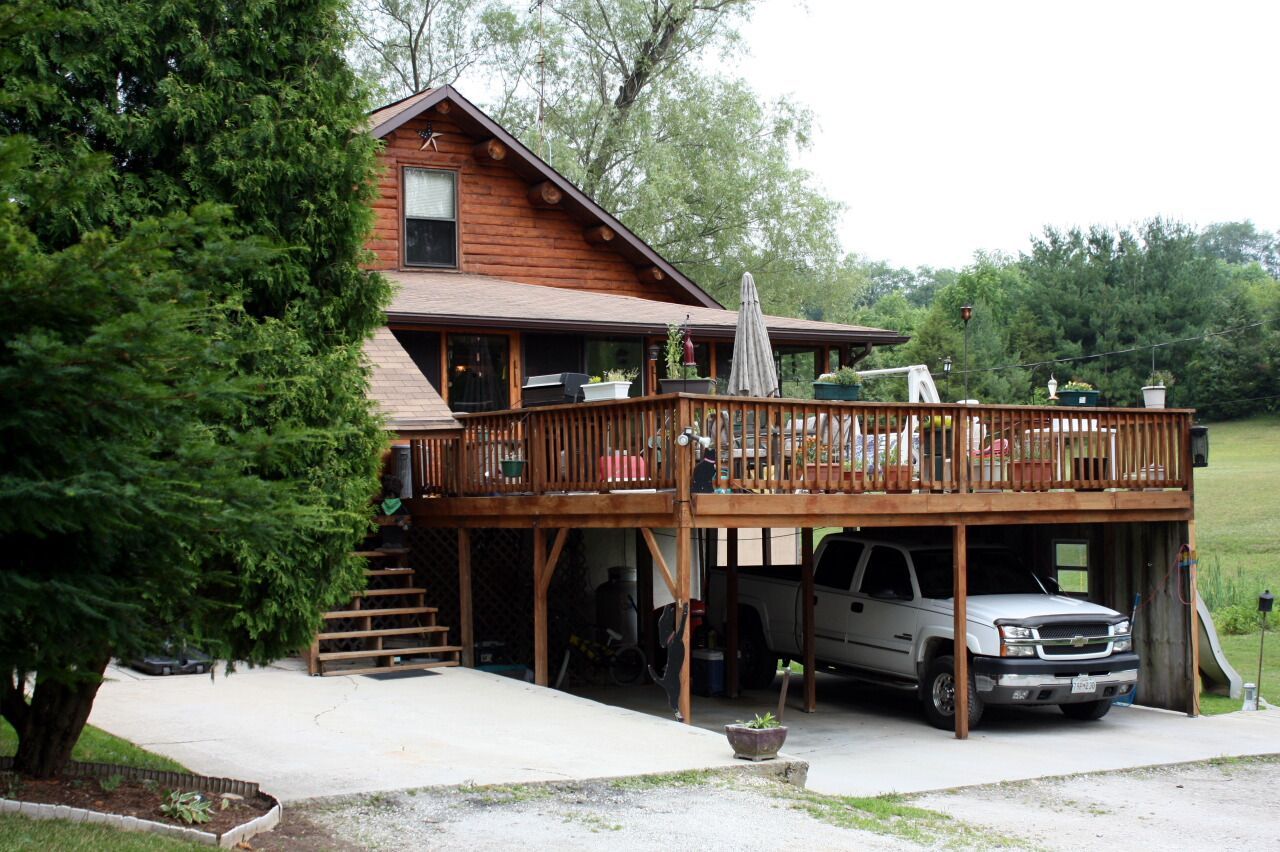 Round-up
Have you experienced that unhappy moment when it rains right after you have just had your car washed? Do you find it annoying when your car's windshield has frosted, and you're running late at work?
That's what a carport is for! It provides a level of protection for rain, snow, frost, and hail. It's also great to have one ready in case you can't park your car in the garage.
Another thing we like about carports is that they're easy and cheaper to make. If you're considering one, you might as well do it yourself. And that's what our carport design ideas are for!
We hope they will help you get started and build a design with a Pinterest-perfect curb appeal. Let us know in the comments below your favourite carport design idea!
Shop Log Cabins
FAQs
One of the easiest ways to do it is to increase lighting. You don't want your man-made structure to be darker on the inside, especially at night.
It is cheaper to build one on your own. A covered metal one installed by a contractor usually ranges from £3000 - £4000. This may be a bit cheaper than wood, but buying the materials yourself and building your own will save you £500 - £1000 in labour.
No. Planning permission is not required for a detached garage or carport. However, there are some rules and requirements that need to be met. One is the structure needs to be a maximum height of four metres.