There's nothing quite fiery like these BBQ gift ideas!
It's easy to think that the lives of BBQ enthusiasts revolve around a grill alone. While this might not be true, they will love extra items for their BBQ setup. Good barbecue accessories are a perfect example. They don't necessarily make them the "master", but rather make grilling more thrilling.
And you can be part of the latter by giving the grilling aficionado in your life something to support their hobby. There are a huge number of tools and BBQ units to choose from, and the options can be overwhelming.
Lucky for you, these BBQ gift ideas will help you find the stuff you're looking for!
1. Grill cover
The more the grill is taken care of, the longer it can make great meals. A BBQ shelter is great for providing protection, and the same goes for a heavy-duty cover but at a little cost.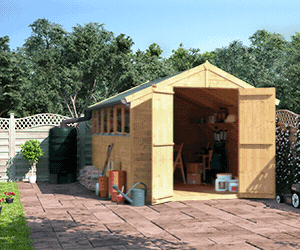 No matter the setup, any barbecue master will appreciate this weatherproof grill cover. Designed to fit the most popular BBQ sizes, it'll help protect the unit for years to come.

2. Himalayan salt plank
Grilling is all about smokey and unexpected flavours. With a salt block, it can take that outdoor cooking to another level.
What's more, it offers fantastic heat resistance and distribution. This makes it a perfect companion to have beside or on the BBQ.  Himalayan salt planks, in particular, are a keen favourite of most grillers.

3. Clip-on grill fan
A grill fan is a fire starter's best friend. By circulating hot air inside the grill, the fan helps create evenly cooked produce.
It also does a great job of minimising steam, smoke, smells, and greasy exhaust. Perfect for the type A griller. Look for a cordless fan with a clip-on feature to fit any grill or smoker.
4. Thermapen
Meat thermometers always get high marks from grilling pros. Ideal for those who value precise temperature and perfectly-cooked food, get them a Thermapen!
It's incredibly fast and accurate and a game-changer for both newbies and experienced. Plus, it's small enough to carry around and is cool to have in RVs, trailers, and indoor/outdoor kitchens.

5. Paella pan
Your grill buddy might have wanted to add seafood to the menu for a while now. So take this chance to introduce the paella pan to them.
Thanks to the large surface, they can get a nice sear and caramelisation. It also retains its temperature, perfect use for serving in, too. Carbon-steel material is the preferred metal for paella pans.

(Image Credit: Wikimedia Commons)
6. Kettle charcoal BBQ
Every grill master needs a grill to call their own. And it only makes sense to give one to someone who doesn't have it yet.
A kettle BBQ is an excellent choice for starters. It offers the option to cook with direct or indirect heat and grill or smoke meat and vegetables. Consider getting this classic yet stylish BBQ design with a dome kettle shape!

7. Gas regulator
A gas regulator is a much-needed part of the barbecuing experience. In the grilling world, the regulator, hose and fitting help bring the gas from the tank to the grill itself.
It adjusts the gas pressure and serves as a safety mechanism between the tank and the flame. A BBQ gift idea like this will remind the receiver that you prioritise their safety while encouraging them to indulge in their hobby.

8. Kabob grilling baskets
Skewers are mouth-watering. But we don't usually consider the gruelling work of their cooking process. Luckily, kabob grilling baskets make grilling meats, veggies and seafood easier.
Any grilling enthusiasts would love to have a set! And if that doesn't convince you to get them, you might want to hold your kebab cravings for a little while.

9. Outdoor popcorn popper
An outdoor popcorn popper is perfect for the outdoorsy kernels lover. It makes crisp campfire snacks in a few mins with the old-time shake-and-pop experience.
A grilling companion like this can make 3 quarts of popcorn in no time over a wood fire, charcoal, or gas grill. Top tip: Opt for a tin and hardwood product with a self-storing handle and compact design.

10. Portable pizza oven
Turning a BBQ into a pizza oven sounds complicated, but not anymore with a portable pizza oven. The portable size is what really makes it a winner, meaning it won't take up much in the garden or kitchen.
The waiting time has also been reduced from forever to minutes for the pizza to be cooked. Products like our Mini BBQ Pizza Oven will surely be adorned by the lucky recipient!

11. Wood smoke grilling plank
Grilling is great, but wood plank grilling is even better! This technique is an easy way to add flavour to grilled salmon and other favourites.
Get a set with different natural wood: cedar, alder, cherry, maple and hickory. Although they behave the same on the grill, they impart different flavours to the food.
And tell your griller friend that they won't need to get that fire extinguisher on standby – the smoke is part of the process!

12. Grill scraper
Whether it's gas or charcoal, every outdoor chef knows a clean grill is a happy grill. A multi-functional tool like a BBQ brush or scraper solves the problem of leftover dirt and grimes underneath.
A wooden scraper or nylon brush, for one, will lessen their elbow work, helping them clean the grates in a flash. You also might want to get one for yourself!

13. Fire pit BBQ
Even those casual outdoor cooks would love to get their hands on a fire pit BBQ model. It's something you can even feel proud to own, so why not get one for yourself and a loved one?
The Beacon gives everything you could want from a compact, multipurpose fire pit. Whether you want to get the barbecue on, sit around the fire, or just relax with a coffee, this 3-in-1 unit is worthwhile.

14. Non-stick grilling mat
BBQ mats bring ease to the grilling process, wiping out the worry of food falling through the grates. Toss one on the grill for better barbecuing all around and easy-peasy cleanup on their end.
The mat also prevents flare-ups and allows for closer contact with aroma-rich smoke. Most importantly, it'll keep their reputation as a barbecue master intact.

15. Grill lighter
There's nothing more inconvenient than a grill that won't start. And when this moment arrives, this is where a BBQ lighter plays its part.
It's a must-have for any grill master who wants an easy and reliable way to get a gas vs charcoal grill started. We recommend an electronic windproof grill lighter. It's a multi-purpose lighter no one should be without.

16. Tabletop gas BBQ
It's too bad when your favourite griller can't bring a BBQ for a picnic because the one they own is rather bulky. Being the supportive friend you are, you're thinking of getting them a tabletop portable gas BBQ.
This unit has all that on-the-move BBQing needs covered! It's lightweight and portable, perfect for camping, picnics and small home barbecues.

17. Steel outdoor fire basket
This probably won't keep the chill away, but they're stylish and modern to keep the BBQ going later in the evening. The unit comes ready for use and with a poker to help stoke the fire.
There's a detachable grilling grate for barbecuing, making it multi-functional. It can be used as a fire pit alone, as a BBQ, or both.
Overall, it's a great gift choice if you're looking for something compact.

18. Cast iron cookware
Grilling isn't just for meat. With a cast iron pan, your beloved outdoor chef can whip up practically anything al fresco.
It's perfect for anyone who loves a good sear, and cooking eggs and fruit cobbler has never been easier on the BBQ! Even better, sautéing smaller veggies that'd fall through the grates is less troublesome.

19. BBQ wood chips
Back in the day, wood logs were the primary source of heat and smoke. Today, tons of options for grilling and smoking meats are available.
All of these have one goal, and that is to give barbecued foods a kick. BBQ wood chips, for one, are great for adding that aromatic dimension of flavour.
For a smokier taste, go for hickory and mesquite. Wild cherry and maple are perfect for a hint of sweetness. Give a few packs to your fellow griller on your next backyard buffet!

20. Adjustable and folding chair
A chair? Sure, the meat is what's for lunch or dinner, but no one expects everyone to tuck into a T-bone while standing. Also, give the King of the grill a break!
With the stretchy, reactive fabric, anyone can sink into this chair and let all their worries fly away! It's the perfect accessory for taking a break from standing and for the laid-back yard dwellers.

Round-up
You don't ask your favourite grill lover what you should get them and likely ruin the surprise. This list of BBQ gift ideas, after all, has given you a good amount of hints.
This is all for the hardcore backyard cookout kings and queens out there! To explore more of our amazing BBQ products, click the button below to begin browsing.
Shop BBQs