For those of us who love to have a go on the grill, it doesn't get more satisfying than chowing down on a bit of char-grilled goodness. But sometimes the journey is just as fun as the destination, and the time spent cooking rivals the feeling of that first, sumptuous bite.
Anyone who owns a BBQ will tell you the same thing – cooking on a smokey, flaming hot grill is a blast. Not everyone does it in the same way, though. We've all got our quirks and our ways, the method we use to cook the perfect burger, sausage or steak. But it all begs the question: what kind of BBQ-er are you?
We'll also be matching each of these types to one of our high-quality grills – after all, everyone deserves a great grill that suits them!

Image credit: PxHere
The Different Kinds of Barbecue-r
The Scientist
Grillers like these take their barbecuing extremely seriously. They've got a playbook of grilling techniques to use, and all the tools to pull them off. Each piece of food is seasoned with a blend of herbs and spices, cooked at the perfect temperature, and turned over at the exact second to ensure it couldn't taste better.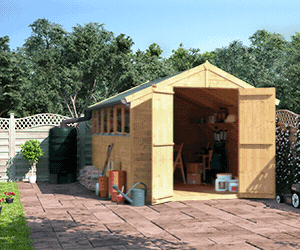 When they're in full flow, it's best not to interrupt them – everything is to be cooked to schedule and specification. While they might be rigid and exact while cooking, they guarantee great-tasting food every single time. There is usually a method in their madness!
Their Grill of Choice: The Indiana BBQ Kitchen. Everything a BBQ-er needs, all within touching distance. The Indiana is more than just a grill, it's an entire kitchen outfit for your garden.
The Eye-Baller
Unlike the scientist, an eyeballer takes a less careful approach to grill cooking. They rely on their senses when it comes to the BBQ – if it feels hot enough, smells good enough, and looks cooked.
When they turn on the heat, they'll just know when it's hot enough to cook on. And when the food is on, turning it over and taking it off is simply a case of waiting until they think it's ready and giving it the once-over. This sometimes ends up with a burnt sausage or two – but they've got a love and instinct for grilling that you just can't train!
Their Grill of Choice: The Kettle Charcoal BBQ. Just like this type of griller, the Kettle is simple but effective and makes cooking easy!

The Taster
For this kind of griller, eating isn't an end product – it's part of the process! As they cook, they like to pick at the fruits of their labours. A nibble on a kebab here, a cheeky sausage there, and all the while they'll claim that they just had to check if it was cooked right. 
They'll also tell you that it's all coming from their portion, but when you're all plated up they don't seem to be missing anything! Their cooking might be a joy, but they know it better than anyone with how much of it they eat.
Their Grill of Choice: The Montana Dual Fuel Hybrid BBQ. Using both gas and charcoal fuel, the Montana cooks both quickly and with great taste – making it great to pick yummy food from!
The Big-Griller
When it comes to creating a Barbecue, Big Grillers don't do half-measures. They load up the grill and cook up a feast every single time, and usually have a big barbecue to fit it all in too!
When it comes to the food they cook, there are no limits. Burgers, wings, kebabs, steaks, sausages – you name it, they'll be cooking it. They love cooking up a big meal for their guests and are happy to put the work in, too, spending all afternoon over the smoke so that everyone can have a memorable meal.
Their Grill of Choice: The Matrix 6-Burner Gas BBQ. 6-Burners means loads of cooking space and heat to cook as much as you could wish for, with an additional side burner for extra cooking.
The All-Weather One
These BBQ enthusiasts don't care about those dark clouds on the horizon or what the updated forecast says. Once they've planned a BBQ, it will go ahead, no matter the weather. Even in the pouring rain, you can rely on seeing them outside, poncho on dripping wet, tending carefully to the BBQ and the food they've been excited to cook all week long. 
It might be impractical and sometimes silly, but these grillers will guarantee you barbecued food even on the worst day of a British summer.
Their Grill of Choice: The Texas Smoker BBQ. This hooded smoker BBQ is one you can cook in no matter the weather in the enclosed smoking space. Perfect for rainy days!

The Helper
Not the actual griller themselves, the Helper is the one making sure things are going smoothly and doing everything the griller is too busy to. This could be a doting partner or a kid who just loves the smell of cooking food, helpers come in all shapes and sizes and all have one thing in common – they're the backbone of any successful barbecue.
Get Your Grill On
Did you find yourself in our useful chart? If not, let us know by getting in touch with our social media channels! If you're a griller yourself and need a brand-new BBQ, then there's no better place to start than our amazing selection of grills here on BillyOh. 
From charcoal to gas grills and everything in between all available, we stock a wide range of high-quality BBQs all at affordable prices. Click the button below to browse!
Shop BBQs