Outdoor seating ideas have come a long way since just boring chairs and traditional benches. Today, a wide range of styles made from various materials are on sale – from wood, metal and plastic to natural rattan and synthetic, and more. Each exists to suit different needs, so you'll never run out of options.
Once you decide which material you like, choosing a style is your next approach. As always, we've got you covered!
In this post, we've put together a list of the best chair ideas for a fancy backyard lounging. Explore the different types of patio seating and find the most ideal one for your needs.
1. Wood, concrete and metal bench
When talking about garden bench ideas, it's been said that good things come in threes. Three materials are combined to create this contemporary bench.
The wood is locally sourced, while the cast concrete portions come in grey shades. Metals like stainless steel are used as inlays and stretchers. This bench is guaranteed to withstand harsh outdoor conditions.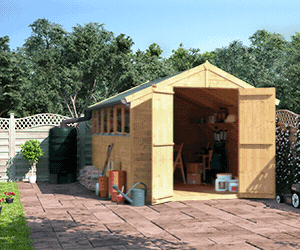 2. Square bistro sets
Bistro sets are lightweight and easy to manoeuvre. They're perfect for chasing the sun around your garden and soaking up. Pop it up in a sunny spot and bring in the touch of Paris in your humble yard.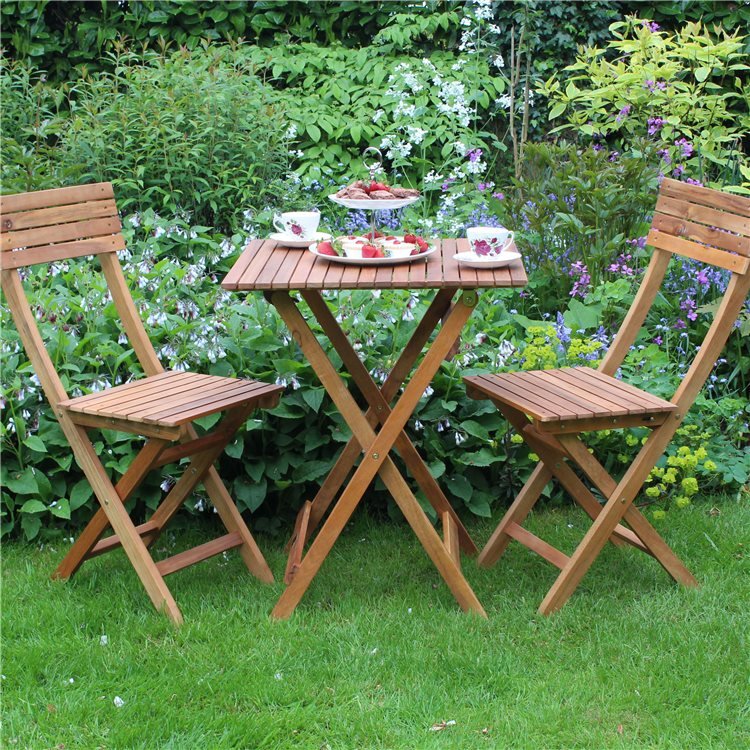 3. Porch bench swing
This will literally elevate your outdoor seating experience! What's more, installing a porch swing is one of the best outdoor home improvements. Opt for a standard-sized couch so you can snuggle up and relax in comfort.

4. Adirondack rocking chairs
Adirondacks are low to the ground and have a sloping back, making them ideal for lounging. They offer comfortable support, letting you relax for a long time.
Pop a little table next to the chair to level up the comfort while you rock away on your patio.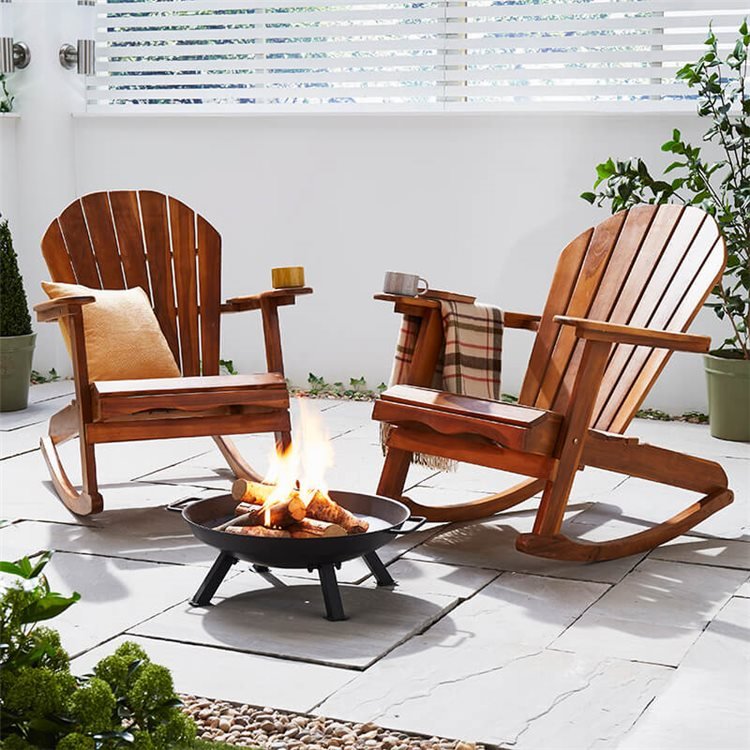 5. Pod chairs
Is your patio lacking some summer lustre? Wicker pod chairs make the perfect addition to drab decks and bland backyards. They are partially enclosed chairs that offer a unique cosy seating option.
6. Floating cedar bench
Take a look at this small backyard with a floating cedar bench against a rendered wall with a brick! The concept makes it so modern, along with the pebbles aligned underneath. The lighting effect also adds to the detail.
7. Bean bag seats
What makes bean bags an excellent choice is the ergonomic design they feature. The design allows it to mould to your body, preventing back pain.
They're portable, comfy and cosy, and the best ones are waterproof and UV resistant.

8. Traditional bench
Traditional benches are classic favourites, plus the design is timeless. They offer a great place to unwind on a hot summer day and watch the world go by.
Cushions can offer enhanced comfort as well as a little something for the eye to linger on.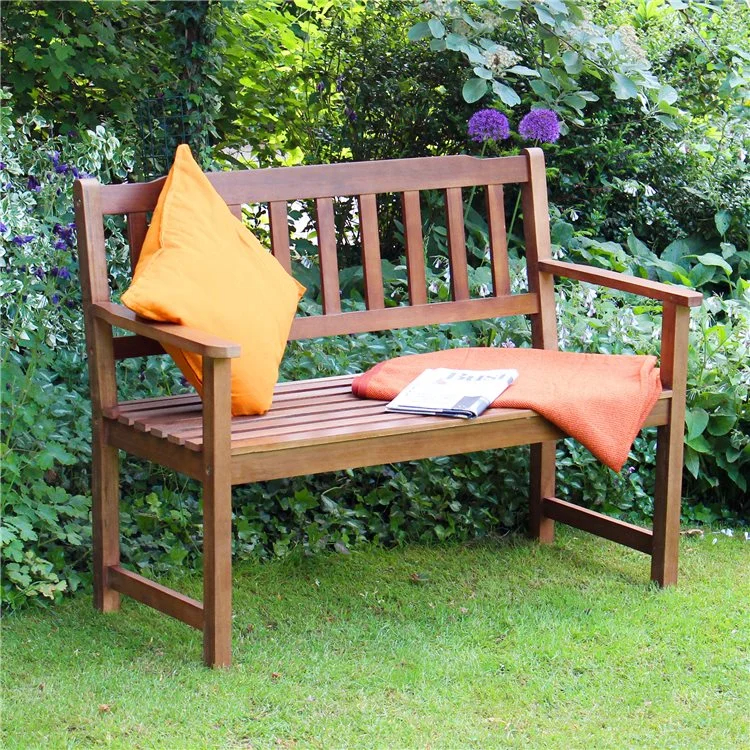 9. Metal love seats
Stainless steel is one of the best options for outdoor furniture. A mini set like this with cushions should give you a sense of comfort and satisfaction while sitting on it.
10. Rattan armchairs
Synthetic rattan armchairs feature unique textures that pair well with modern garden schemes. Take a cue from this beautiful rattan armchair. It's contrasted with a stylish cream cushion to make the seat look even more inviting.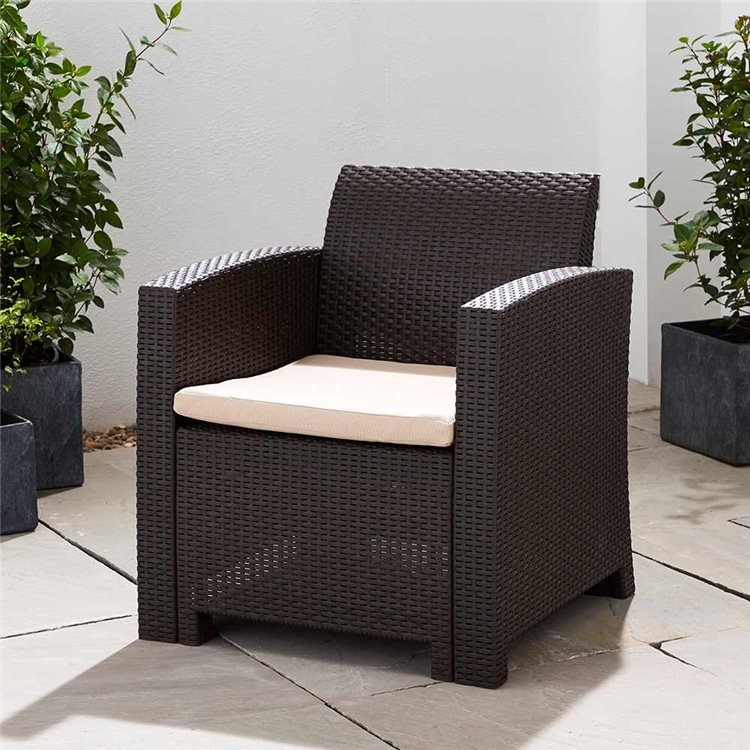 11. Rocking sun lounger
Rocking loungers are suitable for sunbathing and relaxing at the pool, patio or garden during your leisure time. They make enjoying sunny weather more relaxing. In this model, the seat and backrest are made of grey textilene fabric.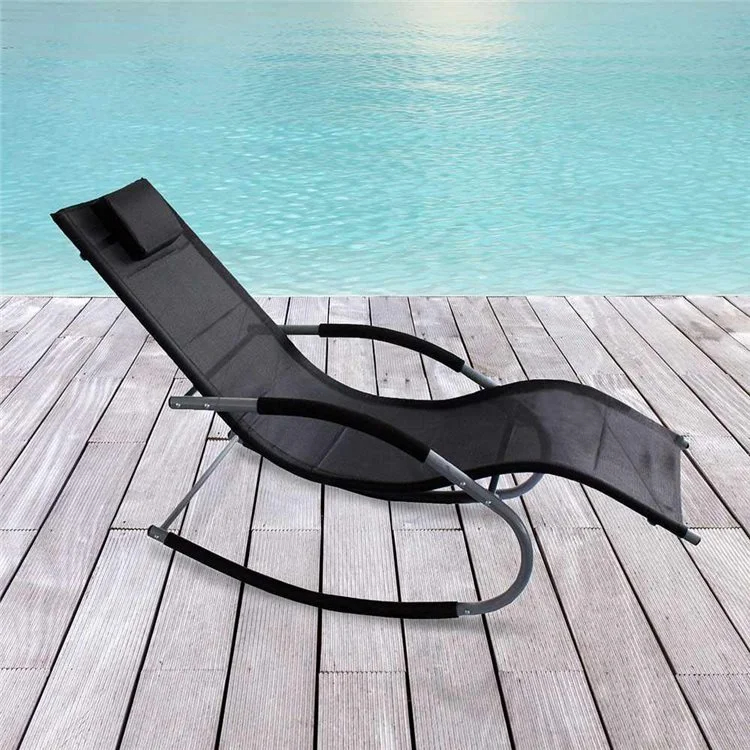 12. Diamond chairs
The concept of this chair design features welded steel frame construction with rods. Most units are available in polished or satin chrome finish and black or white rilsan finish.
The steel mesh backs and leatherette seats add a hint of the mod to your poolside or patio setting.

13. Marais A chair Tolix style
Make your barbecue dinners look ultra-modern. These metal seats in Tolix style have a vintage French delight with a modern flair. They also make a fantastic addition to garden bars!
14. Patio stacking chairs
Patio stacking chairs make things more convenient. When not in use, you'll be able to stack them up neatly. The chairs can be stacked fairly high and be placed against a wall.
They're usually rather low in price, making them an affordable purchase.

15. Outdoor hammocks
Hammocks can provide you with a unique seating arrangement on your patio. Some are suspended from patio roofs, while others have their own suspension base.
They differ wildly in the way that they look, too. A hammock like this, for one, could be a great place for you to get a nap on a sunny and breezy day.

16. Cast aluminium armchair
Aluminium designs will not rust or weather, so there's no risk in leaving it outside year-round. This cast aluminium armchair makes a perfect addition to your patio set! 
A style with timeless appeal that can seamlessly fit into almost any type of surrounding.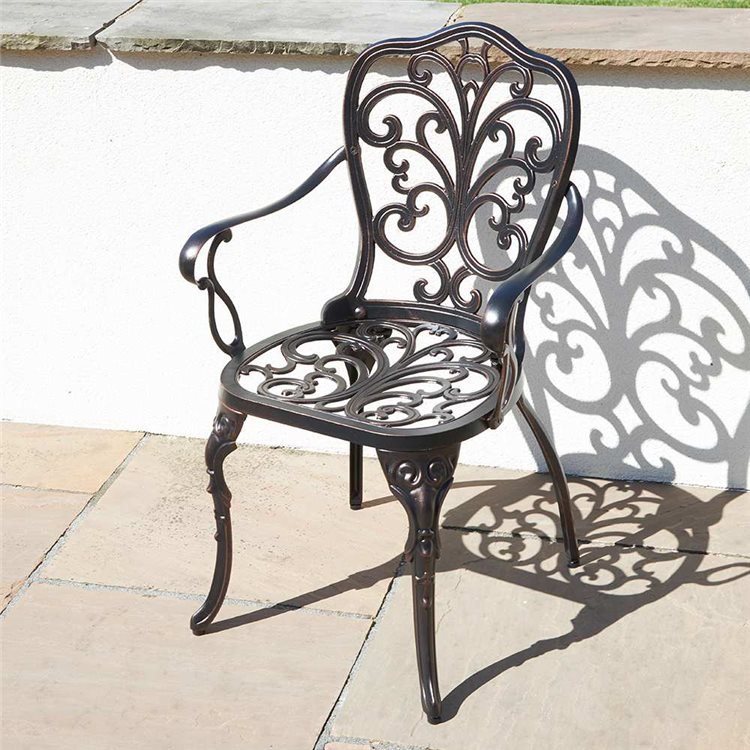 17. Rattan balcony set
Consider a graphite coloured rattan-style weave; it would look to your outdoor aesthetic. Contrasted by cream cushions ensuring you're at ease when relaxing in the chair.
A design like this will surely add a touch of class wherever they are positioned!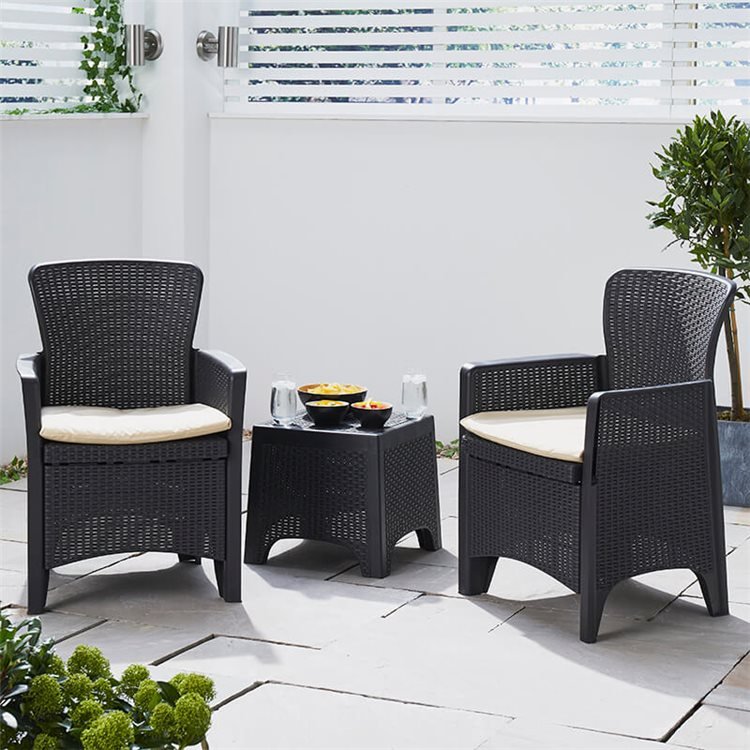 18. Panton S-style chairs
You can't go past the Panton S-style chairs. A classic stackable design, available in various colours, including this lush green one. You don't have to worry about the quality as they're made from durable ABS plastic.
19. Polywood grey bistro set
Polywood is manufactured from HDPE, one of the most versatile and sustainable plastics. It's a wood alternative used in patio and deck furniture.
Even if your available space isn't the largest, this Solback bistro set allows you to find the room to sit and relax in a real sophisticated style.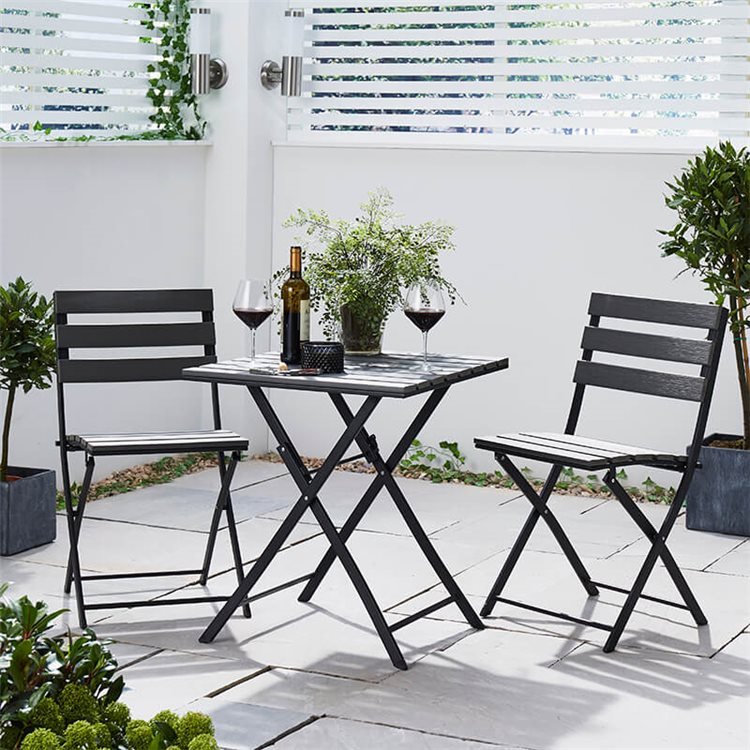 20. Rope wicker sofa
For a more rustic and natural style around the garden this year, why not look at this wicker set? If rattan isn't quite what you're looking for, this range should really make a difference.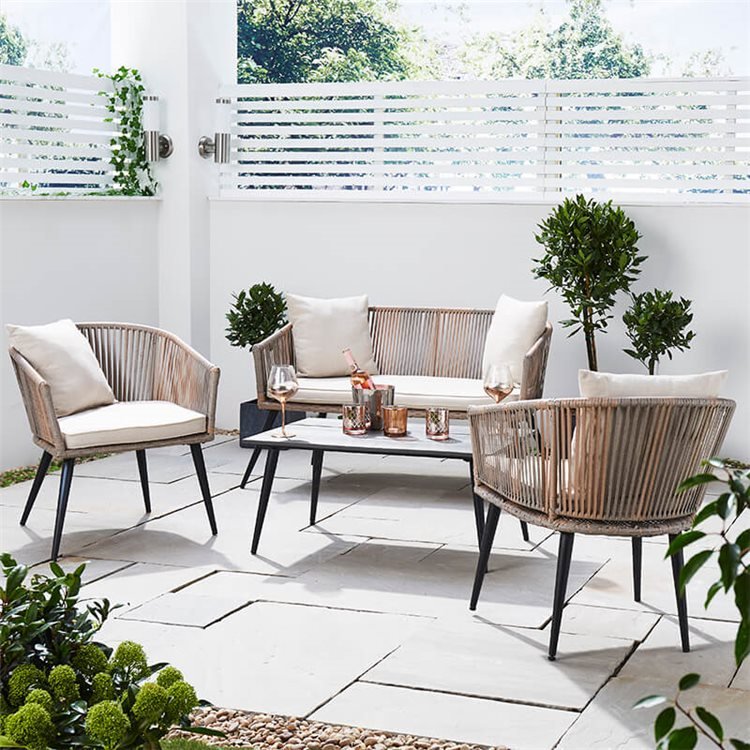 Round-up
The style you opt for should have the same appeal that indoor chairs do. It should fit its surrounding perfectly, be aesthetically pleasing, and is comfortable enough to nod off in.
With our top picks for outdoor chair ideas, we hope you'll make your outdoor living space a place to be proud of! From the aesthetic to the construction, feature and function in-between, we've considered them all.
We've also compiled a list of frequently asked questions concerning this. Don't hesitate to scroll further!
Shop Rattan Garden Furniture
FAQs