Burglars are opportunists. And this potential threat alone can cause you stress and worry about the well-being of your family, home and garden buildings.
The key here is not to let your property fall prey to them. So an extra level of security is more crucial than ever, from your front yard all the way to the back with your shed.
Invest in home security systems like security cameras and outdoor lights. But these two may not be enough for your needs, so we've prepared extra security tips and ideas, just in case!
1. Set up your home security
The best way to take on this approach is to have a smart home security system. Set up your home with alarm systems like outdoor security lights and CCTV cameras.
These takes are common yet most effective. But they're only your starting point if you want an improved security level.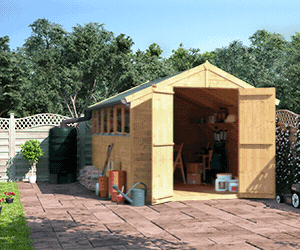 2. Install outdoor security lighting
Speaking of garden light ideas, you can never go wrong with a motion-activated light. Get these smart lights around the perimeter of your house to stop prowlers in their tracks.
No burglar wants to break into your house with a PIR floodlight that features a motion sensor like this!

3. Consider a smart home security system
Smart security systems are connected to the Internet. One allows you to manage all your home devices from one place.
CCTV, doorbell security doors and motion sensors can all be linked with your smart devices. It's constantly alert, providing real-time notifications from your property even when disarmed.

4. Invest in alarm systems
When it comes to home security, thieves shouldn't only be your concern. Consider the possible mishaps such as fire; smoke alarms can come in handy.
In case of such incidents, these devices can detect a fire faster, giving you and your family time to get out.

5. Get a security safe
A security safe may be an expensive item to have, but it gives you back the favour a hundredfold. It keeps your valuables, such as jewellery and cash, and essential documents safe.
A compact one that's fire and water-resistant will secure these items during such a disaster. And we vouch for this Small Electronic Safe!

6. Mount security cameras
Thieves hate a built-in camera that's staring them in the face. Install outdoor security cameras near entry points of your property or commercial premises.
You'll be able to watch them in real-time on your connected monitor. Or review the recorded footage and send it to local law enforcement, if needed.

7. Update your doors and locks
An easy-to-kick door benefits the burglars. If yours has a hollow core with solid wood or metal doors, install steel locking bolts.
A deadbolt with a bolt length, a.k.a. a throw, of at least one inch, is recommended. Steel locking bolts will make it harder for the prowlers to break in.

8. Level up with window sensors
Windows are just as important to keep locked as doors when it comes to simple home security measures. Robbers can easily use pressure to lift an unlocked window.
Ensure all your windows have working locks or window sensors. Window sensors will notify you right away whenever any person triggers the system. This simply upgrades your home security to another level!
9. Increase security on gates or fences
Garden gate ideas offer both aesthetics and security. But for enhanced safety, consider steel locking bolts for your exterior doors.
Stainless steel deadbolts, for one, are ideal for a gate with or without an existing handle or lever entry. Installing a bright light above the side gate also adds up.

10. Use exterior lighting timers
If you're looking for a cost-effective home security item, go for a light timer. Lighting timers can turn on your garden lights to a timed schedule.
Turning on and off the lights on your property gives the illusion that you're home even when you're not. Thus, burglars are less likely to attempt to trespass.
And to save on unduly high electricity bills, place this Biard Electric Time Delay Switch.

11. Secure your garden building
Whether it's a shed or a log cabin, one lock isn't enough. An experienced thief can bypass it by using a screwdriver.
Secure your outbuilding with screws such as Allen or Torx head instead of Phillips head ones. More secured screws like these will foil the would-be bandits.

12. Defeat bolt cutters
A determined thief with an angle grinder can cut through nearly any lock. Experts recommend using keyed padlocks that resist bolt cutters.
The thicker a lock is shackled and the less it's exposed, the more secure it is from these cutting tools.
13. Secure patio doors
Patio door locks are easy to pick. Fortunately, auxiliary foot locks exist. These door locks fasten along the bottom and have a bolt that fits into a grommet, holding the door secure.
Screw the bracket with the pin to the door. Drill holes and insert grommets in the track to let the pin slide into.

14. Take advantage of security anchors
Security anchors provide reliable, tough anchor points, securing your valuable items. They make an excellent form of security and a deterrent for thieves.
Ground anchors are ideal for bikes, trailers and other large items like garden tools. Note: Professional installation may be required.
15. Skip the 'hidden' house key
Remove that backup key you keep outside for 'just-in-case' scenarios. You may think the key is safe because it's hidden, but in reality, it's a boon for intruders.
Forget about placing it under a rock mat, in the mailbox or inside a plant pot. Instead, leave your spare key to your trusted neighbour.
16. Protect your mailbox
Unsecured mailboxes are easy targets, and mail theft is a growing problem. Not only does this signal the burglars that you're not home, but also they can steal your mail.
This includes your checks, credit card offers, and personal information. Invest in a security mailbox where you need a key to open it.

17. Always keep the garage door closed
An open garage door is more like an open invitation to robbers. You need to be extra careful here, especially if you keep your kids' bikes and lawnmowers in the garage.
Make it a point to close the door each time you enter or exit the house. This simple habit can be a big changer.

18. Add a security sign
A cheap yet effective alternative to a full-blown security system is a security sign. Burglars look for easy targets, and the threat of a security system may be enough to deter them.
But you'll want to make sure to use a legitimate sign; professionals won't be fooled by a phoney.

19. Make pathway lights automatic
A peephole isn't very helpful in the dark; automated pathway or porch lights are your best bet. This type of outdoor light can cover everything from motion-based lights to manual ones.
For a non-automated but effective alternative, get the BillyOh IP44 Stainless Steel Spike Light. Easily tilt the spotlight head to direct the beam angle.

20. Have guard dogs
Dogs are great for property and commercial premises security. These smart fur-friends are vigilant to their surroundings. And their extraordinary sense of smell for detecting is also a big plus!
A barking dog can be a great deterrent for burglars. Add a sign that says, "beware of dogs!" to double the threat.

Round-up
At the end of the day, it's up to you what security measures you'll take to protect your home and valuable items. Whether it's in the form of adding extra security or getting a guard dog, you'd know what's best!
As much as possible, don't limit your options to just alarm systems and outdoor lights. Find more ideas with our home security tips to give yourself peace of mind.
Our team has also prepared FAQs below to answer more of your queries!
Shop Log Cabins
FAQs