The hunt for the best garden Christmas gifts has begun!
'Jingle Bell Rock' is on repeat, and you've been hearing the song a lot almost everywhere. One time, it was your neighbour jamming to it while putting up garden holiday decor.
Then it hits you that Christmas is just around the corner! Can you remember what you got for your favourite gardener last year? Whatever it was, this time you can do much better with the help of this guide.
Use this list of garden Christmas gifts and get ahead to wrapping!
1. Easy-fit frame greenhouse
Greenhouses certainly are big-ticket but worthwhile and beneficial. Lucky for you, there's no need to break the bank for someone happy this holiday season.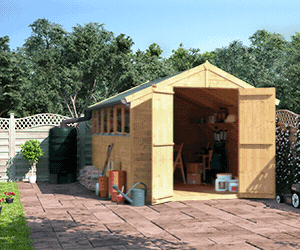 Let this 4 Shelf Greenhouse with Easy-Fit Frame do the magic! For only £19.00, it offers just the right plant protection without compromising on space.
It's effective and functional enough for year-round use.

2. Gardening kneeling pads
An extended period of tending plants and soil involves kneeling and potential knee pain. Kneeling pads can be a game changer, making any task that's completed near to the ground more comfortable.
Are they worth it? Yes, so add this to your shopping list now! It's never too late to save the knees of your loved one from joint pain.

3. Outdoor clock
It's easy to lose track of time when doing garden chores. But you can make this a thing of the past by giving them an outdoor clock.
Look for a weatherproof unit with medium to large sizing. It's something which will need to be ready at all times of the day on any day of the year – so will need to be robust enough to stand up to harsh elements.

4. Handy wheelbarrow
Gesture your cherished green thumb with the gift of 'less physical effort', a.k.a. a wheelbarrow. Such a tool makes moving mulch, compost, garden debris, and plants much easier.
If this idea interests you, consider getting this 7-in-1 multi-function wheelbarrow. More than just a wheelbarrow, it can serve as a hand trick, rock lifter, plant transporter and bag holder.

5. A brand new Leafblower
Cordless freedom is what they'll get with this efficient leafblower. It's a rechargeable and powerful model that will revolutionise lawn care and cleaning.
No petrol, pollution or cables are involved. It's an eco-friendly option suitable for gardeners who live a sustainable lifestyle.

6. Bistro set
Every gardener has their treasured spot in the yard to sit and admire their hard work. The BillyOh Windsor bistro set will give them that comfort.
The foldable and compact features allow for easy storage during the colder months. Acacia hardwood is also dense, and it's naturally water-resistant, so they can even leave the set out in the rain.

7. Slate garden sign
Ideal for use in pathways, flower beds, fish ponds, driveways, and as plant & herb toppers. This is how a naming slate comes in handy in gardens.
You can go for the classic slate and blackboard style or have them personalised with their name on them! Take a cue from this mosaic slate garden sign.

8. Raised wooden planter
It's surprising how much back and knee strain can happen just by weeding a garden. Thanks to raised beds, they can resolve this problem – and the receiver will be grateful.
Consider this BillyOh Iris Fir Wooden Planter as an investment in their health. It provides a rustic appearance and is ideal for growing herbs, flowers, or vegetables.

9. Compost bin
If you know a gardener who wants to start composting but doesn't know where to begin, get them a bin to kick off. Aside from providing excellent fertiliser, it's a great way to reduce garbage waste.
This garden compost bin will help take them towards a greener future! Made from strong, durable plastic, easy to assemble and can hold up to 300 litres of waste.

10. Insect-repellent spray
Working in the garden can mean two things: gardeners vs mosquitoes and plants vs insects. It turns out that both the grower and greens (or harvest) aren't safe from pesky bugs.
Cue bug repellents; they especially come in handy during summer to keep mosquitoes at bay. Consider getting them DEET or plant-based sprays.

11. Hanging bird bath and feeder
Help your gardener buddy to attract more wildlife in their garden with an open feeder like this. This is a smart gift if they're home birdwatchers or enjoy feeding their feathered friends.
The hanging feature also ensures the birds are safe from stalking predators, a.k.a. cats.

12. Expanding garden hose
A garden hose can save them from having to carry heavy watering cans, but it can be prone to tangling up. So instead of getting your fellow green thumb a standard model, opt for expanding one.
Being flexible, it expands when the water runs through it and is more resilient. Offering 8 functions and pattern sprays, this garden hose pipe is a must-need item.

13. Flower and veggie trug
Trugs are a must-have garden accessory, combining practical utility and ornamental value. Essentially, they're baskets and can also be used to create indoor displays.
Ideal for collecting flower cuttings, as well as for harvesting fruit, veggies and herbs. An indispensable tool for gardeners, indeed!

14. Soil moisture sensor
A soil moisture sensor as a gift means optimised irrigation scheduling. It'll help them make informed decisions on irrigation and be cost-effective too.
An inexpensive gift that will make a difference in their gardening lifestyle! It can be stationary or portable such as a handheld probe.

15. Galvanised steel pangs
There are small but essential tools and accessories that can make gardening easier. These galvanised steel pangs fall into that category – ideal use for a wide variety of tasks in the garden.
Securing woven and non-woven landscape membranes, netting, and ground sheets are great examples. They offer firm security to keep these materials in place.

16. Shed storage
Besides greenhouses, sheds are a luxury to most gardeners. With one, they can manage clutter for a beautiful yard and ensure their tools are at hand when needed.
Vertical storage shed like this serves the job right. It can be delivered in easy-to-assemble panels, so you don't have to worry about them assembling it alone.

17. Leaf scoop hand rake
Nobody wants to spend their time picking up leaves, but they can get it done fast with just a scoop! Collecting leaves will be a breeze with these fantastic leaf scoops.
They can turn hands into massive leaf-collecting trays and clear leaves like never before. You also might want to get a pair for yourself!

18. Electric weed burner
Weeds are one of the common enemies of gardeners. Giving your friend such a handy tool means you're taking their side against the pesky weeds. Talk about true friendship!
This electric weed burner can zap away weeds in yards, paving stones and driveways. It gets the job done quickly and effectively without causing damage to the plants.

19. Gardening work seat
Gardening work seats are an upgraded version of garden knee pads. They provide ample cushioning both for kneeling and seating.
Products like this folding garden kneeler come with a side pouch for keeping tools in one place. It's made from stainless steel to ensure durability and longevity and can be used all year round.

20. BBQ grill
Half the fun of growing your own food is finding delicious ways to eat it. With their love for cultivating, it only seems natural they're also into cooking or grilling.
They pretty much have all the essential veggies to put on the BBQ – except that they don't have the grill. This kettle charcoal BBQ can solve that problem!
It's easy to BBQ or smoke with the included thermometer, wide opening lid and control vents.

Round-up
It's likely that your favourite horticulturist already has tons of necessary tools. So what do you get a green thumb who stockpiles stacks of planters running out of shed space?
These garden Christmas gifts have given you hints – and all will surely plant a smile on their face. There's something for every skill level to step up their plant-tending skills! Click the button below to explore the BillyOh Store and find more amazing gifts!
Shop the BillyOh Store